Abstract
Rheumatoid arthritis (RA) might lead to voice impairment through several mechanisms but its prevalence has been little investigated. RA patients attending a rheumatology outpatient clinic had joint assessments and completed the Voice Handicap Index-10 (VHI-10). A comparator group consisted of patients attending the department with other diseases. Seventy-three patients with RA and 73 comparators were recruited. Four patients with RA (5%) and one comparator (1%) had significantly abnormal VHI-10 scores. RA patients with a Disease Activity Score 28 >3.2, indicating more active disease, had significantly higher VHI-10 scores. A low prevalence of self-reported voice handicap occurs in RA and associates with more active disease.
This is a preview of subscription content, log in to check access.
Access options
Buy single article
Instant access to the full article PDF.
US$ 39.95
Price includes VAT for USA
Subscribe to journal
Immediate online access to all issues from 2019. Subscription will auto renew annually.
US$ 99
This is the net price. Taxes to be calculated in checkout.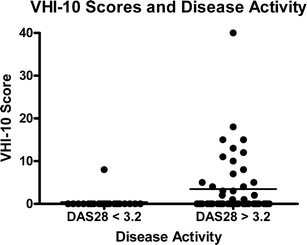 References
1.

Voulgari PV, Papazisi D, Bai M, Zagorianakou P, Assimakopoulos D, Drosos AA (2005) Laryngeal involvement in rheumatoid arthritis. Rheumatol Int 25:321–325

2.

Bayar N, Kara SA, Keles I, Koc C, Altinok D, Orkun S (2003) Cricoarytenoiditis in rheumatoid arthritis: radiologic and clinical study. J Otolaryngol 32:373–378

3.

Rosen CA, Lee AS, Osborne J, Zullo T, Murry T (2004) Development and validation of the voice handicap index-10. Laryngoscope 114:1549–1556

4.

Belafsky PC, Postma GN, Koufman JA (2002) Validity and reliability of the reflux symptom index (RSI). J Voice 16:274–277

5.

Koufman JA, Amin MR, Panetti M (2000) Prevalence of reflux in 113 consecutive patients with laryngeal and voice disorders. Otolaryngol Head Neck Surg 123:385–388

6.

Ford CN (2005) Evaluation and management of laryngopharyngeal reflux. JAMA 294:1534–1540

7.

Speyer R, Speyer I, Heijnen MA (2008) Prevalence and relative risk of dysphonia in rheumatoid arthritis. J Voice 22:232–237

8.

Lofgren RH, Montgomery WW (1962) Incidence of laryngeal involvement in rheumatoid arthritis. N Engl J Med 267:193–195

9.

Copeman WS (1957) Rheumatoid arthritis of the cricoarytenoid joints. Br Med J 1(5032):1398–1399

10.

Belafsky PC, Postma GN (2003) The laryngeal and esophageal manifestations of Sjogren's syndrome. Curr Rheumatol Rep 5:297–303

11.

Smoak BR, Koufman JA (2001) Effects of gum chewing on pharyngeal and esophageal pH. Ann Otol Rhinol Laryngol. 110:1117–1119

12.

Ylitalo R, Heimburger M, Lindestad PA (2003) Vocal fold deposits in autoimmune disease—an unusual cause of hoarseness. Clin Otolaryngol Allied Sci 28:446–450
About this article
Cite this article
Fisher, B.A., Dolan, K., Hastings, L. et al. Prevalence of subjective voice impairment in rheumatoid arthritis. Clin Rheumatol 27, 1441 (2008). https://doi.org/10.1007/s10067-008-0994-x
Received:

Accepted:

Published:
Keywords
Disability

Dysphonia

Rheumatoid arthritis

VHI

Voice

Voice handicap index