Abstract
The purpose of this study was to assess birds as a potential model for osteoarthritis. Compromised by confounding factors, it has not been possible to clearly delineate causation in humans. Nonhuman mammals manifest osteoarthritis in the natural state too rarely for comparative study. Artificial environments (of captive animals) are associated with higher frequencies, but are still inadequate for comparative study, and surgical and chemical models provide only limited insight. As frequency of pathology (except trauma-related) in birds has not been systematically examined across species lines, several families were selected for examination. Skeletal collections of major museums were examined for presence of osteophytes in hawks and pigeons. Three percent of 2,243 free-ranging hawks and 9.8% of 2,718 pigeons had osteoarthritis, all localized to the ankle. The bird ankle morphologically resembles the human knee. Frequency in pigeons was significantly greater than in hawks (χ 2=86.48, p<0.00001), but was no difference in frequency between wild caught and captive birds (χ 2=1.06). While misconceptions have plagued past perspectives, it turns out that the most common form of arthritis in humans (osteoarthritis) is actually for, or at least, is common in the class Aves (birds). The frequency of osteoarthritis and cacophony of bird morphologies and behaviors provides an opportunity to start to understand such causation.
Access options
Buy single article
Instant access to the full article PDF.
USD 39.95
Price excludes VAT (USA)
Tax calculation will be finalised during checkout.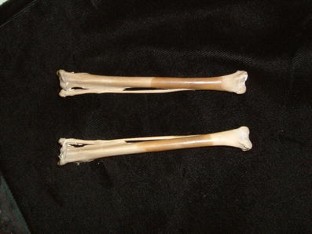 References
Abrams NR (1953) Osteoarthritis. In: Hollander J (ed) Arthritis and allied conditions. Lea & Febiger, Philadelphia, p 691

Rothschild BM (1988) Radiologic and "clinical" evaluation of osteoarthritis in dinosaurs. J Vertebr Paleontol 8:25A

Altman R, Asch E, Bloch D, Bole G, Borenstein D, Brandt K et al (1986) Criteria for classification and reporting of osteoarthritis: classification of osteoarthritis of the knee. Arthritis Rheum 29:1039–1049

Altman R, Alarcon G, Appelrouth D, Bloch D, Borenstein D, Brandt K et al (1990) Criteria for classification and reporting of osteoarthritis of the hand. Arthritis Rheum 33:1601–1610

Altman R, Alarcon G, Appelrouth D, Bloch D, Borenstein D, Brandt K et al (1991) Criteria for classification and reporting of osteoarthritis of the hip. Arthritis Rheum 34:505–514

Bendele AM, Human JF (1988) Spontaneous cartilage degeneration in guinea pigs. Arthritis Rheum 31:561–565

de Bri E, Reinholt FP, Svensson O (1995) Primary osteoarthritis in guinea pigs: a stereological study. J Orthop Res 13:769–776

We L, Svensson O, Hjerpe A (1997) Correlation of morphological and biochemical changes in the natural history of the spontaneous osteoarthrosis in guinea pigs. Arthritis Rheum 40:2075–2083

Rothschild BM (2003) Osteoarthritis as a complication of artificial environment: the Cavia (guinea pig) story. Ann Rheum Dis 62:1022–1023

DeRousseau CJ (1985) Aging in the musculoskeletal system of rhesus monkeys. II. Degenerative joint disease. Am J Phys Anthropol 67:177–184

Jurmain R (1977) Stress and the etiology of osteoarthritis. Am J Phys Anthropol 46:353–365

Jurmain R (1990) Trauma, degenerative disease, and other pathologies among the Gombe chimpanzees. Am J Phys Anthropol 81:89–94

Rothschild BM, Martin LD (1993) Paleopathology: disease in the fossil record. CRC Press, London

Rothschild BM, Woods RJ (1987) Osteoarthritis in prehistoric native Americans. Age 10:161

Rothschild BM, Woods RJ (1992) Osteoarthritis, calcium pyrophosphate deposition disease, and osseous infection in old world monkeys and prosimians. Am J Phys Anthropol 87:341–347

Rothschild BM, Woods RJ (1993) Arthritis in New World monkeys: osteoarthritis, calcium pyrophosphate deposition disease and spondyloarthropathy. Int J Primatol 14:61–78

Rothschild BM, Hong N, Turnquist JE (1997) Naturally occurring spondyloarthropathy in Cayo Santiago rhesus macaques. Clin Exp Rheumatol 15:45–51

Rothschild BM, Rothschild C, Woods RJ (1998) Inflammatory arthritis in large cats: an expanded spectrum of spondyloarthropathy. J Zoo Wildl Med 29:279–284

Rothschild BM, Hong N, Turnquist JE (1999) Skeletal survey of Cayo Santiago rhesus macaques: osteoarthritis and apical plate excrescences. Semin Arthritis Rheum 29:100–111

Gibbs D, Barnes E, Cox J (2001) Pigeons and doves: a guide to the pigeons and doves of the world. Yale University Press, New Haven, CT

Poulos PW (1978) Tibial dyschondroplasia (osteochondrosis) in the turkey. Acta Radiol Suppl 358:197–203

Rejno S, Stromberg B (1978) Osteochondrosis in the horse. Acta Radiol Suppl 358:153–178

Sokoloff L (1959) Osteoarthritis in laboratory animals. Lab Invest 8:1209–1217

Rothschild BM, Molnar R (1988) Osteoarthritis in fossil marsupial populations of Australia. Ann Carnegie Mus 57:155–158

Hunter DJ, March L, Sambrook PN (2002) Knee osteoarthritis: the influence of environmental factors. Clin Exp Rheumatol 20:93–100

Jay GD, Elsaid KA, Zack J (2004) Lubricating ability of aspirated synovial fluid from emergency department patients with knee joint Synovitis. J Rheumatol 31:557–564

Layton MW, Goldstein SA, Goulet RW, Feldkamp LA, Bole GG (1998) Examination of subchondral bone architecture in experimental osteoarthritis by microscopic computerized axial tomography. Arthritis Rheum 31:1400–1405

Matsuda S, Miura H, Nagamine R, Mawatari T, Tokunaga M, Nabeyama R, Iwamoto Y (2004) Anatomical analysis of the femoral condyle in normal and osteoarthritic knees. J Orthop Res 22:104–109

Radin EL, Orr RB, Kelman JL, Paul IL, Rose RM (1982) Effect of prolonged walking on concrete on the knees of sheep. J Biomech 15:487–492
Acknowledgements
Appreciation is expressed to Drs. Laura Abraczinskas, Christine Blake, Carla Cicero, Christopher Conroy, James Dean, Kimball Garrett, Marcel Guentert, Janet Hinshaw, Robert Hobson, Brad Livezey, Mike MacKinnon, Timothy O. Matson, Werner Mueller, Glen Murphy, Dick Oehlenschlager, Storrs Olson, Nate H. Rice, Paul Sweet, Greg Watkins-Colwell, David Willard, and Kristof Zyskowski for permitting and assisting with access to the collections they curate.
About this article
Cite this article
Rothschild, B.M., Panza, R. Osteoarthritis is for the birds. Clin Rheumatol 25, 645–647 (2006). https://doi.org/10.1007/s10067-005-0141-x
Received:

Accepted:

Published:

Issue Date:

DOI: https://doi.org/10.1007/s10067-005-0141-x
Keywords