Abstract
Intra-articular glucocorticoid injections are often used in patients with rheumatoid arthritis, either as bridging therapy or in periods with increased disease activity. We present a case of local skin depigmentation that occurred at the site of injection in a dark-skinned patient. Depigmentation is a rare complication of such therapy but may have important implications for dark-skinned patients.
This is a preview of subscription content, log in to check access.
Access options
Buy single article
Instant access to the full article PDF.
US$ 39.95
Price includes VAT for USA
Subscribe to journal
Immediate online access to all issues from 2019. Subscription will auto renew annually.
US$ 99
This is the net price. Taxes to be calculated in checkout.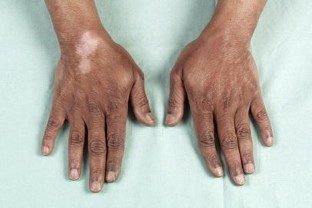 Abbreviations
DMARD:

Disease-modifying anti-rheumatic drugs

RA:

Rheumatoid arthritis
References
1.

Young L, Katrib A, Cuello C, Vollmer-Conna U, Bertouch JV, Roberts-Thomson PJ (2001) Effects of intra-articular glucocorticoids on macrophage infiltration and mediators of joint damage in osteoarthritis synovial membranes: Findings in a double blind, placebo-controlled study. Arthritis Rheum 44:343–350

2.

Steer JH, Ma DT, Dusci L, Garas G, Pedersen KE, Joyce DA (1998) Altered leucocyte trafficking and suppressed tumor necrosis factor alpha release from peripheral blood monocytes after intra-articular glucocorticoid treatment. Ann Rheum Dis 57:732–737

3.

Stapczynski JS (1991) Localized depigmentation after steroid injection of a ganglion cyst on the hand. Ann Emerg Med 20:807–809

4.

Gottlieb NL, Riskin WG (1980) Complications of local corticosteroid injections. JAMA 243:1547–1548

5.

Gray RG, Gottlieb NL (1983) Intra-articular corticosteroids. Clin Orthop 177:235–263

6.

DiStefano V, Nixon JE (1972) Steroid-induced skin changes following local injection. Clin Orthop Rel Res 87:254–256

7.

Feldman JD (1950) The in-vitro reaction of cells to adrenal cortical steroids with special reference to lymphocytes. Endocrinology 46:552

8.

McKenzie AW, Stoughton RB (1962) Method for comparing percutaneous absorbtion of steroids. Arch Dermatol 86:608

9.

Newman RJ (1984) Local skin depigmentation due to corticosteroid injection. Br Med J 288:1725–1726

10.

Kligman AM, Willis I (1975) A new formula for depigmenting human skin. Arch Dermatol 111:40–48

11.

Arnold J, Anthonioz P, Marchand JP (1975) Depigmenting action of corticosteroids: Experimental study on guinea pigs. Dermatologica 151:274–280

12.

Bloomfield E (1972) Depigmentation from corticosteroid. Br Med J 829:766
About this article
Cite this article
Rogojan, C., Hetland, M.L. Depigmentation – a rare side effect to intra-articular glucocorticoid treatment. Clin Rheumatol 23, 373–375 (2004). https://doi.org/10.1007/s10067-004-0905-8
Received:

Accepted:

Published:

Issue Date:
Keywords
Depigmentation

Intra-articular corticosteroid injections

Rheumatoid arthritis

Side effect