Abstract
This article presents a comprehensive interpretation of long-term and very precise levelling and tiltmeter monitoring in an exploration gallery opened 42 years ago in the Krušné hory Mts. The importance of the detailed investigation of the crystalline rock mass is a result of the nearby brown coal open pit mine, which prolongated the natural 500-m long fault slope by an additional 200 m of the working face. Slope movements may be generated under such conditions. Moreover, Jezeří Castle (gothic monument) could be affected by slope instability. The exploration gallery together with the surrounding slope serve as a natural laboratory for registering a) rock mass block tilting; b) possible elastic uplift resulting from an enormous mass unloading of basin sediments during coal mining; and c) tectonic movements along the Krušné hory fault (part of the ECRIS). The entry section of the gallery showed long-term gravitational creep of the surface formations, which has been accelerated due to the mining activity. On the other side, the back part of the gallery showed a long-term uplift, and the very end of the gallery is without any signs of exogenous or anthropogenic influence. Strict seasonal variability in the trend of rock mass tilting with typical winter/spring vertical acceleration corresponds to the landslide activity in the gallery surroundings. The overall evaluation of the monitoring has not indicated a significant risk for the Jezeří Castle. It is a successful result of geotechnical works from the 1980s and long-term monitoring, which was incorporated into mining projects and proper hazard management.
Access options
Buy single article
Instant access to the full article PDF.
USD 39.95
Price excludes VAT (USA)
Tax calculation will be finalised during checkout.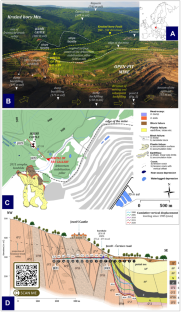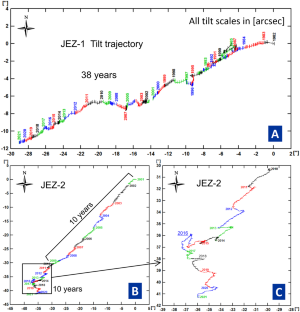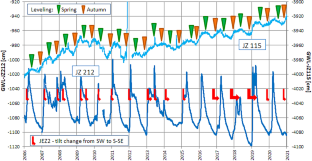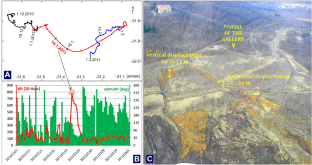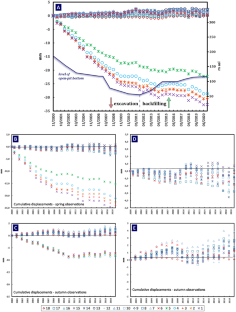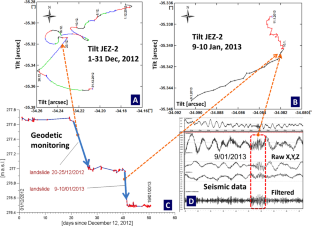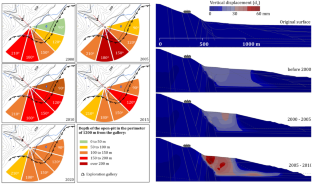 References
Balatka B, Kalvoda J (2006) Geomorfologické členění Geomorfologické členění reliéfu Čech. Praha, Kartografie Praha

Burda J, Vilímek V (2021) An Interdisciplinary Assessment of a Coal-Mining-Induced Catastrophic Landslide (Czech Republic). In: Vilímek V, Wang F, Strom A, Sassa K, Bobrowsky PT, Takara K (eds) Understanding and Reducing Landslide Disaster Risk. WLF 2020. ICL Contribution to Landslide Disaster Risk Reduction. Springer, Cham, pp 133–145

Burda J, Hartvich F, Valenta J, Smítka V, Rybář J (2013) Climate-induced landslide reactivation at the edge of the Most Basin (Czech Republic) – progress towards better landslide prediction. Nat Hazards Earth Syst Sci 13:361–374

Burda J, Žižka L, Dohnal J (2011) A monitoring of recent mass movement activity in anthropogenic slopes of the Krušné Hory Mountains (Czech Republic). Nat Hazards Earth Syst Sci 9:119–128

Burda J (2011) Spatio-temporal activity of mass movements in the Krušné Hory Mountains (Czech Republic): dendrogeomorphological case study. AUC Geographica 46:15–30

Chán B, Mrlina J, Polák V (2003) Expansion and modernization of the tilt-measuring system monitoring hazardous slopes of the ČSA big-scale opencast mine in Most. Zpravodaj Hnědé Uhlí 2:28–39

Dezes P, Schmid SM, Ziegler PA (2004) Evolution of the European Cenozoic Rift System: interaction of the Alpine and Pyrenean orogens with their foreland lithosphere. Tectonophysics 389:1–33

Domácí L (1977) Litostratigrafie třetihorních sedimentů v hnědouhelné severočeské pánvi. Acta Univ Carol Geol 1:75–80

Francioni M, Salvini R, Stead D, Giovannini R, Riccucci S, Vanneschi C, Gullì D (2015) An integrated remote sensing-GIS approach for the analysis of an open pit in the Carrara marble district, Italy: slope stability assessment through kinematic and numerical methods. Comput Geotech 67:46–63

Grygar TM, Mach K (2013) Regional chemostratigraphic key horizons in the macrofossilbarren siliciclastic lower Miocene lacustrine sediments (Most Basin, Eger Graben, Czech Republic). Bull Geosci 88:557–571

Horáček M (1994) Srovnání poznatků o průzkumných důlních dílech mezi Jezerkou a Horním Jiřetínem v Krušných horách. Sbor Geol Věd 20:45–51

Hurník S (1982) Endogenní geologické procesy a rozvoj velkolomů v severočeské hnědouhelné pánvi. Geol Průzk 5:129–131

Jiříkovský T, Seidl M (2018) Výškové zaměření bodů nivelačních pořadů v oblasti Krušných hor. Technical report, Praha, ČVUT

Kachlík V (2003) Geologický vývoj území České republiky. Praha, SÚRAO

Kaczorowski M, Kasza D, Zdunek R, Rudnicki M, Wronowski R (2019) Time Dependencies Between Tectonic Activity of Swiebodzice Depression (SW Poland) and Seismic Activity in Poland and Czech Mining Regions. 4th International Innovative Mining Symposium, E3S Web of Conferences, Proceeding Paper, 105, 02001

Kalvoda J, Vilímek V, Zeman A (1994) Earth´s Surface Movements in the Hazardeous Area of Jezeří Castle, Krušné hory Mountains. GeoJournal 32:247–252

Kalvoda J, Stemberk J, Vilímek V, Zeman A (1990) Analysis of levelling measurements of the Earth`s surface movements on the geodynamic polygon Mikulovice - Jezeří in the Krušné hory Mts. Proc. 6th Int. IAEG Cong 1631–1637

Kopecký A (1989) Neotektonika severočeské hnědouhelné pánve a Krušných hor. Sbor Geol Věd Geol 44:155–170

Košťák B, Mrlina J, Stemberk J, Chán B (2011) Tectonic movements monitored in the Bohemian Massif. J Geodyn 52:34–44

Král V (1968) Geomorfologie vrcholové části krušných hor a problém paroviny. Rozpravy Československé Akademie Věd 78:42–49

Krejčí O, Krejčí V, Kycl P, Šikula J (2014) Svahové nestability a jejich dopady na krajinu a společnost. Vesmír 93:510–519

Lesparre N, Boudin F, Champollion C, Chery J, Danquigny C, Seat HC, Cattoen M (2017) Lizion F and Longuevergne L (2017) New insights on fractures deformation from tiltmeter data measured inside the Fontaine de Vaucluse karst system. Geophys J Int 208:1389–1402. https://doi.org/10.1093/gji/ggw446

Longuevergne L, Florsch N, Boudin F, Oudin L, Camerlynck C (2009) Tilt and strain deformation induced by hydrologically active natural fractures: Application to the tiltmeters installed in Sainte-Croix-aux-Mines observatory (France). Geophys J Int 178(2):667–677

Malkovský M (1977) Důležité zlomy platformního pokryvu severní části Českého masívu. Ústř Úst Geol 14:7–12

Marek J (1983) Engineering-geological survey of the stability of the Jezeří Castle in front of a coal mine (in Czech). Geolog Průzk 25:234–236

Marek J (1977) Inženýrskogeologické problémy vyvolané rozšířením uhelných velkolomů k úpatí Krušných hor. Geol Průzk 19:164–166

Mejzlík L, Mencl V (1989) Stabilita pilíře Jezeří. Stabilita svahů na povrchových hnědouhelných dolech. Most, VÚHU

Mrlina J (2021) Monitoring hazardous open pit mine slope. Proc. 74th EAGE Conference & Exhibition (C038):1–5

Mrlina J, Polák V, Skalský P, Chán B (2016) Hazardous slope control in an-open pit mine based on continuous tilt observations. Proc. 5th Geological & Earth Sciences (GEOS 2016) Global Science & Technology Forum (GSTF), 48–52

Mrlina J, Chán B, Polák V, Skalský L (2010) Geophysical and geodetic control of hazard in mines. In: Williams et al. (eds) Geologically active. Taylor & Francis Group, CRC Press, London, pp 3379–3385

Mrlina J, Skalský L, Tobyáš V (1997) Slope stability monitoring in the forefield of the open pit mine ČSA, Northwest Bohemia. In: Rakowski Z (ed) Geomechanics 96. Balkema, Rotterdam, pp 51–56

Mϋhldorf J (1981) Final report Komořany II. C – Jezeří. Praha, Stavební geologie n. p

Peterek A, Schroder B (1997) Neogene fault activity and morphogenesis in the basement area north of the KTB drill site (Fichtelgebirge and Steinwald). Geol Rundschau 86:185–190

Pichler E (1998) Svahové sesuvy na lomech. In: Valášek V (ed) 45 let Výzkumného ústavu pro hnědé uhlí v Mostě. Most, VÚHU, pp 54–64

Renaud V, Al Heib M, Muller R, Burda J (2021) Long-term slope stability of abandoned mine lake – numerical modelling and risk assessment. Mater Mater Proc 5(88). https://doi.org/10.3390/materproc2021005088

Rybář J, Novotný J (2005) Influence of climogenic factors on the stability of natural and anthropogenic slopes. Zpravodaj Hnědé Uhlí 3:13–28

Rybář J (1997) Interpretation of data about tectonic activity at the toe of Krušné Hory Mts. Affecting endogenous and exogenous processes in the rock enviroment. Acta Montana, Series AB 106:9–24

Rybář J (1981) Inženýrsko-geologické hodnocení stabilitách poměrů předpolí povrchových velkolomů při úpatí Krušných hor. Stabilitní řešení svahů a jejich zabezpeční. Sborník přednášek semináře. Most 76–93

Schuster RL, Wieczorek GF (2002) Landslide triggers and types. In: Rybář J, Stemberk J, Wagner P (eds) Landslides. A.A.Balkema Publishers, Lise, Abingdon, Exton(pa), London, pp 59–79

Spotila AJ (2004) Orogenesis. In: Goudie AS (ed) Encyclopedia of Geomorphology. London and New York, Routledge Ltd, pp 731–734

Spottiswoode SM, Milev AM (2006) A study of mine stability using records of ground tilting. ARMA/USRMS 06–1168:1–12

Škvor V (1975) Geology of the Czech part of the Krušné hory Mts. and the Smrčiny Mts. Praha, Academia, Praha

Špůrek M (1974) Sesuvné jevy u Dřinova na Mostecku. Věst Ustř Úst Geol 49:231–234

Stead D, Eberhardt E, Coggan JS (2006) Developments in the characterization of complex rock slope deformation and failure using numerical modelling techniques. Eng Geol 83:217–235

Tumajer J, Burda J, Treml V (2015) Dating of rockfall events using vessel lumen area in Betula pendula. IAWA J 36:286–299

Tumajer J, Burda J (2013) Landslide-induced changes of vessel shape in Betula pendula Roth. – A preliminary study. AUC Geographica 48:59–68

Timofeev VY, Masalsky OK, Ardyukov DG, Timofeev AV (2015) Local Deformation and Rheological Parameters by Measurements in Talaya Station Gallery (Baikal Region). Geodyn Tectonophys 6(20):241–253

Timofeev VY, Ardyukov DG, Timofeev AV, Boyko EV, Valitov MG, Kalish EN, Stus YF, Nosov DA, Sizikov LS (2021) Some Features of Current technogenic Movements of the Earth´S Crust. Geodyn Tectonophys 12(3):776–791

Vanneschi C, Eyre M, Burda J, Žižka L, Francioni M, Coggan JS (2018) Investigation of landslide failure mechanisms adjacent to lignite mining operations in North Bohemia (Czech Republic) through a limit equilibrium/finite element modelling approach. Geomorphology 320:142–153

Volkov V, Mrlina J, Dubrov M, Smirnov V, Polak V (2020) Atmosphere, ocean and lithosphere as a possible drive of earthquake triggering. Geodesy Geodyn 11:442–454. https://doi.org/10.1016/j.geog.2020.07.001

Zeman J (1983) Character of the neotectonic morphostructure of the Krušné hory Mts. and the model of its origin. Věst. ústř. úst. geol. 1988:63(6)

Zheng D, Xiao R, Li WL, Liu FZ (2016) Landside induced by colluvial loading of rockfall due to underground mining. 12th International Symposium on Landslides, June 12–19, Napoli, Italy. Proceedings Paper Landslides and Engineered Slopes: Experience, Theory and Practise 1–3:2129–2137
Acknowledgements
We appreciate the cooperation of V. Polák and P. Skalský from the Institute of Geophysics, Prague, who managed the tilt data recording in the gallery and the data processing, respectively. Tilt observations were supported by the SEV-EN Energy mining company. Research and data interpretation were supported by the Ministry of Education, Youth and Sports within the framework of the Grant CzechGeo/EPOS No. LM2015079; Research Fund for Coal and Steel project No. 847299 RAFF – Risk Assessment of Final Pits during Flooding; International Programme on Landslides – IPL project – 246.
About this article
Cite this article
Burda, J., Mrlina, J. & Vilímek, V. Geodynamic phenomena in hazardous fault zones affected by extensive surface mining in Central Europe. Bull Eng Geol Environ 81, 153 (2022). https://doi.org/10.1007/s10064-022-02650-x
Received:

Accepted:

Published:

DOI: https://doi.org/10.1007/s10064-022-02650-x
Keywords