Abstract
Estimating and preventing loess collapsibility are important for the design and construction of the Xi'an North–Airport Intercity Railway. Laboratory tests and large-scale in situ immersion experiments were carried out to assess the collapsibility characteristics, seepage field, and deformation properties of loess at sites located on the third terrace of the Wei River (Bai Qi Zhai village) and the Xianyang loess tableland (Bu Li village). The calculated and measured in situ self-weight collapsibility are 363.0 mm and 3.0 mm for the Bai Qi Zhai village experimental site (the third terrace with loess covering permeable alluvium) and 306.0 mm and 318.5 mm for the Bu Li village experimental site (loess tableland), respectively. The presence of underlying highly permeable strata inhibits the in situ collapsibility characteristics of the loess at the third terrace site. Along the project route, the third terrace of the Wei River and the loess tableland can be assessed as non-self-weight and self-weight collapsible sites, respectively, for which relevant foundation treatment methods can be suggested to alleviate the collapse settlement of the foundation of the project.
Access options
Buy single article
Instant access to the full article PDF.
US$ 39.95
Tax calculation will be finalised during checkout.
Subscribe to journal
Immediate online access to all issues from 2019. Subscription will auto renew annually.
US$ 79
Tax calculation will be finalised during checkout.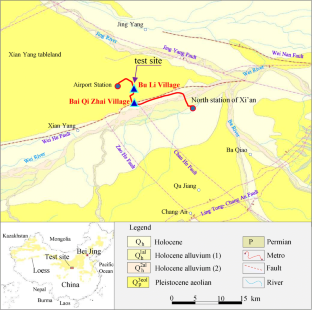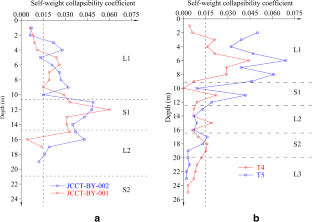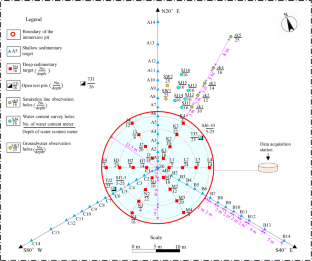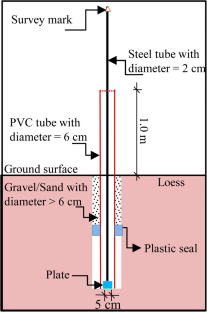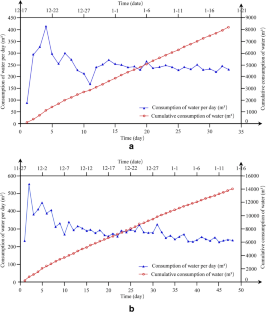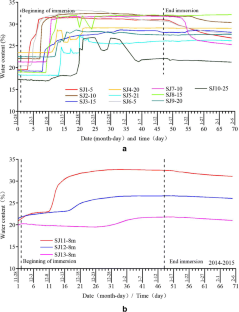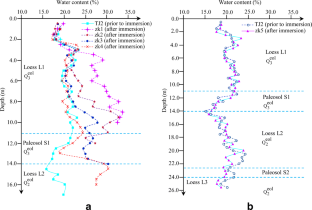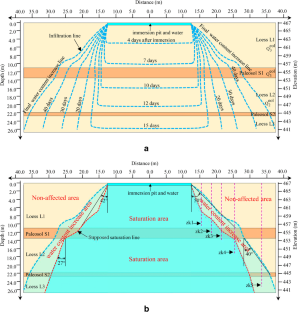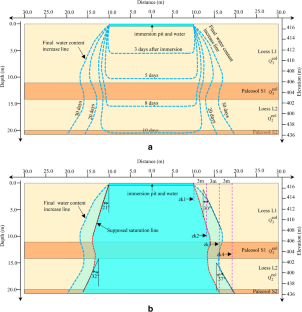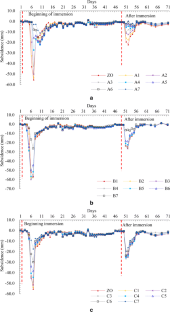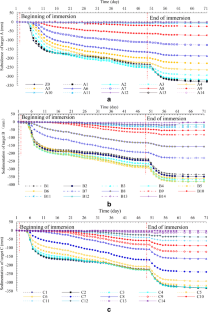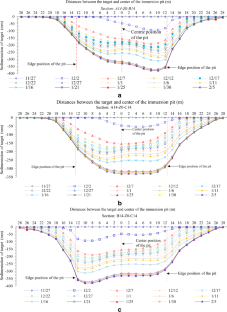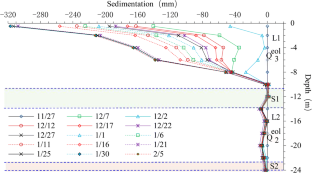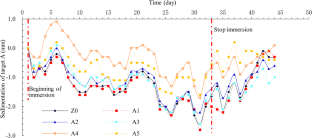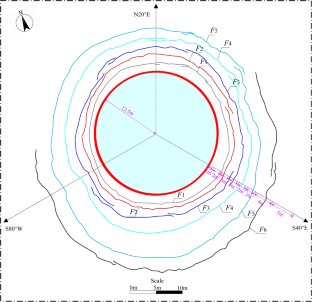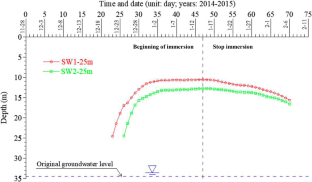 References
Assallay AM, Rogers CDF, Smalley IJ (1997) Formation and collapse of metastable particle packings and open structures in loess deposits. Eng Geol 48(1-2):101–115

Ayadat T, Hanna AM (2012) Assessment of soil collapse prediction methods. Int J Eng 25(1):19–26

Ayadat T, Hanna AM (2013) Design of foundations built on a shallow depth (less than 4 m) of Egyptian macro-porous collapsible soils. Open J Geol 3(3):209–215

Barden L, Mcgown A, Collins K (1973) The collapse mechanism in partly saturated soil. Eng Geol 7(1):49–60

Bell DH, Glassey PJ, Yetton MD (1990) Chemical stabilization of dispersive loessial soils, Banks Peninsula, Canterbury, New Zealand. Proc. 5th Intl. Assoc. of Engineering Geology Congress, Balkema, pp 2193–2208

Clevenger WA (1956) Experiences with loess as foundation materials. J Soil Mech Found Div 82(3):1–26

Deng LS, Fan W, Yin YP, Cao YB (2018) Case study of a collapse investigation of loess sites covered by very thick loess–paleosol interbedded strata. Int J Geomech 18(11):05018009

Dudley JH (1970) Review of collapsing soils. J Soil Mech Found Div 96(3):925–947

Evstatiev D (1988) Loess improvement methods. Eng Geol 25(2-4):341–366

Feda J (1988) Collapse of loess upon wetting. Eng Geol 25:263–269

Feng SJ, Shi ZM, Shen Y, Li LC (2014) Elimination of loess collapsibility with application to construction and demolition waste during dynamic compaction. Environ Earth Sci 73(9):5317–5332

Francisca FM (2007) Evaluating the constrained modulus and collapsibility of loess from standard penetration test. Int J Geomech 7:4(307)

Gao GR (1988) Formation and development of the structure of collapsing loess in China. Eng Geol 25:235–245

Garakani AA, Haeri SM, Khosravi A, Habibagah G (2015) Hydro-mechanical behavior of undisturbed collapsible loessial soils under different stress state conditions. Eng Geol 195:28–41

Handy RL (1973) Collapsible loess in Iowa. Soil Sci Soc Am J 37(2):281–284

Houston SL, Houston WN, Zapata CE, Lawrence C (2001) Geotechnical engineering practice for collapsible soils. Geotech Geol Eng 19:333–355

Hu R, Guan G, Li X, Zhang L (1998) Microstructural effect of loess deformation with pressure. Hydrgeol Eng Geol 3:30–35

Jefferson I, Rogers C, Evstatiev D, Karastanev D (2005) Treatment of metastable loess soils: lessons from Eastern Europe. Elsevier Geo-Eng Book Series 3:723–762

Jennings JE, Knight K (1957) The prediction of total heave from the double odometer test. Transact South African Inst Civil Eng 7(9):285–291

Jiang MJ, Li T, Hu HJ, Thornton C (2014) DEM analyses of one-dimensional compression and collapse behavior of unsaturated structure loess. Comput Geotech 60:47–60

Klukanova A, Frankovska J (1994) The Slovak Carpathians loess sediments, their fabric and properties. Genesis and Properties of Collapsible Soils. Springer, Dordrecht, pp 129–147

Lawton EC, Fragaszy RJ, Hetherington MD (1992) Review of wetting-induced collapse in compacted soil. J Geotech Eng 118(9):1376–1394

Lin ZG, Wang SJ (1988) Collapsibility and deformation characteristics of deep-seated loess in China. Eng Geol 25(2-4):271–282

Liu Z, Liu FY, Ma FL, Wang M, Bai XL, Zheng YL, Yin H, Zhang GP (2016) Collapsibility, composition, and microstructure of loess in China. Can Geotech J 53(4):673–686

Lu QZ, Liu Y, Peng JB, Li L, Fan W, Liu NN, Sun K, Liu RD (2020) Immersion test of loess in ground fissures in Shuanghuaishu, Shaanxi province, China. Bull Eng Geol Environ 2020:1–14

Muñoz-Castelblanco J, Delage P, Pereira JM, Cui YJ (2011) Some aspects of the compression and collapse behaviour of an unsaturated natural loess. Geotechn Lett 1(2):17–22

Pells P, Robertson A, Jennings JE, Knigh K (1975) A guide to construction on or with materials exhibiting additional settlement due to collapse of grain structure. Vol. 1. In: Balkema AA (ed) Soil mechanics and foundation engineering. Proceedings of the Sixth Regional Conference for Africa, Cape Town Durban

Phien-wej N, Pientong T, Balasubramaniam AS (1992) Collapse and strength characteristics of loess in Thailand. Eng Geol 32(1-2):59–72

Reznik YM (2007) Influence of physical properties on deformation characteristics of collapsible soils. Eng Geol 92(1-2):27–37

Rogers CDF, Dijkstra TA, Smalley IJ (1994) Hydroconsolidation and subsidence of loess: studies from China, Russia, North America and Europe. Eng Geol 37(2):83–113

Shao XX, Zhang HY, Tan Y (2018) Collapse behavior and microstructural alteration of remolded loess under graded wetting tests. Eng Geol 233:11–22

Wang YY (1982) Microstructure characteristics and variation with ages and regions of loess in China. Chin Sci Bull 27(2):102–105

Wang M, Bai X (2006) Collapse property and microstructure of loess. Adv Unsat Soil, Seepage Environ Geotech 2006:111–118

Wang XL, Zhu YP, Huang XF (2014) Field tests on deformation property of self-weight Collapsible loess with large thickness. Int J Geomech 14(3):04014001. https://doi.org/10.1061/(ASCE)GM.1943-5622.0000320

Wang TH, Jin X, Luo Y, Zhang SL (2019) A method for evaluation of loess collapse potential of unloading. Rock Soil Mech 40:1281–1290

Wang JD, Li P, Ma Y, Vanapalli SK, Wang XG (2020a) Change in pore-size distribution of collapsible loess due to loading and inundating. Acta Geotech 15(5):1081–1094

Wang L, Li XA, Li LC, Hong B, Yao W, Lei HN, Zhang C (2020b) Characterization of the collapsible mechanisms of Malan loess on the Chinese Loess Plateau and their effects on eroded loess landforms. Human Ecol Risk Assess: Int J 2020:1–26

Weng XL, Sun YF, Zhang Y, Niu HS, Liu X, Dong YL (2019) Physical modeling of wetting-induced collapse of shield tunneling in loess strata. Tunn Undergr Space Technol 90:208–219

Xie W, Li P, Zhang M, Cheng T-e, Wang Y (2018a) Collapse behavior and microstructural evolution of loess soils from the Loess Plateau of China. J Mt Sci 15(8):1642–1657

Xie WL, Li P, Vanapalli SK, Wang JD (2018b) Prediction of the wetting-induced collapse behaviour using the soil-water characteristic curve. J Asian Earth Sci 151:259–268

Yang YL (1989) Study of mechanism of loess collapse. Sci China Series B-Chem Life Sci Earth Sci 32(5):604–617

Yasufuku N, Ochiai H, Hormdee D (2006) A semi-empirical relationship for predicting soil collapsibility under soaking. Geomech II: Test Model Simul 2006:162–177

Yuan ZX, Wang LM (2009) Collapsibility and seismic settlement of loess. Eng Geol 105(1-2):119–123. https://doi.org/10.1016/j.enggeo.2008.12.002

Zhang ZH (1964) A study on the microtexture of the Chinese Loess. Acta Geol Sin 44(1):357–366

Zhang SH (2011) Assessment of loess collapsibility with GRNN. Communication Systems and Information Technology. Springer, Berlin, pp 745–752

Zhang Y, Hu ZQ, Xue ZJ (2018) A new method of assessing the collapse sensitivity of loess. Bull Eng Geol Environ 77(4):1287–1298

Zia N, Fox PJT (2000) Engineering properties of loess-fly ash mixtures for road base construction. J Transp Res Board 1714(1):49–56
Funding
This study was sponsored by the National Natural Science Foundation of China (Grant Numbers 41877245 and 41630634).
About this article
Cite this article
Lv, Y., Deng, L. & Fan, W. Loess collapsibility characteristics of railway engineering sites using large-scale trial immersion pit experiments. Bull Eng Geol Environ 80, 3271–3291 (2021). https://doi.org/10.1007/s10064-021-02124-6
Received:

Accepted:

Published:

Issue Date:
Keywords
Loess collapsibility

Large-scale trial immersion pit experiment

Third terrace and loess tableland

Infiltration and saturation field

Collapse settlement