Abstract
Improving the strength and stiffness properties of soils using non-conventional materials has been extensively performed in the past decade. In recent years, many nanotechnology-based materials have been used in different civil engineering projects. Unlike the static properties, dynamic characteristics of stabilized soils, which are of great significance in the seismic analysis of geostructures in earthquake-prone areas, have not been extensively explored throughout the literature. In this study, the influence of the addition of nano-SiO2 and lime on the shear wave velocity (Vs), small strain shear modulus (Gmax), and unconfined compressive strength of the stabilized clay is investigated. Adopting nano-SiO2 and lime contents and curing time of the mixtures as testing variables, several series of bender element (BE) tests and unconfined compressive strength tests are performed on soft clay samples stabilized with the variable percentages of lime and nano-SiO2. The experimental results demonstrate that the simultaneous addition of the nano-SiO2 and lime contents to the mixture up to a certain level (7% lime and 1% nano-SiO2) leads to a considerable increase in the small strain characteristics and unconfined compressive strength of soft clay. A typical correlation between the small strain properties and unconfined compressive strength (qu) is also developed for the mixture used in this study, which could be an alternative approach for the evaluation of shear stiffness. Such correlation could serve as a quick, convenient reference without having to prepare numerous specimens for the dynamic experiments.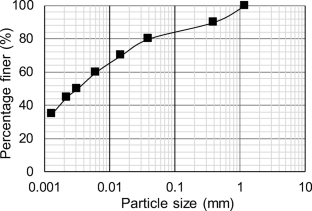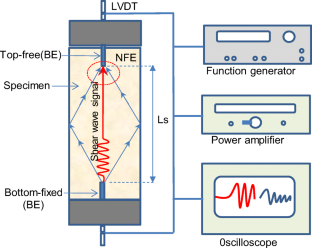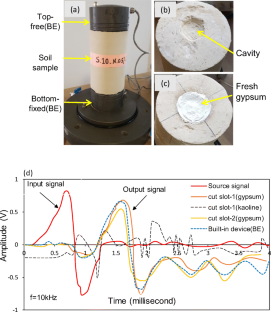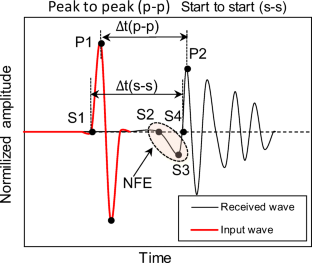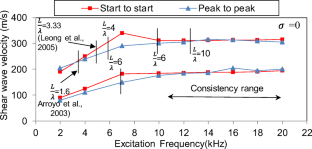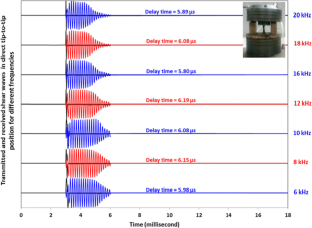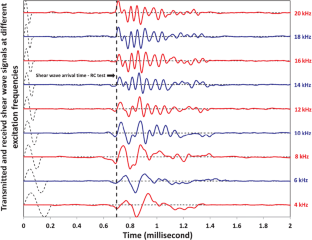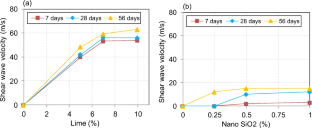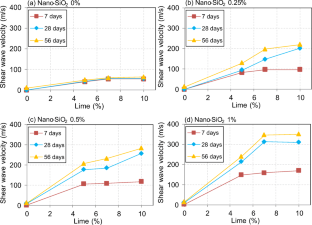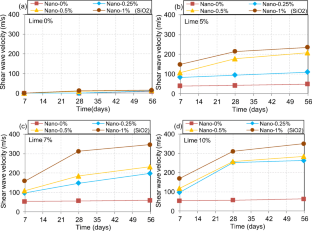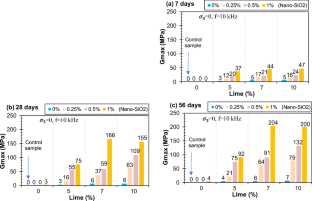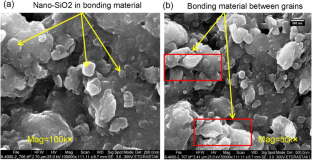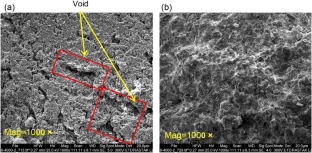 References
Arroyo M, Muir Wood D, Greening P (2003) Source near-field effects and pulse tests in soil samples. Geotechnique 53:337–345

ASTM D 5102 (2004) Standard test method for unconfined compressive strength of compacted soil-lime. ASTM International

Atkinson J (2000) Non-linear soil stiffness in routine design. Geotechnique 50:487–508

Bahmani SH, Huat BB, Asadi A, Farzadnia N (2014) Stabilization of residual soil using SiO2 nanoparticles and cement. Constr Build Mater 64:350–359

Basma AA, Tuncer ER (1991) Effect of lime on volume change and compressibility of expansive clays. Transportation research record

Bell FG (1996) Lime stabilization of clay minerals and soils. Eng Geol 42:223–237

Bengt B (1993) Ground improvement. John Wiley and Sons Publishing Company

Bergado D, Ruenkrairergsa T, Taesiri Y, Balasubramaniam A (1999) Deep soil mixing used to reduce embankment settlement. Proceedings of the Institution of Civil Engineers-Ground Improvement 3:145–162

Chiang Y-C, Chae YS (1972) Dynamic properties of cement treated soils. Highw Res Rec 379:39–51

Christensen A (1969) Cement modification of clay soils. Portland Cement Assoc R & D Lab Bull

Clayton C, Heymann G (2001) Stiffness of geomaterials at very small strains. Geotechnique 51:245–255

Consoli NC, da Fonseca AV, Silva SR, Cruz RC, Fonini A (2012) Parameters controlling stiffness and strength of artificially cemented soils. Geotechnique 62:177–183

Croft J (1967) The influence of soil mineralogical composition on cement stabilization. Geotechnique 17:119–135

Fam M, Santamarina J (1996) Study of clay-cement slurries with mechanical and electromagnetic waves. J Geotech Eng 122:365–373

Fatahi B, Fatahi B, Le TM, Khabbaz H (2013) Small-strain properties of soft clay treated with fibre and cement. Geosynth Int 20(4):286–300

Gallagher PM, Conlee CT, Rollins KM (2007) Full-scale field testing of colloidal silica grouting for mitigation of liquefaction risk. J Geotech Geoenviron 133:186–196

Gallavresi F (1992) Grouting, soil improvement and geosynthetics. ASCE, Vol.:1–38.

Horpibulsuk S, Miura N, Bergado D (2004) Undrained shear behavior of cement admixed clay at high water content. J Geotech Geoenviron 130:1096–1105

Hoyos LR, Puppala AJ, Chainuwat P (2004) Dynamic properties of chemically stabilized sulfate rich clay. J Geotech Geoenviron 130:153–162

Jovičić V, Coop MR, Simić M (1996) Objective criteria for determining Gmax from bender element tests. Geotechnique 46(2):357–362

Lee J-S, Santamarina JC (2005) Bender elements: performance and signal interpretation. J Geotech Geoenviron 131:1063–1070

Leong EC, Cahyadi J, Rahardjo H (2009) Measuring shear and compression wave velocities of soil using bender–extender elements. Can Geotech J 46:792–812

Liao H, Kao T, Chen M, Wu Z (1994) Grouting in the ground. Proceedings of the conference organized by the Institution of Civil Engineers and held in London on 25–26 November 1992, vol 403–416. Thomas Telford Publishing

Lua YH (2000) Dynamic modulus and damping of soil-cement mixes. Bachelor Thesis, National University of Singapore, Singapore.

McKennon J, Hains NL, Hoffman DC (1994) Method for stabilizing clay bearing soils by addition of silica and lime. Patent Classification C09K:17

Oates J (1998) Lime and limestone. John Willey and Sons Publishing Company

Payan M, Jamshidi Chenari R (2019) Small-strain shear modulus of anisotropically loaded sands. Soil Dyn Earthq Eng 125:105726

Payan M, Senetakis K (2018) Effect of anisotropic stress state on elastic shear stiffness of sand-silt mixture. Geotech Geol Eng. https://doi.org/10.1007/s10706-018-0690-9

Payan M, Khoshghalb A, Senetakis K, Khalili N (2016) Small-strain stiffness of sand subjected to stress anisotropy. Soil Dyn Earthq Eng 88:143–151

Pham H, Nguyen QP (2014) Effect of silica nanoparticles on clay swelling and aqueous stability of nanoparticle dispersions. J Nanopart Res 16:2137

Puppala AJ, Kadam R, Madhyannapu RS, Hoyos LR (2006) Small-strain shear moduli of chemically stabilized sulfate-bearing cohesive soils. J Geotech Geoenviron 132:322–336

Rabbani, P, Tolooiyan, A, Lajevardi, S.H, Daghigh, Y, Falah, M (2019) The effect of the depth of cutter soil mixing on the compressive behavior of soft clay treated by alkali-activated slag. KSCE J Civ Eng 23: 4237–4249.

Rajabi H, Sharifipour M (2017) An experimental characterization of shear wave velocity (Vs) in clean and hydrocarbon-contaminated sand. Geotech Geol Eng 35:2727–2745

Rajabi H, Sharifipour M (2018) Influence of weathering process on small-strain shear modulus (Gmax) of hydrocarbon-contaminated sand. Soil Dyn Earthq Eng 107:129–140

Saitoh S, Suzuki Y, Nishioka S, Okumura R (1996) Required strength of cement improved ground. Balkema, Grouting and Deep Mixing, pp 557–562

Sugawara S, Shigenawa S, Gotoh H, Hosoi T (1996) Grouting and deep mixing. Proceedings of the 2nd International Conference on Ground Improvement Geosystems. The Netherlands, Vol.: 353–356.

Taha, M. (2009) Geotechnical properties of soil-ball milled soil mixtures. Nanotechnology in Construction, 3, pp. 377–382, Springer.

Tika T, Kallioglou P, Koninis G, Michaelidis P, Efthimiou M, Pitilakis K (2010) Dynamic properties of cemented soils from Cyprus. Bull Eng Geol Environ 69:295–307

Trhlikova J, Bohac J, Masin D (2012) Small-strain behaviour of cemented soils. Geotechnique 62:943

Xiao H, Lee FH, Chin KG (2014) Yielding of cement-treated marine clay. Soils Found 54:488–501

Yamashita S, Kawaguchi T, Nakata Y, Mikami T, Fujiwara T, Shibuya S (2009) Interpretation of international parallel test on the measurement of Gmax using bender elements. Soils Found 49:631–650

Yang L (2008) Shear stiffness modeling of cemented sand and cemented clay.

Yonekura R, Miwa M (1993) Proceedings of the 11th Southeast Asia Geotechnical Conference, Singapore, Vol: e44.

Yong SP (2002) Strain-dependent stiffness of soil-cement mixes. National University of Singapore, Singapore, Bachelor Thesis

Zhang G, Germaine J, Whittle A, Ladd C (2004) Index properties of a highly weathered old alluvium. Geotechnique 54:441–451
Ethics declarations
Conflict of interest
The authors declare no competing interests.
About this article
Cite this article
Jafari, S.H., Lajevardi, S.H., Sharifipour, M. et al. Evaluation of small strain stiffness characteristics of soft clay treated with lime and nanosilica and correlation with UCS (qu). Bull Eng Geol Environ 80, 3163–3175 (2021). https://doi.org/10.1007/s10064-021-02115-7
Received:

Accepted:

Published:

Issue Date:
Keywords
Nano-SiO2 and lime

Bender element test

Shear wave velocity

Small strain

Shear modulus

Unconfined compressive strength