Abstract
A better understanding of the spatiotemporal evolution of landslides in urban zones is a key factor in assessing the risk of future slides within these areas. The El Biar landslide, located around the center of Algiers city, is one of the most important landslides in the region. It occurs mostly within a high strategic zone between schools, embassies and security buildings, thus causing a real risk for the population since it covers an area of 40 ha. The detection of various landslide-breaking surfaces leads to a better understanding of the mechanism of the spatiotemporal evolution of ground movement. In this work, we have combined two methods in order to provide strong evidence of its spatiotemporal evolution. The first method is based on field investigations to map old scarps related to the activity of the landslide. To better constrain our field investigations, most recent field observations were complemented by a second geophysical method using ground-penetrating radar with two different antennae which propagate under the two frequencies of 30 MHz and 100 MHz. As a result, we have reviewed this sliding area in detail and presented a new map of the whole affected zone. We have also delimited the affected zone by drawing a new map of the landslide. Combining field observations and the geophysical survey, we have highlighted the main discontinuity surfaces that lead us to suggest plausible realistic scenarios concerning the landslide's evolution.
This is a preview of subscription content, log in to check access.
Access options
Buy single article
Instant access to the full article PDF.
US$ 39.95
Price includes VAT for USA
Subscribe to journal
Immediate online access to all issues from 2019. Subscription will auto renew annually.
US$ 99
This is the net price. Taxes to be calculated in checkout.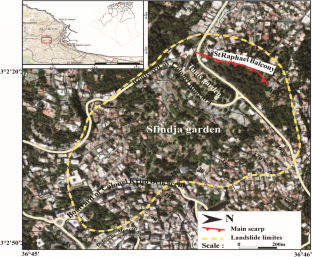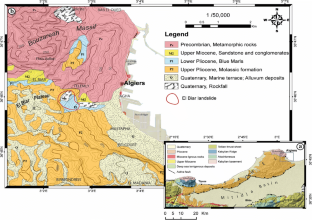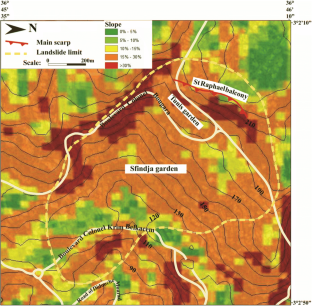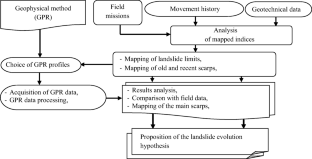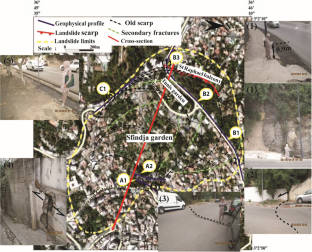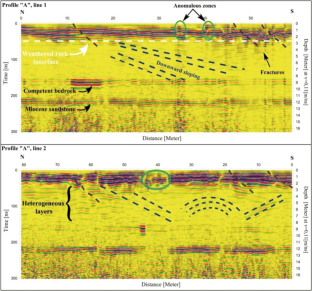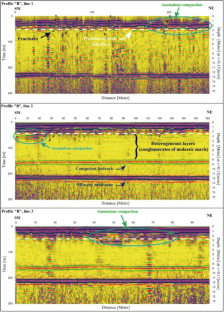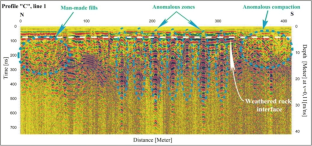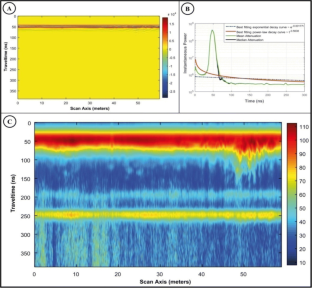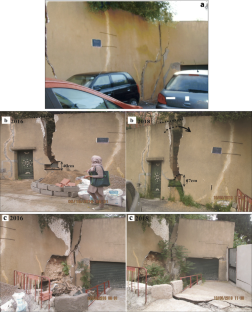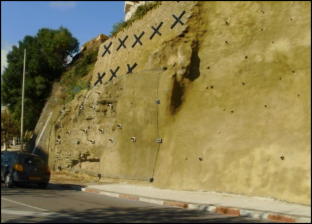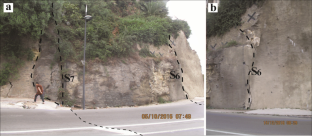 References
Agard M (1948) Les glissements et éboulements des quartiers Saint-Raphaël et Telemly à Alger. Ann Ponts Chaussées 465–480

Aymé (1964) Cartes géologiques de Chéraga et d'Alger. Bull Serv Cart Géol Alg, scale: 1/50 000

Azimi D (1996) Quelques aspects de la prévision des mouvements de terrains. Rev Fr Géotech 76:63–75

Bogoslovsky VA, Ogilvy AA (1977) Application of geophysical methods for the investigation of landslides. Geophysics 42:562–571

Borecka A, Herzig J, Durjasz-Rybacka M (2015) Ground penetrating radar investigations of landslides: a case study in a landslide in Radziszów. Stud Geotech Mech 37:11–18

Bougdal R (2007) Urbanisation et mouvements de versants dans le contexte géologique et géotechnique des bassins néogènes d'Algérie du Nord. Thèse doctorat. USTHB. Algeria

Bougdal R, Larriere A, Pincent B, Panet M, Bentabet A (2013) Les glissements de terrains du quartier Bélouizdad, Constantine. Algérie Bull Eng Geol Env. https://doi.org/10.1007/s10064-013-0465-8

Bouhadad Y, Benhamouche A, Bourenane H, Ait Ouali A, Chikh M, Guessoum N (2010) The Laalam (Algeria) damage landslide triggered by a moderate earthquake (mw = 5.2). Nat Hazards. https://doi.org/10.1007/s11069-009-9466-0

Boullé P, Vrolijks L, Palm E (1997) Vulnerability reduction for sustainable urban development. J Conting Crisis Manag 5:179–188

Bournane H, Bouhadad Y, Guettouche M-S, Braham M (2015) GIS-based landslide susceptibility zonation using bivariate statistical and expert approaches in the city of Constantine (Northeast Algeria). Bull Eng Geol Environ. https://doi.org/10.1007/s10064-014-0616-6

Bouzid R (1985) Contribution à l'étude des glissements de terrain, cas du glissement d'El Biar. Thèse de Doctorat de 3ème cycle. Ecole Nationale Polytechnique, Algeria

Cheikh Lounis G (2011) Analyse et cartographie des risques naturels dans l'algérois. Thèse doctorat. USTHB. Algeria

Crozier M. J, Glade T (2012) Landslide hazard and risk: issues, concepts, and approach. In: Glade, T., Anderson, M., Crozier, M.J. (Eds.), Landslide Hazard and Risk. Wiley, Chichester, UK, pp. 1–40

Dervieux F (1948) Problèmes particuliers de mécanique des sols en Algérie. I.T.B.T.P. Sols Fond 3:51–58

Djerbal L, Melbouci B (2012) Le glissement de terrain d'Aïn-El- Hammam : causes et évolution. Bull Eng Geol Environ 71(3):587–597

Drouhin R, Gauthier H, Dervieux H (1948) Stabilité et déformation du sol. Travaux, pp. 327–332

Glangeaud L (1932) Etude géologique de la région littorale de la province d'Alger. Thèse Doct. Sci., Paris.

Glangeaud L, Aymé A, Matauer M (1952) Histoire géologique de la province d'Alger, XIX Cong. Géol. Inter., Mono gr. Région Algérie, 1er série, n°25

Guirous L, Djerbal L, Alimrina N, Melbouci B, Bahar R (2013) Caractérisation des glissements de terrain de la région de Tizi-Ouzou (Algérie). First International Conference on Landslides Risk, Tabarka, Tunisie, 14–16 mars, pp 117–127

Guirous L, Dubois L, Melbouci B (2014) Contribution à l'étude du mouvement de terrain de la ville de Tigzirt (Algérie). Bull Eng Geol Environ. https://doi.org/10.1007/s10064-014-0624-6

Hack R (2000) Geophysics for slope stability. Surv Geophys 21:423–448

Hallal N, Dubois L, Bougdal R, Djouder F (2017) Instabilités gravitaires dans la région de Béjaïa (Algérie): Inventaire et appréciation de l'importance relative des différents paramètres conduisant au déclenchement, au maintien ou à l'activation des instabilités. Bull Eng Geol Environ. https://doi.org/10.1007/s10064-017-1050-3

Harbi A, Maouche S, Ayadi A, Benouar D, Panza G-F, Benhallou H (2004) Seismicity and tectonic structures in the site of Algiers and its surroundings: a step towards microzonation. Pure Appl Geophys 161:949–967

Huang Y, Lingkan Y, Chenwen G (2013) Distribution law of landslides triggered by earthquake based on cellular automata. J SouthWest JiaoTong Univ. https://doi.org/10.3969/j.issn.0258-2724.2013.04.004

Irving JD, Knight RJ (2003) Removal of wavelet dispersion from ground-penetrating radar data. Geophysics 68:960–970. https://doi.org/10.1190/1.1581068

Koukouvelas A, Litoseliti K, Nikolakopoulos V, Zygouri (2015) Earthquake triggered rock falls and their role in the development of a rock slope: the case of Skolis Mountain, Greece. Eng Geol 191(29):71–85

Laribi A, Walstra J, Ougrine M, Seridi A, Dechemi N (2015) Use of digital photogrammetry for the study of unstable slopes in urban areas: Case study of the El Biar landslide, Algiers

Maouche S (2010) Tectonique active et géodynamique le long de l'Atlas Tellien: Etude des soulèvements côtiers., USTHB, Algeria

Maouche S, Meghraoui M, Morhange C et al (2011) Active coastal thrusting and folding, and uplift rate of the Sahel anticline and Zemmouri earthquake area (tell atlas, Algeria). Tectonophysics 509:69–80. https://doi.org/10.1016/j.tecto.2011.06.003

Mansour MF, Morgenstern NR, Martin CD (2011) Expected damage from displacement of slow-moving slides. Landslides 8:117–131

Mc Cann DM, Forster A (1990) Reconnaissance geophysical methods in landslide investigations. Eng Geol 29:59–78

Meghraoui M, Maouche S, Chemaa B, Cakir Z, Aoudia A, Harbi A, Alasset PJ, Ayadi A, Bouhadad Y, Benhamouda F (2004) Coastal uplift and thrust faulting associated with the mw = 6.8 Zemmouri (Algeria) earthquake of 21 may, 2003. Geophys Res Lett 31(19)

Saadallah A (1981) Le massif cristallophyllien d'El Djazair (Algérie), évolution d'un charriage à vergence Nord dans les Interniez des Maghrébides. Thèse 3 éme Cycle. I.S.T-USTHB. Algérie

Saadallah K (1984) Tectonique globale et active en Algérie alpine septentrionale. Conférence Internationale sur la microzonation sismique. Chlef. 10–12/11/1984

Sandmeier K. J (2008) ReflexW (version 5.0) program for processing and interpretation of reflection and transmission data. Karlsruhe, Germany, Sandmeier software

Sass O, Bell R, Glade T (2008) Comparison of GPR, 2D-resistivity and traditional techniques for the subsurface exploration of the Öschingen landslide, Swabian Alb (Germany). Geomorphology 93(1–2):89–103

Sebaï A, Bernard P (2008) Contribution à la connaissance de la sismicité d'Alger et de ses alentours au XVIII siècle, extraite des archives françaises. C R Geosci 340:495–512. https://doi.org/10.1016/j.crte.2008.05.001

Sol Expert International (S.E.I.) (1978) Mission 1, Bilan des phénomènes depuis 1973

Sol Expert International (S.E.I.) (1981) Rapport Final, Written by Evers G., P fister P

Stockwell RG, Mansinha L, Lowe RP (1996) Localization of the complex spectrum: the S transform. IEEE Trans Signal Process 44:998–1001. https://doi.org/10.1109/78.492555

Tzanis A (2010) matGPR Release 2: A freeware MATLAB® package for the analysis & interpretation of common and single offset GPR data. FastTimes 15(1):17–43

Tzanis A (2016) MATGPR Release 3.1, Manual and Technical Reference, Department of Geophysics, University of Athens Panepistimiopoli, Zografou 15784, Greece, atzanis@geol.uoa.gr

Walstra J, Dixon N, Chandler J-H (2007) Historical aerial photographs for landslide assessment: two case histories. Q J Eng Geol Hydrogeol 40:315–332

Yelles-Chaouche A-K, Boudiaf A, Djellit H, Bracène R (2006) La tectonique active de la région nord algérienne. C R Géosci 338:126–139

Zajc M, Pogacnik Z, Gosar A (2014) Ground penetrating radar and structural geological mapping investigation of karst and tectonic features in flyschoid rocks as geological hazard for exploitation. Int J Rock Mech Min Sci 67:78–87

Zhou Q, Jiang Y-f, Wu G, Chen G-g (eds) (2014) Distribution of coseismic landslides in Lushan earthquake and discussion on related problems. Seismol Geol 36(2):344–357
Acknowledgments
This research was supported by the CRAAG research center. We would like to thank the two anonymous reviewers for their thoughtful comments and useful suggestions.
About this article
Cite this article
Hallal, N., Yelles Chaouche, A., Hamai, L. et al. Spatiotemporal evolution of the El Biar landslide (Algiers): new field observation data constrained by ground-penetrating radar investigations. Bull Eng Geol Environ 78, 5653–5670 (2019). https://doi.org/10.1007/s10064-019-01492-4
Received:

Accepted:

Published:

Issue Date:
Keywords
El Biar landslide

Mapping

GPR

Spatiotemporal evolution