Abstract
Loess landslide incidents have resulted in significant economic losses and human casualties in Northwest China. To investigate the triggering mechanism of such loess landslides in the south Jingyang platform, Shaanxi province, an area which is subject to loess landslides, we performed a series of field measurements for loess landslide LD37 and also undertook laboratory. Comparisons between the field measurements of LD37 and the results of the constant shear drained (CSD) triaxial test indicate that the seepage from irrigation-water infiltration triggered the loess landslides in the study area where the initiation of the local sliding surfaces was linked to gentle stratum erosion and their subsequent development was because of excessive stratum erosion. The development of slow–rapid strain cycles in the ε–p′ plot from the CSD triaxial test results indicates that loess landslides are a feature of progressive failure of the loess slope. Preventive measures to reduce irrigation-water infiltration into loess slopes should be taken to prevent similar incidents from recurring in the future.
This is a preview of subscription content, log in to check access.
Access options
Buy single article
Instant access to the full article PDF.
US$ 39.95
Price includes VAT for USA
Subscribe to journal
Immediate online access to all issues from 2019. Subscription will auto renew annually.
US$ 99
This is the net price. Taxes to be calculated in checkout.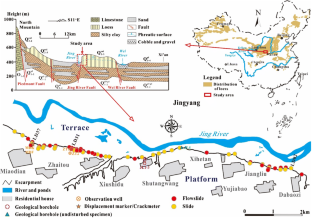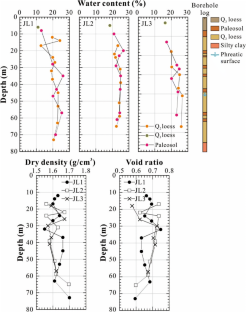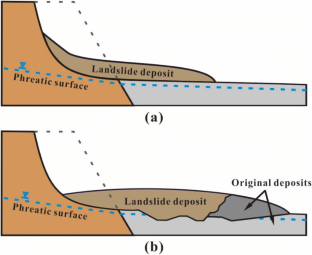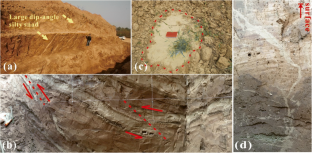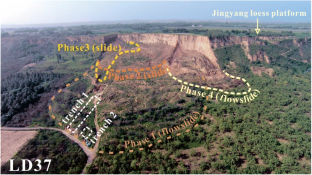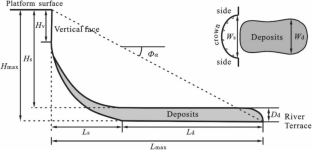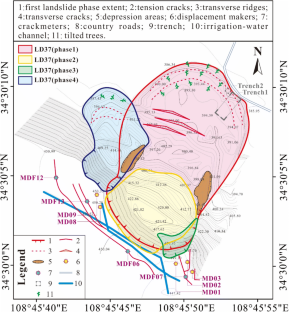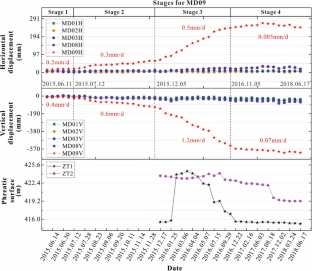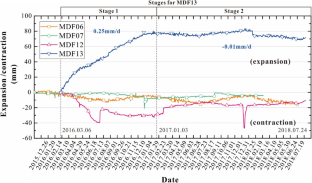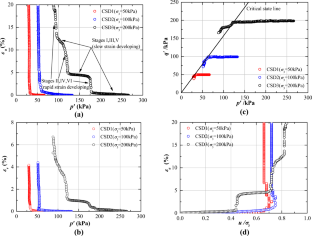 References
Cascini L, Cuomo S, Pastor M, Sorbino G (2010) Modeling of rainfall-induced shallow landslides of the flow-type. J Geotech Geoenviron 136(1):85–98

Cascini L, Cuomo S, Della Sala M (2011) Spatial and temporal occurrence of rainfall-induced shallow landslides of flow type: a case of Sarno-Quindici, Italy. Geomorphology 126:148–158

Cheng WC, Ni JC, Shen SL (2017a) Experimental and analytical modeling of shield segment under cyclic loading. Int J Geomech 17(6):04016146

Cheng WC, Ni JC, Shen SL, Huang HW (2017b) Investigation into factors affecting jacking force: a case study. Ice Proc Geotech Eng 170(4):322–334

Cheng WC, Ni JC, Arulrajah A, Huang HW (2018a) A simple approach for characterising tunnel bore conditions based upon pipe-jacking data. Tunn Undergr Space Technol 71:494–504

Cheng WC, Ni JC, Shen JS, Wang ZF (2018b) Modeling of permeation and fracturing grouting in sand: laboratory investigations. J Test Eval. https://doi.org/10.1520/JTE20170170

Cheng WC, Song ZP, Tian W, Wang ZF (2018c) Shield tunnel uplift and deformation characterisation: A case study from Zhengzhou metro. Tunn Undergr Space Technol 79:83–95

Cheng WC, Ni JC, Huang HW, Arulrajah A (2018d) The use of tunnelling parameters and spoil characteristics to assess soil types: A case study from alluvial deposits at a pipejacking project site. Bull Eng Geol Environ. https://doi.org/10.1007/s10064-018-1288-4

Derbyshire E (2001) Geological hazards in loess terrain, with particular reference to the loess regions of China. Earth Sci Rev 54:231–260

Derbyshire E, Dijkstra TA, Smalley IJ, Li YJ (1994) Failure mechanisms in loess and the effects of moisture content changes on remolded strength. Quat Int 24:5–15

Du YJ, Jiang NJ, Liu SY, Jin F, Singh DN, Pulppara A (2014a) Engineering properties and microstructural characteristics of cement solidified zinc-contaminated kaolin clay. Can Geotech J 51:289–302

Du YJ, Wei ML, Reddy KR, Liu ZP, Jin F (2014b) Effect of acid rain pH on leaching behavior of cement stabilized lead-contaminated soil. J Hazard Mater 271:131–140

Fell R, Glastonbury J, Hunter G (2007) Rapid landslides: the importance of understanding mechanisms and rupture surface mechanics. Q J Eng Geol Hydrogeol 40(1):9–27

Lai JX, Qiu JL, Fan HB, Zhang Q, Hu ZN, Wang JB, Chen JX (2016) Fiber bragg grating sensors-based in situ monitoring and safety assessment of loess tunnel. J Sens 2016:1–12

Lai JX, He SY, Qiu JL, Chen JX, Wang LX, Wang K, Wang JB (2017) Characteristics of earthquake disasters and aseismic measures of tunnels in Wenchuan earthquake. Environ Earth Sci 76(2):76–94

Leng YQ, Peng JB, Wang QY, Meng ZJ, Huang WL (2017) A fluidized landslide occurred in the loess plateau: a study on loess landslide in south Jingyang tableland. Eng Geol 236:129–136

Liu NN, Huang QB, Fan W, Ma YJ, Peng JB (2018) Seismic responses of a metro tunnel in a ground fissure site. Geomechanics and Engineering 15:775–781. https://doi.org/10.1007/s10064-018-01432-8

Lu N, Likos W (2006) Suction stress characteristic curve for unsaturated soil. J Geotech Geoenviron 132(2):131–142

Melinda F, Rahardjo H, Han KK, Leong EC (2004) Shear strength of compacted soil under infiltration condition. J Geotech Geoenviron 130(8):807–817

Ng CWW, Sadeghi H, Jafarzadeh F (2016) Compression and shear strength characteristics of compacted loess at high suctions. Can Geotech J 54:690–699

Oldrich H, Serge L, Luciano P (2014) The Varnes classification of landslide types, an update. Landslides 11:167–194

Peng JB, Fan ZJ, Wu D, Zhuang JQ, Dai FC, Chen WW, Zhao C (2015) Heavy rainfall triggered loess-mudstone landslide and subsequent debris flow in Tianshui, China. Eng Geol 186:79–90

Peng JB, Wang GH, Wang QY, Zhang FY (2017) Shear wave velocity imaging of landslide debris deposited on an erodible bed and possible movement mechanism for a loess landslide in Jingyang, Xi'an, China. Landslides 14:1503–1512

Peng JB, Ma PH, Wang QY, Zhu XH, Zhang FY, Tong X, Huang WL (2018) Interaction between landsliding materials and the underlying erodible bed in a loess flowslide. Eng Geol 234:38–49

Qiu JL, Wang XL, He SY, Liu HQ, Lai JX, Wang LX (2017) The catastrophic landside in Maoxian County, Sichuan, SW China on June 24. Nat Hazards 89(3):1485–1493

Qiu JL, Wang XL, Lai JX, Zhang Q, Wang JB (2018) Response characteristics and preventions for seismic subsidence of loess in Northwest China. Nat Hazards 92(3):1909–1935

Shen SL, Xu YS (2011) Numerical evaluation of land subsidence induced by groundwater pumping in Shanghai. Can Geotech J 48(9):1378–1392

Shen SL, Ma L, Xu YS, Yin ZY (2013) Interpretation of increased deformation rate in aquifer IV due to groundwater pumping in Shanghai. Can Geotech J 50(11):1129–1142

Shen SL, Wang ZF, Cheng WC (2017) Estimation of lateral displacement induced by jet grouting in clayey soils. Geotechnique 67(7):1–10

Skempton AW (1954) The Pore-Pressure Coefficients and Géotechnique 4(4):143–147

Wang JJ, Liang Y, Zhang H, Wu Y, Lin X (2014) A loess landslide induced by excavation and rainfall. Landslides 11:141–152

Wang ZF, Shen JS, Cheng WC (2018a) Simple Method to Predict Ground Displacements Caused by Installing Horizontal Jet-Grouting Columns. Math Probl Eng 2018:1–11

Wang ZF, Cheng WC, Wang YQ, Du JQ (2018b) Simple Method to Predict Settlement of Composite Foundation under Embankment. Int J Geomech 18(12):04018158

Wu YX, Shen SL, Xu YS, Yin ZY (2015) Characteristics of groundwater seepage with cutoff wall in gravel aquifer. I: field observations. Can Geotech J 52(10):1526–1538

Wu YX, Shen SL, Yuan DJ (2016) Characteristics of dewatering induced drawdown curve under blocking effect of retaining wall in aquifer. J Hydrol 539:554–566

Wu YX, Shen SL, Cheng WC, Hino T (2017) Semi-analytical solution to pumping test data with barrier, wellbore storage, and partial penetration effects. Eng Geol 226:44–51

Xu L, Dai FC, Tu XB, Javed I, Woodard MJ, Jin YL, Tham LG (2013) Occurrence of landsliding on slopes where flowsliding had previously occurred: an investigation in a loess platform, north-West China. Catena 104:195–209

Xu YS, Ma L, Du YJ, Shen SL (2012) Analysis on urbanization induced land subsidence in Shanghai. Nat Hazards 63(2):1255–1267

Xu YS, Shen SL, Ma L, Sun WJ, Yin ZY (2014) Evaluation of the blocking effect of retaining walls on groundwater seepage in aquifers with different insertion depths. Eng Geol 183:254–264

Xu YS, Shen SL, Ren DJ, Wu HN (2016) Factor analysis of land subsidence in Shanghai: a view based on strategic environmental assessment. Sustainability 8:573 (1-12)

Xu ZJ, Lin ZG, Zhang MS (2007) Loess in China and loess landslides. Chin J Rock Mech Eng 26:1297–1312 (in Chinese)

Zhang MS, Liu J (2010) Controlling factors of loess landslides in western China. Environ Earth Sci 59:1671–1680

Zhang FY, Wang GH (2018) Effect of irrigation-induced densification on the post-failure behavior of loess flowslides occurring on the Heifangtai area, Gansu, China. Eng Geol 236:111–118

Zhang D, Wang G, Luo C, Chen J, Zhou Y (2009) A rapid loess flowslide triggered by irrigation in China. Landslides 6:55–60

Zhang FY, Wang GH, Toshitaka K, Chen WW, Zhang DX, Yang J (2013) Undrained shear behavior of loess saturated with different concentrations of sodium chloride solution. Eng Geol 155:69–79

Zhang FY, Wang GH, Toshitaka K, Chen WW (2014) Effect of pore-water chemistry on undrained shear behaviour of saturated loess. Q J Eng Geol Hydrogeol 47:201–210

Zhang FY, Kang C, Chan D, Zhang XC, Pei XJ, Peng JB (2017) A study of a flowslide with significant entrainment in loess areas in China. Earth Surf Process Landf 42(14):2295–2305

Zhao CY, Zhang Q, He Y, Peng JB, Yang CS, Kang Y (2016) Small-scale loess landslide monitoring with small baseline subsets interferometric synthetic aperture radar technique—case study of Xingyuan landslide, Shaanxi, China. J Appl Remote Sens 10:26–30

Zhou JX, Zhu CY, Zheng JM, Wang XH, Liu ZH (2002) Landslide disaster in the loess area of China. J For Res 13:157–161

Zhuang JQ, Peng JB, Wang GH, Iqbal J, Wang Y, Li W (2017) Distribution and characteristics of landslide in loess plateau: a case study in Shaanxi province. Eng Geol 236:89–96
Acknowledgements
This study would not have been possible without financial supports from the Natural Science Foundation of China under Grant Nos. 41702298, 41790442 and 41877289 and from the Natural Science Basic Research Plan in Shaanxi Province of China under Grant No. 2017JQ4020, and Open Fund of Shandong Provincial Key Laboratory of Depositional Mineralization & Sedimentary Minerals under Grant Nos. DMSM2017029. The authors would like to express their sincere gratitude for the technical support provided by Professor Fu-Chu Dai and Dr. Zhi-Qiang Zhao at Beijing University of Technology.
About this article
Cite this article
Duan, Z., Cheng, W., Peng, J. et al. Investigation into the triggering mechanism of loess landslides in the south Jingyang platform, Shaanxi province. Bull Eng Geol Environ 78, 4919–4930 (2019). https://doi.org/10.1007/s10064-018-01432-8
Received:

Accepted:

Published:

Issue Date:
Keywords
Loess landslide

Jingyang platform

Agricultural irrigation

Stratum erosion