Abstract
For given geological conditions, cuttability or performance prediction can be expressed by specific cutting force (SFC), specific normal force (SFN), specific energy (SE), and pick wear rate. These parameters are difficult to determine. For this reason researchers try to assess these parameters indirectly by rock mechanical parameters. The Drilling Rate Index (DRI) is the most important input parameter of a commonly used performance prediction model for tunnel boring machines. However, little research has been seen in the literature about assessing cuttability indirectly by DRI. In this study, different types of rock and ore samples were subjected to a small-scale rock cutting test, the Cerchar abrasivity test, the Sievers J miniature drill test, and the brittleness (S 20) test. With the aid of the Sievers and brittleness test results, the DRI parameter was determined. SFC, SFN, and SE, which are the output parameters of small scale rock cutting tests, and the Cerchar abrasivity index values were correlated with Sievers J (S j ) value and DRI. It was seen that SFC, SFN, SE and CAI parameters slightly decreased with increasing Sievers J value and DRI. With these results, it can be stated that DRI and S j could be an alternative to other mechanical rock parameters for assessing cuttability.
This is a preview of subscription content, log in to check access.
Access options
Buy single article
Instant access to the full article PDF.
US$ 39.95
Price includes VAT for USA
Subscribe to journal
Immediate online access to all issues from 2019. Subscription will auto renew annually.
US$ 99
This is the net price. Taxes to be calculated in checkout.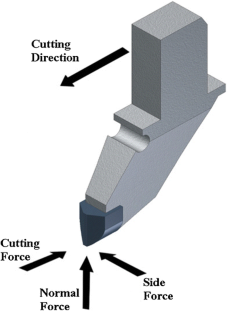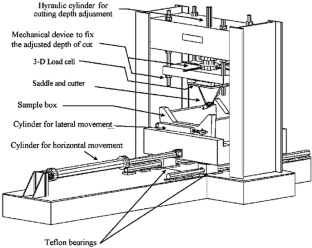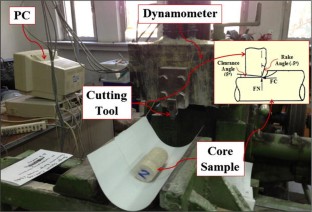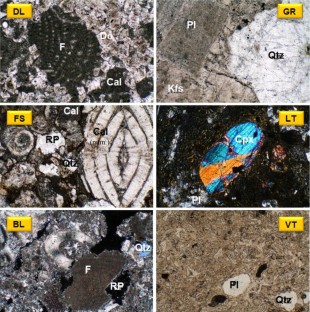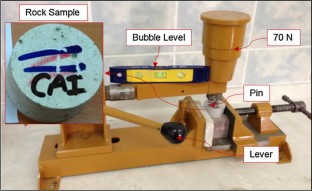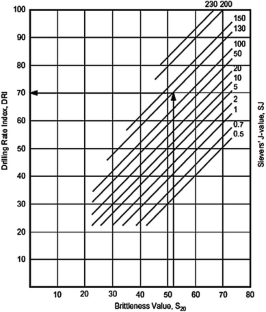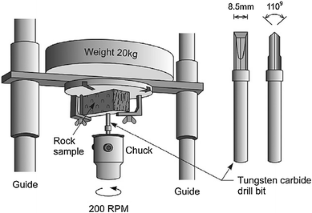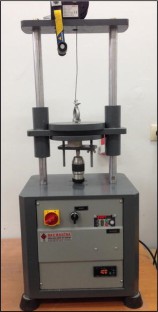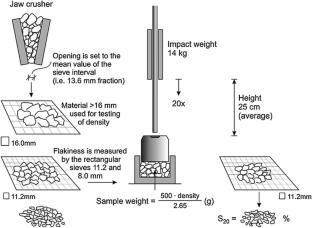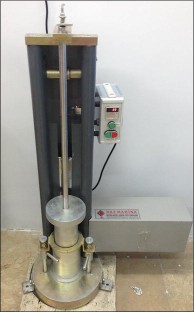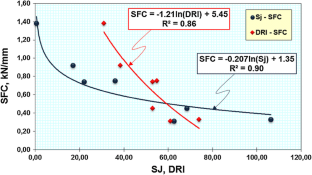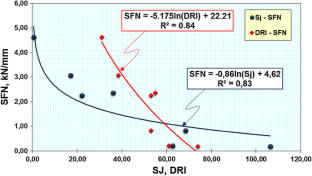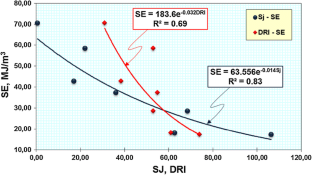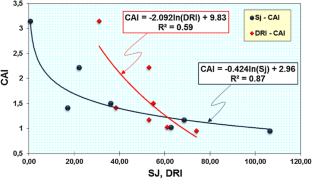 References
Abu Bakar MZ, Gertsch LS (2013) Evaluation of saturation effects on drag pick cutting of a brittle sandstone from full scale linear cutting tests. Tunn Undergr Space Technol 34:124–134

Al-Ameen SI, Waller MD (1994) The influence of rock strength and abrasive mineral content on the Cerchar abrasivity index. Eng Geol 36:293–301

Altindag R (2003) Correlation of spesific energy with rock brittleness concepts on rock cutting. J South Af Inst Min Met 103:163–171

Balci C, Bilgin N (2007) Correlative study of linear small and full-scale rock cutting tests to select mechanized excavation machines. Int J Rock Mech Min Sci 44:468–476

Balci C, Demircin MA, Copur H, Tuncdemir H (2004) Estimation of optimum specific energy based on rock properties for assessment of roadheader performance. J South Af Inst Min Met 104:633–642

Bamford WE (1987) ISRM-Comission on rock boreability, cuttability and drillability. Notes for Workshop, Canada

Bilgin N (1977) Investigation into mechanical cutting characteristics of some medium and high strength rocks. PhD Thesis, Newcastle Upon Tyne University, England

Bilgin N, Demircin MA, Copur H, Balci C, Tuncdemir H, Akcin N (2006) Dominant rock properties affecting the performance of conical picks and the comparison of some experimental and theoretical results. Int J Rock Mech Min Sci 43:139–156

Bilgin N, Copur H, Balci C (2014). Mechanical Excavation in Mining and Civil Industries, CRC Press, p 366

Blindheim OT (1979) Boreability predictions for tunneling. PhD Thesis, Department of Geological Engineering, The Norwegian Institute of Technology, Norway

Bruland A (1998) Hard rock tunnel boring. PhD Thesis, Norwegian University of Science and Technology (NTNU), Norway

Capik M, Yilmaz AO, Yasar S, Yarali O, Cavusoglu I (2013) Comparison of drillability and abrasivity properties of rocks (in Turkish). In: 23rd IMCET, Antalya, pp 659–669

Comakli R, Kahraman S, Balci C (2014) Performance prediction of roadheaders in metallic ore excavation. J TUST 40:38–45

Copur H, Tuncdemir H, Bilgin N, Dincer T (2001) Specific energy as a criterion for use of rapid excavation systems in turkish mines. Trans Inst Min Met Sec A 110:149–157

Copur H, Balci C, Bilgin N, Tumac D, Avunduk E (2012) Predicting cutting performance of chisel tools by using physical and mechanical properties of natural stones. EUROCK 2012, 28–30 May, Stockholm, p 14

Dahl F (2003) Draft of DRI, BWI, CLI standard. Available at http://www.drillability.com. Accessed 02 July 2014

Dahl F, Bruland A, Jakobsen PD, Nilsen B, Grøv E (2012) Classifications of properties influencing the drillability of rocks based on the NTNU/SINTEF test method. J TUST 28:150–158

Dursun AE, Gokay MK (2014) Determination of cutting force from some rock properties of rock using statistical method (in Turkish). In: ROCMECH 2014, Afyonkarahisar, Turkey, pp 335–342

Evans I (1962) A theory of the basic mechanics of coal ploughing, In: International Symposium on Mining Research, Missouri, pp 761–798

Fowell RJ, Gillani T, Altınoluk S (1992) Wear characterization of rock. EUROCK 92. Chester, England, pp 13–18

Hemphill GB (2013) Practical tunnel construction. John Wiley Sons, Inc., p 415

Johnson ST, Fowell RJ (1986) Compressive strength is not enough: assessing pick wear rates for drag tool equipped machines, In: 27th U.S. Rock Mechanics Symposium, Tuscaloosa, pp 840–845

Matern N von, Hjelmer A (1943) Försök med pågrus (Tests with Chippings), Medelande nr. 65, Statens väginstitut, Stockholm, pp 65 (English summary, pp 56–60)

McFeat-Smith I, Fowell RJ (1979) The selection and application of roadheaders for rock tunneling. In: RETC 79, Georgia, pp 261–279

Merchant ME (1945) Basic mechanics of metal cutting process. J App Mech 11: A-168

Nishimatsu Y (1972) The mechanics of rock cutting. Int J Rock Mech Min Sci 9:261–270

Plinninger RJ, Spaun G, Thuro K (2002) Predicting tool wear in drill and blast. Tunnels and Tunnelling International pp 1–5

Plinninger R, Kasling H, Thuro K, Spaun G (2003) Testing conditions and geomechanical properties influencing the Cerchar abrasiveness index (CAI) value. Int J Rock Mech Min Sci 40:259–263

Rostami J (1997) Development of a force estimation model for rock fragmentation with disc cutters through theoretical modeling and physical measurement of crushed zone pressure. PhD Thesis, Colorado School of Mines, USA

Rostami J, Ozdemir L (1993) A new model for performance prediction of hard rock TBM, In: RETC 93, Boston, pp 793–809

Roxborough FF (1985) Research in mechanical rock excavation: progress and prospects. In: RETC 85, Las Vegas, pp 225–244

Roxborough FF (1987) The role of some basic rock properties in assessing cuttability. Seminar on Tunnels, In: Wholly Engineered structures, Sydney, Australia, p 21

Roxborough FF, Pedroncelli EJ (1982) A practical evaluation of some coal-cutting theories using a continuous miner. Min Eng pp 145–155

Roxborough FF, Philips HR (1974) Experimental studies on the excavation of rocks using picks. In: Third ISRM Congress, Denver, pp 1407–1412

Roxborough FF, Rispin A (1973) The mechanical cutting characteristics of the lower chalk. Tunnels and Tunnelling pp 45–67

Selmer-Olsen R, Lien R (1960) Bergartens borbarhet og sprengbarhet. Teknisk Ukeblad nr. 34, Oslo, pp 3–11

Sievers H (1950) Die bestimmung des bohrwiderstandes von gesteinen. Glückauf 86:776–784

Suana M, Peters T (1982) The Cerchar abrasivity index and its relation to rock mineralogy and petrography. Rock Mech 15:1–7

Tiryaki B, Dikmen AC (2006) Effect of rock properties on spesific cutting energy in linear cutting of sandstones by picks. Rock Mech Rock Eng 39:89–120

Tumac D, Bilgin N, Feridunoglu C, Ergin H (2007) Estimation of rock cuttability from shore hardness and compressive strength properties. Rock Mech Rock Eng 40:477–490

West G (1986) A relation between abrasiveness and quartz content for some Coal Measures sediments. Int J Min Geol Eng 4:73–78

Yagiz S (2006) An investigation on the relationship between linear cutting force and some engineering properties of rocks (in Turkish). In: VIII. Regional Rock Mechanics Symposium, pp 99–106

Yarali O, Kahraman S (2011) The drillabilty assessment of rocks using the different brittleness values. J Tust 26:406–414

Yarali O, Soyer E (2013) Assessment of relationships between drilling rate index and mechanical properties of rocks. J Tust 33:46–53

Yasar S, Yilmaz AO, Capik M (2013) Investigation on relations between tool forces and mechanical characteristics of rocks (in Turkish). 3. UYAK, Istanbul, pp 83–90

Yasar S, Yilmaz AO, Capik M (2014) Investigation on relationships between brittleness properties and cuttability parameters of rocks (in Turkish). ROCMECH 2014. Afyonkarahisar, Turkey, pp 343–350

Zare S, Bruland A (2013) Applications of NTNU/SINTEF drillability indices in hard rock tunneling. Rock Mech Rock Eng 46:179–187
Acknowledgments
Especially to Prof. Dr. Nuh Bilgin, Prof. Dr. Hanifi Copur and Assoc. Prof. Dr. Deniz Tumac, the authors would like to thank to all the crew of the Mine Mechanization and Technology Division of Istanbul Technical University for their generous help. Additionally, the authors would like to acknowledge Prof. Dr. Bjorn Nilsen (NTNU, Norway), Filip Dahl (SINTEF, Norway), and Prof. Dr. Amund Bruland (NTNU, Norway).
About this article
Cite this article
Yasar, S., Capik, M. & Yilmaz, A.O. Cuttability assessment using the Drilling Rate Index (DRI). Bull Eng Geol Environ 74, 1349–1361 (2015). https://doi.org/10.1007/s10064-014-0715-4
Received:

Accepted:

Published:

Issue Date:
Keywords
Small Scale Rock Cutting Test

Specific energy

Cutter forces

Cerchar Abrasivity Index (CAI)

Drilling Rate Index (DRI)