Abstract
The purpose of this study was to select alternative landfill sites for Ankara based on the growing trends of Ankara toward the Gölbaşı municipality, and to eventually select the best alternative through the use of decision-making tools. Geographic information systems (GIS) and multi-criteria decision analyses were employed to perform landfill site selection. Several criteria, including geology, slope, proximity to roads, availability and proximity of landfill containment material, settlement, suitability for agriculture, vegetation cover, erosion, and lineament system were gathered in a GIS environment. A weight value was assigned to each criterion by applying the pairwise comparison method and the analytical hierarchy method. An ideal point method, namely, the Technique for Order Preference by Similarity to the Ideal Solution (TOPSIS) was applied to choose the best alternative landfill site. The geotechnical properties of "Ankara clay", which shows widespread distribution in Ankara, were reviewed and assessed for the clay's suitability as a single, compacted clay liner and as a component of a geomembrane-compacted clay composite liner for the alternative landfill site selected. The HELP model was employed in order to determine the cumulative, mean leachate head and cumulative, unitized expected leakage rate amounts through the landfill. Four different profiles, from the least conservative to the most conservative, were created and analyzed.
Access options
Buy single article
Instant access to the full article PDF.
USD 39.95
Price excludes VAT (USA)
Tax calculation will be finalised during checkout.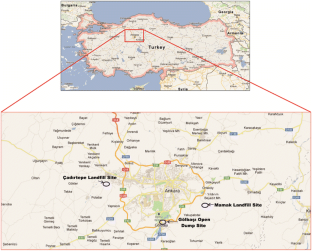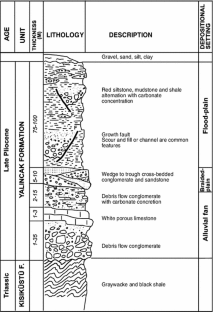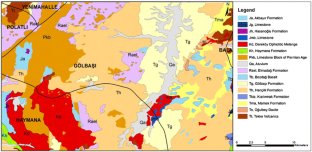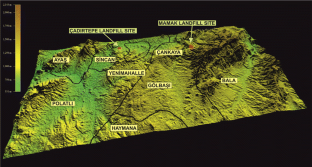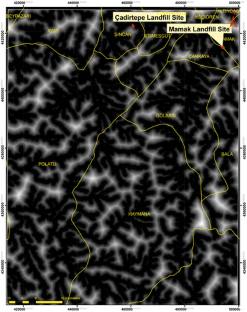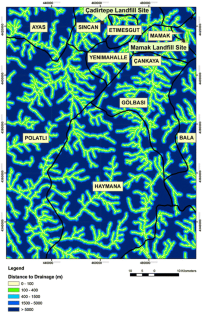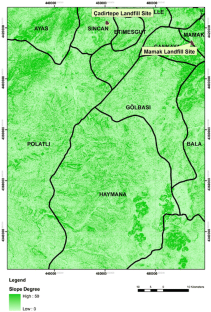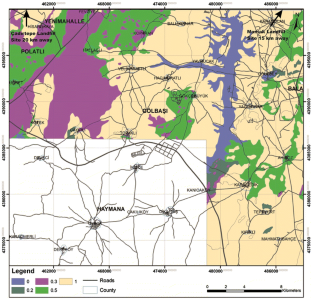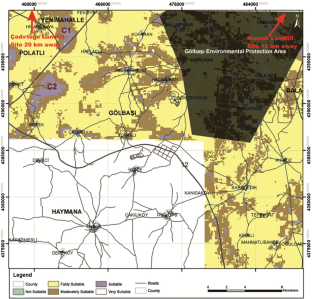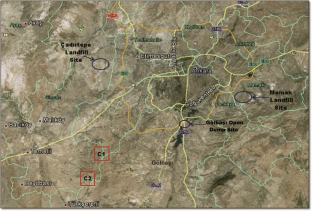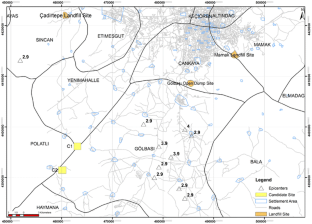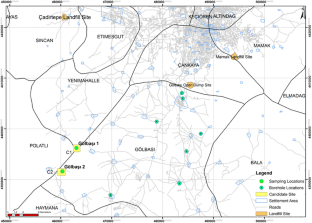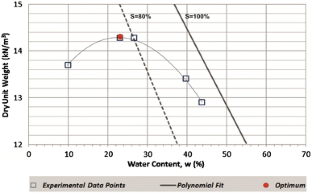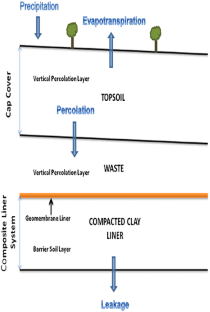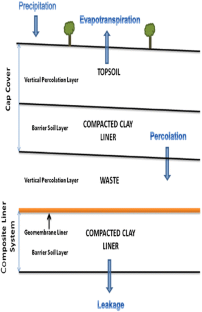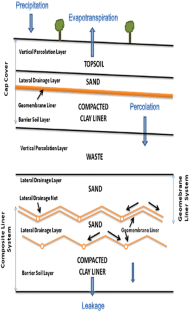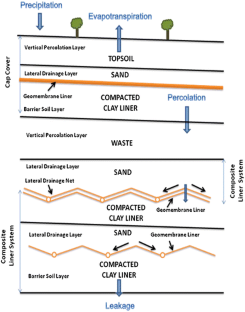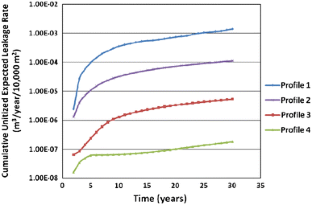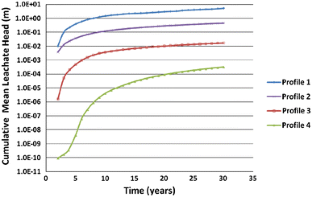 References
Akyürek B, Bilginer E, Çatal E, Dağer Z, Soysal Y, Sunu O (1980) The geology of the vicinity of Elvidan-Şabanözü Çankırı and Hasayaz-Çankırı Kalecik-Ankara. MTA report no. 6741 (in Turkish)

Akyürek B, Bilginer E, Akbaş B, Hepşen N, Sunu O, Soysal Y (1982) The geology of the vicinity of Ankara-Elmadağ-Kalecik. MTA report no. 7298 (in Turkish)

Akyürek B, Bilginer E, Akbaş B, Hepşen N, Sunu O, Soysal Y (1984) Fundamental geological characteristics of the Ankara-Elmadağ-Kalecik region. Jeoloji Mühendisliği 10:31–46 (in Turkish)

Ankara Metropolitan Municipality (2006) 2023 Ankara municipality regulatory development plan. Ankara metropolitan municipality. Directorate of development of city planning, Ankara (in Turkish)

Aras IA (1991) Clay mineralogy and sedimentological features of the Late Pliocene sediments in Ankara area. MSc. Thesis, Middle East Technical University, Ankara

ASTM D0698-07E01. Test methods for laboratory compaction characteristics of soil using standard effort (12 400 ft-lbf/ft3 (600 kN-m/m3)). Annual book of ASTM standards, section 4, vol 04.08, soil and rock, building stones. ASTM International, West Conshohocken, PA

ASTM D2487-10. Practice for classification of soils for engineering purposes (Unified Soil Classification System). Annual book of ASTM standards, section 4, vol 04.08, soil and rock, building stones. ASTM International, West Conshohocken, PA

ASTM D5856-95R07. Test method for measurement of hydraulic conductivity of porous material using a rigid-wall, compaction-mold permeameter. Annual book of ASTM standards, section 4, vol 04.08, soil and rock, building stones. ASTM International, West Conshohocken, PA

ASTM D0422-63R07. Test method for particle-size analysis of soils. Annual book of ASTM standards, section 4, vol 04.08, soil and rock, building stones. ASTM International, West Conshohocken, PA

ASTM D0854-10. Test methods for specific gravity of soil solids by water pycnometer. Annual book of ASTM standards, section 4, vol. 04.08, soil and rock, building stones. ASTM International, West Conshohocken, PA

ASTM D2435-11. Standard test methods for one-dimensional consolidation properties of soils using incremental loading. Annul book of ASTM standards, section 4, vol 04.01, soil and rock, building stones. ASTM International, West Conshohocken, PA

ASTM D4318-10. Test methods for liquid limit, plastic limit, and plasticity index of soils. Annual book of ASTM standards, section 4, vol. 04.08, soil and rock; building stones. ASTM International, West Conshohocken, PA

Baban S, Parry T (2001) Developing and applying a GIS-assisted approach to locating wind farms in the UK. Renew Energ 24:59–71

Çalgın R, Ercan T, Pehlivanoğlu H, Şengün M (1973) Geology of the vicinity of Ankara. MTA report no. 6487 (in Turkish)

Çamur ZM, Yazıcigil H, Altınbilek HD (1997) Hydrogeochemical modeling of waters in Mogan and Eymir lakes special environmental protection area, Ankara, Turkey. Water Environ Res 69(6):1144–1153

Canpolat F, Çamur MZ, Yazıcıgil H (2001) Hydrogeochemical evaluation of heavy metal loadings to waters and sediments by leachate: a case study from the Gölbaşı waste disposal site, Ankara, Turkey. Int Geol Rev 43(10):930–944

Chamber of Environmental Engineers (2009) Environmental state report Ankara: solid waste problem in residential areas, air pollution, surface and subsurface water pollution, drinking water problem of Ankara, urban transformation. TMMOB Chamber of Environmental Engineers, Ankara, p 26 (in Turkish)

Daniel D, Benson C (1990) Water content density criteria for compacted soil liners. J Geotech Eng ASCE 116:1811–1830

Dilek E (2006) The importance of the landscape remediation of the unregulated Tuzluçayır–Mamak dumpsite. Tarım Bilimleri Dergisi 4 (in Turkish)

Din MA, Jaafar WZW, Obot MM, Hussin WMAW (2008) How GIS can be useful tool to deal with landfill site selection. International symposium on geoinformatics for spatial infrastructure development in earth and applied sciences, 5–7 May

Erol O (1973) Geomorphological evolution of the Ankara region. A.Suat Erk Geology Symposium Publications, 25–35, Ankara

General Command of Mapping—Turkey (2002) Topographic maps of Turkey, 1:25,000, Ankara

General Directorate of Mineral Research and Exploration (1997) Geological maps of Turkey, Ankara, F-15, 1:100,000, Ankara

General Directorate of Rural Services (2009) National soil database, 1:25,000, Ankara

Gordon M, Huebner P, Kmet P (1990) An evaluation of the performance of four clay lined landfills in Wisconsin. In: Proceedings of the seventh annual waste conference, Wisconsin, pp 399–460

Guiqina W, Lib Q, Guoxuea L, Lijunc C (2009) Landfill site selection using spatial information technologies and AHP: a case study in Beijing, China. J Environ Manag 90:2414–2421

Güngör K, Torunoğlu E (2000) The last status and ideas on the Ankara solid waste problem. Turkiye Mühendislik Haberleri 409:19–21 (in Turkish)

Hwang C, Yoon K (1981) Multiple attribute decision making: methods and applications: a state of the art survey. Springer, New York, p 75

Kalafat D, Güneş Y, Kara M, Deniz P, Kekovalı K, Kuleli HS, Gülen L, Yılmazer M, Özel NM (2007) A revised and extended earthquake catalogue for Turkey since 1900 (Mw ≥ 4.0). Boğaziçi University, Istanbul

Kaplan T (2004) Neotectonics and seismicity of the Ankara region: a case study in the Uruş area. MSc. Thesis, Ankara, METU, Ankara

Kleindorfer P, Kunreuter H, Schoemaker P (1984) Decision sciences: an integrative perspective. Cambridge University Press, Cambridge

Koçyiğit A (1991) Changing stress orientation in progressive intracontinental deformation as indicated by the neotectonics of the Ankara region (NW Central Anatolia). Türkiye Petrol Jeologları Derneği Bülteni 3:43–55 (in Turkish)

Koçyiğit A (2003) General neotectonic characteristics and seismicity of Mid-Anatolia. Türkiye Petrol Jeologları Derneği Bulliten—Special Issue, 1–26 (in Turkish)

Koçyiğit A, Lünel A (1987) Geology and tectonic settings of Alçı region. METU J Appl Sci 201:35–57

Koçyiğit A, Türkmenoğlu A (1991) The geology and mineralogy of the formation known as Ankara clay: a geological perspective on the Ankara clay problem. V. National Clay Symposium Proceedings Book, pp 87–101

Malczewski J (1999) GIS and multicriteria decision analysis. Wiley, New York, p 392

Met İ, Akgün H, Türkmenoğlu AG (2005) Environmental geological and geotechnical investigations related to the potential use of Ankara clay as a compacted landfill liner material, Turkey. Environ Geol 47(2):225–236

Nas B, Cay T, Iscan F, Berk A (2009) Selection of MSW landfill site for Konya, Turkey using GIS and multi-criteria evaluation. Environ Monit Assess 160:491–500

Ordemir I, Alyanak T, Birand A (1965) Report on Ankara clay: M.E.T.U. Fac Eng 12:27

Ordemir I, Soydemir C, Birand A (1977) Swelling problems of Ankara clay. In: International conference on soil mechanics and foundation engineering, Tokyo 1, pp 243–247

Pitz G, McKillip J (1984) Decision analysis for analysis for program evaluations. Sage Publications, Thousand Oaks, CA

Republic of Turkey, Ministry of Environment and Forestry (2010) http://www.mevzuat.adalet.gov.tr/html/20743.html. Accessed April 2010

Saaty TL (1980) Risk—its priority and probability: the analytic hierarchy process. Eur J Oper Res 7(2):159–172

Schoemaker P, Waid C (1982) An experimental comparison of different approaches to determining weights in additive utility models. Manag Sci 28(2):182–196

Schroeder PR, Lloyd CM, Zappi PA, Aziz NM (1994a) The hydrologic evaluation of landfill performance (HELP) model: user's guide for version 3. Risk Reduction Engineering Laboratory, Office of Research and Development, EPA/600/R-94/168a, US Environmental Protection Agency, Cincinnati, OH

Schroeder PR, Dozier TS, Zappi PA, McEnroe BM, Sjostrom JW, Peyton RL (1994b) The hydrologic evaluation of landfill performance (HELP) model: engineering documentation for version 3. Risk Reduction Engineering Laboratory, Office of Research and Development, EPA/600/R-94/168b, US Environmental Protection Agency, Cincinnati, OH

Şener B (2004) Landfill site selection by using Geographic Information Systems. MSc. Thesis, Middle East Technical University, Ankara

Sezer G (1998) Cation exchange capacity and contaminant uptake properties of some natural clays as potential landfill liners. MSc. Thesis, Middle East Technical University, Ankara

Sharifi M, Hadidi M, Vessa E, Mosstafakhani P, Taheri K, Shahoie S (2009) Integrating multi-criteria decision analysis for a GIS-based hazardous waste landfill siting in Kurdistan Province, Western Iran. Waste Manag (Oxford) 29:2740–2758

State Hydraulic Works (1975) Hydrogeological survey of the Hatip plain. In: Publication of the Directorate of Geotechnical and Groundwater. General Directorate of State Hydraulic Works, Ankara. report no. 40 (in Turkish)

Stillwell WG, Seaver DA, Edwards W (1981) A comparison of weight approximation techniques in multiattribute utility decision making. Organ Behav Hum Perform 28(1):62–77

Turkish State Meteorological Service (2010) Data processing. http://www.dmi.gov.tr/veridegerlendirme/il-ve-ilceler-istatistik.aspx. Accessed April 2010

U.S. Environmental Protection Agency (2010) Code of federal regulations, Title 40, Part 258 Subtitle D, Criteria for Municipal Solid Waste Landfills

Voogd H (1983) Multicriteria decision-aid. Wiley, Chichester

Yal GP (2010) Landfıll site selection and landfill liner design for Ankara. MSc. Thesis, Middle East Technical University, Ankara

Yal GP, Akgün H (2013) Landfill site selection and landfill liner design for Ankara, Turkey. Environ Earth Sci 70(6):2729–2752
About this article
Cite this article
Yal, G.P., Akgün, H. Landfill site selection utilizing TOPSIS methodology and clay liner geotechnical characterization: a case study for Ankara, Turkey. Bull Eng Geol Environ 73, 369–388 (2014). https://doi.org/10.1007/s10064-013-0562-8
Received:

Accepted:

Published:

Issue Date:

DOI: https://doi.org/10.1007/s10064-013-0562-8
Keywords
Landfill site selection

Pairwise comparison method (PCM)

Analytical hierarchy method (AHP)

Technique for order preference by similarity to the ideal solution (TOPSIS)

Geotechnical characterization of compacted Ankara clay

Gölbaşı

Ankara