Abstract
This research report describes the development of a virtual reality (VR) laboratory stressor to study the effects of exposure to stressful events. The aim of the research was to develop a VR simulation that would evoke stressor responses at a level that was tolerable for participants. Veterans with and without warzone-related posttraumatic stress disorder (PTSD) were presented with VR simulations of combat stressors. There was one complaint of feeling hot during simulations but no incidents of simulator sickness. Participants denied experiencing the simulations as overly distressing, and there were no reports of any distress or problems related to study participation when they were contacted two weeks after the VR challenge. Simulations elicited moderate levels of anxiety and mild levels of dissociation that were significantly greater in Veterans with PTSD. Simulations were less successful in eliciting differential heart rate reactivity and stress hormone secretion, though history of civilian trauma exposure was associated with elevated heart rates during the second simulation. The study demonstrated that the VR paradigm was feasible and tolerable and that it holds promise as a new method with which to conduct controlled laboratory research on the effects of exposure to stressful events.
Access options
Buy single article
Instant access to the full article PDF.
USD 39.95
Price excludes VAT (USA)
Tax calculation will be finalised during checkout.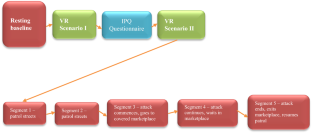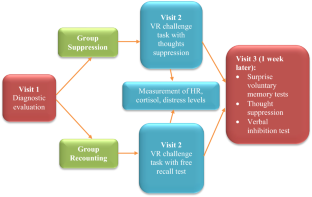 References
Barkley RA, Murphy KR (2005) Attention-deficit hyperactivity disorder: a clinical workbook, 3rd edn. The Guilford Press, New York

Beck AT, Ward CH, Mendelson M, Mock J, Erbaugh J (1961) An inventory for measuring depression. Arch Gen Psychiatry 4(6):561–571. https://doi.org/10.1001/archpsyc.1961.01710120031004

Ben-Zion Z, Fine NB, Keynan NJ, Admon R, Green N, Halevi M, Fonzo GA, Achituv M, Merin O, Sharon H, Halpern P, Liberzon I, Etkin A, Hendler T, Shalev AY (2018) Cognitive flexibility predicts PTSD symptoms: observational and interventional studies. Front Psychiatry 9. https://doi.org/10.3389/fpsyt.2018.00477

Bergouignan L, Nyberg L, Ehrsson HH (2014) Out-of-body-induced hippocampal amnesia. Proc Natl Acad Sci 111(12):4421–4426. https://doi.org/10.1073/pnas.1318801111

Berntsen D, Rubin DC (2014)Involuntary memories and dissociative amnesia: assessing key assumptions in PTSD researchh. Clin Psychol Sci J Assoc Psychol Sci 2(2):174–186. https://doi.org/10.1177/2167702613496241

Blake DD, Weathers FW, Nagy LM, Kaloupek DG, Charney DS, Keane TM (1998) Clinician-administered PTSD scale for DSM-IV. Boston VA Medical Center, National Center for Posttraumatic Stress Disorder, Behavioral Science Division, Boston

Blanchard EB, Kolb LC, Gerardi RJ, Ryan P, Pallmeyer TP (1986) Cardiac response to relevant stimuli as an adjunctive tool for diagnosing post-traumatic stress disorder in Vietnam veterans. Behav Ther 17(5):592–606. https://doi.org/10.1016/S0005-7894(86)80097-1

Bradley MM (2009) Natural selective attention: orienting and emotion. Psychophysiology 46(1):1–11. https://doi.org/10.1111/j.1469-8986.2008.00702.x

Brewin CR (2014) Episodic memory, perceptual memory, and their interaction: foundations for a theory of posttraumatic stress disorder. Psychol Bull 140(1):69–97. https://doi.org/10.1037/a0033722

Carl E, Stein AT, Levihn-Coon A, Pogue JR, Rothbaum B, Emmelkamp P, Asmundson GJG, Carlbring P, Powers MB (2019) Virtual reality exposure therapy for anxiety and related disorders: a meta-analysis of randomized controlled trials. J Anxiety Disord 61:27–36. https://doi.org/10.1016/j.janxdis.2018.08.003

Carleton RN, Korol S, Wagner J, Horswill S, Mantesso J, Neary JP, Luhanga F, Arvidson S, McCarron M, Hozempa K, Harenberg S, Donnelly G, Lyster K (2019) A prospective assessment of PTSD symptoms using analogue trauma training with nursing students. Can J Behav Sci 51(3):181–191. https://doi.org/10.1037/cbs0000127

Daskalakis NP, McGill MA, Lehrner A, Yehuda R (2014) Endocrine aspects of PTSD: hypothalamic-pituitary-adrenal (HPA) axis and beyond. In: Martin CR, Preedy VR, Patel VB (eds) Comprehensive guide to post-traumatic stress disorder. Springer, Heidelberg, pp 1–14. https://doi.org/10.1007/978-3-319-08613-2_130-1

Diagnostic and Statistical Manual of Mental Disorders (4th edn) (1994). American Psychiatric Association, Philadelphia

Difede J, Cukor J, Jayasinghe N, Patt I, Jedel S, Spielman LA, Giosan C, Hoffman H (2007) Virtual reality exposure therapy for the treatment of posttraumatic stress disorder following September 11, 2001. J Clin Psychiatry. https://doi.org/10.4088/JCP.v68n1102

Difede J, Hoffman H (2002) Virtual reality exposure therapy for World Trade Center post-traumatic stress disorder: a case report.CyberPsychol Behav 5(6):529–535. https://doi.org/10.1089/109493102321018169

Elzinga BM, Schmahl CG, Vermetten E, van Dyck R, Bremner JD (2003) Higher cortisol levels following exposure to traumatic reminders in abuse-related PTSD. Neuropsychopharmacology 28(9):1656–1665. https://doi.org/10.1038/sj.npp.1300226

First MB, Spitzer RL, Williams JBW, Gibbon M (1997). Structured clinical interview for DSM-IV Axis I disorders. American Psychiatric Association, Philadelphia.

Gerardi M, Cukor J, Difede J, Rizzo AA, Rothbaum BO (2010) Virtual reality exposure therapy for post-traumatic stress disorder and other anxiety disorders. Curr Psychiatry Rep 12(4):298–305. https://doi.org/10.1007/s11920-010-0128-4

Giosan C, Malta L, Jayasinghe N, Spielman L, Difede J (2009) Relationships between memory inconsistency for traumatic events following 9/11 and PTSD in disaster restoration workers. J Anxiety Disord 23(4):557–561. https://doi.org/10.1016/j.janxdis.2008.11.004

Green BL (1993) The trauma history questionnaire. In: Stamm BH, Varra EM (eds) Instrumentation in stress, trauma and adaptation. Research and Methodology Interest Group of the ISTSS, Northbrook, pp 366–369

Holmes EA, Bourne C (2008) Inducing and modulating intrusive emotional memories: a review of the trauma film paradigm. Acta Physiol (Oxf) 127(3):553–566. https://doi.org/10.1016/j.actpsy.2007.11.002

Iyadurai L, Visser RM, Lau-Zhu A, Porcheret K, Horsch A, Holmes EA, James EL (2019) Intrusive memories of trauma: a target for research bridging cognitive science and its clinical application. Clin Psychol Rev 69:67–82. https://doi.org/10.1016/j.cpr.2018.08.005

James EL, Lau-Zhu A, Clark IA, Visser RM, Hagenaars MA, Holmes EA (2016) The trauma film paradigm as an experimental psychopathology model of psychological trauma: intrusive memories and beyond. Clin Psychol Rev 47:106–142. https://doi.org/10.1016/j.cpr.2016.04.010

Katz LS, Cojucar G, Beheshti S, Nakamura E, Murray M (2012)Military sexual trauma during deployment to Iraq and Afghanistan: prevalence, readjustment, and gender differences. Violence Vict 27(4):487–499. https://doi.org/10.1891/0886-6708.27.4.487

Liberzon I, Abelson JL, Flagel SB, Raz J, Young EA (1999) Neuroendocrine and psychophysiologic responses in PTSD: a symptomprovocation study. Neuropsychopharmacology 21(1):40–50. https://doi.org/10.1016/S0893-133X(98)00128-6

Lindner P, Miloff A, Fagernäs S, Andersen J, Sigeman M, Andersson G, Furmark T, Carlbring P (2019) Therapist-led and self-led one-session virtual reality exposure therapy for public speaking anxiety with consumer hardware and software: a randomized controlled trial. J Anxiety Disord 61:45–54. https://doi.org/10.1016/j.janxdis.2018.07.003

Malta LS, Giosan C, Szkondny L, Altemus M, Rizzo AA, Silbersweig D, Difede J (2020) Predictors of involuntary and voluntary emotional episodic memories of Virtual Reality scenarios in veterans with and without PTSD. Memory. https://doi.org/10.1080/09658211.2020.1770289

Malta LS, Karl A, Leisberg S, Rabe S, Difede J (2008) Using novel technologies to develop and test laboratory models of PTSD. In: Innovations in experimental psychopathology research. 24th Annual meeting of the International Society for Traumatic Stress Studies, Chicago, IL, USA

McEwen, B. S. (2007) Physiology and neurobiology of stress and adaptation: central role of the brain. Physiol Rev. https://www.physiology.org/doi/full/10.1152/physrev.00041.2006

McIsaac HK, Eich E (2004) Vantage Point in Traumatic Memory. Psychol Sci 15(4):248–253. https://doi.org/10.1111/j.0956-7976.2004.00660.x

Norris FH, Friedman, MJ, Watson, P. J., Byrne, C. M., Diaz, E., & Kaniasty, K. (2002). 60,000 Disaster Victims Speak: Part I. An Empirical Review of the Empirical Literature, 1981–2001. Psychiatry: Interpersonal and Biological Processes, 65(3), 207–239. https://doi.org/10.1521/psyc.65.3.207.20173

Pause BM, Zlomuzica A, Kinugawa K, Mariani J, Pietrowsky R, Dere E (2013) Perspectives on episodic-like and episodic memory. Front Behav Neurosci 7:33. https://doi.org/10.3389/fnbeh.2013.00033

Pineles SL, Orr SP (2018) The psychophysiology of PTSD. In: Nemeroff CB, Marmar C (eds) Post-traumatic stress disorder. Oxford University Press. https://oxfordmedicine.com/view/10.1093/med/9780190259440.001.0001/med-9780190259440-chapter-22

Pole N (2007) The psychophysiology of posttraumatic stress disorder: a meta-analysis. Psychol Bull 133(5):725–746. https://doi.org/10.1037/0033-2909.133.5.725

Regan C (1995) An investigation into nausea and other side-effects of head-coupled immersive virtual reality. Virtual Reality 1:17–32

Reger GM, Koenen-Woods P, Zetocha K, Smolenski DJ, Holloway KM, Rothbaum BO, Difede J, Rizzo AA, Edwards-Stewart A, Skopp NA, Mishkind M, Reger MA, Gahm GA (2016) Randomized controlled trial of prolonged exposure using imaginal exposure vs. Virtual reality exposure in active duty soldiers with deployment-related posttraumatic stress disorder (PTSD). J Consult Clin Psychol 84(11):946–959. https://doi.org/10.1037/ccp0000134

Rizzo AA, Difede J, Rothbaum BO, Johnston S, McLay RN, Reger G, Gahm G, Parsons TD, Graap K, Pair J (2009) VR PTSD exposure therapy results with active duty OIF/OEF combatants. Stud Health Technol Inform 142:277–282

Rizzo AA, Rothbaum BO, Graap K (2007) Virtual reality applications for combat-related posttraumatic stress disorder. In: Figley CR, Nash WP (eds) Combat stress injury: theory, research and management. Routledge, New York, pp 183–204

Roemer L, Litz BT, Orsillo SM, Ehlich PJ, Friedman MJ (1998) Increases in retrospective accounts of war-zone exposure over time: the role of PTSD symptom severity. J Trauma Stress 11(3):597–605. https://doi.org/10.1023/A:1024469116047

Rumball F (2013) Studying individual differences and emotion regulation effects on PTSD-like responding and recovery: a psychophysiological VR-trauma paradigm. https://ore.exeter.ac.uk/repository/handle/10871/14171

Rumball F, Lavric A, Malta LS, Hoffman H, Karl A (2011) Electroencephalographic correlates of the acoustic startle response following virtual reality stress exposure [abstract]. Psychophysiology 48(Suppl.):113–114

Schweizer T, Renner F, Sun D, Kleim B, Holmes EA, Tuschen-Caffier B (2018) Psychophysiological reactivity, coping behaviour and intrusive memories upon multisensory virtual reality and script-driven imagery analogue trauma: a randomised controlled crossover study. J Anxiety Disord 59:42–52. https://doi.org/10.1016/j.janxdis.2018.08.005

Street AE, Vogt D, Dutra L (2009) A new generation of women veterans: stressors faced by women deployed to Iraq and Afghanistan. Clin Psychol Rev 29(8):685–694. https://doi.org/10.1016/j.cpr.2009.08.007

Task Force of the European Society of Cardiology and the North American Society of Pacing and Electrophysiology (1996) Heart rate variability. Standards of measurement, physiological interpretation, and clinical use. Eur Heart J 17(3):354–381

Weathers FW, Litz BW, Herman DS, Huska JA, Keane TM (1993) The PTSD checklist (PCL): reliability, validity, and diagnostic utility. In: 9th Annual Meeting of the International Society for Traumatic Stress Studies, San Antonio

Wisco BE, Marx BP, Sloan DM, Gorman KR, Kulish AL, Pineles SL (2015) Self-distancing from trauma memories reduces physiological but not subjective emotional reactivity among veterans With posttraumatic stress disorder. Clin Psychol Sci 3(6):956–963. https://doi.org/10.1177/2167702614560745

Witmer BG, Singer MJ (1998) Measuring presence in virtual environments: a presence questionnaire. Presence Teleoperators Virtual Environ 7(3):225–240. https://doi.org/10.1162/105474698565686

Zimand E, Anderson PA, Rothbaum BO, Hodges L (2001) Immersion questionnaire. Virtually Better Incorporated, Decatur
Funding
This study was supported by NIH Loan Repayment and Weill Medical College of Cornell University Faculty Grants awarded to the first author. These agencies had no involvement in the design or execution of the research or in the writing of research manuscripts.
Additional information
Publisher's Note
Springer Nature remains neutral with regard to jurisdictional claims in published maps and institutional affiliations.
About this article
Cite this article
Malta, L.S., Giosan, C., Szkodny, L.E. et al. Development of a virtual reality laboratory stressor. Virtual Reality 25, 293–302 (2021). https://doi.org/10.1007/s10055-020-00455-5
Received:

Accepted:

Published:

Issue Date:

DOI: https://doi.org/10.1007/s10055-020-00455-5
Keywords