Abstract
Fire is a major hazard in built environments. Fires in buildings cause fatalities, serious injuries and tremendous damage. Most fires can be extinguished in the early stages of the fire's development, with the right equipment and correct use of the equipment. However, as there can be as little as a few minutes between a fire starting and very dire consequences, rapid and correct responses are critical. Implementing effective training solutions is necessary to enable members of the public, who are not experts in fire safety, to use a fire extinguisher correctly. This can assist to build resilience to fires. In recent decades, virtual reality (VR) has aroused the fire safety community's attention, as a smart, safe and effective training method compared to the traditional methods of lectures, non-interactive videos, and brochures. VR has been used for training for fire emergency preparedness and to collect data about evacuee decision-making, but VR has rarely been applied to a fully immersive training experience about fire extinguishers operation steps. Fire extinguisher operation steps are Pull, Aim, Squeeze and Sweep. Each step is critical to quickly extinguish a fire. This paper compares fire extinguisher training using a VR simulation with a non-interactive training video and evaluates the trainees learning of a fire extinguisher's basic operation steps, in terms of knowledge acquisition, retention of information and change of self-efficacy. The results showed that the VR trainees scored better than video trainees, in terms of knowledge acquisition, even if the same trend was observed for long term retention of information. It was also observed that VR training provided a higher increment of self-efficacy right after the training. The VR group participants had maintained the same level of self-efficacy even 3–4 weeks after the training, while the video group had shown a significant drop of self-efficacy.
Access options
Buy single article
Instant access to the full article PDF.
US$ 39.95
Tax calculation will be finalised during checkout.
Subscribe to journal
Immediate online access to all issues from 2019. Subscription will auto renew annually.
US$ 79
Tax calculation will be finalised during checkout.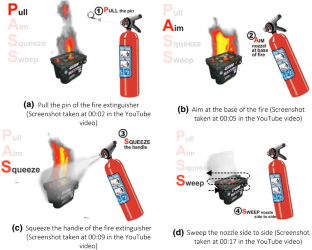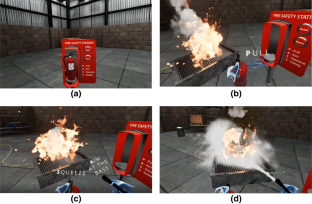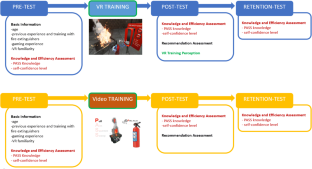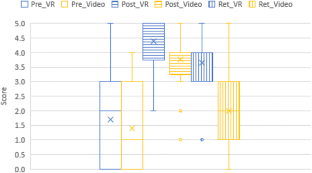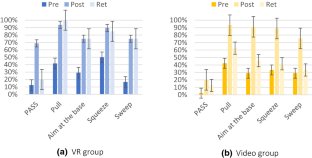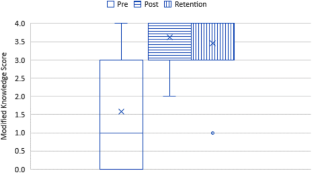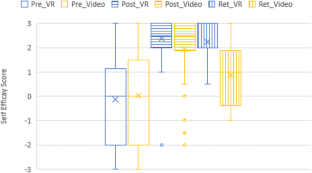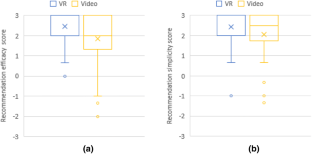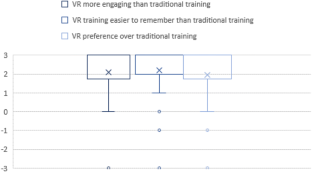 References
Bass A (2014) PASS—fire extinguisher safety (a YouTube video). https://www.youtube.com/watch?v=6NMUuteWvRo. Accessed 17 July 2019

Burigat S, Chittaro L (2016) Passive and active navigation of virtual environments vs. traditional printed evacuation maps: a comparative evaluation in the aviation domain. Int J Hum Comput Stud 87:92–105. https://doi.org/10.1016/j.ijhcs.2015.11.004

Cha M, Han S, Lee J, Choi B (2012) A virtual reality fire training simulator integrated with fire dynamics data. Fire Saf J 50:12–24

Chittaro L (2016) Designing serious games for safety education: "Learn to Brace" vs. Traditional Pictorials for Aircraft Passengers. Proc IEEE Trans Vis Comput Gr 22(5):1527–1539

Chittaro L, Buttussi F (2015) Assessing knowledge retention of an immersive serious game vs. a traditional education method in aviation safety. IEEE Trans Vis Comput Gr 21(4):529–538. https://doi.org/10.1109/tvcg.2015.2391853

Chittaro L, Ranon R (2009) Serious games for training occupants of a building in personal fire safety skills. In: Proceedings of VS-GAMES'09: IEEE first international conference on games and virtual worlds for serious applications, IEEE Computer Society Press, Los Alamitos, CA, USA, pp 76–83

Chittaro L, Sioni R (2015) Serious games for emergency preparedness: evaluation of an interactive vs. a non-interactive simulation of a terror attack. Comput Hum Behav 50:508–519

Chittaro L, Corbett CL, McLean GA, Zangrando N (2018) Safety knowledge transfer through mobile virtual reality: a study of aviation life preserver donning. Saf Sci 102:159–168. https://doi.org/10.1016/j.ssci.2017.10.012

De Gloria A, Bellotti F, Berta R (2014) Serious games for education and training. Int J Serious Games. https://doi.org/10.17083/ijsg.v1i1.11

Duckworth S, Thompson A, Young B (2016) International good practice in safety, health and wellbeing in fire and emergency services. A case study analysis. New Zealand Fire Service Research Report

Feng Z, Gonzalez V, Amor R, Lovreglio R et al (2018) Immersive virtual reality serious games for evacuation training and research: a systematic literature review. Comput Educ. https://doi.org/10.1016/j.compedu.2018.09.002

Inoue Y (1999) Effects of virtual reality support compared to video support in a high-school world geography class. Campus-Wide Inf Syst 16(3):95–104. https://doi.org/10.1108/10650749910281250

Kim JH, Park ST, Lee H, Yuk KC, Lee H (2001) Virtual reality simulations in physics education. http://imej.wfu.edu/articles/2001/2/02/index.asp

Kinateder M, Pauli P, Müller M, Krieger J, Heimbecher F, Rönnau I, Bergerhausen U, Vollmann G, Mühlberger A (2013) Human behaviour in severe tunnel accidents: effects of information and behavioural training. Trans Res Part F Traffic Psychol Behav 17:20–32. https://doi.org/10.1016/j.trf.2012.09.00

Kinateder M, Müller M, Jost M, Mühlberger A, Pauli P (2014) Social influence in a virtual tunnel fire—influence of conflicting information on evacuation behaviour. Appl Ergonom 45:1649–1659

Lebram M et al (2009) Design and architecture of Sidh–a cave based firefighter training game. Design and use of serious games Springer, Dordrecht, pp 19–31

Leder J, Horlitz T, Puschmann P, Wittstock V, Schütz A (2019) Comparing immersive virtual reality and powerpoint as methods for delivering safety training: impacts on risk perception, learning, and decision making. Saf Sci 111:271–286

Lee EAL (2011) An investigation into the effectiveness of virtual reality-based learning. Ph.D. thesis, Murdoch University

Lovreglio R, Kinateder M (2020) Augmented reality for pedestrian evacuation research: promises and limitations. Saf Sci. https://doi.org/10.1016/j.ssci.2020.104750

Lovreglio R, Gonzalez V, Feng Z, Amor R, Spearpoint M, Thomas J, Trotter M, Sacks R (2018) Prototyping Virtual reality serious games for building earthquake preparedness: the Auckland city hospital case study. Adv Eng Inform. https://doi.org/10.1016/j.aei.2018.08.018

Maddux JE, Rogers RW (1983) Protection motivation and self-efficacy: a revised theory of fear appeals and attitude change. J Exp Soc Psychol 19(5):469–479

Månsson J (2018) Using a virtual fire extinguisher as a tool for safety training. Master Thesis, Faculty of Engineering, Lund University

NZG—New Zealand Government. Commercial use of fire extinguishers. https://fireandemergency.nz/business-and-landlords/commercial-use-of-fire-extinguishers/. Accessed 17 July 2019

Poole B, Hicks WD, Notarianni KA, Hanks C, Harris R, Gorbett GE (2012) Ordinary people and effective operation of fire extinguishers. Worcester Polytechnic Institute. http://www.femalifesafety.org/docs/wpistudyfinal.pdf

Rüppel U, Schatz K (2011) Designing a BIM serious game for fire safety evacuation simulations. Adv Eng Inform 25:600–611

Silva JF, Almeida JE, Rossetti RJF, Coello AL (2013) A serious game for evacuation training. In: Proceedings of IEEE 2nd international conference on serious games and application for health (SeGAH2013). Vilamoura, Algarve, Portugal

Smith S, Ericson E (2009) Using immersive game virtual reality to teach fire-safety skills to children. Virtual Real 13(2):87–99. https://doi.org/10.1007/s10055-009-0113-6

Smith SP, Trenholme D (2009) Rapid prototyping a virtual fire drill environment using computer game technology. Fire Saf J 44(4):559–569

Taitt HA (1993) Technology in the classroom: planning for educational change. Curriculum Report Vol. 22 No. 4, National Association of Secondary School Principals, Reston, VA (ERIC Document Reproduction Service No. 359 922)

Tate DL, Sibert L, King T (1997) Virtual environments for shipboard firefighting training. In: Proceedings of IEEE 1997 annual international symposium on virtual reality. Albuquerque, NM, USA, pp 61–68. https://doi.org/10.1109/vrais.1997.583045

Trusted Reviews (2018) Can your PC run the HTC Vive? Minimum system requirements revealed. https://www.trustedreviews.com/news/can-i-run-the-htc-vive-2936671. Accessed July 17 July 2019

Xu Z, Lu XZ, Guan H, Chen C, Ren AZ (2014) A virtual reality fire training simulator with smoke hazard assessment capacity. Adv Eng Softw 68:1–8
Acknowledgements
The authors are grateful to MAMMOTH VR and HONE Ltd. for providing the license of the PASS training application. Dr Lovreglio thanks the College of Science of Massey University for funding this research through the MURF fund (Grant No. SREF). Finally Dr Lovreglio would like to thank Phil Jackson (EvacuationNow) and the Fire Protection Association (NZ Chapter) for helping with the data collection.
Ethics declarations
Ethical approval
All objectives of the experiment were achieved with low ethics level, according to the Massey University's Code of Ethics. Participants were informed (1) about the purpose of the study, (2) that they had the right to stop the experiment at any time without providing any reason and (3) that they can stop the experiment if they felt sick or any discomfort. All the training sessions were performed under the supervision of a researcher, in case there was any emergency.
Informed consent
A Participant information sheet and consent form were signed by all participants before undertaking the VR or video training.
Additional information
Publisher's Note
Springer Nature remains neutral with regard to jurisdictional claims in published maps and institutional affiliations.
About this article
Cite this article
Lovreglio, R., Duan, X., Rahouti, A. et al. Comparing the effectiveness of fire extinguisher virtual reality and video training. Virtual Reality 25, 133–145 (2021). https://doi.org/10.1007/s10055-020-00447-5
Received:

Accepted:

Published:

Issue Date:
Keywords
Fire safety

Fire extinguishers

Virtual reality

Serious games

Training