Abstract
Human–Computer interaction, including technology-aided instruction, is beginning to focus on virtual reality (VR) technology due to its ability to support immersive learning, teaching through simulation, and gamification of learning. These systems can deliver high-level multisensory learning experiences that are important in the teaching of many subjects, especially those involving abstract concepts or requiring spatial skills, such as organic chemistry. Haptic experiences with VR, however, remain a challenge. In addition, development has focused on general entertainment/gaming; VR systems in chemistry implement simulations of the chemistry laboratory and other advanced systems whereas those that support safe, game-like, immersive and multisensory learning of organic chemistry with haptics at pre-university education levels are scarce. We developed the VR Multisensory Classroom (VRMC) as an immersive learning environment within a VR head-mounted display, where learners employ hand movements to build hydrocarbon molecules and experience haptic feedback through gloves with built-in sensors and hand-tracking with the Leap Motion system. We report here the evaluation of the first prototype by learners from diverse backgrounds who reported on the ability of the VRMC to support high engagement, motivation, interest and organic chemistry learning as well as diverse learning styles. The VRMC is a novel VR classroom that supports immersive learning in molecular organic chemistry with haptics for multisensory learning.
Access options
Buy single article
Instant access to the full article PDF.
USD 39.95
Price excludes VAT (USA)
Tax calculation will be finalised during checkout.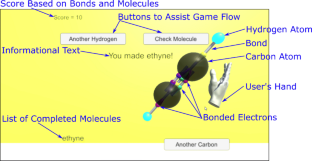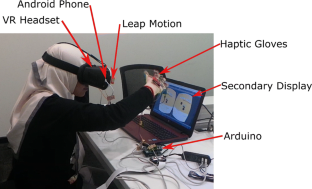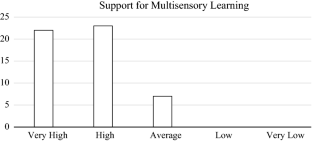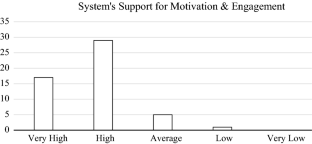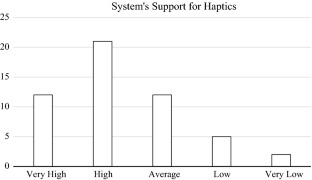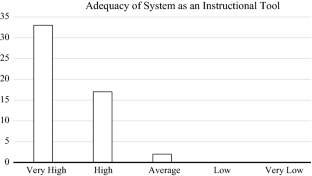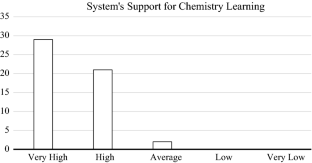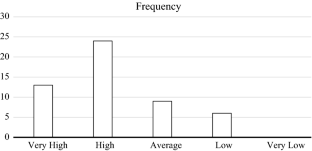 References
Axon VR (2017) Virtual reality you can feel. https://axonvr.com/#haptx-haptics-evolved. Accessed 26 May 2017

Bazeley P (2010) Book Review: V. L. Plano Clark and J. W. Creswell (Eds.) The Mixed Methods Reader. Thousand Oaks, CA: SAGE, 2008, 617 pp. Supplied by Footprint Books, AU$79 (paperback). J Mix Methods Res 4(1):79–81. https://doi.org/10.1177/1558689809356926

Buckley P, Doyle E (2016) Gamification and student motivation. Interact Learn Environ 24(6):1162–1175. https://doi.org/10.1080/10494820.2014.964263

Cambridge Dictionary (2017) Definition of immersive. Cambridge Dictionary. Cambridge University Press. http://dictionary.cambridge.org/dictionary/english/immersive. Accessed 26 May 2017

Choi S, Jung K, Noh SD (2015) Virtual reality applications in manufacturing industries: past research, present findings, and future directions. Concur Eng Res Appl 23(1):40–63. https://doi.org/10.1177/1063293X14568814

Christou C (2010) Virtual reality in education. Education. https://doi.org/10.4018/978-1-60566-940-3.ch012

Creswell JW (2014) Research design: qualitative, quantitative and mixed approaches, 4th edn. https://doi.org/10.2307/1523157

Creswell JW, Plano Clark VL (2007) Choosing a mixed method design. In: Designing and conducting mixed methods research. SAGE Publications, Inc, pp 58–89. ISBN: 1412927927

Culatta R (2013) ADDIE model. Retrieved from http://www.instructionaldesign.org/models/addie

DextaRobotics (2018) DextaRobotics builds hand haptics device for virtual reality medical learning. https://www.healthysimulation.com/9009/dextarobotics-builds-hand-haptics-device-for-virtual-reality-medical-learning/. Accessed 16 Mar 2018

Dünser A, Steinbügl K, Kaufmann H, Glück J (2006) Virtual and augmented reality as spatial ability training tools. In: Proceedings of the 6th ACM SIGCHI New Zealand chapter's international conference on Computer-human interaction design centered HCI - CHINZ'06, vol 158, pp 125–132. https://doi.org/10.1145/1152760.1152776

Eastwood ML (2013) Fastest fingers: a molecule-building game for teaching organic chemistry. J Chem Educ 90(8):1038–1041. https://doi.org/10.1021/ed3004462

Erlandson DA, Harris EL, Skipper BL, Allen SD (1993) Doing naturalistic inquiry: a guide to methods. SAGE Publications Inc, Thousand Oaks

Farra SL, Miller ET, Hodgson E (2015) Virtual reality disaster training: translation to practice. Nurse Educ Pract 15(1):53–57. https://doi.org/10.1016/j.nepr.2013.08.017

Fildes N (2015, December) 2016 set to be year virtual reality takes off. Raconteur. https://www.raconteur.net/technology/2016-set-to-be-year-virtual-reality-takes-off. Accessed 26 May 2017

Google (2017) Virtual reality for everyone. Retrieved November 9, 2017. https://vr.google.com/. Accessed 26 May 2017

GoTouch VR Team (2017) Go touch VR. Retrieved November 9, 2017. https://www.gotouchvr.com/. Accessed 26 May 2017

Hamid NSS, Aziz FA, Azizi A (2014) Virtual reality applications in manufacturing system. In: Proceedings of 2014 science and information conference, SAI 2014. pp 1034–1037. https://doi.org/10.1109/SAI.2014.6918317

Hauptman H (2010) Enhancement of spatial thinking with virtual spaces 1.0. Comput Educ 54(1):123–135. https://doi.org/10.1016/j.compedu.2009.07.013

Heinich R, Molenda M, Russell J, Smaldino S (2002) The ASSURE model. In Instructional media and technologies for learning, vol 7

Hyun EHE, Yoon HYH, Son SSS (2010) Relationships between user experiences and children's perceptions of the education robot. In: Human-robot interaction (HRI), 2010 5th ACM/IEEE international conference on, pp 199–200. https://doi.org/10.1109/HRI.2010.5453197

Jong T (2009) Cognitive load theory, educational research, and instructional design: some food for thought. Instr Sci 38(2):105–134. https://doi.org/10.1007/s11251-009-9110-0

Koedinger KR, Kim J, Jia JZ, McLaughlin EA, Bier NL (2015) Learning is not a spectator sport: doing is better than watching for learning from a MOOC. In: Proceedings of the second (2015) ACM conference on learning @ Scale-L@S'15. pp 111–120. https://doi.org/10.1145/2724660.2724681

Kolb AY, Kolb DA (2005) The Kolb learning style inventory—version 3.1 2005 technical specifications. LSI Technical Manual, pp 1–72. https://doi.org/10.1016/S0260-6917(95)80103-0

Kolb DA, Boyatzis RE, Mainemelis C (2000) Experiential learning theory: previous research and new directions. Perspect Think Learn Cognit Styl 1(216):227–247. https://doi.org/10.5465/AMLE.2005.17268566

Kuo MS, Chuang TY (2016) How gamification motivates visits and engagement for online academic dissemination: an empirical study. Comput Hum Behav 55:16–27. https://doi.org/10.1016/j.chb.2015.08.025

Leap Motion (2017) Reach into Virtual Reality with your bare hands. https://www.leapmotion.com/#112. Accessed 26 May 2017

Mahatma Chemistry (2017) MEL chemistry VR. https://melscience.com/vr/. Accessed 26 May 2017

Mei HH, Sheng LS (2011) Applying situated learning in a virtual reality system to enhance learning motivation. Int J Inf Educ Technol 1(4):298–302. https://doi.org/10.7763/IJIET.2011.V1.48

Merchant Z, Goetz ET, Keeney-Kennicutt W, Cifuentes L, Kwok O, Davis TJ (2013) Exploring 3-D virtual reality technology for spatial ability and chemistry achievement. J Comput Assist Learn 29(6):579–590. https://doi.org/10.1111/jcal.12018

Merriam Webster Dictionary (2017) Definition of IMMERSIVE. Retrieved from https://www.merriamwebster.com/dictionary/immersive

Mestre D, Vercher J-L (2011) Immersion and presence. In: Virtual reality: concepts and technologies. pp 81–96. http://www.ism.univmed.fr/mestre/projects/virtualreality/Pres_2005.pdf. Accessed 26 May 2017

Minogue J, Jones MG (2006) Haptics in education: exploring an untapped sensory modality. Rev Educ Res 76(3):317–348. https://doi.org/10.3102/00346543076003317

Molenda M (2003a) ADDIE model. http://www.nwlink.com/~donclark/history_isd/addie.html#FSU. Accessed 26 May 2017

Molenda (2003b) ADDIE Timeline. The performance juxtaposition site. Retrieved from http://www.nwlink.com/~donclark/history_isd/addie.html#FSU

Monahan T, McArdle G, Bertolotto M (2008) Virtual reality for collaborative e-learning. Comput Educ 50(4):1339–1353. https://doi.org/10.1016/j.compedu.2006.12.008

Mujber T, Szecsi T, Hashmi M (2004) Virtual reality applications in manufacturing process simulation. J Mater Process Technol 155156:1834–1838. https://doi.org/10.1016/j.jmatprotec.2004.04.401

Nakamura J, Csikszentmihalyi M (2009) Flow theory and research. Oxf Handb Posit Psychol. https://doi.org/10.1093/oxfordhb/9780195187243.013.0018

Norrby M, Grebner C, Eriksson J, Bostrom J (2015) Molecular rift: virtual reality for drug designers. J Chem Inf Model 55(11):2475–2484. https://doi.org/10.1021/acs.jcim.5b00544

Ornstein A (2006) The frequency of hands-on experimentation and student attitudes toward science: a statistically significant relation (2005-51-ornstein). J Sci Educ Technol 15(3–4):285–297. https://doi.org/10.1007/s10956-006-9015-5

React! Team (2017) React! the organic chemistry board game. Retrieved June 22, 2017, http://reactgame.com/#/. Accessed 26 May 2017

Ritter D, Johnson M (1997) Virtual titrator: a student-oriented instrument. J Chem Educ 74(1):120. https://doi.org/10.1021/ed074p120

Sanders T, Cairns P (2010) Time perception, immersion and music in videogames. In: Proceedings of the 24th BCS interaction specialist group conference, pp 160–167

Schell Games (2017) SuperChem VR. Retrieved June 20, 2017, https://www.schellgames.com/games/superchem-vr. Accessed 26 May 2017

Smith C, Agcaoili K, Kannan A (2016) Chemistry Lab VR. Retrieved May 20, 2017, https://devpost.com/software/chemistry-lab-vr. Accessed 26 May 2017

Stohr-Hunt PM (1996) An analysis of frequency of hands-on experience and science achievement. J Res Sci Teach 33(1):101–109. https://doi.org/10.1002/(SICI)1098-2736(199601)33:1<101::AID-TEA6>3.0.CO;2-Z

Stone DC (2007) Teaching chromatography using virtual laboratory exercises. J Chem Educ 84(9):1488–1495. https://doi.org/10.1021/ed084p1488

Stull AT, Barrett T, Hegarty M (2013) Usability of concrete and virtual models in chemistry instruction. Comput Hum Behav 29(6):2546–2556

Turk DJ, Gillespie-Smith K, Krigolson OE, Havard C, Conway MA, Cunningham SJ (2015) Selfish learning: the impact of self-referential encoding on children's literacy attainment. Learn Instr 40:54–60. https://doi.org/10.1016/j.learninstruc.2015.08.001

Tuveri E, Macis L, Sorrentino F, Spano LD, Scateni R (2016) Fitmersive games: fitness gamification through immersive VR. In Proceedings of the international working conference on advanced visual interfaces-AVI'16. pp 212–215. https://doi.org/10.1145/2909132.2909287

Unimersiv (2016) Chemistry VR. Retrieved June 20, 2017, https://unimersiv.com/review/chemistry-vr/

Whitson C, Consoli J (2009) Flow theory and student engagement. J Cross-Discip Perspect Educ 2(1):40–49. http://jcpe.wmwikis.net/file/view/whitsonconsoli.pdf

Winkelmann K, Scott M, Wong D (2014) A study of high school students' performance of a chemistry experiment within the virtual world of second life. J Chem Educ 91(9):1432–1438. https://doi.org/10.1021/ed500009e

Winter J, Wentzel M, Ahluwalia S (2016) Chairs!: a mobile game for organic chemistry students to learn the ring flip of cyclohexane. J Chem Educ 93(9):1657–1659. https://doi.org/10.1021/acs.jchemed.5b00872

Woolley J, Sheeley J, Sheeley S (2010) Organic molecule game. http://chem.illinois.edu/omg/index.html. Accessed 26 May 2017

Yiannakopoulou E, Nikiteas N, Perrea D, Tsigris C (2015) Virtual reality simulators and training in laparoscopic surgery. Int J Surg 13:60–64. https://doi.org/10.1016/j.ijsu.2014.11.014
About this article
Cite this article
Edwards, B.I., Bielawski, K.S., Prada, R. et al. Haptic virtual reality and immersive learning for enhanced organic chemistry instruction. Virtual Reality 23, 363–373 (2019). https://doi.org/10.1007/s10055-018-0345-4
Received:

Accepted:

Published:

Issue Date:

DOI: https://doi.org/10.1007/s10055-018-0345-4
Keywords
Virtual reality

Immersive learning

Haptics

Chemistry education

Organic chemistry

Hydrocarbons

Middle school science

Introductory chemistry

Hands-on learning

Gamification