Abstract
Kinesthetic interactions allow users to interact with 3D applications through their body movements and hand gestures. When kinesthetic applications are introduced in museums and heritage institutions, they add embodiment to visitor experience. An appropriate fit for kinesthetic technology in museums rests on visitors engaging in purposeful body movements and hand gestures that convey meanings about both intangible and tangible heritage. This paper presents the design, development and evaluation of a kinesthetic application of sculpturing Cycladic figurines, which places the user at the role of an ancient craftsman who creates a figurine with bare-hand movements (translated by Leap Motion to respective sculpting actions) in a simplified virtual environment. The Cycladic sculpture application has been evaluated in laboratory and field testing (as part of a wider educational activity in the museum) with positive results on usability, fun and learning. We identify several benefits as well as challenges of designing kinesthetic interactions in museums and we report on design issues that need to be taken into account in similar applications.
This is a preview of subscription content, log in to check access.
Access options
Buy single article
Instant access to the full article PDF.
US$ 39.95
Tax calculation will be finalised during checkout.
Subscribe to journal
Immediate online access to all issues from 2019. Subscription will auto renew annually.
US$ 79
Tax calculation will be finalised during checkout.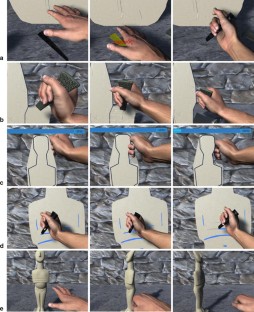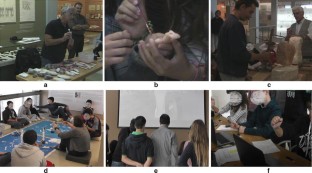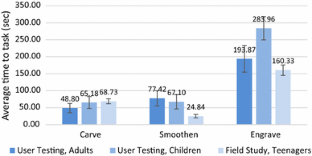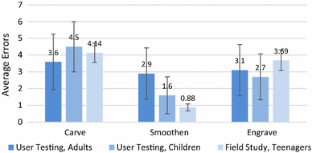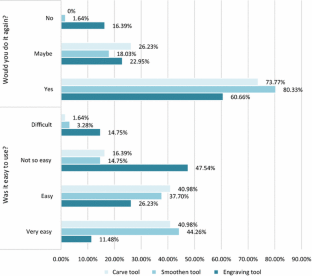 References
Anderson EF, McLoughlin L, Liarokapis F, Peters C, Petridis P, de Freitas S (2010) Developing serious games for cultural heritage: a state-of-the-art review. Virtual Real 14(4):255–275

Barton AJ, Goeser C (2013) Transforming the art museum experience: gallery one. museums and the web. http://mw2013.museumsandtheweb.com/paper/transforming-the-art-museum-experience-gallery-one-2/

Correia N, Romão T, Ricardo A et al (2014) Design of an interactive experience with medieval illuminations: a journey into the beauty and meaning of medieval Portuguese manuscripts. J Comput Cult Herit (JOCCH) 7(2):13

Csikszentmihalyi M, Hermanson K (1995) Intrinsic motivation in museums: Why does one want to learn? In: Falk JH, Dierking LD (eds) Public institutions for personal learning: Establishing a research agenda, American Association of Museums, Washington, DC, pp. 67–77

De Paolis LT, Aloisio G, Celentano MG, Oliva L, Vecchio P (2011) Experiencing a town of the Middle Ages: an application for the edutainment in cultural heritage. In: 2011 IEEE 3rd international conference on communication software and networks (ICCSN). pp 169–174. IEEE

England D (2011) Whole body interaction: An introduction. In: Whole Body Interaction Springer, London, pp. 1-5

Fanini B, d'Annibale E, Demetrescu E, Ferdani D, Pagano A (2015) Engaging and shared gesture-based interaction for museums the case study of K2R international expo in Rome. In: 2015 Digital heritage, vol 1, pp 263–270. IEEE

Fogtmann MH, Fritsch J, Kortbek KJ (2008) Kinesthetic interaction: revealing the bodily potential in interaction design. In: Proceedings of the 20th Australasian conference on computer-human interaction: designing for habitus and habitat, pp 89–96. ACM

Guna J, Jakus G, Pogačnik M, Tomažič S, Sodnik J (2014) An analysis of the precision and reliability of the leap motion sensor and its suitability for static and dynamic tracking. Sensors 14(2):3702–3720

Gunn C (2006) Collaborative virtual sculpting with haptic feedback. Virtual Real 10(2):73–83

Hein GE (2002) Learning in the museum. Routledge, London

Hernández-Ibáñez LA, Barneche-Naya V, Mihura-López R (2016) Natural interaction and movement paradigms. A comparison of usability for a kinect enabled museum installation. In: International conference on learning and collaboration technologies, Springer, Berlin, pp 145–155

Hoffman HG, Hollander A, Schroder K, Rousseau S, Furness T (1998) Physically touching and tasting virtual objects enhances the realism of virtual experiences. Virtual Real 3(4):226–234

Hsu HMJ (2011) The potential of kinect in education. Int J Inf Educ Technol 1(5):365

Hunicke R, LeBlanc M, Zubek R (2004) MDA: a formal approach to game design and game research. In: Proceedings of the AAAI workshop on challenges in game AI

Koutsabasis P, Domouzis C (2016) Mid-air browsing and selection in image collections. In: International working conference on advanced visual interfaces (AVI) 2016. ACM

Koutsabasis P, Vosinakis S (2016) Adult and children user experience with leap motion in digital heritage: the Cycladic sculpture application. In: Euro-mediterranean conference. Springer, Berlin, pp 350–361

Leap Motion App Store. https://apps.leapmotion.com/

Markopoulos P, Read JC, MacFarlane S, Hoysniemi J (2008) Evaluating children's interactive products: principles and practices for interaction designers. Morgan Kaufmann, Burlington

Markussen A, Jakobsen MR, Hornbæk K (2013) Selection-based mid-air text entry on large displays. IFIP conference on human–computer interaction. Springer, Berlin, pp 401–418

McDonnell K, Qin H, Wlodarczyk R (2001) Virtual clay: a real-time sculpting system with haptic toolkits. In: Proceedings of the 2001 symposium on Interactive 3D graphics. ACM

Mortara M, Catalano CE, Bellotti F, Fiucci G, Houry-Panchetti M, Petridis P (2014) Learning cultural heritage by serious games. J Cult Herit 15(3):318–325

Nancel M, Wagner J, Pietriga E, Chapuis O, Mackay W (2011) Mid-air pan-and-zoom on wall-sized displays. In: Proceedings of the SIGCHI conference on human factors in computing systems, pp 177–186. ACM

Oustinoff E (1987) The Early Cycladic sculptor: materials and methods. In: Getz-Preziosi P (ed) Early Cycladic Art in North American Collections. Virginia Museum of Fine Arts, Richmond, pp 90–102

Papadatos Y, Venieris E (2016) An experimental approach to the manufacture of Cycladic-type figurines with folded arms: preliminary observations. In: Early Cycladic Sculpture in Context. Oxbow Books, Oxford, pp 483–490

Papadimitriou N (2015) How were they created? Materials and techniques of crafting ancient artefacts. A publication of the Museum of Cycladic Art. ISBN: 978-618-5060-12-1 (In Greek)

Pescarin S, Pietroni E, Rescic L, Wallergård M, Omar K, Rufa C (2013) NICH: a preliminary theoretical study on Natural Interaction applied to Cultural Heritage contexts. In: Digital heritage international congress 2013, vol 1, pp 355–362. IEEE

Pietroni E, Adami A (2014) Interacting with virtual reconstructions in museums: the Etruscanning Project. J Comput Cult Herit 7(2):9

Prazina I, Balic K, Prses K, Rizvic S, Okanovic V (2016) Interaction with virtual objects in a natural way. In: 39th international convention on information and communication technology, electronics and microelectronics (MIPRO) 2016, Opatija, Croatia, May 30–June 3, 2016. IEEE, pp 358–361

Ramani K, Lee Jr K, Jasti R (2014) zPots: a virtual pottery experience with spatial interactions using the leap motion device. In: CHI'14 extended abstracts on human factors in computing systems. ACM

Read JC (2008) Validating the Fun Toolkit: an instrument for measuring children's opinions of technology. Cogn Technol Work 10(2):119–128

Renner RS, Velichkovsky BM, Helmert JR (2013) The perception of egocentric distances in virtual environments-a review. ACM Comput Surv (CSUR) 46(2):23

Robertson S, Jones B, O'Quinn T, Presti P, Wilson J, Gandy M (2009) Multiuser collaborative exploration of immersive photorealistic virtual environments in public spaces. International conference on virtual and mixed reality. Springer, Berlin, pp 235–243

Sederberg T, Parry S (1986) Free-form deformation of solid geometric models. ACM SIGGRAPH Comput Graph 20(4):151–160

Sheng J, Balakrishnan R, Singh K (2006) An interface for virtual 3D sculpting via physical proxy. GRAPHITE 6

Van Eck W, Kolstee Y (2012) The augmented painting: playful interaction with multi-spectral images. In: 2012 IEEE international symposium on mixed and augmented reality-arts, media, and humanities (ISMAR-AMH), pp 65–69. IEEE

Von Hardenberg C, Bérard F (2001) Bare-hand human–computer interaction. In: Proceedings of the 2001 workshop on perceptive user interfaces. pp 1–8. ACM

Vosinakis S, Xenakis I (2011) A virtual world installation in an art exhibition: providing a shared interaction space for local and remote visitors. In: Rethinking technology in Museums 2011

Vosinakis S, Koutsabasis P, Makris D, Sagia E (2016) A kinesthetic approach to digital heritage using leap motion: the Cycladic sculpture application. In: 8th International conference on games and virtual worlds for serious applications (VS-GAMES), Barcelona. IEEE

Wang CS, Chiang DJ, Wei YC (2013) Intuitional 3D museum navigation system using Kinect. Information technology convergence. Springer, Dordrecht, pp 587–596

Wong J, Lau R, Ma L (2000) Virtual 3d sculpting. J Vis Comput Anim 11(3):155–166

Wyvill G, Kunii TL (1985) A functional model for constructive solid geometry. Vis Comput 1(1):3–14
Acknowledgements
We would like to thank Nikolas Papadimitriou curator of Antiquities at the Museum of Cycladic Art for the coordination of the event 'Marble Yesterday and Today,' as well as Yiannis Papadatos, Nondas Verieris and all other participants for the fruitful discussions onto the value of kinesthetic interactive applications for conveying tangible and intangible heritage.
About this article
Cite this article
Koutsabasis, P., Vosinakis, S. Kinesthetic interactions in museums: conveying cultural heritage by making use of ancient tools and (re-) constructing artworks. Virtual Reality 22, 103–118 (2018). https://doi.org/10.1007/s10055-017-0325-0
Received:

Accepted:

Published:

Issue Date:
Keywords
Cultural heritage

Digital heritage

Kinesthetic interaction

Cycladic figurine

User experience

Usability testing

Field study

Leap Motion