Abstract
Virtual reality (VR) technology is being increasingly used by athletes, coaches, and other sport-related professionals. The present systematic review aimed to document research on the application of VR to sport to better understand the outcomes that have emerged in this work. Research literature databases were searched, and the results screened to identify articles reporting applications of interactive VR to sport with healthy human participants. Twenty articles were identified and coded to document the study aims, research designs, participant characteristics, sport types, VR technology, measures, and key findings. From the review, it was shown that interactive VR applications have enhanced a range of performance, physiological, and psychological outcomes. The specific effects have been influenced by factors related to the athlete and the VR system, which comprise athlete factors, VR environment factors, task factors, and the non-VR environment factors. Important variables include the presence of others in the virtual environment, competitiveness, task autonomy, immersion, attentional focus, and feedback. The majority of research has been conducted on endurance sports, such as running, cycling, and rowing, and more research is required to examine the use of interactive VR in skill-based sports. Additional directions for future research and reporting standards for researchers are suggested.
Access options
Buy single article
Instant access to the full article PDF.
USD 39.95
Price includes VAT (USA)
Tax calculation will be finalised during checkout.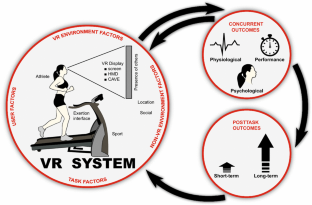 Notes
1.

Cohen's kappa for the decisions to exclude or include based on title and abstract (Step 1) was κ = 0.64 and based on review of full article (Step 2) was κ = 0.69, both of which fall within the guidelines for substantial agreement. Full agreement was reached at each step following discussion.
References
Anderson-Hanley C, Snyder AL, Nimon JP, Arciero PJ (2011) Social facilitation in virtual reality-enhanced exercise: competitiveness moderates exercise effort of older adults. Clin Interv Aging 6:275–280. doi:10.2147/cia.s25337

Anderson-Hanley C, Arciero PJ, Brickman AM, Nimon JP, Okuma N, Westen SC, Molly EM, Pence BD, Woods JA, Kramer AF, Zimmerman EA (2012) Exergaming and older adult cognition: a cluster randomized clinical trial. Am J Prev Med 42:109–119. doi:10.1016/j.amepre.2011.10.016

Anderson-Hanley C, Arciero PJ, Barcelos N, Nimon J, Rocha T, Thurin M, Maloney M (2014) Executive function and self-regulated exergaming adherence among older adults. Front Hum Neurosci 8:989. doi:10.3389/fnhum.2014.00989

Annesi JJ, Mazas J (1997) Effects of virtual reality-enhanced exercise equipment on adherence and exercise-induced feeling states. Percept Motor Skill 85:835–844. doi:10.2466/pms.1997.85.3.835

Australian Bureau of Statistics (2008) Defining sport and physical activity, a conceptual model. ABS Catalogue No. 4149.0.55.001

Baca A, Dabnichki P, Heller M, Kornfeind P (2009) Ubiquitous computing in sports: a review and analysis. J Sport Sci 27:1335–1346. doi:10.1080/02640410903277427

Baños RM, Botella C, Garcia-Palacios A, Villa H, Perpiñá C, Alcañiz M (2000) Presence and reality judgment in virtual environments: a unitary construct? Cyberpsychol Behav 3:327–335. doi:10.1089/10949310050078760

Baños RM, Escobar P, Cebolla A, Guixeres J, Alvarez J, Francisco J, Botella C (2016) Using virtual reality to distract overweight children from bodily sensations during exercise. Cyberpsychol Behav Soc Netw 19:115–119. doi:10.1089/cyber.2015.0283

Briki W, Den Hartigh RJR, Markman KD, Micallef J, Gernigon C (2013) How psychological momentum changes in athletes during a sport competition. Psychol Sport Exerc 14:389–396. doi:10.1016/j.psychsport.2012.11.009

Chen KB, Ponto K, Tredinnick RD, Radwin RG (2015) Virtual exertions: evoking the sense of exerting forces in virtual reality using gestures and muscle activity. Hum Factors 57:658–673. doi:10.1177/0018720814562231

Feltz DL, Kerr NL, Irwin BC (2011) Buddy up: the Köhler effect applied to health games. J Sport Exerc Psychol 33:506–526. doi:10.1123/jsep.33.4.506

Guy S, Ratzki-Leewing A, Gwadry-Sridhar F (2011) Moving beyond the stigma: systematic review of video games and their potential to combat obesity. Int J Hypertens. doi:10.4061/2011/179124

Hoffmann CP, Filippeschi A, Ruffaldi E, Bardy BG (2014) Energy management using virtual reality improves 2000-m rowing performance. J Sport Sci 32:501–509. doi:10.1080/02640414.2013.835435

Ijsselsteijn W, de Kort Y, Westerink J, de Jager M, Bonants R (2004) Fun and sports: enhancing the home fitness experience. Lect Notes Comput Sci 3166:46–56. doi:10.1007/978-3-540-28643-1_8

Irwin BC, Scorniaenchi J, Kerr NL, Eisenmann JC, Feltz DL (2012) Aerobic exercise is promoted when individual performance affects the group: a test of the Kohler motivation gain effect. Ann Behav Med 44:151–159. doi:10.1007/s12160-012-9367-4

Kim SY, Prestopnik N, Biocca FA (2014) Body in the interactive game: how interface embodiment affects physical activity and health behavior change. Comput Hum Behav 36:376–384. doi:10.1016/j.chb.2014.03.067

Larsen LH, Schou L, Lund HH, Langberg H (2013) The physical effect of exergames in healthy elderly–a systematic review. Games Health J 2:205–212. doi:10.1089/g4h.2013.0036

Laver KE, George S, Thomas S, Deutsch JE, Crotty M (2015) Virtual reality for stroke rehabilitation. Cochrane Database Syst Rev 2. doi:10.1002/14651858.CD008349

Lee HG, Chung S, Lee WH (2012) Presence in virtual golf simulators: the effects of presence on perceived enjoyment, perceived value, and behavioral intention. New Media Soc 15:930–946. doi:10.1177/1461444812464033

Legrand FD, Joly PM, Bertucci WM, Soudain-Pineau MA, Marcel J (2011) Interactive-Virtual Reality (IVR) exercise: an examination of in-task and pre-to-post exercise affective changes. J Appl Sport Psychol 23:65–75. doi:10.1080/10413200.2010.523754

Liberati A, Altman DG, Tetzlaff J, Mulrow C, Gøtzsche PC, Ioannidis JPA, Clarke M, Devereaux PJ, Kleijnen J, Moher D (2009) The PRISMA statement for reporting systematic reviews and meta-analyses of studies that evaluate healthcare interventions: explanation and elaboration. Br Med J 339:b2700. doi:10.1136/bmj.b2700

Meline T (2006) Selecting studies for systematic review: inclusion and exclusion criteria. Contemp Issues Commun Sci Disord 33:21–27

Mestre DR, Ewald M, Maiano C (2011) Virtual reality and exercise: behavioral and psychological effects of visual feedback. Stud Health Technol Inf 167:122–127. doi:10.3233/978-1-60750-766-6-122

Meyerbröker K, Emmelkamp PMG (2010) Virtual reality exposure therapy in anxiety disorders: a systematic review of process-and-outcome studies. Depress Anxiety 27:933–944. doi:10.1002/da.20734

Mueller FF, Stevens G, Thorogood A, O'Brien S, Wulf V (2007) Sports over a distance. Pers Ubiquit Comput 11:633–645. doi:10.1007/s00779-006-0133-0

Murray EG, Neumann DL, Moffitt RL, Thomas PR (2016) The effects of the presence of others during a rowing exercise in a virtual reality environment. Psychol Sport Exerc 22:328–336. doi:10.1016/j.psychsport.2015.09.007

Neumann DL, Brown J (2013) The effect of attentional focus strategy on physiological and motor performance during a sit-up exercise. J Psychophysiol 27:7–15. doi:10.1027/0269-8803/a000081

Neumann DL, Heng S (2011) The effects of associative and dissociative attentional focus strategies on muscle activity and heart rate during a weight training exercise. J Psychophysiol 25:1–8. doi:10.1027/0269-8803/a000011

Neumann DL, Piercy A (2013) The effect of different attentional strategies on physiological and psychological states during running. Aust Psychol 48:329–337. doi:10.1111/ap.12015

Nunes M, Nedel L, Roesler V (2014) Motivating people to perform better in exergames: Competition in virtual environments. In: Proceedings of the 29th annual ACM symposium on applied computing, ACM, New York. pp 970–975. doi:10.1145/2554850.2555009

Oliveira BRR, Deslandes AC, Nakamura FY, Viana BF, Santos TM (2015) Self-selected or imposed exercise? A different approach for affective comparisons. J Sports Sci 33:777–785. doi:10.1080/02640414.2014.968191

Peng W, Crouse JC, Lin JH (2013) Using active video games for physical activity promotion: a systematic review of the current state of research. Health Educ Behav 40:171–192. doi:10.1177/1090198112444956

Plante TG, Aldridge A, Bogden R, Hanelin C (2003a) Might virtual reality promote the mood benefits of exercise? Comput Hum Behav 19:495–509. doi:10.1016/S0747-5632(02)00074-2

Plante TG, Frazier S, Tittle A, Babula M, Ferlic E, Riggs E (2003b) Does virtual reality enhance the psychological benefits of exercise? J Hum Movement Stud 45:485–507. doi:10.1037/e314842004-001

Plante TG, Cage C, Clements S, Stover A (2006) Psychological benefits of exercise paired with virtual reality: outdoor exercise energizes whereas indoor virtual exercise relaxes. Int J Stress Manag 13:108–117. doi:10.1037/1072-5245.13.1.108

Ranganathan R, Carlton LG (2007) Perception-action coupling and anticipatory performance in baseball batting. J Motor Behav 39:369–380. doi:10.3200/JMBR.39.5.369-380

Reynolds JE, Thornton AL, Lay BS, Braham R, Rosenberg M (2014) Does movement proficiency impact on exergaming performance? Hum Movement Sci 34:1–11. doi:10.1016/j.humov.2014.02.007

Sherman WR, Craig AB (2002) Understanding virtual reality: interface, application, and design. Elsevier, San Francisco

Sigrist R, Rauter G, Marchal-Crespo L, Riener R, Wolf P (2015) Sonification and haptic feedback in addition to visual feedback enhances complex motor task learning. Exp Brain Res 233:909–925. doi:10.1007/s00221-014-4167-7

Slater M (2009) Place illusion and plausibility can lead to realistic behaviour in immersive virtual environments. Philos T R Soc B 364:3549–3557. doi:10.1098/rstb.2009.0138

Snyder AL, Anderson-Hanley C, Arciero PJ (2012) Virtual and live social facilitation while exergaming: competitiveness moderates exercise intensity. J Sport Exerc Psychol 34:252–259

Steuer J (1992) Defining virtual reality: dimensions determining telepresence. J Commun 42:73–93. doi:10.1111/j.1460-2466.1992.tb00812.x

Stevinson CD, Biddle SJH (1999) Cognitive strategies in running: a response to Masters and Ogles (1998). Sport Psychol 13:235–236. doi:10.1123/tsp.13.2.235

Stinson C, Bowman DA (2014) Feasibility of training athletes for high-pressure situations using virtual reality. IEEE Trans Vis Comput Gr 20:606–615

Tenenbaum G, Hutchinson JC (2007) A social-cognitive perspective of perceived and sustained effort. In: Tenenbaum G, Eklund RC (eds) Handbook of sport psychology, 3rd edn. Wiley, New Jersey, pp 560–573

Tirp J, Steingrover C, Wattie N, Baker J, Schorer J (2015) Virtual realities as optimal learning environments in sport—a transfer study of virtual and real dart throwing. Psychol Test Assess Model 57:57–69

Vignais N, Kulpa R, Brault S, Presse D, Bideau B (2015) Which technology to investigate visual perception in sport: video vs. virtual reality. Hum Mov Sci 39:12–26. doi:10.1016/j.humov.2014.10.006

Vogt T, Herpers R, Scherfgen D, Strüder HK, Schneider S (2015) Neuroelective adaptations to cognitive processing in virtual environments: an exercise-related approach. Exp Brain Res 233:1321–1329. doi:10.1007/s00221-015-4208-x

Witmer BG, Singer MJ (1998) Measuring presence in virtual environments: a Presence Questionnaire. Presence-Teleop Virt 7:225–240. doi:10.1162/105474698565686
About this article
Cite this article
Neumann, D.L., Moffitt, R.L., Thomas, P.R. et al. A systematic review of the application of interactive virtual reality to sport. Virtual Reality 22, 183–198 (2018). https://doi.org/10.1007/s10055-017-0320-5
Received:

Accepted:

Published:

Issue Date:
Keywords
Virtual reality

Sport

Exercise

Systematic review