Abstract
This paper describes an interactive 3-D indoor modeler that effectively creates photo-realistic 3-D indoor models from multiple photographs. This modeler supports the creation of 3-D models from photographs by implementing interaction techniques that use geometric constraints estimated from photographs and visualization techniques that help to easily understand shapes of 3-D models. We evaluated the availability and usability by applying the modeler to model service fields where actual workers provide services and an experience-based exhibit. Our results confirmed that the modeler enables the creation of large-scale indoor environments such as hot-spring inns and event sites at a relatively modest cost. We also confirmed that school children could learn modeling operations and create 3-D models from a photograph for approximately 20 min because of the easy operations. In addition, we describe additional functions that increase the effectiveness of 3-D modeling based on knowledge from service-field modeling. We present applications for behavior analysis of service workers and for 3-D indoor navigation using augmented virtuality (AV)-based visualization realized by photo-realistic 3-D models.
This is a preview of subscription content, log in to check access.
Access options
Buy single article
Instant access to the full article PDF.
US$ 39.95
Price includes VAT for USA
Subscribe to journal
Immediate online access to all issues from 2019. Subscription will auto renew annually.
US$ 99
This is the net price. Taxes to be calculated in checkout.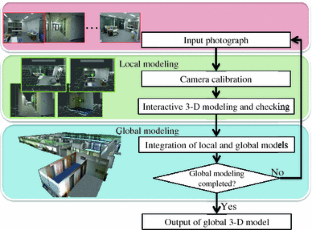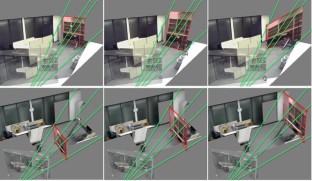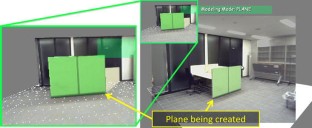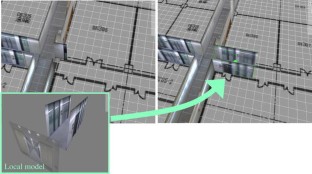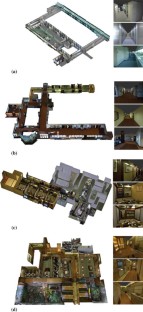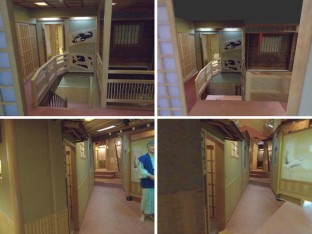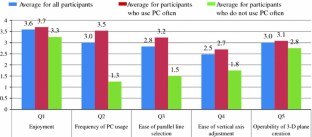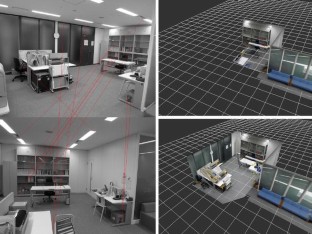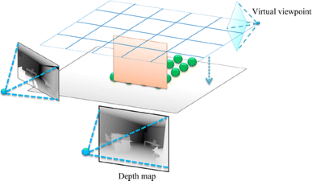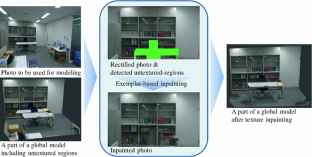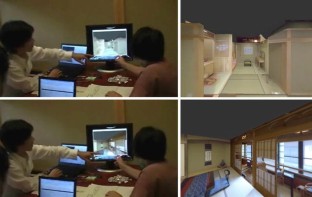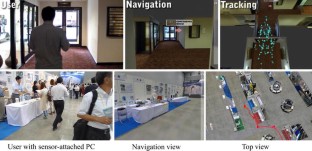 References
Bay H, Ess A, Tuytelaars T, Gool L (2008) Speeded-up robust features (SURF). Comput Vis Image Underst 110(3):346–359

Bunnum P, Mayol-Cuevas W (2008) Outlin AR: an assisted interactive model building system with reduced computational effort. In: Proceedings of IEEE/ACM international symposium on mixed and augmented reality, pp 61–64

Criminisi A, Reid I, Zisserman A (2000) Single view metrology. Int J Comput Vis 40(2):123–148

Criminisi A, Perez P, Toyama K (2004) Region filling and object removal by exemplar-based image inpainting. IEEE Trans Image Process 13:1200–1212

Debevec P, Taylor C, Malik J (1996) Modeling and rendering architecture from photographs: a hybrid geometry- and image-based approach. In: Proceedings of SIGGRAPH, pp 11–20

Fischler M, Bolles R (1981) Random sample consensus: a paradigm for model fitting with applications to image analysis and automated cartography. Commun ACM 24(6):381–395

Furukawa Y, Curless B, Seitz M, Szeliski R (2009) Reconstructing building interiors from images. In: Proceedings of international conference on computer vision, pp 80–87

Gee A, Chekhlov D, Calway A, Mayol-Cuevas W (2008) Discovering higher level structure in Visual SLAM. IEEE Trans Robot 26(5):980–990

Goesele M, Snavely N, Curless B, Hppe H, Seitz M (2007) Multi-view stereo for community photo collections. In: Proceedings of international conference on computer vision, pp 14–20

Google (2011) Google SketchUp, http://sketchup.google.com/

Hartley R, Zisserman A (2000) Multiple view geometry in computer vision. Cambridge University Press, ISBN: 0521623049

Ishikawa T, Kourogi M, Kurata T (2011) Economic and synergistic pedestrian tracking system with service cooperation for indoor environments. Int J Organ Collect Intell 2(1):1–20

Kitajima M, Nakajima M, Toyota M (2010) Cognitive chrono-ethnography: a method for studying behavioral selections in daily activities. In: Proceedings of annual meeting of human factors and ergonomics society

Kourogi M, Sakata N, Okuma T, Kurata T (2006) Indoor/outdoor pedestrian navigation with an embedded GPS/RFID/self-contained sensor system. In: Proceedings of the 16th international conference on artificial reality and telexistence, pp 1310–1321

Kurata T, Kourogi M, Ishikawa T, Hyun J, Park A, (2010) Service cooperation and co-creative intelligence cycles based on mixed-reality technology. In: Proceedings of international conference on industrial informatics, pp. 967–972

Lowe D (2004) Distinctive image features from scale-invariant keypoints, Int. J Comput Vis 60(2):91–110

Neubert J, Pretlove J, Drummond T (2007) Semi-autonomous generation of appearance-based edge models from image sequences. In: Proceedings of IEEE/ACM international symposium on mixed and augmented reality, pp 79–89

Oh B, Chen M, Dorsey J, Durand F (2001) Image-based modeling and photo editing. In: Proceedings of SIGGRAPH, pp 433–442

Oh J, Stuerzlinger W, Danahy J (2005) Comparing SESAME and sketching for conceptual 3D design. In: Proceedings eurographics workshop on sketch based interface and modeling, pp 81–88

Simon G (2010) In situ 3D sketching using a video camera as an interaction and tracking device. In: Proceedings of eurographics

Sinha SN, Steedly D, Szeliski R, Agrawala M, Pollefeys M (2008) Interactive 3D architectural modeling from unordered photo collections. ACM Trans Graph 27(5):159:1–159:10. doi:10.1145/1409060.1409112

Snavely N, Seitz M, Szeliski R (2008) Modeling the world from internet photo collections. Int J Comput Vis 80:189–210

van den Hengel A, Dick A, Thormählen T, Ward B, Torr PHS (2007) VideoTrace: rapid interactive scene modeling from video. ACM Trans Graph 26(3). doi:10.1145/1276377.1276485

van den Hengel A, Hill R, Ward B, Dick A (2009) In situ image-based modeling. In: Proceedings of IEEE/ACM international symposium on mixed and augmented reality, pp 107–110

Williams L (1978) Casting curved shadows on curved surfaces. In: Proceedings of SIGGRAPH, pp 270–274
Acknowledgments
This research was entrusted by the Ministry of Economy, Trade and Industry (METI) in Japan.
About this article
Cite this article
Ishikawa, T., Thangamani, K., Kourogi, M. et al. Interactive 3-D indoor modeler for virtualizing service fields. Virtual Reality 17, 89–109 (2013). https://doi.org/10.1007/s10055-011-0202-1
Received:

Accepted:

Published:

Issue Date:
Keywords
Interaction

3-D indoor model

Service field

Augmented virtuality