Abstract
We report on the long process of exploring, evaluating and refining augmented reality-based methods to support the order picking process of logistics applications. Order picking means that workers have to pick items out of numbered boxes in a warehouse, according to a work order. To support those workers, we have evaluated different HMD-based visualizations in six user studies, starting in a laboratory setup and continuing later in an industrial environment. This was a challenging task, as we had to conquer different kinds of navigation problems from very coarse to very fine granularity and accuracy. The resulting setup consists of a combined and adaptive visualization to precisely and efficiently guide the user even if the actual picking target is not always in the field of view of the HMD.
Access options
Buy single article
Instant access to the full article PDF.
USD 39.95
Price excludes VAT (USA)
Tax calculation will be finalised during checkout.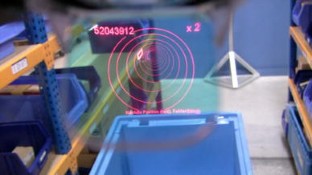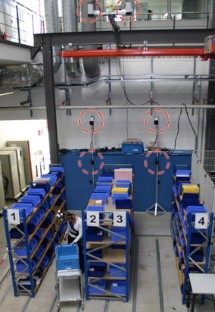 Notes
To be able to adapt with minimal effort to global dynamic changes.

And probably resulting in one of the most outworn HMDs.

Repeated Measure ANOVA using a General Linear Model.

Fisher's Least Significant Difference test.

Original statement in German: "Wie sollte es auch sonst funktionieren!"
References
Baudisch P, Rosenholtz R (2003) Halo: a technique for visualizing off-screen locations. In: Proceedings of CHI 2003, Fort Lauderdale, FL

Biocca F, Tang A, Owen C, Xiao F (2006) Attention funnel: omnidirectional 3d cursor for mobile augmented reality platforms. In: CHI '06: proceedings of the SIGCHI conference on human factors in computing systems. ACM, New York, pp 1115–1122

Bortz J (2005) Statistik für Human- und Sozialwissenschaftler, 6th ed. Springer Medizin Verlag, Heidelberg

Curtis D, Mizell D, Gruenbaum P, Janin A (1998) Several devils in the details: making an ar app work in the airplane factory. In: Proc. IEEE and ACM IWAR'98 (1. International Workshop on Augmented Reality). AK Peters, San Francisco, Nov 1998, pp 47–60

Feiner S, MacIntyre B, Seligmann D (1993) Knowledge-based augmented reality. Commun ACM 36(7)

Gudehus T (2005) Logistik: Grundlagen, Strategien, Anwendungen. Springer, Berlin

Günthner WAH (2007) In: Neue Wege in der Automobillogistik: Die Vision der Supra-Adaptivität. Springer

Henderson S, Feiner S (2009) Evaluating the benefits of augmented reality for task localization in maintenance of an armored personnel carrier turret. In: International symposium on mixed and augmented reality (ISMAR '09)

Gabbard J, Swan E, Hix D (2006) The effects of text drawing styles, background textures, and natural lighting on text legibility in outdoor augmented reality. Presence Teleoper Virtual Environ 15(1)

Kramer LJ, Prinzel LJ III, Arthur JJ III, Bailey RE (2004) Pathway design effects on synthetic vision headup displays. In: Proceedings of SPIE—vol 5424, enhanced and synthetic vision

Schwerdtfeger B, Frimor T, Pustka D, Klinker G (2006) Mobile information presentation schemes for logistics applications. In: Proceedings of 16th international conference on artificial reality and telexistence (ICAT 2006), Nov 2006

Schwerdtfeger B, Klinker G (2008) An evaluation of augmented reality visualizations to support the order picking, 2008. Technische Universität München, Report TUM-I-08-19

Schwerdtfeger B, Klinker G (2008) Supporting order picking with augmented reality. In: Proceedings of the 6th international symposium on mixed and augmented reality (ISMAR), Sept 2008

Schwerdtfeger B, Klinker G, Reif R, Tuemler J (2009) Pick-by-vision in an endurance test. In: Proceedings of the 7th international symposium on mixed and augmented reality (ISMAR), Oct 2009
Acknowledgments
The authors would like to thank T. Frimor, E. Yükselgil, M. Stadter, X. Pan, M. Stadtler, M. Meister and all our test persons. Furthermore, we thank ART GmbH, Germany for lending the equipment. This work was partially supported by the ForLog and trackframe projects of the Bayerische Forschungsstiftung (BFS).
About this article
Cite this article
Schwerdtfeger, B., Reif, R., Günthner, W.A. et al. Pick-by-vision: there is something to pick at the end of the augmented tunnel. Virtual Reality 15, 213–223 (2011). https://doi.org/10.1007/s10055-011-0187-9
Received:

Accepted:

Published:

Issue Date:

DOI: https://doi.org/10.1007/s10055-011-0187-9
Keywords