Access options
Buy single article
Instant access to the full article PDF.
US$ 39.95
Tax calculation will be finalised during checkout.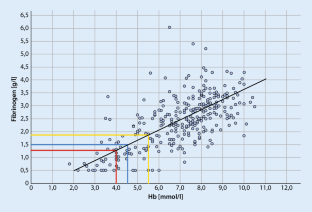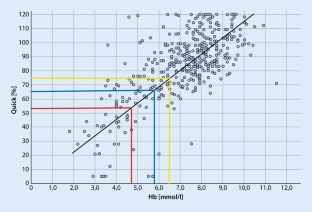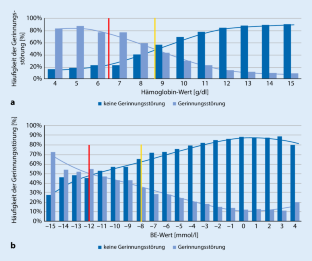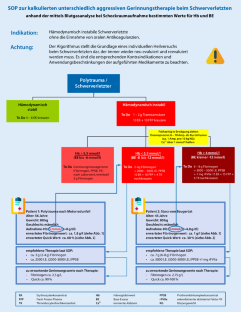 Literatur
1.

Brohi K, Cohen MJ, Ganter MT et al (2007) Acute traumatic coagulopathy: initiated by hypoperfusion: modulated through the protein C pathway? Ann Surg 245:812–818

2.

Dobson GP, Morris JL, Davenport LM et al (2020) Traumatic-induced coagulopathy as a systems failure: a new window into Hemostasis. Semin Thromb Hemost 46:199–214

3.

Gruen RL, Jurkovich GJ, Mcintyre LK et al (2006) Patterns of errors contributing to trauma mortality: lessons learned from 2,594 deaths. Ann Surg 244:371–380

4.

Haas T, Spielmann N, Mauch J et al (2012) Comparison of thromboelastometry (ROTEM(R)) with standard plasmatic coagulation testing in paediatric surgery. Br J Anaesth 108:36–41

5.

Hilbert-Carius P, Hauer T, Josse F et al (2020) REBOA—resuscitative endovascular balloon occlusion of the aorta. Notarzt 36:33–45

6.

Hilbert-Carius P, Hofmann G, Stuttmann R (2015) Hemoglobin-oriented and coagulation factor-based algorithm : effect on transfusion needs and standardized mortality rate in massively transfused trauma patients. Anaesthesist 64:828–838

7.

Hilbert-Carius P, Hofmann GO, Lefering R et al (2016) Clinical presentation and blood gas analysis of multiple trauma patients for prediction of standard coagulation parameters at emergency department arrival. Anaesthesist 65:274–280

8.

Hilbert-Carius P, Hofmann GO, Stuttmann R et al (2018) Point-of-care-Gerinnungsdiagnostik beim Schwerverletzten. Notfall Rettungsmed 21:357–366

9.

Hilbert-Carius P, Wurmb T, Lier H et al (2017) Care for severely injured persons : update of the 2016 S3 guideline for the treatment of polytrauma and the severely injured. Anaesthesist 66:195–206

10.

Hilbert-Carius P, Wurmb T, Lier H et al (2018) Empfehlungen der S3-Leitlinie Polytrauma/Schwerverletztenbehandlung 2016 für die Präklinik. Notfall Rettungsmed 21:4–13

11.

Hilbert P, Hofmann GO, Lefering R et al (2015) Trauma bay haemoglobin level. Predictor of coagulation disorder in major trauma. Unfallchirurg 118:601–606

12.

Hilbert P, Hofmann GO, Zur NK et al (2012) Coagulation management of trauma patients with unstabile circulation. Establishment of a hemoglobin-oriented standard operating procedure. Anaesthesist. https://doi.org/10.1007/s00101-012-2064-7

13.

Hofer V, Wrigge H, Wienke A et al (2019) Platelet function disorder in trauma patients, an underestimated problem? Results of a single center study. Anaesthesist 68:368–376

14.

Hussmann B, Lefering R, Taeger G et al (2011) Influence of prehospital fluid resuscitation on patients with multiple injuries in hemorrhagic shock in patients from the DGU trauma registry. J Emerg Trauma Shock 4:465–471

15.

Lier H, Bernhard M, Hilbert-Carius P (2018) Das Gerinnungssystem in der S3-Leitlinie Polytrauma/Schwerverletzten-Behandlung 2016. Notfall Rettungsmed 21:14–21

16.

Maegele M, Lefering R, Yucel N et al (2007) Early coagulopathy in multiple injury: an analysis from the German Trauma Registry on 8724 patients. Injury 38:298–304

17.

Pape HC, Lefering R, Butcher N et al (2014) The definition of polytrauma revisited: an international consensus process and proposal of the new 'Berlin definition'. J Trauma Acute Care Surg 77:780–786

18.

Polytrauma Guideline Update G (2018) Level 3 guideline on the treatment of patients with severe/multiple injuries : AWMF Register-Nr. 012/019. Eur J Trauma Emerg Surg 44:3–271

19.

Spahn DR, Bouillon B, Cerny V et al (2019) The European guideline on management of major bleeding and coagulopathy following trauma: fifth edition. Crit Care 23:98

20.

Teixeira PG, Inaba K, Hadjizacharia P et al (2007) Preventable or potentially preventable mortality at a mature trauma center. J Trauma 63:1338–1346 (discussion 1346–1337)
Ethics declarations
Interessenkonflikt
P. Hilbert-Carius, H. Wrigge und R. Koch geben an, dass kein Interessenkonflikt besteht.
Für diesen Beitrag wurden von den Autoren keine Studien an Menschen oder Tieren durchgeführt. Für die aufgeführten Studien gelten die jeweils dort angegebenen ethischen Richtlinien.
Additional information
Serienpaten
F. Flake, Oldenburg
P. Gotthardt, Nürnberg
D. Häske, Reutlingen
B. Hossfeld, Ulm
J. Knapp, Bern
H. Trentzsch, München
About this article
Cite this article
Hilbert-Carius, P., Wrigge, H. & Koch, R. Einfach und praktisch: Gerinnungsmanagement beim Trauma ohne viskoelastische Testverfahren. Notfall Rettungsmed 24, 242–247 (2021). https://doi.org/10.1007/s10049-020-00795-4
Accepted:

Published:

Issue Date: