Abstract
Background
Heartburn is one of the most common symptoms of gastrointestinal diseases. Intravenous (IV) administration of pantoprazole, lansoprazole, and esomeprazole is recommended by the US Food and Drug Administration (FDA) for short-term acute treatment. Although there are many studies on these drugs in the literature, they are frequently related to long-term oral use and changes in intragastric pH.
Objective
This study compared the effects of IV esomeprazole with those of IV pantoprazole in patients presenting to the emergency department with heartburn.
Materials and methods
For this randomized controlled double-blind trial, patients aged over 18 years presenting with gastritis-related heartburn were eligible. Study patients received 40 mg esomeprazole or pantoprazole in 100 ml normal saline. Pain intensity was measured on a visual analog scale (VAS) at 30, 60, and 120 min. Patients were randomized and assigned to either of the two study arms via closed envelopes.
Results
Finally, 205 patients were randomized (esomeprazole: 104; pantoprazole 101). Mean age was 39.1 ± 13.78 years and 48.8% were male. Both esomeprazole (median VAS: 26 mm, interquartile range [IQR]: 17–38 mm) and pantoprazole (median: 24 mm, IQR: 14.5–36 mm) effectively reduced heartburn at 30 min, 60 min (median: 59.5 mm, IQR: 48–73.5 mm vs. 55 mm, IQR: 33–68.5 mm), and 120 min (median: 80 mm, IQR: 66.5–89.8 mm vs. 77 mm, IQR: 56–85 mm). While there was no statistically significant difference between the two drugs at 30 min (p = 0.312), there was a statistically significant difference in pain intensity between the esomeprazole and pantoprazole groups at 60 and 120 min (p = 0.014, p = 0.02, respectively).
Conclusion
Single-dose slow IV infusion of esomeprazole is faster and more effective in controlling heartburn than pantoprazole.
Zusammenfassung
Hintergrund
Sodbrennen ist eines der häufigsten Symptome gastrointestinaler Erkrankungen. Die intravenöse (i.v.) Applikation von Pantoprazol, Lansoprazol und Esomeprazol wird von der Food and Drug Administration (FDA) für die kurzfristige Akuttherapie empfohlen. Zwar sind viele Studien zu diesen Wirkstoffen publiziert, sie beziehen sich aber häufig auf eine dauerhafte orale Gabe und Veränderungen des intragastralen pH.
Ziel
In der vorliegenden Studie wurden die Wirkungen von Esomeprazol i.v. mit denen von Pantoprazol i.v. bei Patienten verglichen, die mit Sodbrennen in der Notaufnahme vorstellig wurden.
Material und Methoden
In diese randomisierte, kontrollierte, doppelblinde Studie wurden Patienten über 18 Jahre mit gastritisassoziiertem Sodbrennen eingeschlossen. Die Patienten erhielten 40 mg Esomeprazol oder Pantoprazol in 100 ml Kochsalzlösung. Die Schmerzintensität wurde nach 30, 60 und 120 min mit einer visuellen Analogskala (VAS) gemessen. Die Patienten wurden mit der Closed-envelope-Methode randomisiert und einem der beiden Studienarme zugeordnet.
Ergebnisse
Insgesamt 205 Patienten wurden randomisiert (Esomeprazol 104; Pantoprazol 101 Patienten). Das Durchschnittsalter betrug 39,1 ± 13,78 Jahre, 48,8 % waren männlich. Sowohl Esomeprazol (Median: 26 mm, Interquartilbereich [IQR]: 17–38 mm) als auch Pantoprazol (Median: 24 mm, IQR: 14,5–36 mm) verringerten das Sodbrennen wirksam nach 30 min, 60 min (Median: 59,5 mm, IQR: 48–73,5 mm vs. 55 mm, IQR: 33–68,5 mm) und 120 min (Median: 80 mm, IQR: 66,5-89,8 mm vs. 77 mm, IQR: 56–85 mm). Während nach 30 min kein statistisch signifikanter Unterschied zwischen den beiden Gruppen bestand (p = 0,312), fand sich ein solcher in der Schmerzintensität nach 60 und 120 min zwischen der Esomeprazol- und Pantoprazolgruppe (p = 0,014 bzw. p = 0,02).
Schlussfolgerung
Die einmalige langsame i.v.-Infusion von Esomeprazol lindert Sodbrennen schneller und stärker als die von Pantoprazol.
This is a preview of subscription content, log in to check access.
Access options
Buy single article
Instant access to the full article PDF.
US$ 39.95
Tax calculation will be finalised during checkout.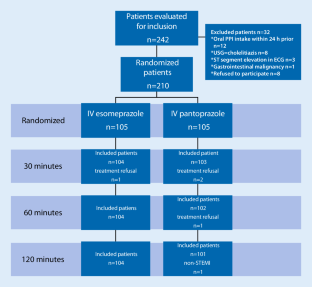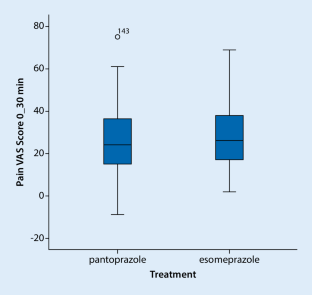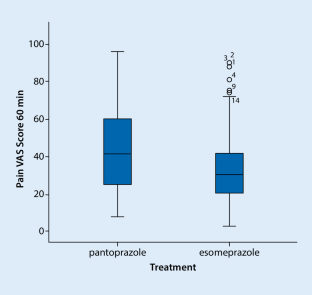 References
1.

Mahadeva S, Goh KL (2006) Epidemiology of functional dyspepsia: a global perspective. World J Gastroenterol 12:2661–2666

2.

Musikatavorn K, Tansangngam P, Lumlertgul S et al (2012) A randomized controlled trial of adding intravenous pantoprazole to conventional treatment for the immediate relief of dyspeptic pain. Am J Emerg Med 30:1737–1742

3.

Jones R, Crouch L (1999) Low-dose lansoprazole provides greater relief of heartburn and epigastric pain than low-dose omeprazole in patients with acid-related dyspepsia. Aliment Pharmacol Ther 13:413–419

4.

Fennerty MB, Johanson J, Hwang C et al (2005) Efficacy of esomeprazole 40 mg vs lansoprazole 30 mg for healing moderate to severe erosive oesophagitis. Aliment Pharmacol Ther 21:455–463

5.

Labenz J, Armstrong D, Lauritsen K et al (2005) A randomized comparative study of esomeprazole 40 mg versus pantoprazole 40 mg for healing erosive oesophagitis: the EXPO study. Aliment Pharmacol Ther 21:739–746

6.

Kahrilas PJ, Falk GW, Johnson DA et al (2000) Esomeprazole improves healing and symptom resolution as compared with omeprazole in reflux oesophagitis patients: a randomized controlled trial. Aliment Pharmacol Ther 14:1249–1258

7.

Lee TJ, Fennerty MB, Howden CW (2007) Systematic review: Is there excessive use of proton pump inhibitors in gastro-oesophageal reflux disease? Aliment Pharmacol Ther 20(11-12):1241–1251

8.

Lindblad AJ, Sadowski CA (2008) The safety of proton pump inhibitors. CPJ/RPC 141(suppl 1):S19–S21

9.

Miner P Jr, Katz PO, Chen Y et al (2003) Gastric acid control with esomeprazole, lansoprazole, omeprazole, pantoprazole, and rabeprazole: a five-way crossover study. Am J Gastroenterol 98(12):2616–2620

10.

Rohss K, Lind T, Wilder-Smith C (2004) Esomeprazole 40 mg provides more effective intragastric acid control than lansoprazole 30 mg, omeprazole 20 mg, pantoprazole 40 mg and rabeprazole 20 mg, in patients with gastroesophageal reflux symptoms. Eur J Clin Pharmacol 60(8):531–539

11.

Senay E, Eken C, Yildiz M, Yilmaz D, Alkan E, Akin M, Serinken M (2016) Comparison of intravenous pantoprazole and ranitidine in patients with dyspepsia presented to the emergency department: a randomized, double blind, controlled trial. World J Emerg Med 7(1):30–34. https://doi.org/10.5847/wjem.j.1920-8642.2016.01.005

12.

Wilder-Smith C, Röhss K, Bondarov P et al (2005) Intravenous esomeprazole 40 mg is effective for the control of intragastric acid levels whether given as a 3-minute injection or a 30-minute infusion. Clin Drug Investig 25(8):517–525

13.

Abelo A, Andersson TB, Antonsson M et al (2000) Stereoselective metabolism of omeprazole by human cyto chrome P450 enzymes. Drug Metab Dispos 28(8):966–972
Acknowledgements
The authors would like to thank the physicians and healthcare professionals in the Emergency Department of Derince Training and Research Hospital for their contributions to this study.
Ethics declarations
Conflict of interest
O. Karakayali, S. Yilmaz, A. Karakayali, Y. Yigit, H.C. Halhalli, and T. Uslu declare that they have no competing interests.
The rules of the Helsinki Declaration and current good clinical practice guidelines were followed. All patients were informed about this research, and written informed consent was obtained from all patients.
About this article
Cite this article
Karakayali, O., Yilmaz, S., Karakayali, A. et al. Intravenous esomeprazole versus pantoprazole for heartburn. Notfall Rettungsmed 23, 276–281 (2020). https://doi.org/10.1007/s10049-019-0626-9
Keywords
Pain

Gastritis

Visual analog scale

Gastroesophageal reflux

Emergency medicine
Schlüsselwörter
Schmerz

Gastritis

Visuelle Analogskala

Gastroösophagealer Reflux

Notfallmedizin