Access options
Buy single article
Instant access to the full article PDF.
USD 39.95
Price includes VAT (USA)
Tax calculation will be finalised during checkout.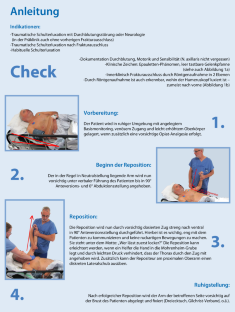 Literatur
1.

Alkaduhimi H, Van Der Linde JA, Willigenburg NW et al (2017) A systematic comparison of the closed shoulder reduction techniques. Arch Orthop Trauma Surg 137:589–599

2.

Auerswald M, Rundt D, Fuchs S et al (2017) Traumatische Schultergelenkluxation. Trauma Berufskrankh 19:35–40

3.

Egol KA, Koval KJ, Zuckerman JD (2010) Handbook of fractures, 4. Aufl. Lippincott Williams & Wilkins, Philadelphia

4.

Hatzis N, Kaar TK, Wirth MA et al (2001) The often overlooked posterior dislocation of the shoulder. Tex Med 97:62–67

5.

Heitmann M, Frosch KH, Wittner B (2017) Schultergelenk Erstluxation. AWMF-Leitlinie (AWMF-Nr. 012-012)

6.

Hippokrates (1939) On the articulations. In: Adams F (Hrsg) The genuine works of Hippokrates. Kessinger Legacy Reprints, London

7.

Kirchhoff C, Braunstein V, Buhmann S et al (2007) Diagnostik und Behandlungsregime der traumatischen dorsalen Schulterluxation. Unfallchirurg 110:1059–1064

8.

Miljesic S, Kelly AM (1998) Reduction of anterior dislocation of the shoulder: The Spaso technique. Emerg Med Clin North Am 10:173–175

9.

Minkus M, Böhm E, Moroder P et al (2018) Initiales Management der traumatischen ventralen Schultererstluxation. Unfallchirurg 121:100–107

10.

Rowe CR (1956) Prognosis in dislocations of the shoulder. J Bone Joint Surg Am 38:957–977

11.

Von Arlt B (1941) Erfahrungen bei Einrichtung der Schulterverrenkungen. Chirurg 13:416–418

12.

Von Glinski A, Geßmann J, Königshauses M et al (2016) Knorpeltrauma bei Schulterluxation. Trauma Berufskrankh 18:12–17

13.

Youm T, Takemoto R, Kyu-Hong Park B (2014) Acute management of shoulder dislocations. J Am Acad Orthop Surg 22:761–771

14.

Yuen MC, Yap PG, Chan YT et al (2001) An easy method to reduce anterior shoulder dislocation: The Spaso technique. Emerg Med J 18:370–372

15.

Zachilli MA, Owens BD (2010) Epidemiology of shoulder dislocations presenting to emergency departments in the United States. J Bone Joint Surg Am 92:542–549
Danksagung
Wir danken Herrn Dr. Kai Losch herzlich für die Erstellung des ergänzenden Filmes, der die Reposition in Einzelschritten illustriert.
Ethics declarations
Interessenkonflikt
M.-M. Ventzke und O. Segitz geben an, dass kein Interessenkonflikt besteht.
Für diesen Beitrag wurden von den Autoren keine Studien an Menschen oder Tieren durchgeführt. Für die aufgeführten Studien gelten die jeweils dort angegebenen ethischen Richtlinien.
Additional information
Serienpaten
P. Gotthardt, Nürnberg
D. Häske, Reutlingen
B. Hossfeld, Ulm
J. Knapp, Bern
Caption Electronic Supplementary Material
Video zur Reposition der Schulterluxation
About this article
Cite this article
Ventzke, MM., Segitz, O. Einfach und praktisch: Reposition der Schulterluxation. Notfall Rettungsmed 22, 533–536 (2019). https://doi.org/10.1007/s10049-019-0596-y