Zusammenfassung
Hintergrund
Pädiatrische Notfallbänder (PNB) unterstützen medizinisches Notfallpersonal bei der Versorgung von pädiatrischen Notfallpatienten. Ein kürzlich veröffentlichter digitaler Algorithmus zur längenbasierten Gewichtsschätzung war im Vergleich zu den auf dem Markt erhältlichen Bändern präziser. Um diesen digitalen Algorithmus klinisch zu testen, wurde ein Prototyp eines elektronischen PNB (ePER) entwickelt.
Ziel
Das Ziel dieser Studie war es, das ePER mit zwei bekannten papierbasierten, analogen PNB hinsichtlich Zeitbedarf und Präzision in einem pädiatrischen Notfallszenario zu vergleichen.
Methoden
Mitarbeiter der Anästhesieabteilung des Universitäts-Kinderspitals Zürich wurden gebeten, in randomisierter Reihenfolge mittels der beiden PNB und des ePER in einem simulierten Notfallszenario an pädiatrischen Notfallpuppen die Parameter Gewicht, Defibrillationsenergie, Adrenalindosis und Größe des endotrachealen Tubus zu bestimmen. Jeder Ablauf wurde mit einem digitalen Rekorder aufgezeichnet. Aus diesen Aufzeichnungen wurden die Zeit bis zur Nennung der jeweiligen Parameter und deren Korrektheit ermittelt.
Ergebnisse
Das Auffinden der definierten Parameter war mit dem ePER schneller als mit den konventionellen PNB (30 s vs. 47 s bzw. 51 s; beide p < 0,001). Die zu erfassenden Parameter wurden mit dem ePER in 85 % der Fälle korrekt erfasst, während mit den konventionellen PNB nur in 44 % bzw. 70 % der Fälle korrekte Werte ermittelt wurden.
Schlussfolgerung
Mit dem ePER stand die Information über die zu erfassenden Parameter schneller und präziser zur Verfügung. Das ePER stellt einen modernen Ansatz zur Unterstützung von Notfallpersonal während pädiatrischer Notfälle dar, insbesondere hinsichtlich Gewichtsschätzung, Medikamentendosierung und der richtigen Auswahl von medizinischem Equipment.
Abstract
Background
Pediatric emergency tapes (PET) support emergency medical teams during pediatric emergencies in estimating body weight and recommending drug dosage as well as medical equipment based on body length. Currently available conventional PETs suffer from low accuracy regarding body weight estimation and carry the risk of incorrect use. A recently published digital algorithm for body length-based weight estimation has shown higher accuracy. A prototype for an electronic PET utilizing this algorithm was developed for further investigation.
Objective
The aim of this study was to compare the electronic PET with two conventional manual and analog PETs in terms of the time and precision in an pediatric emergency scenario.
Methods
Voluntary participants from the anesthesiology department at the University Children's Hospital Zurich were randomly assigned to use each PET type in a simulated low-fidelity pediatric emergency manikin scenario and instructed to identify body weight estimation, defibrillation energy, adrenaline dose and endotracheal tube size. The scenarios were recorded with a digital device in audio tracking mode from which the time until each parameter was identified and the correctness of each parameter was analyzed.
Results
Identifying the defined parameters was significantly faster with the electronic PET than with the conventional PETs (30 s vs. 47 s and 51 s, respectively; both p < 0.001). Clinical parameters were correctly identified in 85% of cases with the electronic PET and in 44% and 70% of cases, respectively, using the conventional PETs.
Conclusion
Identification of medical information with the electronic PET was faster and more reliable than with conventional PETs. This modern approach represents an interesting comprehensive solution for supporting medical staff during pediatric emergencies, especially with respect to weight estimation, drug doses and the correct selection of medical devices.
This is a preview of subscription content, log in to check access.
Access options
Buy single article
Instant unlimited access to the full article PDF.
US$ 39.95
Price includes VAT for USA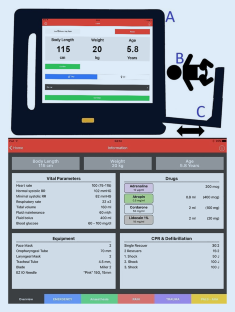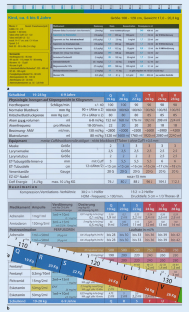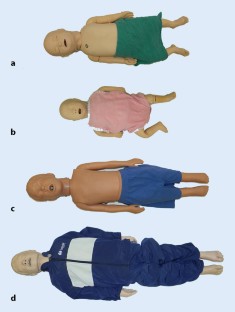 Literatur
1.

Schmidt AR, Haas T, Buehler KP et al (2015) Comparison of Broselow® tape and pediatric emergency ruler. Accuracy of weight estimation. Notfall Rettungsmed 19:129–135

2.

Both CP, Schmitz A, Buehler PK et al (2017) How accurate are pediatric emergency tapes? A comparison of 4 emergency tapes with different length-based weight categorization. Pediatr Emerg Care. https://doi.org/10.1097/pec.0000000000001212

3.

Wells M, Goldstein LN, Bentley A (2017) The accuracy of emergency weight estimation systems in children‑a systematic review and meta-analysis. Int J Emerg Med 10:29

4.

Wells M, Goldstein LN, Bentley A et al (2017) The accuracy of the Broselow tape as a weight estimation tool and a drug-dosing guide—A systematic review and meta-analysis. Resuscitation 121:9–33

5.

Young KD, Korotzer NC (2016) Weight estimation methods in children: a systematic review. Ann Emerg Med 68:441–451

6.

Heyming T, Bosson N, Kurobe A et al (2012) Accuracy of paramedic Broselow tape use in the prehospital setting. Prehosp Emerg Care 16:374–380

7.

Larose G, Levy A, Bailey B et al (2018) Estimating the weight of children during simulated emergency situations using the broselow tape: are we underestimating the risks of errors? Pediatr Emerg Care. https://doi.org/10.1097/PEC.0000000000001581

8.

Kaji AH, Gausche-Hill M, Conrad H et al (2006) Emergency medical services system changes reduce pediatric epinephrine dosing errors in the prehospital setting. Pediatrics 118:1493–1500

9.

Hoyle JD, Davis AT, Putman KK et al (2012) Medication dosing errors in pediatric patients treated by emergency medical services. Prehop Emerg Care 16:59–66

10.

Richard L, Maria B, William F (2012) Root causes of errors in a simulated prehospital pediatric emergency. Acad Emerg Med 19:37–47

11.

Both C, Schmitz A, Buehler PK et al (2017) Comparison of a paediatric emergency ruler with a digital algorithm for weight and age estimation. Acta Anaesthesiol Scand 61:1122–1132

12.

Erker CG, Santamaria M, Mollmann M (2012) Tools for drug dosing in life-threatening pediatric emergencies. Anaesthesist 61:965–970

13.

Kaufmann J, Laschat M, Wappler F (2012) Medication errors in pediatric emergencies: a systematic analysis. Dtsch Arztebl Int 109:609–616

14.

Kaufmann J, Laschat M, Wappler F (2013) Tools for avoidance of medication errors in pediatric emergencies. Anaesthesist 62:143–144

15.

Kwak YH, Kim DK et al (2017) An assessment of the accuracy of a novel weight estimation device for children. Emerg Med J 34:163–169
Förderung
Das Technologie Transfer Center der Universität Zürich (Unitectra, Mr. Henggeler) bewilligte einen Proof of Concept Grant (UZ-18/279) für die Entwicklung der CLAWAR APP und eines ePER-Prototypen.
Ethics declarations
Interessenkonflikt
A.R. Schmidt und M. Weiss sind die Entwickler des "electronic Paediatric Emergency Rulers" (ePER) und des "Continuous Length-based Algorithm for Weight & Age Rating" (CLAWAR). Die Rechte an der Software liegen bei der Universität Zürich, Schweiz. K.-P. Buehler, J. Thomas, K. Ruetzler und C.P. Both geben an, dass kein Interessenkonflikt besteht.
Diese Studie wurde von der Ethikkommission Zürich (KEK-ZH-Nr. 2015-0191) im Juni 2015 bewilligt. Von allen beteiligten Patienten liegt eine Einverständniserklärung vor.
Additional information
Präsentation: Die Daten wurden bisher nicht publiziert.
About this article
Cite this article
Schmidt, A.R., Buehler, K., Thomas, J. et al. Pädiatrische Notfallmedizin nach Maß – eine digitale Option. Notfall Rettungsmed (2020) doi:10.1007/s10049-019-00673-8
Schlüsselwörter
Pädiatrie

Körpergewicht und Messung von Körpergröße

Geräteentwicklung

Notfallbehandlung

Wiederbelebung
Keywords
Pediatrics

Body weight and height measurement

Device development

Emergency treatment

Resuscitation