Access options
Buy single article
Instant access to the full article PDF.
US$ 39.95
Tax calculation will be finalised during checkout.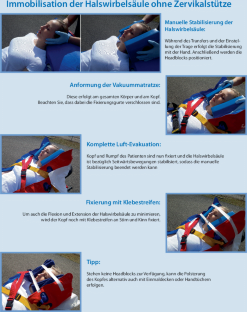 Literatur
1.

Lowery DW, Wald MM, Browne BJ et al (2001) Epidemiology of cervical spine injury victims. Ann Emerg Med 38:12–16. https://doi.org/10.1067/mem.2001.116149

2.

Davies G, Deakin C, Wilson A (1996) The effect of a rigid collar on intracranial pressure. Injury 27:647–649

3.

Kolb JC, Summers RL, Galli RL (1999) Cervical collar-induced changes in intracranial pressure. Am J Emerg Med 17:135–137

4.

Craig GR, Nielsen MS (1991) Rigid cervical collars and intracranial pressure. Intensive Care Med 17:504–505

5.

Hunt K, Hallworth S, Smith M (2001) The effects of rigid collar placement on intracranial and cerebral perfusion pressures. Anaesthesia 56:511–513

6.

Mobbs RJ, Stoodley MA, Fuller J (2002) Effect of cervical hard collar on intracranial pressure after head injury. ANZ J Surg 72:389–391

7.

Deutsche Gesellschaft für Unfallchirurgie (2016) S3 – Leitlinie Polytrauma/Schwerverletzten-Behandlung 2016; AWMF-Register Nr. 012/019

8.

Holla M (2012) Value of a rigid collar in addition to head blocks: a proof of principle study. Emerg Med J 29:104–107. https://doi.org/10.1136/emj.2010.092973

9.

Cordell WH, Hollingsworth JC, Olinger ML et al (1995) Pain and tissue-interface pressures during spine-board immobilization. Ann Emerg Med 26:31–36

10.

Keller BP, Lubbert PH, Keller E et al (2005) Tissue-interface pressures on three different support-surfaces for trauma patients. Injury 36:946–948. https://doi.org/10.1016/j.injury.2004.09.017

11.

Berg G, Nyberg S, Harrison P et al (2010) Near-infrared spectroscopy measurement of sacral tissue oxygen saturation in healthy volunteers immobilized on rigid spine boards. Prehosp Emerg Care 14:419–424. https://doi.org/10.3109/10903127.2010.493988

12.

Connor D, Greaves I, Porter K et al (2013) Pre-hospital spinal immobilisation: an initial consensus statement. Emerg Med J 30:1067–1069. https://doi.org/10.1136/emermed-2013-203207

13.

Sheerin F, de Frein R (2007) The occipital and sacral pressures experienced by healthy volunteers under spinal immobilization: a trial of three surfaces. J Emerg Nurs 33:447–450. https://doi.org/10.1016/j.jen.2006.11.004

14.

Bauer D, Kowalski R (1988) Effect of spinal immobilization devices on pulmonary function in the healthy, nonsmoking man. Ann Emerg Med 17:915–918

15.

Chan D, Goldberg RM, Mason J et al (1996) Backboard versus mattress splint immobilization: a comparison of symptoms generated. J Emerg Med 14:293–298

16.

Kreinest M, Gliwitzky B, Grützner PA et al (2016) Untersuchung der Anwendbarkeit eines neuen Protokolls zur Immobilisation der Wirbelsäule. Notfall Rettungsmed 19:473–482. https://doi.org/10.1007/s10049-016-0154-9

17.

Luscombe MD, Williams JL (2003) Comparison of a long spinal board and vacuum mattress for spinal immobilisation. Emerg Med J 20:476–478

18.

Horodyski M, Conrad BP, Del Rossi G et al (2011) Removing a patient from the spine board: is the lift and slide safer than the log roll? J Trauma 70:1282–1285. https://doi.org/10.1097/TA.0b013e31820ff2bc (discussion 1285)

19.

Boissy P, Shrier I, Briere S et al (2011) Effectiveness of cervical spine stabilization techniques. Clin J Sport Med 21:80–88. https://doi.org/10.1097/JSM.0b013e31820f8ad5

20.

Lemyze M, Palud A, Favory R et al (2011) Unintentional strangulation by a cervical collar after attempted suicide by hanging. Emerg Med J 28:532. https://doi.org/10.1136/emj.2010.106625

21.

Stone MB, Tubridy CM, Curran R (2010) The effect of rigid cervical collars on internal jugular vein dimensions. Acad Emerg Med 17:100–102. https://doi.org/10.1111/j.1553-2712.2009.00624.x

22.

Lovell ME, Evans JH (1994) A comparison of the spinal board and the vacuum stretcher, spinal stability and interface pressure. Injury 25:179–180

23.

Johnson DR, Hauswald M, Stockhoff C (1996) Comparison of a vacuum splint device to a rigid backboard for spinal immobilization. Am J Emerg Med 14:369–372. https://doi.org/10.1016/s0735-6757(96)90051-0
Ethics declarations
Interessenkonflikt
N. Beisemann, A. Noweski und M. Kreinest geben an, dass kein Interessenkonflikt besteht.
Dieser Beitrag beinhaltet keine von den Autoren durchgeführten Studien an Menschen oder Tieren.
Additional information
Die Autoren N. Beisemann und A. Noweski haben in gleichem Maße zum Artikel beigetragen.
Serienpaten
P. Gotthardt, Nürnberg
D. Häske, Reutlingen
B. Hossfeld, Ulm
J. Knapp, Bern
About this article
Cite this article
Beisemann, N., Noweski, A. & Kreinest, M. Wirbelsäulenimmobilisation bei Patienten mit schwerem Schädel-Hirn-Trauma – Einfach, praktisch. Notfall Rettungsmed 21, 402–405 (2018). https://doi.org/10.1007/s10049-018-0466-z