Zusammenfassung
Hintergrund
Terroranschläge mit Massenanfall von Verletzten (TMANV) stellen weltweit Rettungsdienste vor neue Aufgaben. Zwar existieren für Deutschland mittlerweile Empfehlungen aus einer nationalen Konsensuskonferenz für den Terrorfall sowie teilweise länderspezifische Empfehlungen, konkrete Antworten für eine suffiziente regionale Umsetzung gibt es bislang nicht.
Ziel
Ziel der Arbeit war es, für ländliche, rettungsdienstlich strukturschwache Regionen anhand der Erfahrungen aus vorangegangenen Terroranschlägen ein schlüssiges Konzept zu verfassen, umzusetzen und prähospital Handlungsfähigkeit im TMANV herzustellen.
Material und Methoden
Literaturrecherche mit PubMed nach aktuellen Erfahrungsberichten über Terroranschläge, prähospitalen Versorgungskonzepten und länderspezifischen Handlungsempfehlungen. Die aus der Literaturrecherche gewonnenen Erkenntnisse flossen in die Konzeption einer Lösung für eine rettungsdienstlich strukturschwache Region ein.
Ergebnisse
Aus der Literaturrecherche ergibt sich die Notwendigkeit beim TMANV: 1. unterschiedliche Einsatzorte mit vielen Verletzten und typischen Verletzungsmustern gleichzeitig bedienen zu müssen, 2. ausreichend Transportmöglichkeiten bereitzustellen, 3. Pufferkapazität vor den Toren überlaufener Kliniken zu bilden, 4. die Verletzten entsprechend der Sichtungskategorien zu trennen und 5. limitierte klinischen Behandlungsstrukturen freizuhalten. Die Autoren präsentieren ein darauf basierendes Konzept eines Abrollbehälters Sonderlagen Rettung.
Schlussfolgerungen
Für strukturschwache Rettungsdienstbereiche könnte ein Abrollbehälter Sonderlagen Rettung eine kostengünstige, flexible Möglichkeit sein, den geschilderten Anforderungen gerecht zu werden.
Abstract
Background
Worldwide, prehospital emergency services face the threat of recurrent multifaceted terrorist assaults with mass casualties. Recommendations for terror scenarios are available as a result of a national consensus conference, as well as state specific concepts; however, definitive solutions for sufficient regional concepts are lacking.
Objectives
We aimed to offer a concept for rural, structurally weak emergency services to cope with terrorist assaults. This should be based on published experience from former terrorist attacks.
Materials and methods
Based on a literature search (PubMed), we present a versatile prehospital approach for rural multisite terrorist attacks. We searched for actual terrorist mass casualty reports, prehospital concepts and state specific regulations. From these results we drafted a concept especially for structurally weak emergency systems.
Results
Based on the literature search, there are different needs in a terrorist mass casualty scenario: (1) provide simultaneous treatment of many victims with terror-specific injuries at different operating sites, (2) provide sufficient transport material (stretchers), (3) create a buffer capacity in front of overloaded nearby hospitals, (4) separate injured based on triage category, and (5) keep limited hospital resources clear.
Conclusions
The roll-off container "special rescue situations" is a cost-effective, flexible option to meet the described requirements.
This is a preview of subscription content, log in to check access.
Access options
Buy single article
Instant access to the full article PDF.
US$ 39.95
Price includes VAT for USA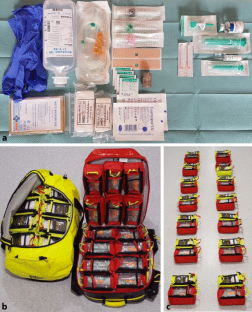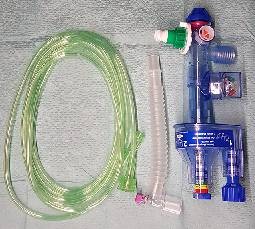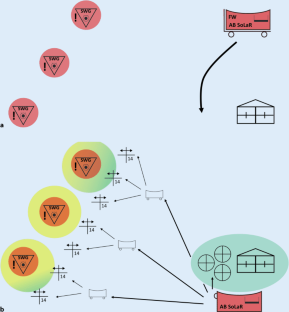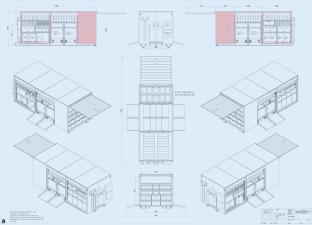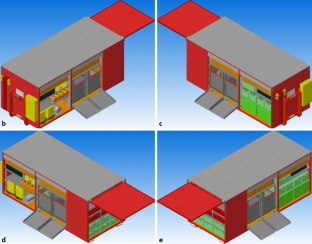 Literatur
1.

Adams H, Flemming A, Krettek C et al (2015) The hospital emergency plan. Med Klin Intensivmed Notfmed 110:37–48

2.

Adams H, Flemming A, Lange C et al (2015) Care concepts in mass casualty incidents and disasters. Concept for primary care clinic. Med Klin Intensivmed Notfmed 110:27–36

3.

Adams H, Mahlke L, Lange C et al (2006) Medical contingency concept for supraregional assistance in the event of mass casualties. Anästh Intensivmed 46:215–223

4.

Almogy G, Belzberg H, Mintz Y et al (2004) Suicide bombing attacks: update and modifications to the protocol. Ann Surg 239:295–303

5.

Behörden-Spiegel (2016) Medizinisch nicht ausreichend auf Terroranschlag vorbereitet. Behörden-Spiegel. http://mobile.behoerden-spiegel.de/icc/Internet/sub/939/939542ce-58b8-851d-b8ca-34207b988f2e,,,&uMen=1f75009d-e07d-f011-4e64-494f59a5fb42&mobile=true.htm. Zugegriffen: 27.05.2018

6.

Aylwin CJ, Konig TC, Brennan NW et al (2006) Reduction in critical mortality in urban mass casualty incidents: analysis of triage, surge, and resource use after the London bombings on July 7, 2005. Lancet 368:2219–2225

7.

Bayerisches Staatsministerium des Innern für Bau und Verkehr Land Bayern (2016) Handlungsempfehlungen für Rettungsdiensteinsätze bei besonderen Einsatzlagen/ Terrorlagen (REBEL)

8.

Biggs TC (2011) (<C>ABC): how the British military deals with trauma. J Trauma 71:1094 (discussion 1095–1096)

9.

De Ceballos JP, Turegano-Fuentes F, Perez-Diaz D et al (2005) 11 March 2004: The terrorist bomb explosions in Madrid, Spain—an analysis of the logistics, injuries sustained and clinical management of casualties treated at the closest hospital. Crit Care 9:104–111

10.

De Maizière T (2017) Dieses Jahr wurden schon drei Anschläge verhindert. In: Bild am Sonntag, Berlin

11.

Einav S, Feigenberg Z, Weissman C et al (2004) Evacuation priorities in mass casualty terror-related events: implications for contingency planning. Ann Surg 239:304–310

12.

Frykberg ER (2002) Medical management of disasters and mass casualties from terrorist bombings: how can we cope? J Trauma 53:201–212

13.

Frykberg ER (2004) Principles of mass casualty management following terrorist disasters. Ann Surg 239:319–321

14.

Gates JD, Arabian S, Biddinger P et al (2014) The initial response to the Boston marathon bombing: lessons learned to prepare for the next disaster. Ann Surg 260:960–966

15.

Hirsch M, Carli P, Nizard R et al (2015) The medical response to multisite terrorist attacks in Paris. Lancet 386:2535–2538

16.

Hodgetts TJ, Mahoney PF, Russell MQ et al (2006) ABC to <C>ABC: redefining the military trauma paradigm. Emerg Med J 23:745–746

17.

Hossfeld B, Adams HA, Bohnen R et al (2017) Zusammenarbeit von Rettungskräften und Sicherheitsbehörden bei bedrohlichen Lagen. Ergebnisse eines nationalen Konsensusgesprächs. Anästh Intensivmed 58:573–583

18.

Hossfeld B, Hinkelbein J, Helm M (2015) Richtig handeln bei Terroranschlägen. Notfall Rettungsmed 18:265–266

19.

Hossfeld B, Wurmb T, Josse F et al (2017) Mass casualty incident—special features of "threatening situations". Anasthesiol Intensivmed Notfallmed Schmerzther 52:618–629

20.

Kanz K‑G, Huber-Wagner S, Lefering R et al (2006) Estimation of surgical treatment capacity for managing mass casualty incidents based on time needed for life-saving emergency operations. Unfallchirurg 109:278–284

21.

Lenzen-Schulte M (2017) Terroranschläge in Deutschland: Noch sind wir nicht gut genug vorbereitet. Dtsch Arztebl 114:A-2402–A-2404

22.

Lockey DJ, Mackenzie R, Redhead J et al (2005) London bombings July 2005: the immediate pre-hospital medical response. Resuscitation 66:ix–xii

23.

Ministerium für Inneres, Digitalisierung und Migration Land Baden-Württemberg (2016) Bessere Ausstattung für Rettungsdienst und Katastrophenschutz im Land. Ministerium für Inneres, Digitalisierung und Migration Land Baden-Württemberg, Stuttgart

24.

Ministerium für Inneres und Sport Land Niedersachsen (2017) Landesausschuss "Rettungsdienst" nach § 13 NRettDG; Rettungsdienstliche Bewältigung von Amok- bzw. Terrorlagen. 10. Niedersächsiche Staatskanzlei, Hannover, S 254–255

25.

Paschen HR (2017) Terrorism in Europe. Notarzt 33:61–62

26.

Probst C, Hildebrand F, Flemming A et al (2008) Hospital emergency plan for external disasters—training experience with mass casualties of injured, contaminated and burn patients. Intensivmed Notfallmed 45:292–300

27.

Probst C, Hildebrand F, Gänsslen A et al (2008) Hospital emergency response plan for mass casualty care. Intensivmed Notfallmed 45:40–50

28.

Rehn M, Vigerust T, Andersen JE et al (2011) Major incident patient evacuation: full-scale field exercise feasibility study. Air Med J 30:153–157

29.

Ritter D (2017) DIVI-Kongress 2017: Terrorism Preparedness – Vorbereitungen auf den Tag X. Bundeswehr, Leipzig

30.

Roewer N, Kranke P (2017) Katastrophenmedizin in und ausserhalb der Klinik: auf das Ungeplante vorbereitet sein. Anasthesiol Intensivmed Notfallmed Schmerzther 52:588–593

31.

Sollid SJ, Rimstad R, Rehn M et al (2012) Oslo government district bombing and Utoya island shooting July 22, 2011: the immediate prehospital emergency medical service response. Scand J Trauma Resusc Emerg Med 20:3

32.

Ständige Konferenz für Katastrophenvorsorge und Bevölkerungsschutz / Geschäftsstelle, Arbeiter-Samariter-Bund Deutschland e. V. (2012) Empfehlungen für Taktische Zeichen im Bevölkerungsschutz. Ständige Konferenz für Katastrophenvorsorge und Bevölkerungsschutz/ Geschäftsstelle c/o Arbeiter-Samariter-Bund Deutschland e. V., Köln

33.

Stratmann D (2006) "The Hannover concept"—a fundamental reorientation? Notarzt 22:1–3

34.

Wolf S, Partenheimer A, Voigt C et al (2009) Primary care hospital for a mass disaster MANV IV. Experience from a mock disaster exercise. Unfallchirurg 112:565–574
Ethics declarations
Interessenkonflikt
M.-M. Ventzke, B. Ziegler, M. Peter und G. I. Kemming geben an, dass kein Interessenkonflikt besteht.
Dieser Beitrag beinhaltet keine von den Autoren durchgeführten Studien an Menschen oder Tieren.
Additional information
Das Autorenteam setzt sich wie folgt zusammen: M.-M. Ventzke ist Anästhesist und ltd. Notarzt, B. Ziegler ist örtlicher Einsatzleiter und Beauftragter Katastrophenschutz, M. Peter ist staatlich geprüfter Fahrzeugbautechniker und G. I. Kemming ist Anästhesist und ltd. Notarzt.
About this article
Cite this article
Ventzke, M., Ziegler, B., Peter, M. et al. Terrorlagen in ländlicher Region. Notfall Rettungsmed 22, 25–36 (2019). https://doi.org/10.1007/s10049-018-0464-1
Schlüsselwörter
Terrorismus

Präklinisches Management

Medizinische Antwort

Massenanfall von Verletzten

Präklinische Notfallversorgung
Keywords
Terrorism

Prehospital management

Medical response

Mass casualty incidents

Prehospital emergency care