Zusammenfassung
Hintergrund
Um den Zugang zu Informationen zur Patientenvorgeschichte in Notfallsituationen zu verbessern, sollen zukünftig auf Wunsch der Versicherten Notfalldaten auf der elektronischen Gesundheitskarte gespeichert werden können. Als Grundlage wurde von der Bundesärztekammer ein Notfalldatensatz entwickelt, welcher die Möglichkeit bietet, Informationen zu bestehenden Diagnosen, Medikamenten, Allergien, Implantaten sowie andere notfallmedizinisch relevante Hinweise einzutragen.
Ziel der Arbeit
Die vorliegende Arbeit untersucht aus der Sicht von Notaufnahmeärzten, Notärzten und Rettungsassistenten die Benutzerfreundlichkeit sowie den potenziellen Nutzen des Notfalldatensatzes.
Material und Methoden
Zur Testung des Notfalldatensatzes wurde eine zweistufige explorative Studie durchgeführt. In Studienphase I legten 13 Allgemeinmediziner insgesamt 64 Notfalldatensätze an. In Studienphase II wurden diese Notfalldatensätze anschließend aus notfallmedizinischer Perspektive von 14 in Notaufnahmen tätigen Ärzten, 14 Notärzten und neun Rettungsassistenten auf der Basis fiktiver Notfallszenarien evaluiert. Der gesamte Validierungsprozess wurde rein papierbasiert durchgeführt.
Ergebnisse
Dem Notfalldatensatz wurde sowohl von Klinikern und Notärzten als auch von den Rettungsassistenten in über 70 % der betrachteten Fälle ein sehr großer oder großer Nutzen beigemessen. Die höchsten Nutzenbewertungen erhielten die Datenfelder Medikamente und Diagnosen.
Diskussion
Die Studienergebnisse weisen auf einen hohen potenziellen Nutzen des Notfalldatensatzes in der realen Patientenversorgung hin und lassen bei flächendeckender Verbreitung einen deutlichen Beitrag zur Optimierung der Patientensicherheit erwarten.
Abstract
Background
To improve access to information on patient history in case of emergency, it should be possible in the future for data for use in an emergency to be stored on the German Electronic Health Card, according to the wishes of the insured person. As a basis, the German Medical Association developed an emergency dataset that offers the possibility of storing information on existing diagnoses, medications, allergies, medical implants and other information relevant in an emergency.
Objectives
In the present study, the emergency dataset was tested with regard to the usability and the potential benefits from the perspective of clinicians, emergency physicians and paramedics.
Materials and methods
To test the emergency dataset a two-phase exploratory study was conducted. In phase I of the study 13 primary care physicians completed a total of 64 emergency datasets. In phase II of the study these datasets were then evaluated from an emergency medicine perspective by 14 clinicians, 14 emergency physicians and 9 paramedics on the basis of fictitious emergency scenarios. The whole validation process was performed purely on paper.
Results
Clinicians, emergency physicians and paramedics rated the emergency dataset in more than 70 % of the cases reviewed as being of very great or of great benefit. The data fields medication and diagnosis received the highest benefit ratings.
Conclusions
The study results indicate the high potential benefits of the emergency dataset in real patient care situations and a further contribution to the optimisation of patient safety can be expected if there is extensive distribution.
Access options
Buy single article
Instant access to the full article PDF.
US$ 39.95
Tax calculation will be finalised during checkout.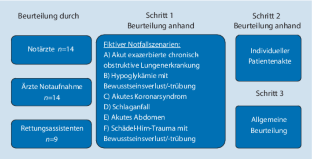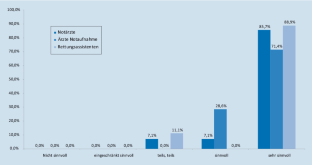 Notes
1.

Eine ausführlichere Schilderung der politischen Hintergründe wurde von den Autoren bereits an anderer Stelle [10] publiziert. Im vorliegenden Artikel soll der Notfalldatensatz aus Sicht von Notfallmedizinern und Rettungsassistenten in den Fokus der Betrachtungen rücken.
Literatur
1.

Bergert FW, Braun M, Ehrenthal K, Feßler J, Gross J, Hüttner U, Kluthe B, Liesenfeld A, Seffrin J, Vetter G, Beyer M, Muth C, Popert U, Harder S, Kirchner H, Schubert I (2014) Hausärztliche Leitlinie Multimedikation – Empfehlungen zum Umgang mit Multimedikation bei Erwachsenen und geriatrischen Patienten. http://www.awmf.org/uploads/tx_szleitlinien/053-043l_S2e_Multimedikation_2014-05.pdf. Zugegriffen: 01. Okt 2015

2.

Bundesärztekammer (2012) Prozessbeschreibung zum Einsatz des Notfalldatenmanagements in der klinischen Praxis. http://www.bundesaerztekammer.de/fileadmin/user_upload/downloads/NFDM_Prozessbeschreibung.pdf. Zugegriffen: 12. April 2016

3.

Critical Incident Reporting System. http://www.cirs-notfallmedizin.de/. Zugegriffen: 28. Sep 2015

4.

Deutscher Bundestag – 18. Wahlperiode (2015) Gesetzentwurf der Bundesregierung. Entwurf eines Gesetzes für sichere digitale Kommunikation und Anwendungen im Gesundheitswesen. Drucksache 18/5293. http://www.bmg.bund.de/fileadmin/dateien/Downloads/E/eHealth/150622_Gesetzentwurf_E-Health.pdf. Zugegriffen: 29. Juli 2015

5.

D I E R K S + B O H L E Rechtsanwälte (2013) Notfalldatenmanagement auf der elektronischen Gesundheitskarte (eGK) – Rechtsgutachten. http://www.bundesaerztekammer.de/fileadmin/user_upload/downloads/NFDM_Rechtsgutachen.pdf. Zugegriffen: 29. Juli 2015

6.

Drescher F, Marsden N (2011) Akzeptanz der elektronischen Gesundheitskarte im Feldtest. Gesundheitswesen 73:835–842

7.

Finnell JT, Overhage JM (2010) Emergency medical services: the frontier in health information exchange. AMIA Annu Symp Proc 2010:222–226

8.

Neuhaus P, Dugas M (2014) Notfalldatensätze im Vergleich. 59. Jahrestagung der Deutschen Gesellschaft für Medizinische Informatik. Biom Epidemiol E V doi:10.3205/14gmds009

9.

Nolan TW (2000) System changes to improve patient safety. BMJ 320:771–773

10.

Schenkel J, Albert J, Butz N, Born J, Juhra C (2015) Notfalldatenmanagement – Was genau soll auf die Karte? Dtsch Arztebl 19:A866–A869

11.

Shapiro JS, Kannry J, Kushniruk AW, Kuperman G (2007) Emergency physicians' perceptions of health information exchange. J Am Med Inform Assoc 14:700–705

12.

Stiell A, Forster AJ, Stiell IG, van Walraven C (2003) Prevalence of information gaps in the emergency department and the effect on patient outcomes. CMAJ 10:1023–1028

13.

Tümmler C (2003) Senioren verändern das Einsatzspektrum. Dtsch Arztebl 11:A 680

14.

Valentin A, Capuzzo M, Guidet B, Moreno R, Metnitz B, Bauer P, Metznitz P (2009) Errors in administration of parenteral drugs in intensiv care units: a multinational prospective study. BMJ 338:b814
Ethics declarations
Interessenkonflikt
J. Born, J. Albert, A. Bohn, N. Butz, K. Fuchs, S. Loos, J. Schenkel und C. Juhra geben an, dass kein Interessenkonflikt besteht.
Dieser Beitrag beinhaltet keine von den Autoren durchgeführten Studien an Menschen oder Tieren.
About this article
Cite this article
Born, J., Albert, J., Bohn, A. et al. Der Notfalldatensatz für die elektronische Gesundheitskarte. Notfall Rettungsmed 20, 32–37 (2017). https://doi.org/10.1007/s10049-016-0197-y
Schlüsselwörter
Notfalldaten

Elektronische Gesundheitskarte

E-Health

Austausch von Gesundheitsinformationen

Gematik
Keywords
Emergency data

Electronic health card

E-Health

Health information exchange

Gematik