Abstract
Negative regulator of reactive oxygen species (NRROS) is a leucine-rich repeat protein expressed by microglia and perivascular macrophages. To date, 9 individuals have been reported with biallelic NRROS variants. Here, we report one individual with a severe neurodegenerative phenotype in which exome sequencing identified 2 novel variants in NRROS, a missense variant (c.185T>C, p.Leu62Pro) and a premature stop codon (c.310C>T, p.Gln104Ter). Pathological examination revealed both extensive grey and white matter involvement, dystrophic calcifications, and infiltration of foamy macrophages. This is the first reported case of NRROS variants with a mitochondrial ultrastructure abnormality noted on electron microscopy analysis of post-mortem tissue.
Access options
Buy single article
Instant access to the full article PDF.
USD 39.95
Price excludes VAT (USA)
Tax calculation will be finalised during checkout.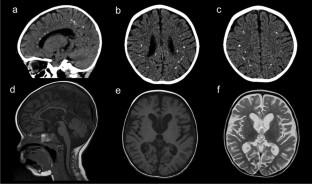 Data availability
The data supporting this study are included within the report.
Acknowledgements
The authors wish to thank the patient and her family for their participation in this study. The authors also wish to acknowledge the McGill University and Genome Quebec Innovation Center.
Funding
This research was funded by research grants from the Canadian Institutes for Health Research (project grant 426534 and 201610PJT- 377869). This research was enabled in part by support provided by Compute Canada (www.computecanada.ca). JM is supported by Healthy Brains, Healthy Lives (HBHL) at McGill University. AD is funded by CIHR, Fondation du Grand Defi Pierre Lavoie and HBHL. AV is funded by the Kamens Chair in Translational Neurotherapeutics. 
G. Bernard has received the Clinical Research Scholar Junior 1 award from the Fonds de Recherche du Québec – Santé (FRQS) (2012–2016), the New Investigator Salary Award from the Canadian Institutes of Health Research (2017–2022) and the Clinical Research Scholar Senior award from the FRQS.
Ethics declarations
Ethics approval
Written informed consent from the legal representatives of the subject was obtained and the study was approved by the research ethics boards of the Montreal Children's Hospital and the McGill University Health Center (11–105-PED, 2019–4972).
Conflict of interest
The authors declare no competing interests.
Additional information
Publisher's note
Springer Nature remains neutral with regard to jurisdictional claims in published maps and institutional affiliations.
Supplementary Information
Below is the link to the electronic supplementary material.
About this article
Cite this article
Macintosh, J., Derksen, A., Poulin, C. et al. Novel biallelic variants in NRROS associated with a lethal microgliopathy, brain calcifications, and neurodegeneration. Neurogenetics 23, 151–156 (2022). https://doi.org/10.1007/s10048-022-00683-8
Received:

Accepted:

Published:

Issue Date:

DOI: https://doi.org/10.1007/s10048-022-00683-8
Keywords