Abstract
Familial periodic paralyses (PPs) are inherited disorders of skeletal muscle characterized by recurrent episodes of flaccid muscle weakness. PPs are classified as hypokalemic (HypoPP), normokalemic (NormoPP), or hyperkalemic (HyperPP) according to the potassium level during the paralytic attacks. HypoPP is an autosomal dominant disease caused by mutations in the CACNA1S gene, encoding for Cav1.1 channel (HypoPP-1), or SCN4A gene, encoding for Nav1.4 channel (HypoPP-2). In the present study, we included 60 patients with a clinical diagnosis of HypoPP. Fifty-one (85%) patients were tested using the direct sequencing (Sanger method) of all reported HypoPP mutations in CACNA1S and SCN4A genes; the remaining 9 (15%) patients were analyzed through a next-generation sequencing (NGS) panel, including the whole CACNA1S and SCN4A genes, plus other genes rarely associated to PPs. Fifty patients resulted mutated: 38 (76%) cases showed p.R528H and p.R1239G/H CACNA1S mutations and 12 (24%) displayed p.R669H, p.R672C/H, p.R1132G/Q, and p.R1135H SCN4A mutations. Forty-one mutated cases were identified among the 51 patients managed with Sanger sequencing, while all the 9 cases directly analyzed with the NGS panel showed mutations in the hotspot regions of SCN4A and CACNA1S. Ten out of the 51 patients unresolved through the Sanger sequencing were further analyzed with the NGS panel, without the detection of any mutation. Hence, our data suggest that in HypoPP patients, the extension of genetic analysis from the hotspot regions using the Sanger method to the NGS sequencing of the entire CACNA1S and SCN4A genes does not lead to the identification of new pathological mutations.
Access options
Buy single article
Instant access to the full article PDF.
USD 39.95
Price includes VAT (USA)
Tax calculation will be finalised during checkout.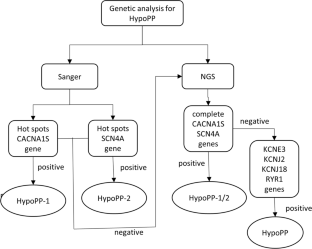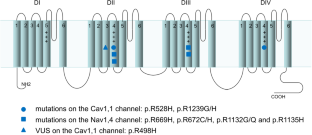 Funding
This work was supported by the Italian Ministry of Health [annual research funding, years 2018–2020].
Ethics declarations
Conflict of interest
The authors declare no competing interests.
Additional information
Publisher's note
Springer Nature remains neutral with regard to jurisdictional claims in published maps and institutional affiliations.
Supplementary Information
Below is the link to the electronic supplementary material.
About this article
Cite this article
Brugnoni, R., Canioni, E., Filosto, M. et al. Mutations associated with hypokalemic periodic paralysis: from hotspot regions to complete analysis of CACNA1S and SCN4A genes. Neurogenetics (2021). https://doi.org/10.1007/s10048-021-00673-2
Received:

Accepted:

Published:
Keywords
Hypokalemic periodic paralysis

CACNA1S and SCN4A genes

Sanger method

Next-generation sequencing