Abstract
Twelve patients from seven unrelated South Indian families with a limb-girdle muscular dystrophy-congenital myasthenic syndrome (LGMD/CMS) phenotype and recessive inheritance underwent deep clinical phenotyping, electrophysiological evaluation, muscle histopathology, and next-generation sequencing/Sanger sequencing–based identification of the genetic defect. Homozygosity mapping was performed using high-throughput genome-wide genotyping for mapping the mutation and to evaluate the founder effect. The age of disease onset among patients ranged from childhood to 40 years of age. The key clinical manifestations observed were progressive fatigable limb-girdle weakness, muscle hypertrophy/atrophy, and preferential weakness in a dystrophic pattern. The ages at last follow-up ranged from 30 to 64 years; nine were independently ambulant, two required assistance, and one was wheelchair-bound. Lower limb muscle MRI showed varying degrees of fat replacement in the glutei, hamstrings, anterior leg muscles, and medial gastrocnemius. All patients showed significant decrement on repetitive nerve stimulation (RNS). Muscle biopsy in 7 patients revealed varying degrees of dystrophic and neurogenic changes. Treatment with pyridostigmine and/or salbutamol resulted in variable improvement in 10 patients. Genetic analysis showed an identical homozygous GMPPB mutation c.1000G > A (p.Asp334Asn) in all affected patients. A region of homozygosity (6Mbp) was observed flanking the c.1000G > A change in carrier chromosomes. This study identifies c.1000G > A in GMPPB as a common founder mutation in an ethnic community of South Indian descent with milder yet variable degree of clinical presentation of GMPPB-associated LGMD-CMS.
Access options
Buy single article
Instant access to the full article PDF.
US$ 39.95
Tax calculation will be finalised during checkout.
Subscribe to journal
Immediate online access to all issues from 2019. Subscription will auto renew annually.
US$ 79
Tax calculation will be finalised during checkout.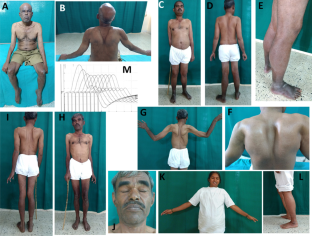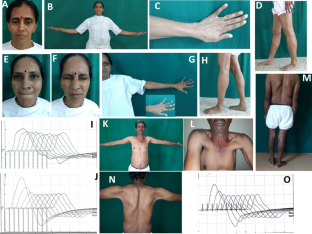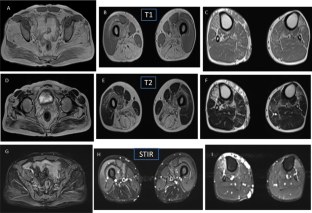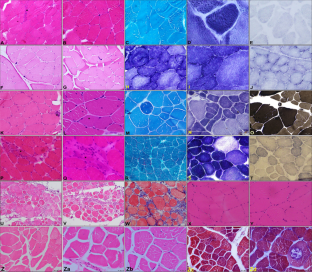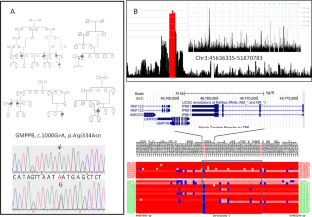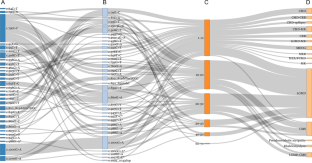 Data availability
The authors confirm that the data supporting the findings of this study are available within the article and/or its supplementary materials.
References
1.

Cabrera-Serrano M, Ghaoui R, Ravenscroft G et al (2015) Expanding the phenotype of GMPPB mutations. Brain J Neurol 138:836–844. https://doi.org/10.1093/brain/awv013

2.

Maeda Y, Kinoshita T (2008) Dolichol-phosphate mannose synthase: structure, function and regulation. Biochim Biophys Acta 1780:861–868. https://doi.org/10.1016/j.bbagen.2008.03.005

3.

Carss KJ, Stevens E, Foley AR et al (2013) Mutations in GDP-mannose pyrophosphorylase B cause congenital and limb-girdle muscular dystrophies associated with hypoglycosylation of α-dystroglycan. Am J Hum Genet 93:29–41. https://doi.org/10.1016/j.ajhg.2013.05.009

4.

Belaya K, Rodríguez Cruz PM, Liu WW et al (2015) Mutations in GMPPB cause congenital myasthenic syndrome and bridge myasthenic disorders with dystroglycanopathies. Brain 138:2493–2504. https://doi.org/10.1093/brain/awv185

5.

Sun L, Shen D, Xiong T et al (2020) Limb-girdle muscular dystrophy due to GMPPB mutations: a case report and comprehensive literature review. Bosn J Basic Med Sci 20:275–280. https://doi.org/10.17305/bjbms.2019.3992

6.

Miller SA, Dykes DD, Polesky HF (1988) A simple salting out procedure for extracting DNA from human nucleated cells. Nucleic Acids Res 16:1215

7.

Mercuri E, Jungbluth H, Muntoni F (2005) Muscle imaging in clinical practice: diagnostic value of muscle magnetic resonance imaging in inherited neuromuscular disorders. Curr Opin Neurol 18:526–537

8.

Borsato Carlo PR (2006) Limb-girdle muscular dystrophies type 2A and 2B: clinical and radiological aspects. Basic Appl Myol 16:17–25

9.

Nigro V, Savarese M (2014) Genetic basis of limb-girdle muscular dystrophies: the 2014 update. Acta Myol Myopathies Cardiomyopathies Off J Mediterr Soc Myol 33:1–12

10.

Sarkozy A, Torelli S, Mein R et al (2018) Mobility shift of beta-dystroglycan as a marker of GMPPB gene-related muscular dystrophy. J Neurol Neurosurg Psychiatry 89:762–768. https://doi.org/10.1136/jnnp-2017-316956

11.

Xie Z, Xiao J, Zheng Y et al (2018) Magnetic resonance imaging findings in the muscle tissue of patients with limb girdle muscular dystrophy type 2I harboring the founder mutation c. 545A>G in the FKRP gene. BioMed Res Int 2018:3710814. https://doi.org/10.1155/2018/3710814

12.

Hafner P, Bonati U, Fischmann A et al (2014) Skeletal muscle MRI of the lower limbs in congenital muscular dystrophy patients with novel POMT1 and POMT2 mutations. Neuromuscul Disord 24:321–324. https://doi.org/10.1016/j.nmd.2014.01.009

13.

Oestergaard ST, Stojkovic T, Dahlqvist JR et al (2016) Muscle involvement in limb-girdle muscular dystrophy with GMPPB deficiency (LGMD2T). Neurol Genet 2(6):e112. https://doi.org/10.1212/NXG.0000000000000112

14.

Nicolau S, Liewluck T, Shen X-M et al (2019) A homozygous mutation in GMPPB leads to centronuclear myopathy with combined pre- and postsynaptic defects of neuromuscular transmission. Neuromuscul Disord NMD 29:614–617. https://doi.org/10.1016/j.nmd.2019.07.001

15.

Tian W, Zhou H, Zhan F et al (2019) Lysosomal degradation of GMPPB is associated with limb-girdle muscular dystrophy type 2T. Ann Clin Transl Neurol 6:1062–1071. https://doi.org/10.1002/acn3.787

16.

Luo S, Cai S, Maxwell S et al (2017) Novel mutations in the C-terminal region of GMPPB causing limb-girdle muscular dystrophy overlapping with congenital myasthenic syndrome. Neuromuscul Disord NMD 27:557–564. https://doi.org/10.1016/j.nmd.2017.03.004

17.

Montagnese F, Klupp E, Karampinos DC et al (2017) Two patients with GMPPB mutation: the overlapping phenotypes of limb-girdle myasthenic syndrome and limb-girdle muscular dystrophy dystroglycanopathy. Muscle Nerve 56:334–340. https://doi.org/10.1002/mus.25485

18.

Jensen BS, Willer T, Saade DN et al (2015) GMPPB-associated dystroglycanopathy: emerging common variants with phenotype correlation. Hum Mutat 36:1159–1163. https://doi.org/10.1002/humu.22898

19.

Balcin H, Palmio J, Penttilä S et al (2017) Late-onset limb-girdle muscular dystrophy caused by GMPPB mutations. Neuromuscul Disord NMD 27:627–630. https://doi.org/10.1016/j.nmd.2017.04.006

20.

Rodríguez Cruz PM, Belaya K, Basiri K et al (2016) Clinical features of the myasthenic syndrome arising from mutations in GMPPB. J Neurol Neurosurg Psychiatry 87:802–809. https://doi.org/10.1136/jnnp-2016-313163

21.

Bharucha-Goebel DX, Neil E, Donkervoort S, Dastgir J, Wiggs E, Winder TL, Moore SA, Iannaccone ST, Bönnemann CG (2015) Intrafamilial variability in GMPPB-associated dystroglycanopathy: broadening of the phenotype. Neurology 84(14):1495–1497. https://doi.org/10.1212/wnl.0000000000001440

22.

Astrea G, Romano A, Angelini C, Antozzi CG, Barresi R, Battini R, Battisti C, Bertini E, Bruno C, Cassandrini D, Fanin M, Fattori F, Fiorillo C, Guerrini R, Maggi L, Mercuri E, Morani F, Mora M, Moro F, Pezzini I, Picillo E, Pinelli M, Politano L, Rubegni A, Sanseverino W, Savarese M, Striano P, Torella A, Trevisan CP, Trovato R, Zaraieva I, Muntoni F, Nigro V, D'Amico A, Santorelli FM; Italian CMD Network (2018) Broad phenotypic spectrum and genotype-phenotype correlations in GMPPB-related dystroglycanopathies: an Italian cross-sectional study. Orphanet J Rare Dis 13(1):170. https://doi.org/10.1186/s13023-018-0863-x
Funding
Funded by the Council of Scientific and Industrial Research (CSIR) grant nos. ML01601 and MLP1802.
H Lochmüller receives support from the Canadian Institutes of Health Research (Foundation Grant FDN-167281), the Canadian Institutes of Health Research and Muscular Dystrophy Canada (Network Catalyst Grant for NMD4C), the Canada Foundation for Innovation (CFI-JELF 38412), and the Canada Research Chairs program (Canada Research Chair in Neuromuscular Genomics and Health, 950–232279).
M Faruq receives research support from the Council of Scientific and Industrial Research (CSIR) grant nos. ML01601 and MLP1802.
Ethics declarations
Ethics and consent
See the "Methodology" section
Conflict of interest
All author's don't have any competing interests.
Additional information
Publisher's note
Springer Nature remains neutral with regard to jurisdictional claims in published maps and institutional affiliations.
Supplementary Information
Below is the link to the electronic supplementary material.
Supplementary file3 (MP4 102009 KB) Video S1: Fatigable weakness in Patients 1 to 4 from Family 1
Supplementary file4 (MP4 66250 KB) Video S2: Fatigable weakness in Patients 5 and 6 from Family 2
Supplementary file5 (MP4 28932 KB) Video S3: Fatigable weakness in Patient 9 from Family 4
Supplementary file6 (MP4 17542 KB) Video S4: Fatigable weakness in Patient 10 from Family
About this article
Cite this article
Polavarapu, K., Mathur, A., Joshi, A. et al. A founder mutation in the GMPPB gene [c.1000G > A (p.Asp334Asn)] causes a mild form of limb-girdle muscular dystrophy/congenital myasthenic syndrome (LGMD/CMS) in South Indian patients . Neurogenetics 22, 271–285 (2021). https://doi.org/10.1007/s10048-021-00658-1
Received:

Accepted:

Published:

Issue Date:
Keywords
Muscle disease

Limb girdle muscular dystrophy-congenital myasthenic syndrome (LGMD/CMS)

Neuromuscular disorders

Founder mutation

Muscle MRI