Abstract
Neurodegeneration with brain iron accumulation type 4 (NBIA4) also known as MPAN (mitochondria protein-associated neurodegeneration) is a rare neurological disorder which main feature is brain iron accumulation most frequently in the globus pallidus and substantia nigra. Whole exome sequencing (WES) in a 12-year-old patient revealed 2 variants in the C19orf12 gene, a previously reported common 11 bp deletion c.204_214del11, p.(Gly69Argfs*10) and a novel splicing variant c.193+5G>A. Functional analysis of novel variant showed skipping of the second exon, resulting in a formation of a truncated nonfunctional protein. This is the first functionally annotated pathogenic splicing variant in NBIA4.
This is a preview of subscription content, log in to check access.
Access options
Buy single article
Instant access to the full article PDF.
US$ 39.95
Tax calculation will be finalised during checkout.
Subscribe to journal
Immediate online access to all issues from 2019. Subscription will auto renew annually.
US$ 99
Tax calculation will be finalised during checkout.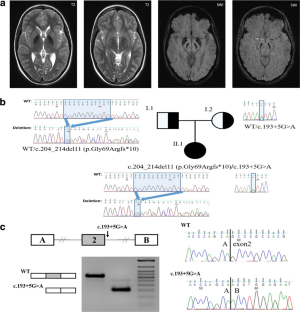 References
1.

Di Meo I, Tiranti V (2018) Classification and molecular pathogenesis of NBIA syndromes. Eur J Paediatr Neurol 22(2):272–284

2.

Gregory, A. and S. Hayflick, Neurodegeneration with brain iron accumulation disorders overview. 2014

3.

Jaberi E et al (2016) Identification of mutation in GTPBP2 in patients of a family with neurodegeneration accompanied by iron deposition in the brain. Neurobiol Aging 38:216 e11–216 e18

4.

Orphanet Report Series - Prevalence of rare diseases: Bibliographic data - January 2018 - Number 1. 2018

5.

Hartig M et al (2013) Mitochondrial membrane protein-associated neurodegeneration (MPAN). Int Rev Neurobiol 110:73–84

6.

Monfrini E, Melzi V, Buongarzone G, Franco G, Ronchi D, Dilena R, Scola E, Vizziello P, Bordoni A, Bresolin N, Comi GP, Corti S, di Fonzo A (2018) A de novo C19orf12 heterozygous mutation in a patient with MPAN. Parkinsonism Relat Disord 48:109–111

7.

Dogu O, Krebs CE, Kaleagasi H, Demirtas Z, Oksuz N, Walker RH, Paisán-Ruiz C (2013) Rapid disease progression in adult-onset mitochondrial membrane protein-associated neurodegeneration. Clin Genet 84(4):350–355

8.

Hartig MB, Iuso A, Haack T, Kmiec T, Jurkiewicz E, Heim K, Roeber S, Tarabin V, Dusi S, Krajewska-Walasek M, Jozwiak S, Hempel M, Winkelmann J, Elstner M, Oexle K, Klopstock T, Mueller-Felber W, Gasser T, Trenkwalder C, Tiranti V, Kretzschmar H, Schmitz G, Strom TM, Meitinger T, Prokisch H (2011) Absence of an orphan mitochondrial protein, c19orf12, causes a distinct clinical subtype of neurodegeneration with brain iron accumulation. Am J Hum Genet 89(4):543–550

9.

Hogarth P, Gregory A, Kruer MC, Sanford L, Wagoner W, Natowicz MR, Egel RT, Subramony SH, Goldman JG, Berry-Kravis E, Foulds NC, Hammans SR, Desguerre I, Rodriguez D, Wilson C, Diedrich A, Green S, Tran H, Reese L, Woltjer RL, Hayflick SJ (2013) New NBIA subtype: genetic, clinical, pathologic, and radiographic features of MPAN. Neurology 80(3):268–275

10.

Richards S et al (2015) Standards and guidelines for the interpretation of sequence variants: a joint consensus recommendation of the American College of Medical Genetics and Genomics and the Association for Molecular Pathology. Genet Med 17(5):405–424

11.

Pereverzev AP, Gurskaya NG, Ermakova GV, Kudryavtseva EI, Markina NM, Kotlobay AA, Lukyanov SA, Zaraisky AG, Lukyanov KA (2015) Method for quantitative analysis of nonsense-mediated mRNA decay at the single cell level. Sci Rep 5:7729

12.

Drecourt A, Babdor J, Dussiot M, Petit F, Goudin N, Garfa-Traoré M, Habarou F, Bole-Feysot C, Nitschké P, Ottolenghi C, Metodiev MD, Serre V, Desguerre I, Boddaert N, Hermine O, Munnich A, Rötig A (2018) Impaired transferrin receptor palmitoylation and recycling in neurodegeneration with brain iron accumulation. Am J Hum Genet 102(2):266–277

13.

Selikhova M, Fedotova E, Wiethoff S, Schottlaender LV, Klyushnikov S, Illarioshkin SN, Houlden H (2017) A 30-year history of MPAN case from Russia. Clin Neurol Neurosurg 159:111–113

14.

Zakharova EY, Rudenskaya GE (2014) A new form of hereditary neurodegeneration with brain iron accumulation: clinical and molecular-genetic characteristics. Zh Nevropatol Psikhiatr Im S S Korsakova 114(1):4–12
Ethics declarations
Ethical approval
All procedures performed in studies involving human participants were in accordance with the ethical standards of the institutional and/or national research committee and with the 1964 Helsinki declaration and its later amendments or comparable ethical standards.
About this article
Cite this article
Sparber, P., Marakhonov, A., Filatova, A. et al. Novel case of neurodegeneration with brain iron accumulation 4 (NBIA4) caused by a pathogenic variant affecting splicing. Neurogenetics 19, 257–260 (2018). https://doi.org/10.1007/s10048-018-0558-4
Received:

Accepted:

Published:

Issue Date:
Keywords
MPAN

NBIA

C19orf12

Neurodegeneration

Iron accumulation

Functional analysis

Splicing