Abstract
Whole genome analyses were performed to test the hypothesis that temporal cortical gene expression differs between epilepsy patients rendered seizure-free versus non-seizure-free following anterior temporal lobectomy with amygdalohippocampectomy (ATL/AH). Twenty four patients underwent ATL/AH to treat medically intractable seizures of temporal lobe origin (mean age 35.5 years, mean follow-up 42.2 months); they were then dichotomized into seizure-free and non-seizure-free groups. Tissue RNA was isolated from the lateral temporal cortex and gene expression analysis was performed. Whole genome data were analyzed for prognostic value for seizure-free outcome following ATL/AH by logistic regression. Genes that could distinguish seizure outcome groups were identified based on providing an accuracy of >0.90 judging by area under the receiver operating characteristic curve, AUC, with a P value of the slope coefficient of <0.05. Four genes and seven RNA probes were with prognostic value for post-operative seizure-free outcome. Gene expression associated with seizure-free outcome included relative down-regulation of zinc finger protein 852 (ZNF852), CUB domain-containing protein 2 (CDCP2), proline-rich transmembrane protein 1 (PRRT1), hypothetical LOC440200 (FLJ41170), RNA probe 8047763, RNA probe 8126238, RNA probe 8113489, RNA probe 8092883, RNA probe 7935228, RNA probe 806293, and RNA probe 8104131. This study describes the predictive value of temporal cortical gene expression for seizure-free outcome after ATL/AH. Four genes and seven RNA probes were found to predict post-operative seizure-free outcome. Future prospective investigation of these genes and probes in human brain tissue and blood could establish new biomarkers predictive of seizure outcome following ATL/AH.
Access options
Buy single article
Instant access to the full article PDF.
USD 39.95
Price includes VAT (USA)
Tax calculation will be finalised during checkout.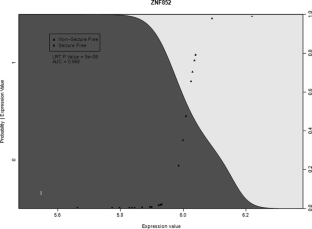 References
1.

Schachter SC (2009) Seizure disorders. Med Clin North Am 93(2):343–351

2.

Kwan P, Brodie MJ (2000) Early identification of refractory epilepsy. N Engl J Med 342(5):314–319

3.

Brodie MJ (2005) Diagnosing and predicting refractory epilepsy. Acta Neurol Scand Suppl 181:36–39

4.

Cohen-Gadol AA, Wilhelmi BG, Collignon F, White JB, Britton JW, Cambier DM, Christianson TJ, Marsh WR, Meyer FB, Cascino GD (2006) Long-term outcome of epilepsy surgery among 399 patients with nonlesional seizure foci including mesial temporal lobe sclerosis. J Neurosurg 104(4):513–524

5.

Jeong SW, Lee SK, Kim KK, Kim H, Kim JY, Chung CK (1999) Prognostic factors in anterior temporal lobe resections for mesial temporal lobe epilepsy: multivariate analysis. Epilepsia 40(12):1735–1739

6.

Jutila L, Immonen A, Mervaala E, Partanen J, Partanen K, Puranen M, Kalviainen R, Alafuzoff I, Hurskainen H, Vapalahti M, Ylinen A (2002) Long term outcome of temporal lobe epilepsy surgery: analyses of 140 consecutive patients. J Neurol Neurosurg Psychiatry 73(5):486–494

7.

McIntosh AM, Kalnins RM, Mitchell LA, Fabinyi GC, Briellmann RS, Berkovic SF (2004) Temporal lobectomy: long-term seizure outcome, late recurrence and risks for seizure recurrence. Brain 127(Pt 9):2018–2030

8.

Weinand ME, Wyler AR, Richey ET, Phillips BB, Somes GW (1992) Long-term ictal monitoring with subdural strip electrodes: prognostic factors for selecting temporal lobectomy candidates. J Neurosurg 77(1):20–28

9.

Fiala M, Avagyan H, Merino JJ, Bernas M, Valdivia J, Espinosa-Jeffrey A, Witte M, Weinand ME (2012) Chemotactic and mitogenic stimuli of neuronal apoptosis in patients with medically intractable temporal lobe epilepsy. Pathophysiology

10.

Okamoto OK, Janjoppi L, Bonone FM, Pansani AP, da Silva AV, Scorza FA, Cavalheiro EA (2010) Whole transcriptome analysis of the hippocampus: toward a molecular portrait of epileptogenesis. BMC Genomics 11:230

11.

Xi ZQ, Xiao F, Yuan J, Wang XF, Wang L, Quan FY, Liu GW (2009) Gene expression analysis on anterior temporal neocortex of patients with intractable epilepsy. Synapse 63(11):1017–1028Erratum appears in Synapse. 2010 Apr;64(4):339

12.

Ramey WL, Martirosyan NL, Lieu CM, Hasham HA, Lemole GM Jr, Weinand ME (2013) Current management and surgical outcomes of medically intractable epilepsy. Clin Neurol Neurosurg 115(12):2411–2418. doi:10.1016/j.clineuro.2013.09.035

13.

Weinand ME, Carter LP, el-Saadany WF, Sioutos PJ, Labiner DM, Oommen KJ (1997) Cerebral blood flow and temporal lobe epileptogenicity. J Neurosurg 86(2):226–232

14.

Ain QU, Chung JY, Kim YH (2014) Current and future delivery systems for engineered nucleases: ZFN, TALEN and RGEN. J Control Release. doi:10.1016/j.jconrel.2014.12.036

15.

Gersbach CA (2014) Genome engineering: the next genomic revolution. Nat Methods 11(10):1009–1011. doi:10.1038/nmeth.3113

16.

Jabalameli HR, Zahednasab H, Karimi-Moghaddam A, Jabalameli MR (2015) Zinc finger nuclease technology: advances and obstacles in modelling and treating genetic disorders. Gene 558(1):1–5. doi:10.1016/j.gene.2014.12.044

17.

Urnov FD, Miller JC, Lee YL, Beausejour CM, Rock JM, Augustus S, Jamieson AC, Porteus MH, Gregory PD, Holmes MC (2005) Highly efficient endogenous human gene correction using designed zinc-finger nucleases. Nature 435(7042):646–651. doi:10.1038/nature03556

18.

Jeong BC, Yoo KS, Jung KW, Shin JS, Song HK (2008) Purification, crystallization and preliminary X-ray diffraction analysis of a cystathionine beta-synthase domain-containing protein, CDCP2, from Arabidopsis thaliana. Acta Crystallogr Sect F Struct Biol Cryst Commun 64(Pt 9):825–827. doi:10.1107/s1744309108025128

19.

Kemp BE (2004) Bateman domains and adenosine derivatives form a binding contract. J Clin Invest 113(2):182–184. doi:10.1172/jci20846

20.

Maraganore DM, de Andrade M, Lesnick TG, Strain KJ, Farrer MJ, Rocca WA, Pant PV, Frazer KA, Cox DR, Ballinger DG (2005) High-resolution whole-genome association study of Parkinson disease. Am J Hum Genet 77(5):685–693. doi:10.1086/496902

21.

Li YJ, Deng J, Mayhew GM, Grimsley JW, Huo X, Vance JM (2007) Investigation of the PARK10 gene in Parkinson disease. Ann Hum Genet 71(Pt 5):639–647. doi:10.1111/j.1469-1809.2007.00353.x

22.

Simon J, DiCarlo LM, Kruger C, Johnson WD, Kappen C, Richards BK (2015) Gene expression in salivary glands: effects of diet and mouse chromosome 17 locus regulating macronutrient intake. Physiol Rep 3(2). doi:10.14814/phy2.12311

23.

Dinnella C, Recchia A, Vincenzi S, Tuorila H, Monteleone E (2010) Temporary modification of salivary protein profile and individual responses to repeated phenolic astringent stimuli. Chem Senses 35(1):75–85. doi:10.1093/chemse/bjp084

24.

Day A, Dong J, Funari VA, Harry B, Strom SP, Cohn DH, Nelson SF (2009) Disease gene characterization through large-scale co-expression analysis. PLoS One 4(12):e8491. doi:10.1371/journal.pone.0008491
Acknowledgments
The authors would like to acknowledge the following funding used to make this manuscript possible.
Weinand M, Co-PI, received support for purchase of laboratory materials from RO1MH065151 (Yuri Persidsky, Temple University) (HCS 04-42), NIH subcontract from Temple University to University of Arizona
Gallek M received salary support from Robert Wood Johnson Nurse Faculty Scholar Grant # 70318.
Ethics declarations
Conflict of interest
Drs. Gallek, Skoch and Weinand are co-inventors of U.S. Provisional Patent 61/828,596, "Neurosurgical Genomics."
Ethical approval
All procedures performed in studies involving human participants were in accordance with the ethical standards of the institutional and/or national research committee and with the 1964 Helsinki declaration and its later amendments or comparable ethical standards. IRB# 1401194084, The University of Arizona.
About this article
Cite this article
Gallek, M.J., Skoch, J., Ansay, T. et al. Cortical gene expression: prognostic value for seizure outcome following temporal lobectomy and amygdalohippocampectomy. Neurogenetics 17, 211–218 (2016). https://doi.org/10.1007/s10048-016-0484-2
Received:

Accepted:

Published:

Issue Date:
Keywords
Gene expression

Temporal lobectomy

Prognostic factor

Amygdalohippocampectomy

Neurosurgical genomics