Abstract
Cleavage of the amyloid precursor protein by enzymes commonly referred to as β- and γ-secretase constitute an important process in the pathogenesis of Alzheimer's disease (AD). The regulation of this process is therefore an important subject of investigation. Numerous sources of endogenous regulation have been identified, and one of these is the relative abundance and regulation of splice variants of the β-secretase, BACE1 (β-site amyloid precursor protein cleaving enzyme 1). In this review, we will briefly discuss the main characteristics of BACE1, review the different variants of this enzyme that have been identified to date, and highlight their possible implication in AD.
This is a preview of subscription content,
to check access.
Access this article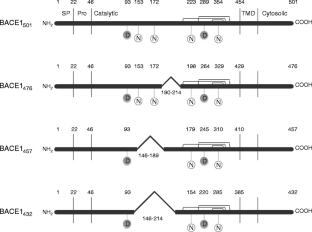 Similar content being viewed by others
References
Golde TE, Eckman CB, Younkin SG (2000) Biochemical detection of Abeta isoforms: implications for pathogenesis, diagnosis, and treatment of Alzheimer's disease. Biochim Biophys Acta 1502(1):172–187

Haass C, Selkoe DJ (2007) Soluble protein oligomers in neurodegeneration: lessons from the Alzheimer's amyloid beta-peptide. Nat Rev Mol Cell Biol 8(2):101–112

Holsinger RM, McLean CA, Beyreuther K, Masters CL, Evin G (2002) Increased expression of the amyloid precursor beta-secretase in Alzheimer's disease. Ann Neurol 51(6):783–786

Fukumoto H, Cheung BS, Hyman BT, Irizarry MC (2002) Beta-secretase protein and activity are increased in the neocortex in Alzheimer disease. Arch Neurol 59(9):1381–1389

Fukumoto H, Rosene DL, Moss MB, Raju S, Hyman BT, Irizarry MC (2004) Beta-secretase activity increases with aging in human, monkey, and mouse brain. Am J Pathol 164(2):719–725

Yang LB, Lindholm K, Yan R, Citron M, Xia W, Yang XL, Beach T, Sue L, Wong P, Price D, Li R, Shen Y (2003) Elevated beta-secretase expression and enzymatic activity detected in sporadic Alzheimer disease. Nat Med 9(1):3–4

Li R, Lindholm K, Yang LB, Yue X, Citron M, Yan R, Beach T, Sue L, Sabbagh M, Cai H, Wong P, Price D, Shen Y (2004) Amyloid beta peptide load is correlated with increased beta-secretase activity in sporadic Alzheimer's disease patients. Proc Natl Acad Sci U S A 101(10):3632–3637

Tyler SJ, Dawbarn D, Wilcock GK, Allen SJ (2002) alpha- and beta-secretase: profound changes in Alzheimer's disease. Biochem Biophys Res Commun 299:373–376

Holsinger RM, McLean CA, Collins SJ, Masters CL, Evin G (2004) Increased beta-secretase activity in cerebrospinal fluid of Alzheimer's disease subjects. Ann Neurol 55(6):898–899

Holsinger RM, Lee JS, Boyd A, Masters CL, Collins SJ (2006) CSF BACE1 activity is increased in CJD and Alzheimer disease versus [corrected] other dementias. Neurology 67(4):710–712

Verheijen JH, Huisman LG, van Lent N, Neumann U, Paganetti P, Hack CE, Bouwman F, Lindeman J, Bollen EL, Hanemaaijer R (2006) Detection of a soluble form of BACE-1 in human cerebrospinal fluid by a sensitive activity assay. Clin Chem 52(6):1168–1174

Zhong Z, Ewers M, Teipel S, Burger K, Wallin A, Blennow K, He P, McAllister C, Hampel H, Shen Y (2007) Levels of beta-secretase (BACE1) in cerebrospinal fluid as a predictor of risk in mild cognitive impairment. Arch Gen Psychiatry 64(6):718–726

Luo Y, Bolon B, Kahn S, Bennett BD, Babu-Khan S, Denis P, Fan W, Kha H, Zhang J, Gong Y, Martin L, Louis JC, Yan Q, Richards WG, Citron M, Vassar R (2001) Mice deficient in BACE1, the Alzheimer's beta-secretase, have normal phenotype and abolished beta-amyloid generation. Nat Neurosci 4(3):231–232

Cai H, Wang Y, McCarthy D, Wen H, Borchelt DR, Price DL, Wong PC (2001) BACE1 is the major beta-secretase for generation of Abeta peptides by neurons. Nat Neurosci 4(3):233–234

Roberds SL, Anderson J, Basi G, Bienkowski MJ, Branstetter DG, Chen KS, Freedman SB, Frigon NL, Games D, Hu K, Johnson-Wood K, Kappenman KE, Kawabe TT, Kola I, Kuehn R, Lee M, Liu W, Motter R, Nichols NF, Power M, Robertson DW, Schenk D, Schoor M, Shopp GM, Shuck ME, Sinha S, Svensson KA, Tatsuno G, Tintrup H, Wijsman J, Wright S, McConlogue L (2001) BACE knockout mice are healthy despite lacking the primary beta-secretase activity in brain: implications for Alzheimer's disease therapeutics. Hum Mol Genet 10(12):1317–1324

Harrison SM, Harper AJ, Hawkins J, Duddy G, Grau E, Pugh PL, Winter PH, Shilliam CS, Hughes ZA, Dawson LA, Gonzalez MI, Upton N, Pangalos MN, Dingwall C (2003) BACE1 (beta-secretase) transgenic and knockout mice: identification of neurochemical deficits and behavioral changes. Mol Cell Neurosci 24(3):646–655

Dominguez D, Tournoy J, Hartmann D, Huth T, Cryns K, Deforce S, Serneels L, Camacho IE, Marjaux E, Craessaerts K, Roebroek AJ, Schwake M, D'Hooge R, Bach P, Kalinke U, Moechars D, Alzheimer C, Reiss K, Saftig P, De Strooper B (2005) Phenotypic and biochemical analyses of BACE1- and BACE2-deficient mice. J Biol Chem 280(35):30797–30806

Hu X, Hicks CW, He W, Wong P, Macklin WB, Trapp BD, Yan R (2006) Bace1 modulates myelination in the central and peripheral nervous system. Nat Neurosci 9(12):1520–1525

Willem M, Garratt AN, Novak B, Citron M, Kaufmann S, Rittger A, DeStrooper B, Saftig P, Birchmeier C, Haass C (2006) Control of peripheral nerve myelination by the beta-secretase BACE1. Science 314(5799):664–666

von Arnim CA, Kinoshita A, Peltan ID, Tangredi MM, Herl L, Lee BM, Spoelgen R, Hshieh TT, Ranganathan S, Battey FD, Liu CX, Bacskai BJ, Sever S, Irizarry MC, Strickland DK, Hyman BT (2005) The low density lipoprotein receptor-related protein (LRP) is a novel beta-secretase (BACE1) substrate. J Biol Chem 280(18):17777–17785

Kitazume S, Tachida Y, Oka R, Shirotani K, Saido TC, Hashimoto Y (2001) Alzheimer's beta-secretase, beta-site amyloid precursor protein-cleaving enzyme, is responsible for cleavage secretion of a Golgi-resident sialyltransferase. Proc Natl Acad Sci U S A 98(24):13554–13559

Lichtenthaler SF, Dominguez DI, Westmeyer GG, Reiss K, Haass C, Saftig P, De Strooper B, Seed B (2003) The cell adhesion protein P-selectin glycoprotein ligand-1 is a substrate for the aspartyl protease BACE1. J Biol Chem 278(49):48713–48719

Wong HK, Sakurai T, Oyama F, Kaneko K, Wada K, Miyazaki H, Kurosawa M, De Strooper B, Saftig P, Nukina N (2005) beta Subunits of voltage-gated sodium channels are novel substrates of beta-site amyloid precursor protein-cleaving enzyme (BACE1) and gamma-secretase. J Biol Chem 280(24):23009

Kim DY, Carey BW, Wang H, Ingano LA, Binshtok AM, Wertz MH, Pettingell WH, He P, Lee VM, Woolf CJ, Kovacs DM (2007) BACE1 regulates voltage-gated sodium channels and neuronal activity. Nat Cell Biol 9(7):755–764

Cruts M, Theuns J, Van Broeckhoven C (2012) Locus-specific mutation databases for neurodegenerative brain diseases. Hum Mutat 33(9):1340–1344

Saunders AJ, Kim T-W, Tanzi RE (1999) BACE maps to chromosome 11 and a BACE homolog, BACE2, reside in the obligate down syndrome region of chromosome 21. Science 286:1255

Vassar R, Bennett BD, Babu-Khan S, Kahn S, Mendiaz EA, Denis P, Teplow DB, Ross S, Amarante P, Loeloff R, Luo Y, Fisher S, Fuller J, Edenson S, Lile J, Jarosinski MA, Biere AL, Curran E, Burgess T, Louis JC, Collins F, Treanor J, Rogers G, Citron M (1999) Beta-secretase cleavage of Alzheimer's amyloid precursor protein by the transmembrane aspartic protease BACE. Science 286(5440):735–741

Sinha S, Anderson JP, Barbour R, Basi GS, Caccavello R, Davis D, Doan M, Dovey HF, Frigon N, Hong J, Jacobson-Croak K, Jewett N, Keim P, Knops J, Lieberburg I, Power M, Tan H, Tatsuno G, Tung J, Schenk D, Seubert P, Suomensaari SM, Wang S, Walker D, John V et al (1999) Purification and cloning of amyloid precursor protein beta-secretase from human brain. Nature 402(6761):537–540

Bennett BD, Denis P, Haniu M, Teplow DB, Kahn S, Louis JC, Citron M, Vassar R (2000) A furin-like convertase mediates propeptide cleavage of BACE, the Alzheimer's beta -secretase. J Biol Chem 275(48):37712–37717

Capell A, Steiner H, Willem M, Kaiser H, Meyer C, Walter J, Lammich S, Multhaup G, Haass C (2000) Maturation and pro-peptide cleavage of beta-secretase. J Biol Chem 275(40):30849–30854

Creemers JW, Ines Dominguez D, Plets E, Serneels L, Taylor NA, Multhaup G, Craessaerts K, Annaert W, De Strooper B (2001) Processing of beta-secretase by furin and other members of the proprotein convertase family. J Biol Chem 276(6):4211–4217

Benjannet S, Elagoz A, Wickham L, Mamarbachi M, Munzer JS, Basak A, Lazure C, Cromlish JA, Sisodia S, Checler F, Chretien M, Seidah NG (2001) Post-translational processing of beta-secretase (beta-amyloid-converting enzyme) and its ectodomain shedding. The pro- and transmembrane/cytosolic domains affect its cellular activity and amyloid-beta production. J Biol Chem 276(14):10879–10887

Hussain I, Powell D, Howlett DR, Tew DG, Meek TD, Chapman C, Gloger IS, Murphy KE, Southan CD, Ryan DM, Smith TS, Simmons DL, Walsh FS, Dingwall C, Christie G (1999) Identification of a novel aspartic protease (Asp 2) as beta-secretase. Mol Cell Neurosci 14(6):419–427

Charlwood J, Dingwall C, Matico R, Hussain I, Johanson K, Moore S, Powell DJ, Skehel JM, Ratcliffe S, Clarke B, Trill J, Sweitzer S, Camilleri P (2001) Characterization of the glycosylation profiles of Alzheimer's beta-secretase protein Asp-2 expressed in a variety of cell lines. J Biol Chem 276(20):16739–16748

Haniu M, Denis P, Young Y, Mendiaz EA, Fuller J, Hui JO, Bennett BD, Kahn S, Ross S, Burgess T, Katta V, Rogers G, Vassar R, Citron M (2000) Characterization of Alzheimer's beta-secretase protein BACE. A pepsin family member with unusual properties. J Biol Chem 275(28):21099–21106

Fischer F, Molinari M, Bodendorf U, Paganetti P (2002) The disulphide bonds in the catalytic domain of BACE are critical but not essential for amyloid precursor protein processing activity. J Neurochem 80(6):1079–1088

Furnham N, Ruffle S, Southan C (2004) Splice variants: a homology modeling approach. Proteins 54(3):596–608

Bodendorf U, Fischer F, Bodian D, Multhaup G, Paganetti P (2001) A splice variant of beta-secretase deficient in the amyloidogenic processing of the amyloid precursor protein. J Biol Chem 276(15):12019–12023

Tanahashi H, Tabira T (2001) Three novel alternatively spliced isoforms of the human beta-site amyloid precursor protein cleaving enzyme (BACE) and their effect on amyloid beta-peptide production. Neurosci Lett 307(1):9–12

Ehehalt R, Michel B, Tonelli D, Zacchetti D, Simons K, Keller P (2002) Splice variants of the β-site APP-cleaving enzyme BACE1 in human brain and pancreas. Biochem Biophys Res Commun 293:30–37

Figueroa DJ, Shi XP, Gardell SJ, Austin CP (2001) Abetapp secretases are co-expressed with Abetapp in the pancreatic islets. J Alzheimers Dis 3(4):393–396

Farzan M, Schnitzler CE, Vasilieva N, Leung D, Choe H (2000) BACE2, a beta -secretase homolog, cleaves at the beta site and within the amyloid-beta region of the amyloid-beta precursor protein. Proc Natl Acad Sci U S A 97(17):9712–9717

Yan R, Munzner JB, Shuck ME, Bienkowski MJ (2001) BACE2 functions as an alternative alpha-secretase in cells. J Biol Chem 276(36):34019–34027

Tanahashi H, Tabira T (2007) A novel beta-site amyloid precursor protein cleaving enzyme (BACE) isoform regulated by nonsense-mediated mRNA decay and proteasome-dependent degradation. Neurosci Lett 428(2–3):103–108

Mowrer KR, Wolfe MS (2008) Promotion of BACE1 mRNA alternative splicing reduces amyloid beta-peptide production. J Biol Chem 283(27):18694–18701

Zohar O, Pick CG, Cavallaro S, Chapman J, Katzav A, Milman A, Alkon DL (2005) Age-dependent differential expression of BACE splice variants in brain regions of tg2576 mice. Neurobiol Aging 26(8):1167–1175

Zohar O, Cavallaro S, D'Agata V, Alkon DL (2003) Quantification and distribution of beta-secretase alternative splice variants in the rat and human brain. Brain Res Mol Brain Res 115(1):63–68

Sauder JM, Arthur JW, Dunbrack RL Jr (2000) Modeling of substrate specificity of the Alzheimer's disease amyloid precursor protein beta-secretase. J Mol Biol 300(2):241–248

Hong L, Koelsch G, Lin X, Wu S, Terzyan S, Ghosh AK, Zhang XC, Tang J (2000) Structure of the protease domain of memapsin 2 (beta-secretase) complexed with inhibitor. Science 290(5489):150–153

John V, Beck JP, Beienkowski MJ, Sinha S, Heinrikson RL (2003) Human β-secretase (BACE) and BACE inhibitors. J Med Chem 46(22):4625–4630
Acknowledgments
RMDH is supported by the National Health and Medical Council (research grant #570398) and by a Biomedical Science Research Initiative Grant. We thank Natalie Holsinger for preparation of the figures and assistance in formatting.
Conflict of interest
The authors declare no conflict of interest.
About this article
Cite this article
Holsinger, R.M.D., Goense, N., Bohorquez, J. et al. Splice variants of the Alzheimer's disease beta-secretase, BACE1. Neurogenetics 14, 1–9 (2013). https://doi.org/10.1007/s10048-012-0348-3
Received:

Accepted:

Published:

Issue Date:

DOI: https://doi.org/10.1007/s10048-012-0348-3
Keywords