Abstract
Duchenne muscular dystrophy (DMD) and Becker muscular dystrophy (BMD) are common X-chromosomal recessive disorders caused by mutations in the dystrophin gene. Using the novel multiplex ligation-dependent probe amplification (MLPA) method we performed retrospective and prospective analyses in a total of 193 individuals. Deletions or duplications were identified in 14 out of 90 families previously tested negative by multiplex PCR or FISH analysis. Partially incorrect results were subsequently identified in two families: the loss of exon 38 signal in one case was due to a p.Q1802X nonsense mutation, whilst in another patient an apparent deletion of exon 37 (coinciding with a duplication of exons 46–53) was caused by a p.R1735C polymorphism. In one case we found a complex rearrangement involving a duplication of two regions: dupEX45–48 and dupEX54–55. We conclude that MLPA is a highly sensitive and rapid alternative to multiplex PCR. It can be used on blood samples, chorionic villi and paraffin-embedded tissue. The ease of detection of duplications and the application for female carrier analysis are clearly the main advantages of the method. However, apparent single exon deletions detected by MLPA should be checked by an independent method. Complex rearrangements such as double mutations on the same allele are rare.
Access options
Buy single article
Instant access to the full article PDF.
USD 39.95
Price excludes VAT (USA)
Tax calculation will be finalised during checkout.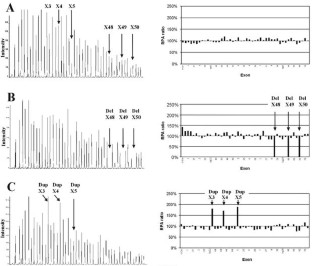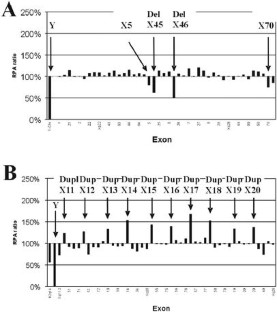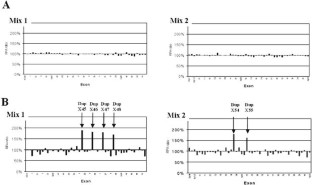 References
Koenig M, Hoffman EP, Bertelson CJ, Monaco AP, Feener C, Kunkel LM (1987) Complete cloning of the Duchenne muscular dystrophy (DMD) cDNA and preliminary genomic organisation of the DMD gene in normal and affected individuals. Cell 50:509–517

Den Dunnen JT, Grootscholten PM, Bakker E, Blonden LA, Ginjaar HB, Wapenaar MC, van Paassen HM, van Broeckhoven C, Pearson PL, van Ommen GJ (1989) Topography of the Duchenne muscular dystrophy (DMD) gene: FIGE and cDNA analysis of 194 cases reveals 115 deletions and 13 duplications. Am J Hum Genet 45:835–847

Hu XY, Ray PN, Murphy EG, Thompson MW, Worton RG (1990). Duplication mutation at the Duchenne muscular dystrophy locus: its frequency, distribution, origin, and phenotype genotype correlation. Am J Hum Genet 46:682–695

White S, Kalf M, Liu Q, Villerius M, Engelsma D, Kriek M, Vollebregt E, Bakker B, van Ommen GJ, Breuning MH, den Dunnen JT (2002) Comprehensive detection of genomic duplications and deletions in the DMD gene, by use of multiplex amplifiable probe hybridization. Am J Hum Genet 71:365–374

El-Harouni AA, Amr KS, Effat LK, Eassawi ML, Ismail S, Gad YZ, El-Awady MK (2003) The milder phenotype of the dystrophin gene double deletions. Acta Neurol Scand 107:400–404

Bartlett RJ, Walker AP, Laing NG, Koh J (1989) Inherited deletion at the Duchenne dystrophy locus in normal males. Lancet 1:496–497

Laing NG, Layton MG, Johnsen RD, Chandler DC, Mears ME, Goldblatt J, Kakulas BA (1992) Two distinct mutations in a single dystrophin gene: chance occurrence or premutation? Am J Med Genet 42:688–692

Hoop RC, Russo LS, Riconda LS, Hoffman EP (1994) Restoration of half of the normal dystrophin sequence in a double-deletion Duchenne muscular dystrophy family. Am J Med Genet 49:323–327

Chamberlain JS, Gibbs RA, Ranier JE, Nguyen PN, Caskey CT (1988) Deletion screening of the Duchenne muscular dystrophy locus via multiplex DNA amplification. Nucleic Acids Res 16:11141–11156

Yau SC, Bobrow M, Mathew CG, Abbs SJ (1996) Accurate diagnosis of carriers of deletions and duplications in Duchenne/Becker muscular dystrophy by fluorescent dosage analysis. J Med Genet 33:550–558

Armour JA, Sismani C, Patsalis PC, Cross G (2000) Measurement of locus copy number by hybridisation with amplifiable probes. Nucl Acids Res 28:605–609

White SJ, Sterrenburg E, van Ommen GJ, den Dunnen JT, Breuning MH (2003) An alternative to FISH: detecting deletion and duplication carriers within 24 hours. J Med Genet 40:113

Ried T, Mahler V, Vogt P, Blonden L, van Ommen GJ, Cremer T, Cremer M (1990) Direct carrier detection by in situ suppression hybridization with cosmid clones of the Duchenne/Becker muscular dystrophy locus. Hum Genet 85:581–586

Voit T, Neuen-Jacob E, Mahler V, Jauch A, Cremer M (1992) Somatic mosaicism for a deletion of the dystrophin gene in a carrier of Becker muscular dystrophy. Eur J Pediatr 151:112–116

Schouten JP, McElgunn CJ, Waaijer R, Zwijnenburg D, Diepvens F, Pals G (2002) Relative quantification of 40 nucleic acid sequences by multiplex ligation-dependent probe amplification. Nucleic Acids Res 30:57

Beggs AH, Koenig M, Boyce FM, Kunkel LM (1990) Detection of 98% of DMD/BMD gene deletions by polymerase chain reaction. Hum Genet 86:45–48

Becker A, Janssen B, Jauch A (1999) Diagnostic approaches for carriers with deletions in the dystrophin gene. Medizinische Genetik 11:507–512
About this article
Cite this article
Janssen, B., Hartmann, C., Scholz, V. et al. MLPA analysis for the detection of deletions, duplications and complex rearrangements in the dystrophin gene: potential and pitfalls. Neurogenetics 6, 29–35 (2005). https://doi.org/10.1007/s10048-004-0204-1
Received:

Accepted:

Published:

Issue Date:

DOI: https://doi.org/10.1007/s10048-004-0204-1
Keywords
Becker muscular dystrophy

Duchenne muscular dystrophy

Genetics

Molecular diagnostic techniques

Molecular diagnostic testing