Abstract
The impact of sleep on LVAD patients' self-care behaviors is unknown. This study examined the patterns and changes of patients sleep quality (SQ), daytime sleepiness (DS), instrumental activities of daily living (IADL), and self-care capability (SCC) before and after LVAD. In addition, the relationships among these variables were explored. This observational study consisted of 38 subjects from two VAD Centers in Michigan. The subjects completed self-reported demographics and psychometrically sound SQ, DS, IADL, and SCC questionnaires before LVAD implant and at 1, 3, and 6 months after implant. Data were analyzed using descriptive statistics, linear mixed models, and partial least square models. Subjects (mean age, 56.3 ± 10.3 years) were predominantly white (63%), male (68%), married (60%), and living with caregivers (92%). Over 70% had axial flow LVADs implanted as bridge-to-transplant (55%). Subjects' SQ was poor throughout the study period, along with high normal-to-excessive levels of DS. Problems with IADL before implant were significantly reduced at 1 through 6 months after implant. SCC ranged from "good" to "excellent" before and after implant. Significant relationships between SQ and IADL (β = 0.43, p < 0.01) and DS and SCC (β = − 0.62, p < 0.01) were found. In conclusion, poor SQ and high degrees of DS were prevalent before and up to 6 months after LVAD implant. The data inferred that the improvement in IADL was associated with an improvement in SQ. Research is needed to clarify the negative impact of DS on SCC and explain the contributions of caregivers on patients' SCC over time.
Access options
Buy single article
Instant access to the full article PDF.
US$ 39.95
Tax calculation will be finalised during checkout.
Subscribe to journal
Immediate online access to all issues from 2019. Subscription will auto renew annually.
US$ 79
Tax calculation will be finalised during checkout.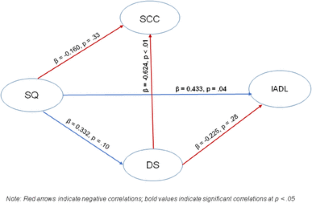 References
1.

Friese RS. Sleep and recovery from critical illness and injury: a review of theory, current practice, and future directions. Crit Care Med. 2008;36:697–705.

2.

Buysee DJ. Sleep health: can we define it? Does it matter? Sleep. 2014;37:9–17.

3.

Verster JC, Pandi-Perumal SR, Streiner DL. Sleep and quality of life in clinical medicine. Totowa, NJ: Humana Press; 2008.

4.

Lee KS, Lennie TA, Seongkum H, Song KE, Moser DK. Prognostic importance of sleep quality in patients with heart failure. Am J Crit Care. 2016;516–25.

5.

Wang TJ, Lee SC, Tsay SL, Tung HH. Factors influencing heart failure patients' sleep quality. J Adv Nurs. 2010;66:1730–40.

6.

Redeker NS. Sleep in acute care settings: an integrative review. J Nurs Scholarsh. 2000;32:31–8.

7.

Casida JM, Davis JE, Brewer RJ, Smith C, Yarandi H. Sleep and daytime sleepiness of patients with left ventricular assist devices: a longitudinal pilot study. Prog Transplant. 2011;21:131–6.

8.

Casida JM, Brewer J, Smith C, Davis JE. An exploratory study of sleep quality, daytime function, and quality of life in patients with mechanical circulatory support. Int J Artif Organs. 2012;35:531–7.

9.

Casida JM, Peters RM, Magnan MA. Self-care demands of persons living with an implantable left-ventricular assist device. Res Theory Nurs Pract. 2009;23:279–93.

10.

Kato N, Jaarsma T, Ben Gal T. Learning self-care after left ventricular assist device implantation. Curr Heart Fail Rep. 2014;11:290–8.

11.

Casida JM, Wu HS, Abshire M, Ghosh B, Yang JJ. Cognition and adherence are self-management factors predicting the quality of life of adults living with a left ventricular assist device. J Heart Lung Transplant. 2017;36:325–30.

12.

Lichtenberg PA, Schafer JA, Erlanger D, et al. Enhancing cognitive screening in geriatric care: use of an internet-based system. Int J Health Inf Syst Inform. 2006;1:45–7.

13.

HeadMinder. Internet-based cognitive screening test in older adults user manual. New York, NY: HeadMinder, Inc; 2002.

14.

Buysse DJ, Reynolds CF, Monk TH, Berman SR, Kupfer DJ. The Pittsburgh Sleep Quality Index: a new instrument for psychiatric practice and research. Psychiatry Res. 1989;28:193–213.

15.

Johns MW. A new method for measuring daytime sleepiness: the Epworth Sleepiness Scale. Sleep. 1991;14:540–5.

16.

Evers GC, Isenberg MA, Philipsen H, Senten M, Brouns G. Validity testing of the Dutch translation of the appraisal of self-care agency ASA-scale. Int J Nurs Stud. 1993;30:331–42.

17.

Araújo RA, Silva TM, Ramos VP. Self-care agency and quality of life in the preoperative period of coronary artery bypass graft surgery. Rev Esc Enferm USP. 2016;50:232–8.

18.

Jaarsma T, Halfens R, Tan F, Abu-Saad HH, Dracup K, Diederiks J. Self-care and quality of life in patients with advanced heart failure: the effect of a supportive educational intervention. Heart Lung. 2000;29:319–30.

19.

IBM Corporation. IBM SPSS statistics for windows version 22. Armok, NY: IBM Corp; 2013.

20.

R Core Team. R: a language and environment for statistical computing. R Foundation for Statistical Computing, Vienna, Austria. 2017. https://www.R-project.org/. Accessed 25 Jun 2017.

21.

Reynard AK, Butler RS, McKee MG, Starling RC, Gorodeski EZ. Frequency of depression and anxiety before and after insertion of a continuous flow left ventricular assist device. AM J Cardiol. 2014;114:433–40.

22.

Bidwell JT, Lyons KS, Mudd JO, et al. Quality of life, depression, and anxiety in ventricular assist device therapy. J Cardiovasc Nurs. 2016;32:455–63.

23.

Herr JK, Salyer J, Lyon DE, Goodloe L, Schubert C, Clement DG. Heart failure symptom relationships: a systematic review. J Cardiovasc Nurs. 2014;29:416–22.

24.

Zimmerman L, Barnason S, Young L, Tu C, Schulz P, Abbott AA. Symptom profiles of coronary artery bypass surgery patients at risk for poor functioning outcomes. J Cardiovasc Nurs. 2010;25:292–300.

25.

Benton CR, Sayer G, Nair AP, et al. Left ventricular assist devices improve functional class without normalizing peak oxygen consumption. ASAIO J. 2015;61:237–43.

26.

Jakovljevic DG, McDiarmid A, Hallsworth K, et al. Effect of left ventricular assist device implantation and heart transplantation on habitual physical activity and quality of life. Am J Cardiol. 2014;114:88–93.

27.

Riegel B, Weaver TE. Poor sleep and impaired self-care: towards a comprehensive model linking sleep, cognition, and heart failure outcomes. Eur J Cardiovasc Nurs. 2009;8:337–44.

28.

Kim JS, Hwang SY, Shim JL, Jeong MH. Cognitive function and self-care in patients with chronic heart failure. Korean Circ J. 2015;45:310–6.

29.

Moon C, Yoon JY, Bratzke LC. The role of heart failure, daytime sleepiness, and disturbed sleep on cognition. West J Nurs Res. 2016;39:473–91.

30.

Casida J, Wu H. Associations among care dependency, cognition, and self-efficacy in patients with left ventricular assist devices (LVADs). J Heart Lung Transplant. 2016;4:S145–6.

31.

Bourne RS, Minelli C, Mills GH, Kandler R. Clinical review: sleep measurement in critical care patients: research and clinical implications. Crit Care. 2007;11:226.

32.

Lee PH, Suen LK. The convergent validity of Actiwatch 2 and Actigraph link accelerometers in measuring total sleeping period, wake after sleep onset, and sleep efficiency in free-living condition. Sleep Breath. 2017;21:209–15.

33.

Fieo RA, Austin EJ, Starr JM, Deary IJ. Calibrating ADL-IADL scales to improve measurement accuracy and to extend the disability construct into the preclinical range: a systematic review. BMC Geriatr. 2011;11:42.

34.

Kato N, Bengal T, Casida JM, Stromberg A, Jaarsma T Development of an instrument for measuring self-care after left ventricular assist device implantation. EuroHeart Care, Jonkoping, Swede. 2017. https://www.escardio.org/static_file/Escardio/Congresses/EuroHeartCare/Documents/EuorHeartCare%202017%20Final%20Programme. Accessed 25 Jun 2017

35.

Pinney SP, Anyanwu AC, Lala A, Teuteberg JJ, Uriel N, Mehra MR. Left ventricular assist devices for lifelong support. J Am Coll Cardiol. 2017;13:2845–61.
Acknowledgements
Funds were received from Robert Wood Johnson Foundation Nurse Faculty Scholars Program (Grant ID # 66525).
Ethics declarations
Conflict of interest
The authors declare that they have no conflict of interest.
About this article
Cite this article
Casida, J.M., Davis, J.E., Pagani, F.D. et al. Sleep and self-care correlates before and after implantation of a left-ventricular assist device (LVAD). J Artif Organs 21, 278–284 (2018). https://doi.org/10.1007/s10047-018-1043-4
Received:

Accepted:

Published:

Issue Date:
Keywords
Ventricular assist devices

Mechanical circulatory support

Sleep

Self-care

Instrumental activities of daily living