Abstract
Non-occlusive mesenteric ischemia (NOMI) is a devastating complication after cardiac surgery. Once patients develop NOMI, intra-mesenteric infusion of vasodilators and/or emergent laparotomy is usually required, but the mortality is extraordinarily high even with intensive treatment. We present a case of salvage of a patient with NOMI complicated with severe right ventricular dysfunction after left ventricular assist device (LVAD) implantation using maximum treatment with emergent laparotomy and temporary right ventricular assist device implantation. To the best of our knowledge, this is the first successful salvage case of NOMI in a LVAD patient. We believe that hemodynamic optimization using maximum treatment is critically important to achieve salvage.
This is a preview of subscription content, log in to check access.
Access options
Buy single article
Instant access to the full article PDF.
US$ 39.95
Price includes VAT for USA
Subscribe to journal
Immediate online access to all issues from 2019. Subscription will auto renew annually.
US$ 99
This is the net price. Taxes to be calculated in checkout.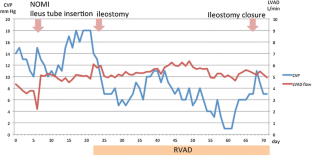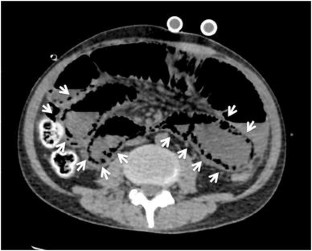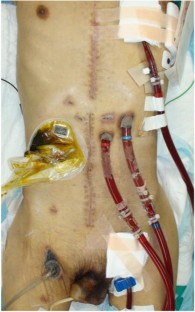 References
1.

Kaleya RN, Sammartano RJ, Boley SJ. Aggressive approach to acute mesenteric ischemia. Surg Clin North Am. 1992;72:157–82.

2.

Boley SJ, Sprayregan S, Siegelmann SS, Veith FJ. Initial results from an aggressive roentgenological and surgical approach to acute mesenteric ischemia. Surgery. 1977;82:848–55.

3.

Wilcox MG, Howard TJ, Plaskon LA, Unthank JL, Madura JA. Current theories of pathogenesis and treatment of non-occlusive mesenteric ischemia. Dig Dis Sci. 1995;40:709–16.

4.

Krausz MM, Manny J. Acute superior mesenteric arterial occlusion: a plea for early diagnosis. Surgery. 1978;83:482–5.

5.

Klotz S, Vestring T, Rötker J, Schmidt C, Scheld HH, et al. Diagnosis and treatment of nonocclusive mesenteric ischemia after open heart surgery. Ann Thorac Surg. 2001;72:1583–6.

6.

Voss B, Krane M, Jung C, Brockmann G, Braun S, et al. Cardiopulmonary bypass with physiological flow and pressure curves: pulse is unnecessary! Eur J Cardiothorac Surg. 2010;37:223–32.

7.

Kevin G, Steven C, Guruprasad A, Michael A, Mark S. Defining pulsatility during continuous-flow ventricular assist device support. J Heart Lung Transplant. 2013;32:581–7.

8.

Miroslava V, Stephan H, Juergen B, Wolfram D, Nicole E, et al. Intestinal congestion and right ventricular dysfunction: a link with appetite loss, inflammation, and cachexia in chronic heart failure. Eur Heart J. 2016;37:1684–91.
About this article
Cite this article
Samura, T., Toda, K., Yoshioka, D. et al. Non-occlusive mesenteric ischemia in a patient with left ventricular assist device implantation. J Artif Organs 20, 277–279 (2017). https://doi.org/10.1007/s10047-017-0964-7
Received:

Accepted:

Published:

Issue Date:
Keywords
Non-occlusive mesenteric ischemia

Left ventricular assist device

Right ventricular assist device

Ileostomy