Abstract
The number of patients with end-stage heart failure treated by a left ventricular assist device (LVAD) is dramatically increasing, because the LVAD has been widely accepted for its clinical results. According to the initiation of destination therapy, the prevalence of malignancy in patients with an LVAD is estimated to increase. In patients with LVADs, abdominal surgery for visceral malignancy is associated with technical difficulties because of the presence of an LVAD pump or the driveline which is located transversely in the preperitoneal space. Herein, we describe the technical management for complete resection of gastric cancer in a patient with an LVAD.
This is a preview of subscription content, log in to check access.
Access options
Buy single article
Instant access to the full article PDF.
US$ 39.95
Price includes VAT for USA
Subscribe to journal
Immediate online access to all issues from 2019. Subscription will auto renew annually.
US$ 99
This is the net price. Taxes to be calculated in checkout.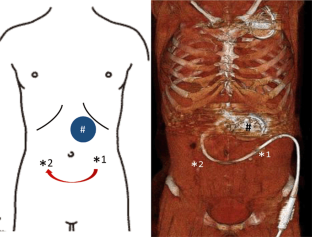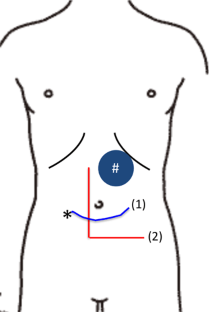 References
1.

Slaughter MS, Rogers JG, Milano CA, Russell SD, Conte JV, Feldman D, Sun B, Tatooles AJ, Delgado RM 3rd, Long JW, Wozniak TC, Ghumman W, Farrar DJ, Frazier OH; HeartMate II Investigation. Advanced heart failure treated with continuous-flow left ventricular assist device. N Engl J Med. 2009;361:2241–51.

2.

Schmid C, Wilhelm M, Dietl KH, Schmidt C, Hammel D, Scheld HH. Noncardiac surgery in patients with left ventricular assist devices. Surgery. 2001;129:440–4.

3.

Eck DL, Belli EV, Smith CD, Stauffer JA. Laparoscopic cholecystectomy in patients with HeartMate II left ventricular assist devices. J Laparoendosc Adv Surg Tech A. 2014;24:100–3.

4.

Knaus W, Olson CH. Colo-colonic anastomosis in a continuous-flow left ventricular assist device patient. Asian J Surg. 2015. doi:10.1016/j.asjsur.2015.01.003.

5.

Sansone R, Stanske B, Keymel S, Schuler D, Horn P, Saeed D, Boeken U, Westenfeld R, Lichtenberg A, Kelm M, Heiss C. Macrovascular and microvascular function after implantation of left ventricular assist devices in end-stage heart failure: Role of microparticles. J Heart Lung Transpl. 2015;34:921–32.

6.

Tatsumi E, Miyazaki K, Toda K, Takenaka Y, Nakatani T, Baba Y, Masuzawa T, Wakisaka Y, Eya K, Nishimura T, Takewa Y, Ohno T, Takano H. Influence of non-pulsatile circulation on tissue blood flow and oxygen metabolism. ASAIO J. 1996;42:M757–62.
Ethics declarations
Conflict of interest
The authors have no conflicts of interest to disclose concerning this case report.
About this article
Cite this article
Nakamura, Y., Toda, K., Nakamura, T. et al. Curative surgery for gastric cancer in a patient with an implantable left ventricular assist device. J Artif Organs 20, 170–173 (2017). https://doi.org/10.1007/s10047-016-0944-3
Received:

Accepted:

Published:

Issue Date:
Keywords
Ventricular assist device

Abdominal surgery

Visceral malignancy