Abstract
It is commonly thought that UV or visible-light luminescence imaging of biological subjects during X-ray irradiation at the energy below 120 keV is impossible because the secondary electrons produced in this energy range do not emit Cerenkov light. Contrary to this consensus, we found UV or visible-light luminescence imaging of the subjects were possible with X-ray irradiations of this energy range. We placed one of the biological subjects in a black box; visible-light luminescence images were measured with a high-sensitivity, cooled charge coupled device (CCD) camera during X-ray irradiation at energy below 120 keV. We also conducted the imaging of air without subjects during irradiation of the same X-ray. The biological subjects emitted visible-light luminescence, and the imaging was possible with the irradiation of the X-ray below 120 keV. The luminescence images were observed in only the X-ray irradiated areas. Also air luminescence images could be obtained and the intensity of the luminescence measured from the images was proportionally increased with the exposure dose. UV or visible-light luminescence imaging of biological subjects was possible during X-ray irradiations lower energy than the Cerenkov-light threshold. The phenomenon was different from general X-ray fluorescence because wavelength of the luminescence is UV or visible-light. The luminescence imaging method is promising for estimating the irradiated area with X-ray, which could be used for interventional radiology (IVR). Also air luminescence imaging would be applied to the exposure dose distribution measurements for X-ray of diagnostic X-ray systems.
This is a preview of subscription content, log in to check access.
Access options
Buy single article
Instant access to the full article PDF.
US$ 39.95
Price includes VAT for USA
Subscribe to journal
Immediate online access to all issues from 2019. Subscription will auto renew annually.
US$ 99
This is the net price. Taxes to be calculated in checkout.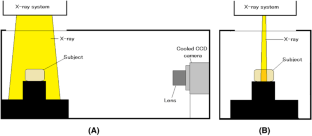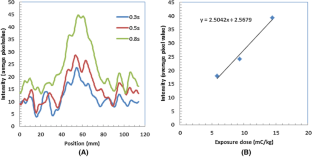 References
1.

Yamamoto, S., Toshito, T., Okumura, S., Komori, M.: Luminescence imaging of water during proton-beam irradiation for range estimation. Med. Phys. 42(11), 6498–6506 (2015)

2.

Yamamoto, S., Komori, M., Akagi, M., Yamashita, T., Koyama, S., Morishita, Y., Sekihara, E., Toshito, T.: Luminescence imaging of water during carbon-ion irradiation for range estimation. Med. Phys. 43, 2455–2463 (2016)

3.

Yamamoto, S., Komori, M., Koyama, S., Toshito, T.: Luminescence imaging of water during alpha particle irradiation. Nucl. Instr. Methods Phys. Res. Sect. A. 819(21), 6–13 (2016)

4.

Yamamoto, S., Koyama, S., Komori, M., Toshito, T.: Luminescence imaging of water during irradiation of X-ray photons lower energy than Cerenkov light threshold. Nucl. Inst. Methods Phys Res A. 832(1), 264–270 (2016)

5.

Glaser, A.K., Davis, S.C., Voigt, W.H., Zhang, R., Pogue, B.W., Gladstone, D.J.: Projection imaging of photon beams using Cerenkov-excited fluorescence. Phys Med Biol. 58(3), 601–619 (2013)

6.

Zhang, R., Glaser, A.K., Gladstone, D.J., Fox, C.J., Pogue, B.W.: Superficial dosimetry imaging based on Čerenkov emission for external beam radiotherapy with megavoltage X-ray beam. Med. Phys. 40(10), 101914 (2013)

7.

Fahimian, B., Ceballos, A., Türkcan, S., Kapp, D.S., Pratx, G.: Seeing the invisible: direct visualization of therapeutic radiation beams using air scintillation. Med Phys. 41(1), 010702 (2014)

8.

Glaser, A.K., Voigt, W.H., Davis, S.C., Zhang, R., Gladstone, D.J., Pogue, B.W.: Three-dimensional Cerenkov tomography of energy deposition from ionizing radiation beams. Opt. Lett. 38(5), 634–636 (2013)

9.

Glaser, A.K., Zhang, R., Gladstone, D.J., Pogue, B.W.: Optical dosimetry of radiotherapy beams using Cherenkov radiation: the relationship between light emission and dose. Phys. Med. Biol. 59(14), 3789–3811 (2014)

10.

Axelsson, J., Davis, S.C., Gladstone, D.J., Pogue, B.W.: Cerenkov emission induced by external beam radiation stimulates molecular fluorescence. Med. Phys. 38(7), 4127–4132 (2011)

11.

Glaser, A.K., Davis, S.C., McClatchy, D.M., Zhang, R., Pogue, B.W., Gladstone, D.J.: Projection imaging of photon beams by the Cerenkov effect. Med. Phys. 40(1), 012101 (2013)

12.

Glaser, A.K., Zhang, R., Davis, S.C., Gladstone, D.J., Pogue, B.W.: Time-gated Cherenkov emission spectroscopy from linear accelerator irradiation of tissue phantoms. Opt. Lett. 37(7), 1193–1195 (2012)

13.

Darafsheh, A., Taleei, R., Kassaee, A., Finlay, J.C.: The visible signal responsible for proton therapy dosimetry using bare optical fibers is not Cerenkov radiation. Med. Phys. 43(11), 5973–5980 (2016)

14.

Pratx, G., Carpenter, C.M., Sun, C., Xing, L.: X-ray luminescence computed tomography via selective excitation: a feasibility study. IEEE Trans. Med. Imag. 29(12), 1992–1999 (2010)

15.

Yamamoto, S., Toshito, T., Akagi, T., Yamashita, T., Komori, M.: Scintillation imaging of air during proton and carbon-ion beam irradiations. Nucl. Inst. Methods Phys. Res. A. 833(11), 115–149 (2016)

16.

Lamadie, F., Delmas, F., Mahe, C., Girones, P., LeGoaller, C., Costes, J.R.: Remote alpha imaging in nuclear installations: new results and prospects. IEEE Trans. Nucl. Sci. 52(6), 3035–3039 (2005)

17.

Sand, J., Ihantol, S., Peräjärvi, K., Nichol, A., Hrnecek, E., Toivonen, H., Toivonen, J.: Imaging of alpha emitters in a field environment. Nucl. Inst. Methods Phys. Res. A. 782(11), 13–19 (2015)
About this article
Cite this article
Yamamoto, S., Koyama, S., Yamauchi-Kawaura, C. et al. Luminescence imaging of biological subjects during X-ray irradiations lower energy than Cerenkov-light threshold. Opt Rev 24, 428–435 (2017). https://doi.org/10.1007/s10043-017-0325-z
Received:

Accepted:

Published:

Issue Date:
Keywords
Luminescence

Imaging

Biological subjects

X-ray irradiations

Cerenkov-light threshold