Abstract
In this study, we developed and evaluated a portable digital holographic microscope (DHM) using a spherical reference beam. To reduce the size of this DHM, we replaced the objective lens with a small aspherical single lens, which produces the spherical reference beam. In addition, integrating the CCD camera and beam splitter yielded a simplified alignment along with further microscope compactness, resulting in a DHM with dimensions of 150 (W) × 470 (D) × 244.5 (H) mm3, which is a portable size. The spatial resolution of the developed DHM was evaluated and a value of 870 nm was experimentally obtained, similar to the theoretical resolution of 851 nm. In addition, we conducted measurements on leukemia cells to evaluate the applicability of our novel microscope to cystoscopy.
Access options
Buy single article
Instant access to the full article PDF.
US$ 39.95
Tax calculation will be finalised during checkout.
Subscribe to journal
Immediate online access to all issues from 2019. Subscription will auto renew annually.
US$ 79
Tax calculation will be finalised during checkout.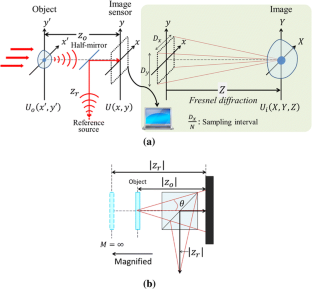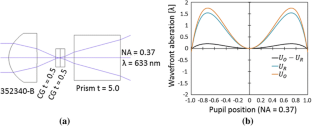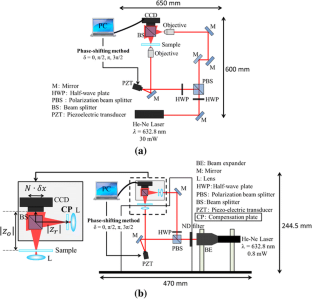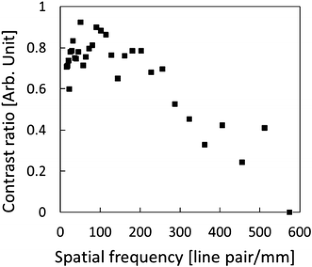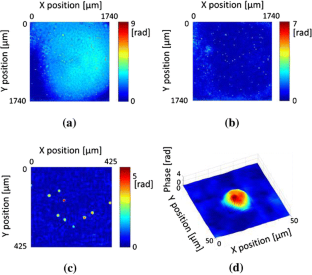 References
1.

J.W. Goodman, R.W. Lawrence, Appl. Phys. Lett. 11, 77 (1967)

2.

Y. Takaki, H. Kawai, H. Ohzu, Appl. Opt. 38, 4990 (1999)

3.

T. Tahara, K. Ito, T. Kakue, M. Fujii, Y. Shimozato, Y. Awatsuji, K. Nishio, S. Ura, T. Kubota, O. Matoba, Biomed. Opt. Express. 1, 610 (2010)

4.

N. Pavillon, C.S. Seelamantula, J. Kühn, M. Unser, C. Depeursinge, Appl. Opt. 48, H186 (2009)

5.

W.J. Choi, D.I. Jeon, S. Ahn, J. Yoon, S. Kim, B.H. Lee, Opt. Lett. 22, 23285 (2010)

6.

E. Watanabe, T. Hoshiba, B. Javidi, Opt. Lett. 38, 1319 (2013)

7.

K.G. Phillips, A. Kolatkar, K.J. Rees, R. Rigg, D. Marrinucci, M. Luttgen, K. Bethel, P. Kuhn, O.J. McCarty, Front. Oncol. 2, 1 (2012)

8.

J.W. Goodman: Introduction to Fourier Optics (Roberts and Company Publishers, Greenwood Village, 2004)

9.

L. Repetto, E. Piano, C. Pontiggia, Opt. Lett. 29, 1132 (2004)

10.

M. Lee, O. Yaglidere, A. Ozcan, Biomed. Opt. Express 2, 2721 (2011)

11.

I. Yamaguchi, T. Zhang, Opt. Lett. 22, 1268 (1997)

12.

I. Yamaguchi, J. Kato, S. Ohta, J. Mizuno, Appl. Opt. 40, 6177 (2001)

13.

K. Hoshino, E. Watanabe. Presented at Imaging and Applied Optics, OSA Technical Digest (online) (Optical Society of America, 2014), paper DM3B.6, 2014

14.

C. Wagner, S. Seebacher, W. Osten, W. Jüptner, Appl. Opt. 38, 4812 (1999)

15.

Y. Takaki, H. Ohzu, Appl. Opt. 39, 5302 (2000)

16.

P. Langehanenberg, B. Kemper, D. Dirksen, G.V. Bally, Appl. Opt. 44, 176 (2008)

17.

P. Memmolo, C. Distante, M. Paturzo, A. Finizio, P. Ferraro, B. Javidi, Opt. Lett. 36, 1945 (2011)

18.

D. Masa, J. Garciab, C. Ferreirab, L.M. Bernardoc, F. Marinhoc, Opt. Commun. 164, 233 (1999)
Acknowledgments
This research was partly supported by the JSPS KAKENHI Grant Number 24760038.
About this article
Cite this article
Watanabe, E., Hoshino, K. & Takeuchi, S. Portable digital holographic microscope using spherical reference beam. Opt Rev 22, 342–348 (2015). https://doi.org/10.1007/s10043-015-0036-2
Received:

Accepted:

Published:

Issue Date:
Keywords
Digital holography

Phase-shifting

Lensless

Spherical reference beam

Microscopy

Compact