Abstract
An optical correlator has the advantage of high data transfer speed and parallel operation. However, in copyright content management systems (CCMSs), the numerous video files that need to be downloaded from the Internet and input to the optical correlator constitute a bottleneck. This paper proposes an image categorization method for CCMSs that uses the difference in the color features between animation and live-action images to remove this bottleneck and increase the speed of CCMSs. The results of experiments conducted indicate that the proposed method achieves a live-action video true rejection rate of 86.7 % and an animation video false rejection rate of 13.3 %. This indicates that the proposed method can improve the overall speed of a CCMS more than twice the original speed.
Access options
Buy single article
Instant access to the full article PDF.
US$ 39.95
Tax calculation will be finalised during checkout.
Subscribe to journal
Immediate online access to all issues from 2019. Subscription will auto renew annually.
US$ 79
Tax calculation will be finalised during checkout.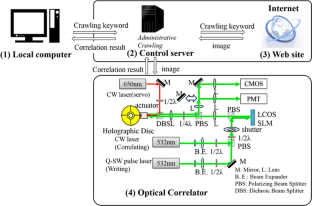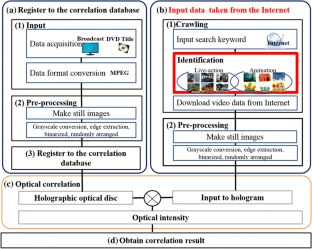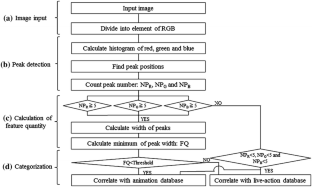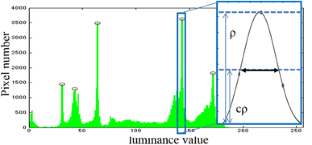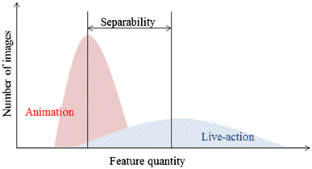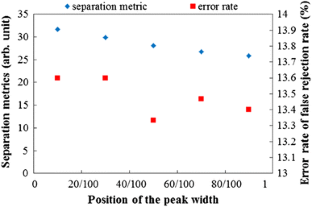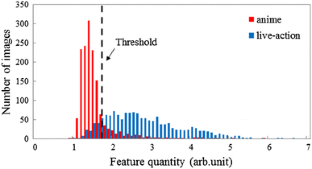 References
1.

E. Watanabe, L. Kitabayashi, T. Takahashi, J. Mizuno, M. Kubo, K. Kodate: ISCIT (2010), p. 401

2.

L. Lin, C. Chen, M.L. Shyu, S.C. Chen, MultiMedia. IEEE 18, 32 (2011)

3.

Y. Sun, K. Sudo, Y. Taniguchi: TREC Video retrieval evaluation 2013

4.

X. Wu, S. Satoh, IEEE Trans. Circuits Syst. Video Technol. 23, 1054 (2013)

5.

A. Sarkar, P. Ghosh, E. Moxley, B.S. Manjunath, Proc. SPIE 6820, 68200E (2008)

6.

D. Matsubara, A. Hiroike: IEEE International Symposium on Multimedia (2009) p. 312

7.

A. VanderLugt, IEEE Trans. Inf. Theory 10, 139 (1964)

8.

C.S. Weaver, J.W. Goodman, Appl. Opt. 5, 1248 (1966)

9.

X. Zeng, T. Inoue, N. Fukuchi, J. Bai, Opt. Express 19, 12594 (2011)

10.

Y. Kobayashi, H. Toyoda, N. Mukohzaka, N. Yoshida, T. Hara, Opt. Rev. 3, 403 (1996)

11.

A. Kutanov, Y. Ichioka, Opt. Rev. 3, 258 (1996)

12.

T. Manzur, J. Zeller, S. Serati, Appl. Opt. 51, 4976 (2012)

13.

X. Zeng, J. Bai, C. Hou, G. Yang, Opt. Lett. 36, 1383 (2011)

14.

T. Zheng, L. Cao, Q. He, G. Jin, Appl. Opt. 52, 2841 (2013)

15.

E. Watanabe, Y. Ichikawa, R. Akiyama, K. Kodate, Jpn. J. Appl. Phys. 47, 5964 (2008)

16.

E. Watanabe, K. Ikeda, K. Kodate, Proc. SPIE 8498, 84980A (2012)

17.

L. Kitabayashi, E. Watanabe, K. Kodate: J Intellect Prop Assoc Jap 7 (2011) 43 (in Japanese)

18.

H. Horimai, X. Tan, J. Li, Appl. Opt. 44, 2575 (2005)

19.

Number of Films Released in Japan. http://unijapan.org/statistics/release.html UNIJAPAN (in Japanese)

20.

K. Ikeda, E. Watanabe: Imaging and Applied Optics (2014) JW3A.5

21.

K. Fukunaga: Introduction to statistical pattern recognition, 2nd edn. (Academic Press, 1990)

22.

Report on Results of Field Survey on Intellectual Property Rights Infringement. http://www.meti.go.jp/meti_lib/report/2012fy/E002243.pdf. Japan's Ministry of Economy, Trade and Industry (in Japanese)
Acknowledgments
The authors would like to thank Professor K. Kodate and Doctor J. Mizuno at Photonic System Solutions Inc. for valuable discussions throughout this work.
About this article
Cite this article
Ikeda, K., Watanabe, E. Reducing input data via image categorization to improve the speed of copyright content management systems. Opt Rev 22, 93–98 (2015). https://doi.org/10.1007/s10043-015-0034-4
Received:

Accepted:

Published:

Issue Date:
Keywords
Correlators

Copyright content management

Video identification

Optical disks

Holography