Abstract
Temperature, discharge, and stable isotope ratios of five karst springs in a mountainous area of Zigui County, Hubei Province, Central China, were analyzed. The purpose was to illustrate the heat exchanges linked to circulation depth in the exposed karst water systems through the development of a method for estimating heat input and heat flux during a rainstorm. Meteorological water in the study area conformed to a local meteoric water line (δD = 8.37 δ18O + 12.99) with a mean δ18O elevation gradient of −4.0‰ km−1, which was used to estimate mean circulation depths of 209–686 m. The mean spring temperatures defined a vertical gradient of −5.4 °C km−1, which resembled that of the stable atmosphere of the Earth, indicating that the thermal response patterns are mainly controlled by surface air temperature. Thermal convection after rainfall events dominated heat exchange between baseflow and recharge water, leading to a warmer and colder recharge during summer and winter, respectively, whereas thermal conduction dominated the heat exchange only between groundwater, surrounding geology, and the interface air under a condition of no rainfall, resulting in only small temperature variations of the baseflow. Successful application of the method for estimating heat exchange showed that the characteristics of shallow circulation, strong karstification, and well-developed epikarst readily allowed disruption of the thermal balance of the Yuquandong system, resulting in a poor heat regulation capacity, a larger variation of heat input, a lower mean heat flux, and lower baseflow temperatures compared to those of the Dayuquan system.
Résumé
La température, le débit, et les rapports des isotopes stables de cinq sources karstiques dans une région montagneuse du comté de Zigui, Province de Hubei, Chine Centrale, ont été analysés. L'objectif était d'illustrer les échanges de chaleur liés à la profondeur de circulation dans les systèmes d'eau karstique affleurants par le biais du développement d'une méthode d'estimation de l'apport et du flux de chaleur au cours d'un orage. L'eau météorique dans la zone d'étude était conforme à une ligne d'eau météorique locale (δD = 8.37 δ18O + 12.99) avec un gradient d'élévation δ18O moyen de –4.0‰ km–1, qui a été utilisé pour estimer les profondeurs de circulation moyennes de 209–686 m. Les températures moyennes des sources sont caractérisées par un gradient vertical de –5.4 °C km–1, qui était similaire à celui de l'atmosphère stable de la Terre, indiquant que les modèles de réponse thermique sont principalement contrôlés par la température de l'air de surface. La convection thermique après des événements pluvieux a dominé l'échange de chaleur entre le débit de base et l'eau de recharge, conduisant à une recharge plus chaude et plus froide pendant l'été et l'hiver, respectivement, tandis que la conduction thermique a dominé l'échange de chaleur seulement entre les eaux souterraines, la roche encaissante, et l'air d'interface dans une condition d'absence de pluie, résultant en seulement de petites variations de température du débit de base. Une application avec succès de la méthode d'estimation de l'échange thermique a montré que les caractéristiques de circulation de faible profondeur, d'une forte karstification, et d'un épikarst bien développé ont permis une interruption de l'équilibre thermique du système de Yuquandong, ayant pour résultat une faible capacité de régulation thermique, un plus grande variation du signal thermique d'entrée, et des températures plus basses de l'écoulement de base en comparaison avec le système de Dayuquan.
Resumen
Se analizaron la temperatura, la descarga y las proporciones de isótopos estables de cinco manantiales kársticos en una zona montañosa del condado de Zigui, en la provincia de Hubei (China central). El objetivo era demostrar los intercambios de calor vinculados a la profundidad de circulación en los sistemas de agua kárstica expuestos mediante el desarrollo de un método para estimar la entrada de calor y el flujo de calor durante una tormenta. El agua meteórica en el área de estudio se ajustó a una línea de agua meteórica local (δD = 8.37 δ18O + 12.99) con un gradiente de elevación δ18O medio de –4.0‰ km−1, que se utilizó para estimar profundidades de circulación medias de 209–686 m. Las temperaturas medias de los manantiales definieron un gradiente vertical de –5.4 °C km−1, que se asemejaba al de la atmósfera estable de la Tierra, lo que indica que los patrones de respuesta térmica están controlados principalmente por la temperatura del aire en la superficie. La convección térmica después de los eventos de precipitación dominó el intercambio de calor entre el flujo de base y el agua de recarga, dando lugar a una recarga más cálida y fría durante el verano y el invierno, respectivamente, mientras que la conducción térmica dominó el intercambio de calor sólo entre las aguas subterráneas, la geología circundante y el aire de la interfaz bajo una condición de ausencia de precipitación, dando lugar a sólo pequeñas variaciones de temperatura del flujo de base. La aplicación exitosa del método para estimar el intercambio de calor mostró que las características de la circulación superficial, la fuerte karstificación y el epikarst bien desarrollado permitieron fácilmente la alteración del equilibrio térmico del sistema Yuquandong, lo que dio lugar a una escasa capacidad de regulación del calor, una mayor variación de la entrada de calor, un menor flujo de calor medio y temperaturas de flujo de base más bajas en comparación con las del sistema Dayuquan.
摘要
分析了中国中部湖北省秭归县山区5个岩溶泉的温度、流量和稳定同位素比。目的是通过开发一种估算暴雨期间热输入和热通量的方法来说明与暴露的岩溶水系统中循环深度相关的热交换。研究区大气降水符合当地大气降水线(δD = 8.37 δ18O + 12.99),平均δ18O高程梯度为−4.0‰ km−1,用于估算平均循环深度为209–686 m。泉平均温度为−5.4 °C km−1的垂直梯度,类似于地球稳定大气的垂直梯度,表明热响应模式主要受地表气温控制。降雨事件后的热对流主导了基流和补给水之间的热交换,导致夏季偏热和冬季偏冷的水补给,而热传导仅主导了没有降雨条件下地下水、周围地质和界面空气之间的热交换,导致基流的温度变化很小。热交换估算方法的成功应用表明,该地区具有循环浅、岩溶作用强、表层岩溶发育良好等特点,容易破坏玉泉东系统的热平衡。与大鱼泉系统相比,这产生了热量调节能力差,热量变化较大,平均热通量更低,基流温度更低。
Resumo
Temperatura, descarga e razões de isótopos estáveis de cinco nascentes cársticas em uma área montanhosa do Condado de Zigui, Província de Hubei, China Central, foram analisadas. O objetivo foi ilustrar as trocas de calor ligadas à profundidade de circulação de sistemas expostos de águas cársticas a partir do desenvolvimento de um método que estima a entrada e o fluxo de calor durante uma tempestade. A água meteórica na área de estudo, em conformidade com a reta meteórica local (δD = 8.37 δ18O + 12.99) com gradiente de elevação médio de δ18O de −4.0‰ km−1, foi usada para estimar as profundidades médias de circulação de 209–686 m. As temperaturas médias das nascentes definiram um gradiente vertical de −5.4 °C km−1, que se assemelhavam à atmosfera estável da Terra, indicando que os padrões de resposta térmica são controlados principalmente pela temperatura do ar na superfície. A convecção térmica após os eventos de chuva dominou a troca de calor entre o fluxo de base e a água de recarga, levando a uma recarga mais quente e mais fria durante o verão e inverno, respectivamente; enquanto a condução térmica dominou a troca de calor apenas entre as águas subterrâneas, geologia circundante e o ar de interface sob uma condição de sem chuva, resultando apenas em pequenas variações de temperatura do fluxo de base. A aplicação bem sucedida do método para estimar a troca de calor mostrou que as características de circulação rasa, forte carstificação e epicárste bem desenvolvido permitiram a ruptura do balanço térmico do sistema Yuquandong, resultando em uma capacidade pobre de regulação de calor, uma variação maior de calor de entrada, um fluxo mais baixo de calor médio e temperaturas mais baixas de fluxo de base em comparação com as do sistema Dayuquan.
Access options
Buy single article
Instant access to the full article PDF.
US$ 39.95
Tax calculation will be finalised during checkout.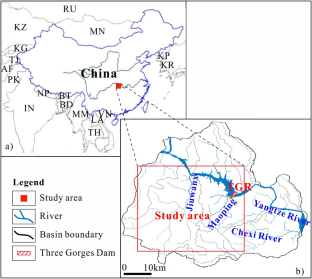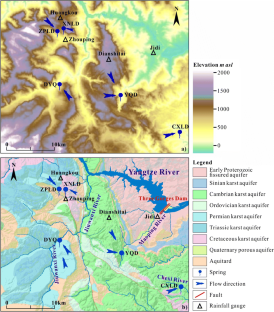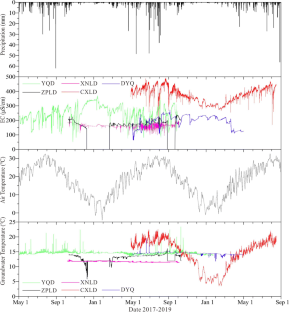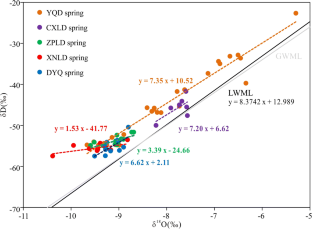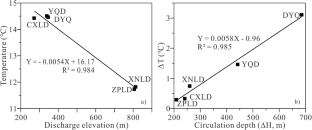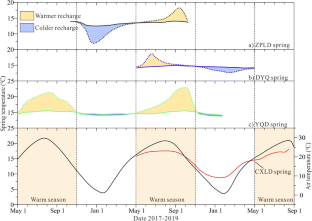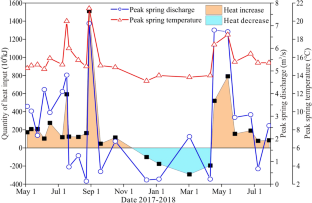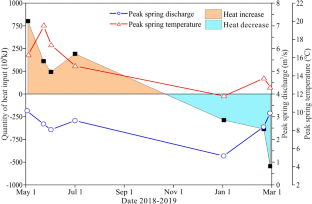 References
An R, Jiang XW, Wang JZ, Wan L, Wang XS, Li HL (2015) A theoretical analysis of basin-scale groundwater temperature distribution. Hydrogeol J 23:397–404. https://doi.org/10.1007/s10040-014-1197-y

Anderson MP (2005) Heat as a ground water tracer. Ground Water 43(6):951–968. https://doi.org/10.1111/j.1745-6584.2005.00052.x

Aquilina L, Ladouche B, Doerfliger N (2006) Water storage and transfer in the epikarst of karstic systems during high flow periods. J Hydrol 327:472–485. https://doi.org/10.1016/j.jhydrol.2005.11.054

Arola T, Eskola L, Hellen J, Korkka-Niemi K (2014) Mapping the low enthalpy geothermal potential of shallow quaternary aquifers in Finland. Geotherm Energy 2:9. https://doi.org/10.1186/s40517-014-0009-x

Atkins P, de Paulo J (2012) Elements of physical chemistry, 6th edn. Freeman, New York

Atkinson TC (1977) Diffuse flow and conduit flow in limestone terrain in the Mendip Hills, Somerset (Great Britain). J Hydrol 35:93–110. https://doi.org/10.1016/0022-1694(77)90079-8

Barbieri M, Boschetti T, Petitta M, Tallini M (2005) Stable isotope (2H, 18O and 87Sr/86Sr) and hydrochemistry monitoring for groundwater hydrodynamics analysis in a karst aquifer (Gran Sasso, Central Italy). Appl Geochem 20:2063–2081. https://doi.org/10.1016/j.apgeochem.2005.07.008

Berglund JL, Toran L, Herman EK (2020) Can karst conduit models be calibrated? A dual approach using dye tracing and temperature. Ground Water 58:924–937. https://doi.org/10.1111/gwat.12988

Brookfield AE, Macpherson GL, Covington MD (2017) Effects of changing meteoric precipitation patterns on groundwater temperature in karst environments. Groundwater 55(2):227–236. https://doi.org/10.1111/gwat.12456

Buzzacott P, Skrzypek G (2021) Thermal anomaly and water origin in Weebubbie Cave, Nullarbor karst plain, Australia. J Hydrol Reg Studies 34:100793. https://doi.org/10.1016/j.ejrh.2021.100793

Clark I, Fritz P (1997) Environmental isotopes in hydrology. Lewis, Boca Raton

Covington MD, Luhmann AJ, Gabrovšek F, Saar MO, Wicks CM (2011) Mechanisms of heat exchange between water and rock in karst conduits. Water Resour Res 47, W10514. https://doi.org/10.1029/2011WR010683

Craig H (1961) Isotopic variations in meteoric waters. Science 133:1702–1703

Doucette R, Peterson E (2014) Identifying water sources in a karst aquifer using thermal signatures. Environ Earth Sci 72:5171–5182. https://doi.org/10.1007/s12665-014-3387-2

Frederickson G, Criss R (1999) Isotope hydrology and residence times of the unimpounded Meramec River basin, Missouri. Chem Geol 157:303–317. https://doi.org/10.1016/S0009-2541(99)00008-X

Gil-Márquez J, Andreo B, Mudarra M (2019) Combining hydrodynamics, hydrochemistry, and environmental isotopes to understand the hydrogeological functioning of evaporite-karst springs: an example from southern Spain. J Hydrol 576:299–314. https://doi.org/10.1016/j.jhydrol.2019.06.055

Goldscheider N, Mádl-Szőnyi J, Erőss A, Schill E (2010) Review: thermal water resources in carbonate rock aquifers. Hydrogeol J 18:1303–1318. https://doi.org/10.1007/s10040-010-0611-3

Hartmann A, Kobler J, Kralik M, Dirnböck T, Humer F, Weiler M (2016) Model-aided quantification of dissolved carbon and nitrogen release after windthrow disturbance in an Austrian karst system. Biogeosciences 13:159–174. https://doi.org/10.5194/bg-13-159-2016

Havril T, Molson J, Mádl-Szőnyi J (2016) Evolution of fluid flow and heat distribution over geological time scales at the margin of unconfined and confined carbonate sequences. Mar Pet Geol 78:738–749. https://doi.org/10.1016/j.marpetgeo.2016.10.001

Hoefs J (2004) Stable isotope geochemistry. Springer, Berlin

Huang H, Liu H, Xiong S, Zeng F, Bu J, Zhang B, Liu W, Zhou H, Qi S, Xu L, Chen W (2021) Rapid transport of organochlorine pesticides (OCPs) in multimedia environment from karst area. Sci Total Environ 775:145698. https://doi.org/10.1016/j.scitotenv.2021.145698

Lauber U, Goldscheider N (2014) Use of artificial and natural tracers to assess groundwater transit-time distribution and flow systems in a high-alpine karst system (Wetterstein Mountains, Germany). Hydrogeol J 22:1807–1824. https://doi.org/10.1007/s10040-014-1173-6

Lenkey L, Dövényi P, Horváth F, Cloething SAPL (2002) Geothermics of the Pannonian Basin and its bearing on the neotectonics. EGU Stephan Muell Spec Publ Ser 3:29–40

Li N, Zhou H, Wen Z, Jakada H (2019) Formation mechanism and mixing behavior of Nanyang thermal spring, Xingshan County of Hubei Province, Central China. Hydrogeol J 27:2933–2953. https://doi.org/10.1007/s10040-019-02041-9

Liu W, Wang Z, Chen Q, Yan Z, Zhang T, Han Z, Chen W, Zhou H (2020) An interpretation of water recharge in karst trough zone as determined by high-resolution tracer experiments in western Hubei, China. Environ Earth Sci 79:357. https://doi.org/10.1007/s12665-020-09056-6

Long A, Gilcrease P (2009) A one-dimensional heat-transport model for conduit flow in karst aquifers. J Hydrol 378:230–239. https://doi.org/10.1016/j.jhydrol.2009.09.024

Luhmann A, Covington MD, Peters A, Alexander S, Cale A, Green J, Alexander E (2011) Classification of thermal patterns at karst springs and cave streams. Ground Water 49(3):324–335. https://doi.org/10.1111/j.1745-6584.2010.00737.x

Luhmann A, Covington M, Alexander S, Chai S, Schwartz B, Groten J, Calvin-Alexander E (2012) Comparing conservative and nonconservative tracers in karst and using them to estimate flow path geometry. J Hydrol 448–449:201–211. https://doi.org/10.1016/j.jhydrol.2012.04.044

Luo M, Chen Z, Criss R, Zhou H, Huang H, Han Z, Shi T (2016) Dynamics and anthropogenic impacts of multiple karst flow systems in a mountainous area of South China. Hydrogeol J 24(8):1993–2002. https://doi.org/10.1007/s10040-016-1462-3

Luo M, Chen Z, Zhou H, Zhang L, Han Z (2018) Hydrological response and thermal effect of karst springs linked to aquifer geometry and recharge processes. Hydrogeol J 26(2):629–639. https://doi.org/10.1007/s10040-017-1664-3

Mádl-Szőnyi J (2015) Genesis and utilization of thermal flow in deep carbonate systems. In: Stevanovic Z (ed) Karst aquifers: characterization and engineering. Springer, Cham, Switzerland, pp 654–667

Mádl-Szőnyi J, Tóth Á (2015) Basin-scale conceptual groundwater flow model for an unconfined and confined thick carbonate region. Hydrogeol J 23(7):1359–1380. https://doi.org/10.1007/s10040-015-1274-x

Marèchal J, Etcheverry D (2003) The use of 3H and 18O tracers to characterize water inflows in Alpine tunnels. Appl Geochem 18:339–351. https://doi.org/10.1016/S0883-2927(02)00101-4

Meng XM, Yin MS, Ning LB, Liu DF, Xue XW (2015) A threshold artificial neural network model for improving runoff prediction in a karst watershed. Environ Earth Sci 74(6):5039–5048. https://doi.org/10.1007/s12665-015-4562-9

Mudarra M, Andreo B (2011) Relative importance of the saturated and the unsaturated zones in the hydrogeological functioning of karst aquifers: the case of Alta Cadena (southern Spain). J Hydrol 397:263–280. https://doi.org/10.1016/j.jhydrol.2010.12.005

O'Driscoll M, DeWalle D, McGuire K, Gburek W (2005) Seasonal 18O variations and groundwater recharge for three landscape types in central Pennsylvania, USA. J Hydrol 303:108–124. https://doi.org/10.1016/j.jhydrol.2004.08.020

Pollack H, Hurter S, Johnson J (1993) Heat flow from the Earth's interior: analysis of the global data set. Rev Geophys 31:267–280. https://doi.org/10.1029/93RG01249

Qian Z, Mao Y, Xiong S, Peng B, Liu W, Liu H, Zhang Y, Chen W, Zhou H, Qi S (2020) Historical residues of organochlorine pesticides (OCPs) and polycyclic aromatic hydrocarbons (PAHs) in a flood sediment profile from the Longwang cave in Yichang, China. Ecotox Environ Safe 196:110542. https://doi.org/10.1016/j.ecoenv.2020.110542

Rau G, Cuthbertb M, Andersen M, Baker A, Rutlidge H, Markowska M, Roshan H, Marjo C, Graham P, Acworth I (2015) Controls on cave drip water temperature and implications for speleothem-based paleoclimate reconstructions. Quat Sci Rev 127:19–36. https://doi.org/10.1016/j.quascirev.2015.03.026

Rimmer A, Hartmann A (2014) Optimal hydrograph separation filter to evaluate transport routines of hydrological models. J Hydrol 514:249–257. https://doi.org/10.1016/j.jhydrol.2014.04.033

Saar M (2011) Review: Geothermal heat as a tracer of large-scale groundwater flow and as a means to determine permeability fields. Hydrogeol J 19(1):31–52. https://doi.org/10.1007/s10040-010-0657-2

Szijártó M, Galsa A, Tóth Á, Mádl-Szőnyi J (2019) Numerical investigation of the combined effect of forced and free thermal convection in synthetic groundwater basins. J Hydrol 572:364–379. https://doi.org/10.1016/j.jhydrol.2019.03.003

Szijártó M, Galsa A, Tóth Á, Mádl-Szőnyi J (2021) Numerical analysis of the potential for mixed thermal convection in the Buda thermal karst, Hungary. J Hydrol Reg Studies 34:100783. https://doi.org/10.1016/j.ejrh.2021.100783

Wang Y, Luo W, Zeng G, Peng H, Cheng A, Zhang L, Cai X, Chen J, Lyu Y, Yang H, Wang S (2020) Characteristics of carbon, water, and energy fluxes on abandoned farmland revealed by critical zone observation in the karst region of Southwest China. Agric Ecosyst Environ 292:106821. https://doi.org/10.1016/j.agee.2020.106821

Wang Z, Chen Q, Yan Z, Luo M, Zhou H, Liu W (2019) Method for identifying and estimating karst groundwater runoff components based on the frequency distributions of conductivity and discharge. Water 11:2494. https://doi.org/10.3390/w11122494

Zhang L, Luo M, Chen Z (2020) Identification and estimation of solute storage and release in karst water systems, South China. Int J Env Res Pub He 17:7219. https://doi.org/10.3390/ijerph17197219

Zheng S, Hou F, Ni B (1983) Research on stable hydrogen and oxygen isotope in the atmospheric precipitation of China (in Chinese). Chin Sci Bull 13:801–806
Acknowledgements
Constructive suggestions were provided by doctoral candidate Yanyan Li.
Funding
This work was supported by the China Geological Survey (DD20160304, DD20190824) and by the National Natural Science Foundation of China (41807199).
Additional information
Publisher's note
Springer Nature remains neutral with regard to jurisdictional claims in published maps and institutional affiliations.
About this article
Cite this article
Wang, Z., Zhou, H., Wen, Z. et al. A study of the thermal behaviour of exposed karst water systems in a mountainous area of Zigui County, Hubei Province, Central China. Hydrogeol J (2021). https://doi.org/10.1007/s10040-021-02402-3
Received:

Accepted:

Published:
Keywords
Karst

Stable isotopes

Groundwater temperature

Thermal conditions

China