Abstract
Fluvio-deltaic aquifers are the primary source of drinking water for the people of Bangladesh. Such aquifers, which comprise the Ganges-Brahmaputra-Meghna Delta, are hydrogeologically heterogeneous. Because of widespread groundwater quality issues in Bangladesh, it is crucial to know the hydrostratigraphic architecture and hydrochemistry, as some aquifer units are contaminated, whereas others are safe. Geophysical methods provide a potentially effective and noninvasive method for extensive characterization of these aquifers. This study applies and investigates the limitations of using electrical resistivity imaging (ERI) for mapping the hydrostratigraphy and salinity of an aquifer-aquitard system adjacent to the Meghna River. Some electrical resistivity (ER) sections showed excellent correlation between resistivity and grain size. These suggest that ERI is a powerful tool for mapping internal aquifer architecture and their boundaries with finer-grained aquitards which clearly appear as low-ER zones. However, in parts of some ER sections, variations in electrical properties were determined by porewater resistivity. In these cases, low ER was indicative of brine and did not indicate the presence of finer-grained materials such as silt or clay. Accordingly, the following hydrostratigraphic zones with different resistivities were detected: (1) aquifers saturated with fresh groundwater, (2) a regional silt/clay aquitard, and (3) a deeper brine-saturated formation. In addition, shallow silt/clay pockets were detected close to the river and below the vadose zone. ERI is thus a promising technique for mapping aquifers versus aquitards; however, the observations are easily confounded by porewater salinity. In such cases, borehole information and groundwater salinity measurements are necessary for ground-truthing.
Résumé
Les aquifères fluvio-deltaïques sont la principale source d'eau potable pour la population du Bangladesh. Ces aquifères, qui comprennent le delta du Gange-Brahmapoutre-Meghna, sont hétérogènes du point de vue hydrogéologique. En raison des problèmes répandus de qualité des eaux souterraines au Bangladesh, il est essentiel de connaître l'architecture hydrostratigraphique et l'hydrochimie des unités aquifères, car certaines sont contaminées tandis que d'autres non. Les méthodes géophysiques fournissent une méthode potentiellement efficace et non invasive pour la caractérisation approfondie de ces aquifères. Cette étude applique et analyse les limites de l'utilisation de l'imagerie de résistivité électrique (IRE) pour cartographier l'hydrostratigraphie et la salinité d'un système aquifère-aquitard adjacent à la rivière Meghna. Certaines sections de résistivité électrique (RE) ont montré une excellente corrélation entre la résistivité et la taille des grains. Cela suggère que l'IRE est un outil puissant pour cartographier l'architecture interne des aquifères et leurs limites avec des aquitards plus fins qui apparaissent clairement comme des zones à faible RE. Cependant, dans certaines parties de sections RE, les variations des propriétés électriques ont été déterminées par la résistivité de l'eau interstitielle. Dans ce cas, une RE faible était indicatrice de la présence de saumure et n'indiquait pas la présence de matériaux à grains plus fins tels que le limon ou l'argile. En conséquence, les zones hydrostratigraphiques suivantes avec différentes résistivités ont été détectées: (1) des aquifères saturés d'eau souterraine douce, (2) un aquitard régional limon/argile et (3) une formation plus profonde saturée en saumure. De plus, des poches de limon/argile peu profondes ont été détectées près de la rivière et en dessous de la zone non saturée. L'IRE est donc une technique prometteuse pour cartographier les aquifères par rapport aux aquitards. Cependant, les observations sont facilement biaisées par la salinité des eaux interstitielles. Dans de tels cas, les informations de forages et les mesures de la salinité des eaux souterraines sont nécessaires pour la vérification sur le terrain.
Resumen
Los acuíferos fluvio-deltaicos son la principal fuente de agua potable para la gente de Bangladesh. Estos acuíferos, que consisten del delta Ganges-Brahmaputra-Meghna, son hidrogeológicamente heterogéneos. Debido a los amplios problemas de calidad del agua subterránea en Bangladesh, conocer la arquitectura hidrostratigráfica y la hidroquímica es crucial, ya que algunas unidades del acuífero están contaminadas mientras que otras no. La geofisica proporciona un método potencialmente eficaz y pasivo para la caracterización extensa de estos acuíferos. Este estudio aplica e investiga las limitaciones del uso de imágenes de resistividad eléctrica (ERI) para mapear la hidroestratigrafía y la salinidad de un sistema acuífero-acuitardo adyacente al río Meghna. Algunas secciones de resistividad eléctrica (ER) mostraron una excelente correlación entre resistividad y tamaño de grano. Estos sugieren que ERI es una herramienta poderosa para mapear la arquitectura del acuífero interno y sus límites con los acuitardos de grano más fino que claramente aparecen como zonas de baja ER. Sin embargo, en partes de algunas secciones de ER, las variaciones en las propiedades eléctricas fueron controladas por la resistividad del agua intersticial. En estos casos, una ER baja era indicativa de agua salina y no de la presencia de materiales de grano más fino como limo o arcilla. En consecuencia, se detectaron las siguientes zonas hidroestratigráficas con diferentes resistividades: (1) acuíferos saturados con agua subterránea dulce, (2) un acuitardo regional de limo/arcilla y (3) una formación más profunda saturada de agua salina. Además, se detectaron areas de limo/arcilla poco profundas cerca del río y debajo de la zona vadosa. Por lo tanto, ERI es una técnica prometedora para mapear acuíferos versus acuitardos. Sin embargo, las observaciones se confunden fácilmente con la salinidad del agua intersticial. En tales casos, la información del pozo y las mediciones de la salinidad del agua subterránea son necesarias para la verificación de los datos.
摘要
河成三角洲含水层是孟加拉国人民的主要饮用水来源。构成Ganges-Brahmaputra-Meghna三角洲的含水层在水文地质上是非均质的。由于孟加拉国普遍存在地下水水质问题, 了解水文地层结构和水化学至关重要, 因为某些含水层单元受到污染, 其他含水层水质则是安全的。地球物理方法为大范围表征这些含水层提供了潜在有效而且无损伤的方法。本研究应用并调查了使用电阻率成像(ERI)绘制与Meghna河相邻的含水层-隔水层系统的水文地层和盐度的弊端。一些电阻率(ER)剖面表明电阻率与颗粒大小有极好的相关性。这些还表明ERI功能强大, 可用于绘制内部含水层结构及其与相邻的低ER区的更细颗粒隔水层的边界。但是, 在某些ER剖面的部分区域, 电性能的变化是由孔隙水电阻率决定的。在这些情况下, 低ER指示为盐水, 并不表示存在如粉砂或粘土的较细颗粒物质。因此, 发现了以下具有不同电阻率的水文地层区:(1)饱和淡水含水层; (2)区域淤泥/粘土隔水层, (3)较深的盐水饱和层。此外, 在靠近河流和非饱和区下方发现了浅层淤泥/粘土区。ERI是区分绘制含水层与隔水层的具有前景的方法。但是, 这些观察容易与孔隙水的盐度混淆。在这种情况下, 为了解真相, 钻井信息和地下水盐度测量很有必要。
Resumo
Os aquíferos flúvio-deltaicos são a principal fonte de água potável para o povo de Bangladesh. Esses aquíferos, que compreendem o Delta do Ganges-Brahmaputra-Meghna, são hidrogeologicamente heterogêneos. Por causa dos problemas generalizados de qualidade da água subterrânea em Bangladesh, é crucial conhecer a arquitetura hidroestratigráfica e a hidroquímica, já que algumas unidades de aquífero estão contaminadas enquanto outras são seguras. Métodos geofísicos fornecem um método potencialmente eficaz e não invasivo para a caracterização extensiva desses aquíferos. Este estudo aplica e investiga as limitações do uso de imagens de resistividade elétrica (IRE) para mapear a hidrostratigrafia e salinidade de um sistema aquífero-aquitardo adjacente ao Rio Meghna. Algumas seções de resistividade elétrica (RE) mostraram excelente correlação entre resistividade e tamanho de grão. Isso sugere que IRE são uma ferramenta poderosa para mapear a arquitetura do aquífero interno e seus limites com aquitardos de granulação mais fina que aparecem claramente como zonas de baixa RE. No entanto, em partes de algumas seções de RE, as variações nas propriedades elétricas foram determinadas pela resistividade da água porosa. Nesses casos, baixa RE era indicativo de salmoura e não indicava a presença de materiais de granulação mais fina, como silte ou argila. Assim, as seguintes zonas hidroestratigráficas com diferentes resistividades foram detectadas: (1) aquíferos saturados com água doce subterrânea, (2) um aquitardo regional de silte/argila e (3) uma formação mais profunda saturada de salmoura. Além disso, bolsões rasos de silte/argila foram detectados perto do rio e abaixo da zona vadosa. A aquisição de IRE é, portanto, uma técnica promissora para mapear aquíferos versus aquitardos. No entanto, as observações são facilmente confundidas pela salinidade da água porosa. Em tais casos, as informações do poço e as medições de salinidade da água subterrânea são necessárias para a escavação do solo.
Access options
Buy single article
Instant access to the full article PDF.
USD 39.95
Price excludes VAT (USA)
Tax calculation will be finalised during checkout.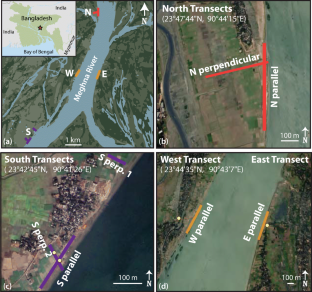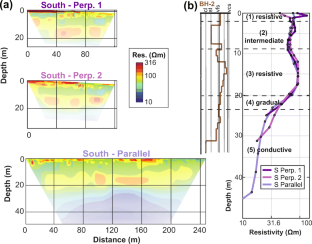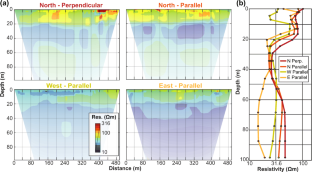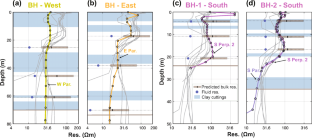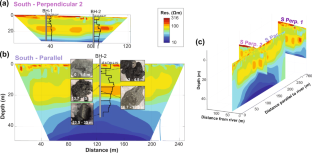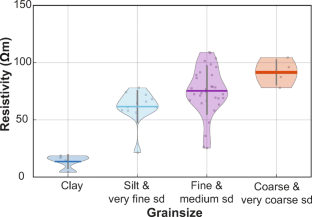 References
Adepelumi AA, Ako B, Ajayi T, Afolabi O, Omotoso E (2009) Delineation of saltwater intrusion into the freshwater aquifer of Lekki peninsula, Lagos, Nigeria. Environ Geol 56:927–933

Alam M, Alam MM, Curray JR, Chowdhury MLR, Gani MR (2003) An overview of the sedimentary geology of the Bengal Basin in relation to the regional tectonic framework and basin-fill history. Sediment Geol 155:179–208. https://doi.org/10.1016/S0037-0738(02)00180-X

Archie GE (1942) The electrical resistivity log as an aid in determining some reservoir characteristics. SPE-942054-G 146, pp 54-62. https://doi.org/10.2118/942054-G

Bruggeman DAG (1935) Berechnung verschiedener physikalischer Konstanten von heterogenen Substanzen: I. Dielektrizitätskonstanten und Leitfähigkeiten der Mischkörper aus isotropen Substanzen [Calculation of various physical constants of heterogeneous substances: I. dielectric constants and conductivities of mixed bodies made of isotropic substances]. Ann Phys 416:636–664. https://doi.org/10.1002/andp.19354160705

Cai JC, Wei W, Hu XY, Wood DA (2017) Electrical conductivity models in saturated porous media: a review. Earth Sci Rev 171:419–433. https://doi.org/10.1016/j.earscirev.2017.06.013

Daily W, Ramirez A, LaBrecque D, Nitao J (1992) Electrical resistivity tomography of vadose water movement. Water Resour Res 28:1429–1442. https://doi.org/10.1029/91wr03087

Datta S, Neal AW, Mohajerin TJ, Ocheltree T, Rosenheim BE, White CD, Johannesson KH (2011) Perennial ponds are not an important source of water or dissolved organic matter to groundwaters with high arsenic concentrations in West Bengal, India. Geophys Res Lett 38. https://doi.org/10.1029/2011gl049301

De Franco R, Biella G, Tosi L, Teatini P, Lozej A, Chiozzotto B, Giada M, Rizzetto F, Claude C, Mayer A (2009) Monitoring the saltwater intrusion by time lapse electrical resistivity tomography: the Chioggia test site (Venice lagoon, Italy). J Appl Geophys 69:117–130

Fetter C (1994) Applied hydrogeology. Prentice Hall, Upper Saddle River, NJ, 691 pp

Glover PWJ, Hole MJ, Pous J (2000) A modified Archie's law for two conducting phases. Earth Planet Sci Lett 180:369–383

Horneman A, van Geen A, Kent DV, Mathe PE, Zheng Y, Dhar RK, O'Connell S, Hoque MA, Aziz Z, Shamsudduha M, Seddique AA, Ahmed KM (2004) Decoupling of as and Fe release to Bangladesh groundwater under reducing conditions, part I: evidence from sediment profiles. Geochim Cosmochim Acta 68:3459–3473. https://doi.org/10.1016/j.gca.2004.01.026

Hossain D (2016) Possibility of inferring water quality using DC electrical resistivity measurements: a case study of the Dupi Tila aquifer in Bangladesh. J Bangladesh Acad Sci 40:1–10

Hydroshare (2021) Application of electrical resistivity to map the stratigraphy and salinity of fluvio-deltaic aquifers: case studies from Bangladesh reveal benefits and pitfalls. https://doi.org/10.4211/hs.cf3c2633962b4121a231110d4be0d7a5

Islam M, Bashar K, Ahmed N, Rasul MG, Hossain S, Sarker MMR (2018) Hydrogeologic characteristics and groundwater potentiality of lower aquifer of Singair Upazila, Manikganj District, Bangladesh. J Bangladesh Acad Sci 42:25–40

Kabir AS, Hossain D, Abdullah R (2011) 2-D electrical imaging in some geotechnical investigation of Madhupur clays, Bangladesh. J Geol Soc India 77:73–81

Khaki M, Forootan E, Kuhn M, Awange J, Papa F, Shum CK (2018) A study of Bangladesh's sub-surface water storages using satellite products and data assimilation scheme. Sci Total Environ 625:963–977. https://doi.org/10.1016/j.scitotenv.2017.12.289

Knappett P, Mailloux B, Choudhury I, Khan M, Michael H, Barua S, Mondal D, Steckler M, Akhter S, Ahmed K (2016) Vulnerability of low-arsenic aquifers to municipal pumping in Bangladesh. J Hydrol 539:674–686

Loke M (2006) RES2DINV ver. 3.55, rapid 2D resistivity and IP inversion using the least-squares method. Software manual 139, Geotomo Software, Penang, Malaysia

Loke M (2011) Electrical resistivity surveys and data interpretation. https://doi.org/10.1007/978-90-481-8702-7_46

McArthur J, Ravenscroft P, Banerjee D, Milsom J, Hudson-Edwards KA, Sengupta S, Bristow C, Sarkar A, Tonkin S, Purohit R (2008) How paleosols influence groundwater flow and arsenic pollution: a model from the Bengal Basin and its worldwide implication. Water Resour Res 44(11). https://doi.org/10.1029/2007WR006552

Michael HA, Khan MR (2016) Impacts of physical and chemical aquifer heterogeneity on basin-scale solute transport: vulnerability of deep groundwater to arsenic contamination in Bangladesh. Adv Water Resour 98:147–158. https://doi.org/10.1016/j.advwatres.2016.10.010

Mihajlov I, Mozumder MRH, Bostick BC, Stute M, Mailloux BJ, Knappett PS, Choudhury I, Ahmed KM, Schlosser P, van Geen A (2020) Arsenic contamination of Bangladesh aquifers exacerbated by clay layers. Nat Commun 11:1–9

Mozumder M, Michael H, Mihajlov I, Khan M, Knappett P, Bostick B, Mailloux B, Ahmed K, Choudhury I, Koffman T (2020) Origin of groundwater arsenic in a rural Pleistocene aquifer in Bangladesh depressurized by distal municipal pumping. Water Resour Res 56(7). https://doi.org/10.1029/2020WR027178

Najman Y, Bickle M, BouDagher-Fadel M, Carter A, Garzanti E, Paul M, Wijbrans J, Willett E, Oliver G, Parrish R, Akhter SH, Allen R, Ando S, Chisty E, Reisberg L, Vezzoli G (2008) The Paleogene record of Himalayan erosion: Bengal Basin, Bangladesh. Earth Planet Sci Lett 273:1–14. https://doi.org/10.1016/j.epsl.2008.04.028

Nickson R, McArthur J, Burgess W, Ahmed KM, Ravenscroft P, Rahmanñ M (1998) Arsenic poisoning of Bangladesh groundwater. Nature 395:338–338. https://doi.org/10.1038/26387

Nowroozi AA, Horrocks SB, Henderson P (1999) Saltwater intrusion into the freshwater aquifer in the eastern shore of Virginia: a reconnaissance electrical resistivity survey. J Appl Geophys 42:1–22. https://doi.org/10.1016/S0926-9851(99)00004-X

Pearson CF, Halleck PM, McGuire PL, Hermes R, Mathews M (1983) Natural gas hydrate deposits: a review of in situ properties. J Phys Chem 87:4180–4185. https://doi.org/10.1021/j100244a041

Wang H, Revil A (2020) Surface conduction model for fractal porous media. Geophys Res Lett 47(10). https://doi.org/10.1029/2020GL087553

Waxman MH, Smits LJM (1968) Electrical conductivities in oil-bearing shaly sands. Soc Pet Eng J 8:107–122

Wilson C, Goodbred S (2015) Construction and maintenance of the Ganges-Brahmaputra-Meghna Delta: linking process, morphology, and stratigraphy. Annu Rev Mar Sci 7. https://doi.org/10.1146/annurev-marine-010213-135032

Woobaidullah A, Chowdhury SH, Ahmed KM, Rahman MW, Arafin KS, Al-Ejaz O (2008) Geo-electric resistivity survey in the evaluation of hydrogeological condition in Haziganj Upazila, Chandpur District, Bangladesh. J Geol Soc India 72:753–763

Zahid A, Ahmed SRU (2006) Groundwater resources development in Bangladesh: contribution to irrigation for food security and constraints to sustainability. Groundw Gov Asia Ser 1:25–46
Acknowledgements
We thank Imtiaz Choudhury, Abu Saeed Arman, Mesbah Uddin Bhuiyan, Rajib Mozumder, Kimberley Rhodes and Kimberley Myers for assistance with field work. All geophysical data are available in Hydroshare (2021). We thank two anonymous reviewers for their comments.
Funding
MNP was supported by a fellowship from the Ivanhoe Foundation. This project was funded by the National Science Foundation (grants EAR-1852653, EAR-1940772 and EAR-1852652). Additional support was provided by the Geology Foundation of the University of Texas at Austin.
Additional information
Publisher's note
Springer Nature remains neutral with regard to jurisdictional claims in published maps and institutional affiliations.
About this article
Cite this article
Pedrazas, M.N., Cardenas, M.B., Hosain, A. et al. Application of electrical resistivity to map the stratigraphy and salinity of fluvio-deltaic aquifers: case studies from Bangladesh that reveal benefits and pitfalls. Hydrogeol J 29, 1601–1610 (2021). https://doi.org/10.1007/s10040-021-02342-y
Received:

Accepted:

Published:

Issue Date:

DOI: https://doi.org/10.1007/s10040-021-02342-y
Keywords
Electrical resistivity

Bangladesh

Hydrostratigraphy

Geophysical methods

Groundwater exploration