Abstract
Acute water security vulnerability at regional to local scales is becoming increasingly apparent. In 2017, officials in Cape Town, South Africa, designated the term "Day Zero" to demark an exact time when the city's taps would be switched off due to critically low reservoir levels. Beyond Day Zero, residents would need to converge at communal water collection points to access a 25-L daily ration of water. The particulars of the crisis and stakeholder responses prove informative to other cities.
Résumé
Une vulnérabilité aigue de la sécurité de l'approvisionnement en eau devient de plus en plus apparente aux échelles régionales et locales. En 2017, les responsables de la ville du Cap, Afrique du sud, ont utilisé le terme "Jour Zéro" pour définir un temps précis à partir duquel les robinets de la ville seront fermés à cause de niveaux critiquement bas atteints par les réservoirs. Au-delà du "Jour Zéro", les habitants devraient se diriger vers des points de collecte municipaux pour accéder à une ration d'eau quotidienne de 25 L. Les détails de cette crise et les réponses des parties prenantes s'avèrent instructives pour d'autres villes.
Resumen
La vulnerabilidad aguda de la seguridad del agua a escala regional y local es cada vez más evidente. En 2017, los funcionarios de Ciudad del Cabo, Sudáfrica, designaron el término "Día Cero" para demarcar una hora exacta en la que los grifos de la ciudad se apagarían debido a los niveles críticamente bajos de los embalses. Más allá del Día Cero, los residentes tendrían que converger en puntos comunales de recolección de agua para tener acceso a una ración diaria de 25 L de agua. Los detalles de las crisis y las respuestas de las partes interesadas son informativos para otras ciudades.
摘要
区域到局部尺度的水安全严重脆弱性正变得越来越明显。2017年,南非开普敦的官员定义了"零日"这一术语,该术语表示由于水库水位严重下降而关闭城市水龙头的确切时间。超越零日,居民需要在公共集水处才能获得每日25升的水。危机和利益相关者反应的细节可为其他城市提供信息.
Resumo
A vulnerabilidade aguda da segurança dos recursos hídricos às escalas regionais e locais está cada vez mais aparente. Em 2017, oficiais na Cidade do Cabo, África do Sul, designaram o termo "Dia Zero" para demarcar a data exata em que as torneiras da cidade seriam desligadas devido a níveis criticamente baixos nas barragens. Apos o 'Dia Zero', residentes teriam que se deslocar a pontos de coleta comunais para aceder a uma provisão diária de 25 L de água. Os detalhes da crise e as respostas de todos os intervenientes são informativas para outras cidades.
This is a preview of subscription content, log in to check access.
Access options
Buy single article
Instant access to the full article PDF.
US$ 39.95
Price includes VAT for USA
Subscribe to journal
Immediate online access to all issues from 2019. Subscription will auto renew annually.
US$ 99
This is the net price. Taxes to be calculated in checkout.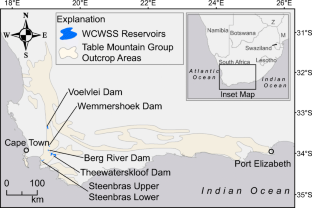 References
Abiodun BJ, Adegoke J, Abatan AA, Ibe CA, Egbebiyi TS, Engelbrecht F, Pinto I (2017) Potential impacts of climate change on extreme precipitation over four African coastal cities. Clim Change 143(3–4):399–413. https://doi.org/10.1007/s10584-017-2001-5

Duah A (2010) Sustainable utilization of the Table Mountain Group Aquifers. PhD Thesis, University of the Western Cape, South Africa, 182 pp

Green TR, Taniguchi M, Kooi H, Gurdak JJ, Allen DM, Hiscock KM, Treidel H, Aureli A (2011) Beneath the surface of global change: impacts of climate change on groundwater. J Hydrol 405:532–560. https://doi.org/10.1016/j.jhydrol.2011.05.002

Muller M (2018) Lessons from Cape Town's drought. Nature 559:174–176

Resplandy L, Keeling RF, Eddebbar Y, Brooks MK, Wang R, Bopp L, Long MC, Dunne JP, Koeve W, Oschlies A (2018) Quantification of ocean heat uptake from changes in atmospheric O2 and CO2 composition. Nature 563:105–108. https://doi.org/10.1038/s41586-018-0651-8

Richard Y, Fauchereau N, Poccard I, Rouault M, Trzaska S (2001) 20th century droughts in southern Africa: spatial and temporal variability, teleconnections with oceanic and atmospheric conditions. Int J Climatol 21(7):873–885

Stringer LC, Dyer JC, Reed MS, Dougill AJ, Twyman C, Mkwambisi D (2009) Adaptations to climate change, drought and desertification: local insights to enhance policy in southern Africa. Environ Sci Pol 12(7):748–765. https://doi.org/10.1016/j.envsci.2009.04.002

Vrba J, Renaud FG (2016) Overview of groundwater for emergency use and human security. Hydrogeol J 24:273–276. https://doi.org/10.1007/s10040-015-1355-x

Wolski P (2018) How severe is Cape Town's "day zero" drought? Significance 15(2):24–27. https://doi.org/10.1111/j.1740-9713.2018.01127.x

Wu Y (2005) Groundwater recharge estimation in Table Mountain Group Aquifer Systems with a case study of Kammanassie. PhD Thesis, University of the Western Cape, South Africa, 308 pp
Acknowledgements
The authors are grateful to the associate editor and the editorial team at Hydrogeology Journal.
About this article
Cite this article
LaVanchy, G.T., Kerwin, M.W. & Adamson, J.K. Beyond 'Day Zero': insights and lessons from Cape Town (South Africa). Hydrogeol J 27, 1537–1540 (2019). https://doi.org/10.1007/s10040-019-01979-0
Received:

Accepted:

Published:

Issue Date:
Keywords
Groundwater development

Water security

South Africa