Abstract
Many coastal areas around the world suffer severe water stresses due to improper management of water resources. In these areas, groundwater is typically the most important source for drinking water, and its overexploitation may lead to deterioration in water quality. In coastal confined aquifers, the dynamics of saltwater intrusion (SWI) and well salinization are the focus of many recent studies that commonly do not include a geological study of the subsurface structure of the aquifer. The goal of the present work is to study the effect of groundwater extraction on SWI, using the Judea Group Aquifer as a case study representing a coastal confined aquifer that suffers drawdown due to excess pumping. First, the offshore-onshore structure of the aquifer is described, and then a groundwater model is constructed based on the inferred structure. The resulting model shows that under realistic conditions, a water well situated 5 km inland from the shoreline is expected to undergo salinization after ~190 years since level drop. The SWI advances inland faster when the confinement is efficient, suggesting that semi-confined aquifers should be preferred for pumping compared with confined ones. Additionally, the model shows that under certain conditions, deep submarine groundwater discharge (SGD) occurs through the aquifer outcrop, ~15 km offshore and at depths of ~200 m. The SGD comprises brackish and warm water. The insights from this work are important both for studies on freshwater budgets in coastal areas and for the study of SGD and its implications for the ocean.
Résumé
De nombreuses régions du monde souffrent d'importants stress hydriques à cause d'une gestion impropre des ressources en eau. Dans ces régions, les eaux souterraines constituent généralement la plus importante source d'approvisionnement pour l'alimentation en eau potable, et leur surexploitation peut conduire à une détérioration de la qualité de l'eau. Pour les aquifères côtiers captifs, les dynamiques de l'intrusion d'eau salée (IES) et la salinisation des puits sont la cible de nombreuses études récentes qui généralement n'intègrent pas d'étude géologique de la structure de l'aquifère. L'objectif de ce présent travail est d'étudier l'effet de l'exploitation des eaux souterraines sur IES, en utilisant l'aquifère du groupe de Judée comme cas d'étude représentatif d'un aquifère côtier captif qui subit une diminution des niveaux des eaux souterraines, due à des pompages excessifs. Tout d'abord, la structure du continuum terre-mer de l'aquifère est décrite, et ensuite un modèle hydrogéologique est établi à partir de cette structure. Le modèle résultant montre que pour des conditions réalistes, un puits situé à 5km du rivage à l'intérieur des terres devrait subir une salinisation après ~190 ans depuis la diminution du niveau d'eau. L'IES progresse plus rapidement vers l'intérieur des terres lorsque le caractère captif de l'aquifère est efficace, suggérant que les aquifères semi-captifs devraient être préférés pour les pompages en comparaison avec les aquifères captifs. De plus, le modèle montre que pour certaines conditions, les sorties sous-marines d'eaux souterraines (SSES) en profondeur se produisent au niveau de l'affleurement de l'aquifère, ~15 km au large et à des profondeurs de ~200 m. Les SSES sont caractérisées par des eaux saumâtres et chaudes. Les enseignements tirés de ce travail sont importants à la fois pour les études sur les bilans hydriques d'eau douce dans les zones côtières et pour l'étude des SSES et leurs implications pour l'océan.
Resumen
Muchas zonas costeras de todo el mundo sufren graves tensiones hídricas debido a una gestión inadecuada de los recursos hídricos. En estas zonas, el agua subterránea suele ser la fuente más importante de agua potable, y su sobreexplotación puede dar lugar a un deterioro de la calidad del agua. En los acuíferos confinados costeros, la dinámica de la intrusión de agua salada (SWI) y la salinización de pozos son el foco de muchos estudios recientes que comúnmente no incluyen un estudio geológico de la estructura del acuífero en el subsuelo. El objetivo del presente trabajo es estudiar el efecto de la extracción de agua subterránea sobre la SWI, utilizando el Judea Group Aquifer como un estudio de caso que representa un acuífero confinado costero que sufre una depresión debido a un bombeo excesivo. Primero, se describe la estructura del acuífero dentro y fuera de la costa, y luego se construye un modelo de agua subterránea basado en la estructura inferida. El modelo resultante muestra que, bajo condiciones realistas, se espera que un pozo de agua situado a 5 km tierra adentro de la costa sufra salinización después de ~190 años desde la caída del nivel. El SWI avanza más rápido hacia el interior cuando el confinamiento es eficiente, lo que sugiere que los acuíferos semiconfinados deben ser preferidos para el bombeo en comparación con los confinados. Además, el modelo muestra que, bajo ciertas condiciones, la descarga submarina profunda de aguas subterráneas (SGD) ocurre a través del afloramiento del acuífero, ~15 km mar adentro y a profundidades de ~200 m. La SGD comprende agua salobre y caliente. Los resultados de este trabajo son importantes tanto para los estudios sobre los balances de agua dulce en las zonas costeras como para el estudio de la SGD y sus implicancias en el océano.
摘要
由于水资源管理不当, 世界上许多沿海地区水资源压力大。在这些地区, 地下水通常是最重要的饮用水水源, 其过度开采会导致水质恶化。在沿海承压含水层中, 盐水入侵 (SWI)和井的盐化的动态是近年来研究的热点, 这些研究通常不包括含水层地下结构的地质研究。本研究的目的是研究地下水开采对SWI的影响:以Judea Group Aquifer为例阐述由于过度开采产生水位降深的沿海承压含水层。论文首先描述了含水层的海陆结构, 然后根据推断的结构构建了地下水模型。模型研究表明在理想条件时, 距离海岸线5公里的水井预计在水位下降后约190年后将产生盐化。当承压性很好时, SWI更快地向内陆推进, 表明与承压含水层相比, 半承压含水层应该优先被抽取。此外, 模型还表明在某些条件下, 深部海底地下水排放量(SGD)在距离海岸约15 km、深度约200 m的含水层露头产生。 SGD包括微咸水和温水。本研究形成的认识对于沿海地区的淡水水量平衡研究和SGD 研究及其对海洋的影响都很重要。
Resumo
Muitas áreas costeiras ao redor do mundo sofrem severos estresses de abastecimento devido à gestão imprópria dos seus recursos hídricos. Nessas áreas, a água subterrânea é tipicamente a fonte mais importante de água potável para consumo, e sua superexplotação pode levar à deterioração da qualidade da água. Em aquíferos confinados costeiros, a dinâmica da intrusão de água salina (IAS) e a salinização de poços são o foco de muitos estudos recentes, que comumente não incluem um estudo geológico estrutural do aquífero. O objetivo do presente trabalho é estudar o efeito da extração de água subterrânea no processo de IAS a partir do estudo de caso do Aquífero do Grupo Judéia, um aquífero confinado costeiro, que sofre rebaixamento devido ao bombeamento excessivo. Primeiro, descreve-se a estrutura do aquífero costeiro (porção terrestre e oceânica), em seguida, constrói-se um modelo hidrogeológico baseado na estrutura inferida. O modelo resultante mostra que, sob condições realistas, um poço de água situado a 5 km da costa deverá sofrer salinização após ~190 anos desde a queda de seu nível d'água. A IAS avança no interior mais rapidamente quando o confinamento do aquífero é eficiente, sugerindo que os aquíferos semiconfinados devem ser preferidos para o bombeamento em comparação com os confinados. Além disso, o modelo mostra que sob certas condições, a descarga submarina profunda de água subterrânea ocorre através do afloramento do aquífero, a ~15 km da costa e ~200 m profundidade. Essa descarga é composta por água salobra e morna. Os resultados deste trabalho são importantes tanto para estudos econômicos de abastecimento de água potável em áreas costeiras, quanto para o estudo da descarga submarina profunda de águas subterrâneas e suas implicações para o oceano.
This is a preview of subscription content, log in to check access.
Access options
Buy single article
Instant access to the full article PDF.
US$ 39.95
Price includes VAT for USA
Subscribe to journal
Immediate online access to all issues from 2019. Subscription will auto renew annually.
US$ 99
This is the net price. Taxes to be calculated in checkout.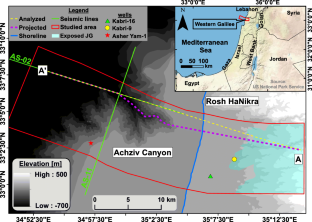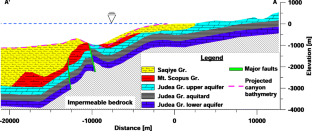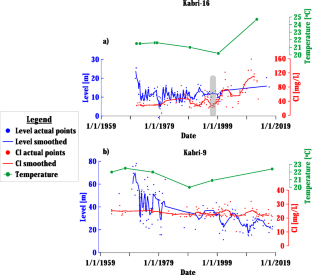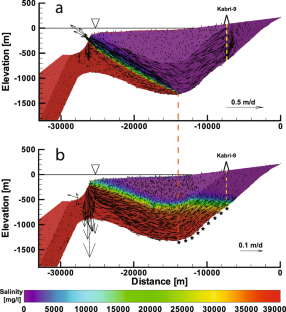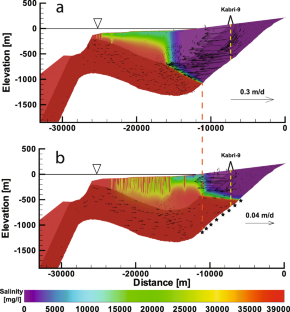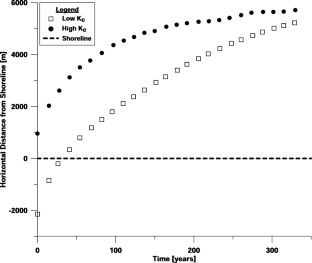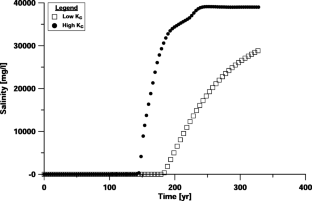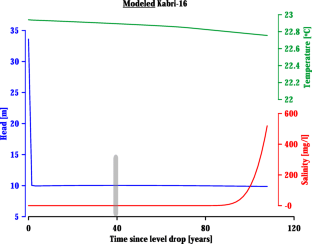 References
Abarca E, Carrera J, Sánchez-Vila X, Dentz M (2007) Anisotropic dispersive Henry problem. Adv Water Resour 30(4):913–926. https://doi.org/10.1016/j.advwatres.2006.08.005

Abu Jabal MS, Abustan I, Rozaimy MR, Al-Najar H (2014) Fluoride enrichment in groundwater of semi-arid urban area: Khan Younis City, southern Gaza strip (Palestine). J Afr Earth Sci 100:259–266. https://doi.org/10.1016/J.JAFREARSCI.2014.07.002

Amir N, Kafri U, Herut B, Shalev E (2013) Numerical simulation of submarine groundwater flow in the coastal aquifer at the Palmahim area, the Mediterranean coast of Israel. Water Resour Manag 27(11):4005–4020. https://doi.org/10.1007/s11269-013-0392-2

Bakalowicz M, El Hakim M, El-Hajj A (2008) Karst groundwater resources in the countries of eastern Mediterranean: the example of Lebanon. Environ Geol 54(3):597–604. https://doi.org/10.1007/s00254-007-0854-z

Bakker M (2006) Analytic solutions for interface flow in combined confined and semi-confined, coastal aquifers. Adv Water Resour 29(3):417–425. https://doi.org/10.1016/j.advwatres.2005.05.009

Böhlke JK, Denver JM (1995) Combined use of groundwater dating, chemical, and isotopic analyses to resolve the history and fate of nitrate contamination in two agricultural watersheds, Atlantic coastal plain, Maryland. Water Resour Res 31(9):2319–2339. https://doi.org/10.1029/95WR01584

Bratton JF (2010) The three scales of submarine groundwater flow and discharge across passive continental margins. J Geol 118(5):565–575. https://doi.org/10.1086/655114

Bronshtein N, Sagy Y (2018) Seismic interpretation Achziv Canyon. Geophysical Institute of Israel, Lod, Israel

Burnett WC, Taniguchi M, Oberdorfer J (2001) Measurement and significance of the direct discharge of groundwater into the coastal zone. J Sea Res 46(2):109–116. https://doi.org/10.1016/S1385-1101(01)00075-2

Cooper HH (1959) A hypothesis concerning the dynamic balance of fresh water and salt water in a coastal aquifer. J Geophys Res 64(4):461. https://doi.org/10.1029/JZ064i004p00461

Dafny E, Burg A, Gvirtzman H (2010) Effects of karst and geological structure on groundwater flow: the case of Yarqon-Taninim aquifer, Israel. J Hydrol. https://doi.org/10.1016/j.jhydrol.2010.05.038

de Montety V, Radakovitch O, Vallet-Coulomb C, Blavoux B, Hermitte D, Valles V (2008) Origin of groundwater salinity and hydrogeochemical processes in a confined coastal aquifer: case of the Rhône delta (southern France). Appl Geochem 23(8):2337–2349. https://doi.org/10.1016/j.apgeochem.2008.03.011

Diersch H-JG (2014) FEFLOW: finite element modeling of flow, mass and heat transport in porous and fractured media. https://doi.org/10.1007/978-3-642-38739-5

Elias A (2006) Le chevauchement de Tripoli-Saida: croissance du Mont Liban et risque sismique [The Tripoli-Saida thrust: Mount Lebanon growth and seismic risk]. PhD Thesis, Institute de Physique du Globe, Paris

Freeze RA, Cherry JA (1979) Groundwater. Prentice-Hall, NJ

Gelhar LW, Welty C, Rehfeldt KR (1992) A critical review of data on field-scale dispersin in aquifers. Water Resour Res 28(7):1955–1974. https://doi.org/10.1029/92WR00607

Ghannam J, Ayoub GM, Acra A (1998) A profile of the submarine springs in Lebanon as a potential water resource. Water Int 23(4):278–286. https://doi.org/10.1080/02508069808686783

Giambastiani BMS, Antonellini M, Oude Essink GHP, Stuurman RJ (2007) Saltwater intrusion in the unconfined coastal aquifer of Ravenna (Italy): a numerical model. J Hydrol 340(1–2):91–104. https://doi.org/10.1016/j.jhydrol.2007.04.001

Gingerich SB, Voss CI (2005) Three-dimensional variable-density flow simulation of a coastal aquifer in southern Oahu, Hawaii, USA. Hydrogeol J 13(2):436–450. https://doi.org/10.1007/s10040-004-0371-z

Glover RE (1959) The pattern of fresh-water flow in a coastal aquifer. J Geophys Res. https://doi.org/10.1029/JZ064i004p00457

Johannes R (1980) The ecological significance of the submarine discharge of groundwater. Mar Ecol Prog Ser 3:365–373. https://doi.org/10.3354/meps003365

Kafri U, Kessler A (2001) Hydrogeological plan for the development, production and exploitation of the Kabri Basin. Geological Survey of Israel, Jerusalem, Israel

Kafri U, Fleischer L (2003) Structural mapping as a tool for hydrogeological modeling, judea group aquifers, Western Galilee, Israel. Geol Surv Isr Cur Res 13:52–58

Khadra WM, Stuyfzand PJ (2018) Simulation of saltwater intrusion in a poorly karstified coastal aquifer in Lebanon (eastern Mediterranean). Hydrogeol J. https://doi.org/10.1007/s10040-018-1752-z

Knight AC, Werner AD, Morgan LK (2018) The onshore influence of offshore fresh groundwater. J Hydrol 561:724–736. https://doi.org/10.1016/j.jhydrol.2018.03.028

Kooi H, Groen J (2001) Offshore continuation of coastal groundwater systems: predictions using sharp-interface approximations and variable-density flow modelling. J Hydrol 246(1):19–35. https://doi.org/10.1016/S0022-1694(01)00354-7

Koussis AD, Mazi K (2018) Corrected interface flow model for seawater intrusion in confined aquifers: relations to the dimensionless parameters of variable-density flow. Hydrogeol J . https://doi.org/10.1007/s10040-018-1817-z

Levanon E, Shalev E, Yechieli Y, Gvirtzman H (2016) Fluctuations of fresh-saline water interface and of water table induced by sea tides in unconfined aquifers. Adv Water Resour 96:34–42. https://doi.org/10.1016/J.ADVWATRES.2016.06.013

Levanon E, Yechieli Y, Gvirtzman H, Shalev E (2017) Tide-induced fluctuations of salinity and groundwater level in unconfined aquifers: field measurements and numerical model. J Hydrol 551:665–675. https://doi.org/10.1016/j.jhydrol.2016.12.045

Li L, Barry DA, Stagnitti F, Parlange JY (1999) Submarine groundwater discharge and associated chemical input to a coastal sea. Water Resour Res 35(11):3253–3259. https://doi.org/10.1029/1999WR900189

Lin I-TT, Wang C-HH, You C-FF, Lin S, Huang K-FF, Chen Y-GG (2010) Deep submarine groundwater discharge indicated by tracers of oxygen, strontium isotopes and barium content in the Pingtung coastal zone, southern Taiwan. Mar Chem 122(1–4):51–58. https://doi.org/10.1016/j.marchem.2010.08.007

Loáiciga HA, Pingel TJ, Garcia ES (2012) Sea water intrusion by sea-level rise: scenarios for the 21st century. Ground Water 50(1):37–47. https://doi.org/10.1111/j.1745-6584.2011.00800.x

Michael HA, Scott KC, Koneshloo M, Yu X, Khan MR, Li K (2016) Geologic influence on groundwater salinity drives large seawater circulation through the continental shelf. Geophys Res Lett 43(20):10782–10791. https://doi.org/10.1002/2016GL070863

Moore WS (1999) The subterranean estuary: a reaction zone of ground water and sea water. Mar Chem 65(1–2):111–125. https://doi.org/10.1016/S0304-4203(99)00014-6

Moore WS (2010) The effect of submarine groundwater discharge on the ocean. Annu Rev Mar Sci 2:59–88. https://doi.org/10.1146/annurev-marine-120308-081019

Moosdorf N, Oehler T (2017) Societal use of fresh submarine groundwater discharge: an overlooked water resource. Earth Sci Rev 171(April):338–348. https://doi.org/10.1016/j.earscirev.2017.06.006

Orange DL, Anderson RS, Breen NA (1994) Regular canyon spacing in the submarine environment: the link between hydrology and geomorphology. Geol Soc Am Bull 4(2):35–39

Park S-C, Yun S-T, Chae G-T, Yoo I-S, Shin K-S, Heo C-H, Lee S-K (2005) Regional hydrochemical study on salinization of coastal aquifers, western coastal area of South Korea. J Hydrol 313(3–4):182–194. https://doi.org/10.1016/J.JHYDROL.2005.03.001

Pool M, Carrera J (2011) A correction factor to account for mixing in Ghyben-Herzberg and critical pumping rate approximations of seawater intrusion in coastal aquifers. Water Resour Res 47(5):1–9. https://doi.org/10.1029/2010WR010256

Post VEA, Groen J, Kooi H, Person M, Ge S, Edmunds WM (2013) Offshore fresh groundwater reserves as a global phenomenon. Nature 504(7478):71–78. https://doi.org/10.1038/nature12858

Qahman K, Larabi A (2006) Evaluation and numerical modeling of seawater intrusion in the Gaza aquifer (Palestine). Hydrogeol J 14(5):713–728. https://doi.org/10.1007/s10040-005-003-2

Schattner U, Ben-Avraham Z, Lazar M, Hüebscher C (2006) Tectonic isolation of the Levant basin offshore Galilee-Lebanon: effects of the Dead Sea fault plate boundary on the Levant continental margin, eastern Mediterranean. J Struct Geol 28(11):2049–2066. https://doi.org/10.1016/j.jsg.2006.06.003

Shomar B, Abu-Fakher S, Yahya A (2010) Assessment of groundwater quality in the Gaza strip, Palestine using GIS mapping. J Water Resour Prot. https://doi.org/10.4236/jwarp.2010.22011

Steinberg J (2012) The rapid sedimentary filling of the Levant Basin alongside the Arabian-African breakup and the relationship to the deformation of its margins. Geological Survey of Israel, Jerusalem. http://www.gsi.gov.il/_uploads/ftp/GsiReport/2012/Steinberg-Josh-GSI-39-2012.pdf. Accessed February 2019

Stuyfzand P (1995) The impact of land reclamation on groundwater quality and future drinking water supply in the Netherlands. Water Sci Technol. https://doi.org/10.1016/0273-1223(95)00356-R

Taniguchi M, Burnett WC, Cable JE, Turner JV (2002) Investigation of submarine groundwater discharge. Hydrol Process 16(11):2115–2129. https://doi.org/10.1002/hyp.1145

Trabelsi R, Zairi M, Dhia HB (2007) Groundwater salinization of the Sfax superficial aquifer, Tunisia. Hydrogeol J. https://doi.org/10.1007/s10040-007-0182-0

Voss CI (2011) Editor's Message: Groundwater modeling fantasies—part 2, down to earth. Hydrogeol J 19(8):1455–1458. https://doi.org/10.1007/s10040-011-0790-6

Wang Y, Jiao JJ (2012) Origin of groundwater salinity and hydrogeochemical processes in the confined Quaternary aquifer of the Pearl River Delta, China. J Hydrol 438–439:112–124. https://doi.org/10.1016/J.JHYDROL.2012.03.008

Werner AD, Robinson NI (2018) Revisiting analytical solutions for steady interface flow in subsea aquifers: aquitard salinity effects. Adv Water Resour. https://doi.org/10.1016/j.advwatres.2018.01.002

Werner AD, Bakker M, Post VEA, Vandenbohede A, Lu C, Ataie-Ashtiani B et al (2013) Seawater intrusion processes, investigation and management: recent advances and future challenges. Adv Water Resour 51:3–26. https://doi.org/10.1016/J.ADVWATRES.2012.03.004

Wilson AM (2005) Fresh and saline groundwater discharge to the ocean: a regional perspective. Water Resour Res 41(2):1–11. https://doi.org/10.1029/2004WR003399

Yakirevich A, Melloul A, Sorek S, Shaath S, Borisov V (1998) Simulation of seawater intrusion into the Khan Yunis area of the Gaza strip coastal aquifer. Hydrogeol J. https://doi.org/10.1007/s100400050175

Yamanaka M, Kumagai Y (2006) Sulfur isotope constraint on the provenance of salinity in a confined aquifer system of the southwestern Nobi plain, central Japan. J Hydrol 325(1–4):35–55. https://doi.org/10.1016/J.JHYDROL.2005.09.026

Yechieli Y, Kafri U, Sivan O (2009) The inter-relationship between coastal sub-aquifers and the Mediterranean Sea, deduced from radioactive isotopes analysis. Hydrogeol J 17(2):265–274. https://doi.org/10.1007/s10040-008-0329-7

Yuan-Hui L, Gregory S (1974) Diffusion of ions in sea water and in deep-sea sediments. Geochim Cosmochim Acta. https://doi.org/10.1016/0016-7037(74)90145-8
Acknowledgements
The work was supported by the Israel Science Foundation (grant 954/15 to O.K.). The Authors thank the DHI group (https://www.mikepoweredbydhi.com/) for the use of the FEFLOW software under academic license. The authors also wish to thank the Mediterranean Sea Research Center of Israel for their support of this research.
About this article
Cite this article
Paldor, A., Shalev, E., Katz, O. et al. Dynamics of saltwater intrusion and submarine groundwater discharge in confined coastal aquifers: a case study in northern Israel. Hydrogeol J 27, 1611–1625 (2019). https://doi.org/10.1007/s10040-019-01958-5
Received:

Accepted:

Published:

Issue Date:
Keywords
Saltwater intrusion

Submarine groundwater discharge

Coastal aquifers

Confining units

Israel