Abstract
Groundwater plays a fundamental yet often little appreciated role in supporting economic development and human well-being in both urban and rural environments, as well as supporting many aquatic ecosystems in Africa. Thus, groundwater has high relevance to the development and well-being of Africa, if adequately assessed and sustainably exploited. Whilst the potential for groundwater-resources development continues to be reported in the literature, a quantitative understanding of these issues remains poor. The objective of this paper is to highlight the main groundwater issues and problems in Africa and the current and expected opportunities for sustainable groundwater management. This will be done through the review of existing knowledge of groundwater resources and of ongoing and planned groundwater management programs and initiatives. Groundwater resources in Africa face increasing threat of pollution from urbanisation, industrial development, agricultural and mining activities, and from poor sanitation practices and over-exploitation due to increasing demand to meet human and agricultural needs. However, despite the existence of a number of groundwater management challenges, groundwater resources in Africa are still generally under-developed and can meet the various needs in a sustainable manner if better managed. Thus, strategies to ensure sustainable development and management of groundwater resources need to be put in place. These include establishment of groundwater monitoring systems, understanding of the groundwater–aquatic ecosystem relationships, management of transboundary aquifers, addressing climate-change impacts on groundwater, assessing the impact of increased pumping from various types of aquifers on sustainability of groundwater abstraction, and capacity building in groundwater management.
Résumé
Les eaux souterraines jouent un rôle fondamental et pourtant souvent sous-estimé dans l'aide au développement économique et au bien-être de l'homme dans les environnements urbains et ruraux, ainsi que dans le soutien de beaucoup d'écosystèmes aquatiques en Afrique. Ainsi, les eaux souterraines sont très pertinentes pour le développement et le bien-être en Afrique, à condition qu'elles soient correctement évaluées et exploitées de manière durable. Tandis que le potentiel de développement des ressources en eau continue à être rapporté dans la littérature, la compréhension quantitative de ces sujets demeure faible. L'objectif de cet article est d'éclairer les enjeux et problématiques principales des eaux souterraines en Afrique et les opportunités actuelles ou prévues pour la gestion durable des eaux souterraines. Ceci sera fait par l'examen de la connaissance actuelle des ressources en eaux souterraines et des programmes et initiatives en cours ou à venir sur leur gestion. Les ressources en eaux souterraines en Afrique font face à la menace croissante de la pollution par l'urbanisation, le développement industriel, les activités agricoles et minières, et les pratiques médiocres en matière d'hygiène ainsi que la surexploitation liée à une demande croissante pour satisfaire les besoins humains et agricoles. Cependant, en dépit de l'existence d'un certain nombre de défis de gestion des eaux souterraines, les ressources en eaux souterraines en Afrique sont toujours généralement sous exploitées alors qu'elles pourraient satisfaire d'une manière durable les divers besoins si elles étaient mieux gérées. Ainsi, des stratégies pour assurer un développement et une gestion durable des ressources en eaux souterraines doivent être mises en place. Elles comprennent l'établissement de systèmes de suivi des eaux souterraines, la compréhension des relations entre les écosystèmes aquatiques et les eaux souterraines, la gestion des aquifères transfrontaliers, tout en traitant des impacts du changement climatique sur les eaux souterraines, en évaluant l'impact de l'augmentation des pompages à partir de divers types d'aquifère sur la durabilité de l'exploitation des eaux souterraines, et en renforçant la capacité de leur gestion.
Resumen
El agua subterránea desempeña un papel fundamental, aunque a menudo poco apreciado, en el apoyo al desarrollo económico y el bienestar humano en ámbitos tanto urbanos como rurales, así como en el apoyo de muchos ecosistemas acuáticos en África. Por lo tanto, el agua subterránea tiene una alta relevancia para el desarrollo y el bienestar de África, si se evalúa adecuadamente y se explota de forma sostenible. Si bien el potencial para el desarrollo de los recursos de aguas subterráneas continúa informándose en la literatura, la comprensión cuantitativa de estos problemas sigue siendo deficiente. El objetivo de este documento es destacar los principales problemas del agua subterránea en África y las oportunidades actuales y esperadas para su gestión sostenible. Esto se hará a través de la revisión del conocimiento existente sobre los recursos hídricos subterráneos y de los programas e iniciativas de gestión y planificación en curso. Los recursos subterráneos en África enfrentan una creciente amenaza de contaminación por urbanización, desarrollo industrial, actividades agrícolas y mineras, y por prácticas de saneamiento deficientes y sobreexplotación debido a la creciente demanda para satisfacer las necesidades humanas y agrícolas. Sin embargo, a pesar de la existencia de una serie de desafíos en su gestión, los recursos subterráneos en África en general todavía están poco desarrollados y pueden satisfacer las diversas necesidades de manera sostenible si se administran mejor. Por lo tanto, las estrategias para garantizar el desarrollo sostenible y la gestión de estos recursos deben ponerse en marcha. Estos incluyen el establecimiento de sistemas de monitoreo, la comprensión de las relaciones entre el agua subterránea y el ecosistema acuático, la gestión de acuíferos transfronterizos, el tratamiento de los impactos del cambio climático, la evaluación del impacto del aumento del bombeo de diversos tipos de acuíferos en la sostenibilidad de la extracción del agua y el desarrollo de capacidades en la gestión del agua subterránea.
摘要
在支撑非洲城市和农村经济发展和人类福祉中、以及支撑许多水生生态系统中,地下水发挥着根本的、然而却是常常令人很少赞赏的作用。因此,如果地下水得到准确评价及得到可持续的开发,地下水对于非洲的发展和福祉具有很高的相关性。地下水资源开发潜力不断在文献中被论述,但同时对这些问题的定量了解依然很少。本论文的目的就是强调非洲地下水的主要问题以及地下水可持续管理中目前及预期的机遇。这将通过综述现有的地下水资源知识以及进行中的和计划进行的地下水管理项目和方案来完成。非洲的地下水资源面临着城市化、工业发展、农业和采矿活动中的污染以及很差的卫生设施中的污染日益增长的威胁、还有就是面临着由于为了满足人类和农业需求而过量开采地下水日益增长的威胁。然而,尽管存在着众多的地下水管理上的挑战,但总的来讲,非洲地下水资源仍然欠开发,如果能够得到很好地管理,地下水资源能够以可持续的方式满足各种需求。因此,确保地下水资源可持续开发和管理的策略需要落实到位。这些策略包括建立地下水资源监测系统、了解地下水-水生生态系统相互关系,管理跨边界含水层、处理好气候变化对地下水的影响、评价从各种类型含水层增加抽水对地下水抽取可持续性的影响以及地下水管理的能力建设。
Resumo
As águas subterrâneas desempenham um papel fundamental, ainda que muitas vezes pouco apreciado, no apoio ao desenvolvimento económico e ao bem-estar humano, tanto nos ambientes urbanos como rurais, bem como no apoio a muitos ecossistemas aquáticos na África. Assim, as águas subterrâneas têm alta relevância para o desenvolvimento e bem-estar da África, se adequadamente avaliada e explorada de forma sustentável. Embora o potencial para o desenvolvimento de recursos hídricos subterrâneos continue a ser relatado na literatura, um entendimento quantitativo dessas questões permanece pobre. O objetivo deste artigo é destacar os principais problemas e problemas das águas subterrâneas na África e as oportunidades atuais e esperadas para o gerenciamento sustentável das águas subterrâneas. Isto será feito através da revisão do conhecimento existente dos recursos hídricos subterrâneos e dos programas e iniciativas de gestão das águas subterrâneas em andamento e planejadas. Os recursos hídricos subterrâneos na África enfrentam uma ameaça crescente de poluição causada pela urbanização, desenvolvimento industrial, atividades agrícolas e de mineração, e de más práticas de saneamento e exploração excessiva devido à crescente demanda para atender às necessidades humanas e agrícolas. No entanto, apesar da existência de vários desafios de gestão das águas subterrâneas, os recursos de águas subterrâneas na África ainda estão geralmente subdesenvolvidos e podem satisfazer as várias necessidades de uma forma sustentável se forem melhor geridos. Assim, estratégias para assegurar o desenvolvimento sustentável e a gestão dos recursos hídricos subterrâneos precisam ser implementadas. Estes incluem o estabelecimento de sistemas de monitoramento das águas subterrâneas, a compreensão das relações entre as águas subterrâneas e ecossistemas aquáticos, gestão de aquíferos transfronteiriços, discussão dos impactos da mudança climática sobre as águas subterrâneas, avaliação do impacto do aumento de bombeamento de vários tipos de aquíferos na sustentabilidade da captação de águas subterrâneas, e capacitação em gestão de águas subterrâneas.
This is a preview of subscription content, log in to check access.
Access options
Buy single article
Instant access to the full article PDF.
US$ 39.95
Price includes VAT for USA
Subscribe to journal
Immediate online access to all issues from 2019. Subscription will auto renew annually.
US$ 99
This is the net price. Taxes to be calculated in checkout.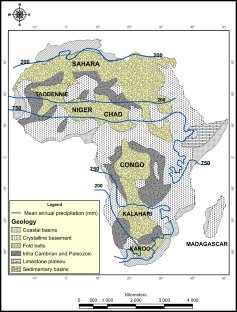 References
Adelana SMA, MacDonald AM (2008) Groundwater research issues in Africa. In: Adelana SMA, MacDonald AM (eds) Applied groundwater studies in Africa. IAH Selected Papers on Hydrogeology, vol 13, Balkema, Leiden, The Netherlands

AMCOW (2012) Status report on the application of integrated approaches to water resources management in Africa. African Ministers' Council on Water, Abuja, Nigeria

BGR, UNESCO (2006) Transboundary aquifer in Africa. BGR, Hannover/UNESCO, Paris

BGS (2017) Africa groundwater atlas. https://www.bgs.ac.uk/research/groundwater/international/africaGwAtlas.html. Accessed 30 Aug 2018

CEDARE (2001) Regional strategy for the utilization of the Nubian Sandstone Aquifer System, vol LL: hydrogeology. CEDARE, Cairo

Braune E, Xu Y (2008) Groundwater management issues in Southern Africa. An IWRM perspective, (IWRM Special Edition) Water SA 34(6)

CGIAR (2014) Transboundary aquifer mapping and management in Africa. International Water Management Institute (IWMI). http://hdl.handle.net/10568/41733. Accessed 30 Aug 2018

Environment Agency (2011) Groundwater protection: policy and practice (GP3), part 2—technical framework. Environment Agency, Bristol, UK

FAO (2003) Review of world water resources by country. FAO, Rome. ftp://ftp.fao.org/agl/aglw/docs/wr23e.pdf

Gleick PH (1996) Water resources. In: Schneider SH (ed) Encyclopedia of climate and weather, vol 2. Oxford University Press, New York, pp 817–823

Guendouz A, Michelot JL (2006) Chlorine-36 dating of deep groundwater from northern Sahara. J Hydrol 328(3–4):572–580. https://doi.org/10.1016/j.jhydrol.2006.01.002

Guendouz A, Moulla AS, Edmunds WM, Zouari K, Shand P, Mamou A (2003) Hydrogeochemical and isotopic evolution of water in the Complexe Terminal Aquifer in the Algerian Sahara. Hydrogeol J 11:483–495. https://doi.org/10.1007/s10040-003-0263-7

Guiraud R (1988) L'hydrogéologie de l'Afrique. J Afr Earth Sci 7(3):519–543

GW·MATE (2011) Appropriate groundwater management policy for Sub-Saharan Africa in face of demographic pressure and climatic variability. World Bank Strategic Overview Series no. 5. World Bank, Washington, DC. https://www.researchgate.net/publication/284454169. Accessed November 2018

Howard G, Pedley S, Barrett MH, Nalubega M, Johal K (2003) Risk factors contributing to microbiological contamination of shallow groundwater in Kampala, Uganda. Water Res 37:3421–3429

IGRAC (2013) Groundwater monitoring in the SADC Region: overview on the current state of national monitoring networks and their future challenges. IGRAC, Delft, The Netherlands, 19 pp

MacDonald AM, Davies J (2000) A brief review of groundwater for rural water supply in Sub-Saharan Africa. BGS Technical report WC/00/33. BGS, Keyworth, UK, 20 pp. https://www.bgs.ac.uk/downloads/directDownload. Accessed November 2018

MacDonald AM, Calow RC, Nicol A, Hope B, Robins NS (2001) Ethiopia: water security and drought. BGS technical report WC/01/02, BGS, Keyworth, UK

MacDonald AM, Bonsor HC, Calow RC, Taylor RG, Lapworth DJ, Maurice L, Tucker J, Dochartaigh BE (2011) Groundwater resilience to climate change in Africa. BGS open report, OR/11/031, BGS, Keyworth, UK, 25 pp

MacDonald AM, Bonsor HC, Dochartaigh B, Taylor RG (2012) Quantitative maps of groundwater resources in Africa. Environ Res Lett 7:024009, 7 pp. https://doi.org/10.1088/1748-9326/7/2/024009

Nijsten G-J, Christelis G, Villholth KG, Braune E, Gaye CB (2018) Transboundary aquifers of Africa: review of the current state of knowledge and progress towards sustainable development and management. J Hydrol. https://doi.org/10.1016/j.ejrh.2018.03.004

ORASECOM (2000) Agreement between the governments of the Republic of Botswana, the Kingdom of Lesotho, the Republic of Namibia, and the Republic of South Africa on the Establishment of the Orange-Senqu River Commission. ORASECOM, Gauteng, South Africa

ORASECOM (2017) ORASECOM resolution on nesting the Stampriet Transboundary Aquifer System (STAS) Multi-Country Cooperation Mechanism (MCCM) in ORASECOM. ORASECOM, Gauteng, South Africa

Pavelic P, Giordano M, Keraita B, Ramesh V, Rao T (eds) (2012) Groundwater availability and use in Sub-Saharan Africa: A review of 15 countries. Colombo, Sri Lanka: InternationalWater Management Institute (IWMI). p 274. https://doi.org/10.5337/2012.213

Quadri E (2017) The Mubian Sandstone Aquifer System: a case of cooperation in the making. World Water Congress XVI, International Water Resources Association (IWRA), Cancun, Mexico

SADC (1995) Protocol on shared watercourses in the Southern African Development Community (SADC), signed at Johannesburg, 28 August 1995. SADC, Gaborone, Botswana

SADC (2000) Revised protocol on shared watercourses in the southern African development community. SADC, Gaborone, Botswana

Sturchio NC, Du X, Purtschert R, Lehmann BE, Sultan M, Patterson LJ, Lu ZT, Mueller P, Bigler T, Bailey K, O'Connor TP, Young L, Lorenzo R, Becker R, Alfy Z, El Kaliouby B, El Dawood Y, Abdallah AMA (2004) One million year old groundwater in the Sahara revealed by krypton-81 and chlorine-36. Geophys Res Lett 31:L05503. https://doi.org/10.1029/2003GL019234

Taylor RG, Howard KWF (1996) Groundwater recharge in the Victoria Nile basin of east Africa: support for the soil moisture balance approach using stable isotope tracers and flow modelling. J Hydrology 180:31–53

Taylor RG, Howard KWF (1999) The influence of tectonic setting on the hydrological characteristics of deeply weathered terrains: evidence from Uganda. J Hydrology 218:44–71

Taylor RG, Tindimugaya C (2009) Groundwater and climate change: Proceedings of the Kampala Conference, June 2008, IAHS Publ. 334. IAHS, Wallingford, UK

Taylor RG, Tindimugaya C (2011) The impacts of climate change and rapid development on weathered crystalline rock aquifer systems in the humid tropics: evidence from southwestern Uganda. In: Treidel H, Luis-Bordes J, Gurdak J (eds) International contributions to hydrogeology, vol 27. Climate change effects on groundwater resources: a global-scale synthesis of findings and recommendations. CRC, Boca Raton, FL, pp 17–32

Taylor RG, Barrett MH, Tindimugaya C (2004) Urban areas of Sub-Saharan Africa; weathered crystalline aquifer systems. Int Contrib Hydrogeol 24:155–179

Tindimugaya C (2000) Assessment of groundwater development potential for Wobulenzi town, Uganda. MSc, UNESCO- IHE, Delft, The Netherlands, 108 pp

Tindimugaya C (2004) Groundwater and water resources management in Uganda: an African perspective. Paper presented at the Annual Groundwater Seminar for the Irish Association of Hydrogeologists, Dublin, Ireland, April, 2004

Tindimugaya C (2008) Groundwater flow and storage in weathered crystalline rock aquifer systems of Uganda: evidence from environmental tracers and aquifer responses to hydraulic stress. PhD Thesis, University of London, UK

Trenberth KE, Smith L, Qian T, Dai A, Fasullo J (2007) Estimates of the global water budget and its annual cycle using observational and model data. J Hydrometorol 8:758–769

Tujchneider O, van der Gun J (eds) (2012) Analysis report of the Groundwater Working Group − IW Science. The United Nations University (2012), 14th Session of the Intergovernmental Council, Paris, 2000

UNESCO (1991) Africa geological map scale (1:5,000,000). UNESCO, Paris, 6 sheets

UNESCO (2001) Proceedings of the International Conference on Regional aquifer systems in arid zones - Managing non-renewable resources, Tripoli, Libya, 20–24 November 1999. Paris, UNESCO. Technical Documents in Hydrology No. 42

UNESCO-IHP and IGRAC (2016) Stampriet Transboundary Aquifer System assessment. Governance of groundwater resources in transboundary aquifers (GGRETA) − phase 1. UNESCO, Paris

United Nations (2007) World population prospects: the 2006 revision. United Nations Population Division, New York

Wright EP (1992) The hydrogeology of crystalline basement aquifers in Africa. Geol Soc Lond Spec Publ 66:1–27. https://doi.org/10.1144/GSL.SP.1992.066.01.01
Acknowledgements
Revision of an earlier version of the manuscript by G. de Marsily is gratefully acknowledged.
About this article
Cite this article
Gaye, C.B., Tindimugaya, C. Review: Challenges and opportunities for sustainable groundwater management in Africa. Hydrogeol J 27, 1099–1110 (2019). https://doi.org/10.1007/s10040-018-1892-1
Received:

Accepted:

Published:

Issue Date:
Keywords
Groundwater management

Sustainability

Sub-Saharan Africa

Review