Abstract
The links between climate variability, depicted by time series of oceanic indices, and changes in total water and groundwater storage are investigated across nine large aquifer basins of the African continent. The Gravity Recovery and Climate Experiment (GRACE) mission's observations represent a remarkable tool that can provide insight into the dynamics of terrestrial hydrology in areas where direct in situ observations are limited. In order to evaluate the impact of interannual and multidecadal climate variability on groundwater resources, this study assesses the relationship between synoptic controls on climate and total water storage estimates from (i) GRACE from 2002 to 2013 and (ii) a two-variable climate-driven model that is able to reconstruct past storage changes from 1982 to 2011. The estimates are then compared to time series of groundwater levels to show the extent to which total water storage covaries with groundwater storage. Results indicate that rainfall patterns associated with the El Niño Southern Oscillation (ENSO) are the main driver of changes in interannual groundwater storage, whereas the Atlantic MultiDecadal Oscillation (AMO) plays a significant role in decadal to multidecadal variability. The combined effect of ENSO and AMO could trigger significant changes in recharge to the aquifers and groundwater storage, in particular in the Sahel. These findings could help decision-makers prepare more effective climate-change adaptation plans at both national and transboundary levels.
Résumé
Les liens entre la variabilité climatique, représentés par des séries chronologiques d'indices océaniques, et les changements de volumes d'eau total et d'eaux souterraines stockés (réserves d'eau) sont étudiées au niveau de neuf grands bassins aquifères du continent africain. Les observations de la mission Gravity Recovery and Climate Experiment (GRACE) constituent un outil remarquable, susceptible d'approfondir les connaissances sur la dynamique de l'hydrologie superficielle dans les secteurs où les observations de terrain sont limitées. Afin d'évaluer l'impact de la variabilité interannuelle et multidécennale du climat sur les ressources en eau souterraine, cette étude évalue la relation entre le climat et les estimations de volume total des réserves en eau, à partir (i) des données graphiques de GRACE de 2002 à 2013 et (II) des données graphiques des résultats d'un modèle à deux variables assujetti sur le climat susceptible de reconstituer les évolutions passées des réserves entre 1982 et 2011. Les estimations sont ensuite comparées aux chroniques des niveaux piézométriques afin de montrer dans quelle mesure les réserves en eau totales varient avec les réserves en eau souterraine. Les résultats indiquent que le comportement des précipitations associé à l'oscillation australe – El Niño (ENSO) contrôle les modifications interannuelles des réserves en eaux souterraines, alors que l'oscillation multidécennale atlantique (AMO) joue un rôle significatif dans la variabilité décennale à multidécennale. Les effets combinés d'ENSO et d'AMO peuvent provoquer des modifications notables de la recharge des aquifères et des réserves en eau souterraine, en particulier dans le Sahel. Ces résultats pourraient aider les décideurs à préparer des plans d'adaptation au changement climatique plus efficaces, tant au niveau national que transfrontalier.
Resumen
Las relaciones entre la variabilidad climática, representada por series de tiempo de índices oceánicos, y los cambios en el almacenamiento total de agua y agua subterránea se investigan en nueve grandes cuencas de acuíferos del continente africano. Las observaciones de la misión Gravity Recovery and Climate Experiment (GRACE) representan una herramienta notable que puede proporcionar información sobre la dinámica de la hidrología terrestre en áreas donde las observaciones directas in situ son limitadas. Con el fin de evaluar el impacto de la variabilidad climática interanual y multidecadal en los recursos de agua subterránea, este estudio evalúa la relación entre los controles sinópticos sobre el clima y las estimaciones de almacenamiento total de agua de (i) GRACE de 2002 a 2013 y (ii) un modelo de dos variables forzado por el clima que es capaz de reconstruir los cambios de almacenamiento pasados desde 1982 hasta 2011. Las estimaciones se comparan con series temporales de niveles de agua subterránea para mostrar el grado en que el almacenamiento total de agua covaría con el almacenamiento de agua subterránea. Los resultados indican que los patrones de lluvia asociados con la Oscilación Austral de El Niño (ENSO) son el principal impulsor de los cambios interanuales de almacenamiento del agua subterránea, mientras que la Oscilación Multidecadal del Atlántico (AMO) desempeña un papel significativo en la variabilidad decadal a multidecadal. El efecto combinado de ENSO y AMO podría desencadenar cambios significativos en la recarga de los acuíferos y el almacenamiento de agua subterránea, en particular en el Sahel. Estos hallazgos podrían ayudar a los responsables de la toma de decisiones a preparar planes de adaptación al cambio climático más efectivos tanto a nivel nacional como transfronterizo.
摘要
调查研究了非洲大陆9个大型含水层盆地由海洋指数时间序列描述的气候变化与整个水储量和地下水储量变化之间的联系。重力恢复和气候试验项目观测结果展示了在直接现场观测受限的地区可以深入了解陆地水文动力学的一种卓越的工具。为了评估年际和数个十年间的气候变化对地下水资源的影响,本研究评价了天气对气候的控制因素和整个出水量估算值之间的相互关系,出水量估算值是2002年到2013年通过重力恢复和气候试验以及1982年到2011年通过能够重建过去储量变化的二变量气候驱使模型得到的。然后估算值与地下水水位的时间序列对比,显示出整个水储量与地下水储量的共变程度。结果表明,与厄尔尼诺南振荡相关的降雨模式是年际地下水储量变化的主要驱动力,而大西洋数十年振荡在十年间到数十年间变化中发挥着重要作用。厄尔尼诺南振荡和大西洋数十年振荡的综合影响可触发含水层补给量和地下水储量发生重大变化,特别是在萨赫勒地带。这些发现有助于决策者在国家和跨界层面上制定更有效的气候变化适应规划。
Resumo
Os elos entre variabilidade climática, ilustradas por series temporais de índices oceânicos, e alterações no armazenamento de agua total e subterrânea são estudados em nove bacias aquíferas do continente Africano. As observações da missão GRACE (Gravity Recovery and Climate Experiment) representam uma ferramenta notável que permite compreender as dinâmicas da hidrologia terrestre em áreas onde observações diretas são limitadas. De forma a avaliar o impacto da variabilidade climática interanual e multidecadal nos recursos hídricos subterrâneos, este estudo avalia a relação entre controles sinóticos sobre o clima e estimativas do armazenamento total de agua a partir de (i) GRACE de 2002 a 2013 e (ii) um modelo de duas variáveis derivadas do clima capaz de reconstruir as alterações de armazenamento de 1982 a 2011. As estimativas são subsequentemente comparadas com as series temporais de níveis de aguas subterrâneas de forma a demonstrar o quanto o armazenamento total de agua covaria com o armazenamento de águas subterrâneas. Resultados indicam que os padrões de precipitação associados com El Nino Oscilação Sul (ENOS) são os impulsionadores principais da variação interanual de armazenamento das águas subterrâneas, enquanto que a Oscilação Multidecadal do Atlântico (OMA) tem um papel importante na variabilidade multidecadal. O efeito conjunto do ENOS e OMA poderá desencadear mudanças significativas na recarga dos aquíferos e no armazenamento de águas subterrâneas, em particular no Sahel. Estes resultados podem ajudar decisores a preparar planos para adaptação as mudanças climáticas a nível nacional e transfronteiriço mais efetivos.
Access options
Buy single article
Instant access to the full article PDF.
USD 39.95
Price excludes VAT (USA)
Tax calculation will be finalised during checkout.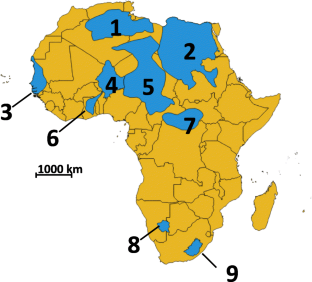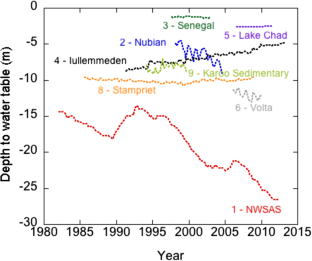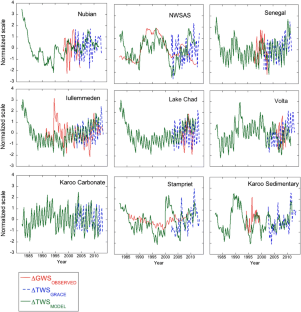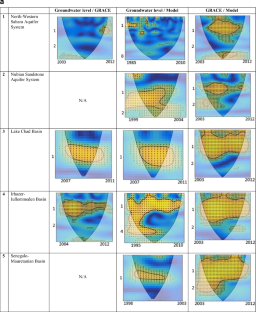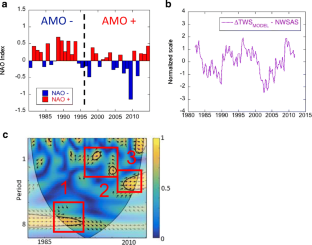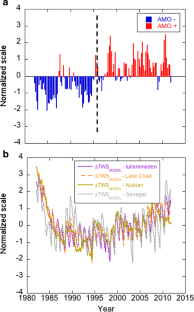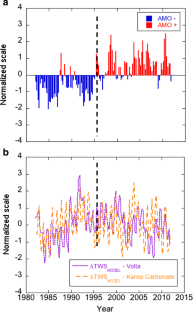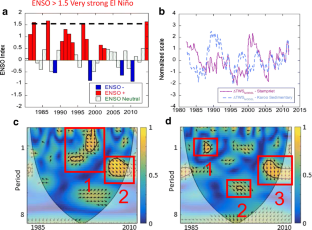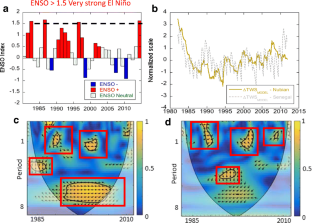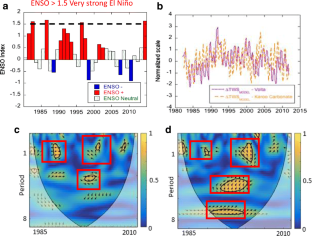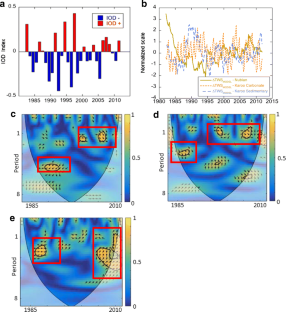 References
Abdou Babaye MS, Orban P, Ousmane B, Favreau G, Brouyère S, Dassargues A (2018) Characterisation of recharge mechanisms in a Precambrian basement aquifer in semi-arid south-west Niger. Hydrogeol J. https://link.springer.com/article/10.1007/s10040-018-1799-x

Al-Gamal S (2011) An assessment of recharge possibility to North-Western Sahara Aquifer System (NWSAS) using environmental isotopes. J Hydrol 398:184–190. https://doi.org/10.1016/j.jhydrol.2010.12.004

Altchenko Y, Villholth KG (2015) Mapping irrigation potential from renewable groundwater in Africa – a quantitative hydrological approach. Hydrol Earth Syst Sci 19:1055–1067. https://doi.org/10.5194/hess-19-1055-2015

Asefi-Najafabady S, Saatchi S (2013) Response of African humid tropical forests to recent rainfall anomalies. Philos Trans Royal Soc B: Biol Sci 368(1625):20120306. https://doi.org/10.1098/rstb.2012.0306

Awange JL, Forootan E, Kuhn M, Kusche J, Heck B (2014) Water storage change and climate variability within the Nile Basin between 2002 and 2001. Adv Water Resour 73:1–15. https://doi.org/10.1016/j.advwatres.2014.06.010.

Baba-Sy J (2005) Recharge and paleorecharge of the Northern Sahara Aquifer System. PhD thesis, University of Tunis, Tunisia

Bamba A, Dieppois B, Konaré A, Pellarin T, Balogun A, Dessay N, Kamagaté B, Savané I, Diédhiou A (2015) Changes in vegetation and rainfall over West Africa during the last three decades (1981-2010). Atmos Clim Sci 5:367–379. https://doi.org/10.4236/acs.2015.54028

Bates BC, Kundzewicz ZW, Wu S, Palutikof JP (2008) Climate change and water. Technical paper of the intergovernmental panel on climate change. IPCC Secretariat, Geneva, p 210

Becker A, Finger P, Meyer-Christoffer A, Rudolf B, Schamm K, Schneider U, Ziese M (2013) A description of the global land-surface precipitation data products of the Global Precipitation Climatology Centre with sample applications including centennial (trend) analysis from 1901–present. Earth Syst Sci Data 5:71–99. https://doi.org/10.5194/essd-5-71-2013

Bellaoueur AA (2008) Etude hydrogéologique des eaux souterraines de la région de Ouargla soumise à la remontée des eaux de la nappe phréatique et perspectives de solutions palliatives (Sahara Nord-Est Septentrional – Algérie) (Hydrogeological study of groundwater in the Ouargla region subjected to upwelling of the water table and prospects of palliative solutions (North-Eastern Sahara – Algeria)). MSc thesis, Univ. El-Hadj Lakhdar – Batna, Algeria

Bettadpur S (2007) Level-2 gravity field product user handbook, GRACE 327-734. GRACE Project, Center for Space Research, University of Texas at Austin, pp 327–734

BGR and UNESCO (2008) Groundwater Resources of Africa [map]. World-wide Hydrogeological Mapping and Assessment Programme (WHYMAP). https://www.whymap.org/whymap/EN/Maps_Data/Additional_maps/addimaps_node_en.html. Cited 6 June 2017

Bouwer LM, Aerts JC, Droogers P, Dolman AJ (2006) Detecting the long-term impacts from climate variability and increasing water consumption on runoff in the Krishna river basin (India). Hydrol Earth Syst Sci 10:703–713. https://doi.org/10.5194/hess-10-703-2006

Chelliah M, Bell GD (2004) Tropical multidecadal and interannual climate variations in the NCEP–NCAR reanalysis. J Clim 17:1777–1803. https://doi.org/10.1175/1520-0442.

Chen J, Famiglietti JS, Scanlon BR, Rodell M (2016) Groundwater storage changes: present status from GRACE observations. Surv Geophys 37(2):397–417. https://doi.org/10.1007/s10712-015-9332-4

Cuthbert MO, Gleeson T, Reynolds SC, Bennett MR, Newton AC, McCormack CJ, Ashley GM (2017) Modelling the role of groundwater hydro-refugia in east African hominin evolution and dispersal. Nat Commun 8:15696. https://doi.org/10.1038/ncomms15696.

Diatta S, Fink AH (2014) Statistical relationship between remote climate indices and west African monsoon variability. Int J Climatol 34:3348–3367. https://doi.org/10.1002/joc.3912

Diaw F, Stichler W, Mloszewski P (2012) Isotopic and geochemical characteristics of groundwater in the Senegal River delta aquifer: implication of recharge and flow regime. Environ Earth Sci 66(4):1011–1020. https://doi.org/10.1007/s12655-010-0710-4

Diem JE, Ryan SJ, Hartter J, Palace MW (2014) Satellite-based rainfall data reveal a recent drying trend in central equatorial Africa. Clim Chang 126(1–2):263–272. https://doi.org/10.1007/s10584-014-1217-x

Donat MG, Peterson TC, Brunet M, King AD, Almazroui M, Kolli RK, Boucherf D, Al-Mulla AY, Nour AY, Aly AA, Ali Nada TA, Semawi MM, Al Dashti HA, Salhab TG, El Fadli KI, Muftah MK, Eida SD, Badi W, Driouech F, El Rhaz K, Abubaker MJY, Ghulam AS, Erayah AS, Mansour MB, Alabdouli WO, Al Dhanhani JS, Al Shekaili M (2014) Changes in extreme temperature and precipitation in the Arab region: long-term trends and variability related to ENSO and NAO. Int J Climatol 34:581–592. https://doi.org/10.1002/joc.3707

Dong B, Sutton RT (2007) Enhancement of ENSO variability by a weakened Atlantic thermohaline circulation in a coupled GCM. J Clim 20:4920–4939. https://doi.org/10.1175/JCLI4284.1

Dong B, Sutton RT, Scaife AA (2006) Multidecadal modulation of El Niño–Southern Oscillation (ENSO) variance by Atlantic Ocean Sea surface temperatures. Geophys Res Lett 33:L08705. https://doi.org/10.1029/2006GL025766.

Edmunds WM (2008) Groundwater in Africa – Palaeowater, climate change and modern recharge. In: Adelana SMA, MacDonald AM (eds) Applied groundwater research in Africa. IAH selected papers in hydrogeology 13. Taylor and Francis, Amsterdam

El Shazli A (2018) Water balance of the Aswan High Dam Reservoir. PhD thesis, Kiel University

Falkenmark M (2013) Adapting to climate change: towards societal water security in dry-climate countries. Int J Water Resour Dev 29:123–136. https://doi.org/10.1080/07900627.2012.721714

Famiglietti JS (2014) The global groundwater crisis. Nat Clim Chang 4:945–948. https://doi.org/10.1038/nclimate2425.

Fan L, Liu Q (2017) Indian Ocean Dipole models associated with different types of ENSO development. J Clim 30:2233–2249. https://doi.org/10.1175/JCLI-D-16-0426.1

FAO (2015) Global Diagnostic on Groundwater Governance (Special edn for World Water Forum 7). Groundwater Governance – A Global Framework for Action, GEF Groundwater Governance Project. http://www.groundwatergovernance.org. Cited 6 June 2017

Fasullo JT, Lawrence DM, Swenson SC (2016) Are GRACE-era terrestrial water trends driven by anthropogenic climate change? Adv Meteorol 6:31245. https://doi.org/10.1155/2016/4830603

Favreau G, Cappelaere B, Massuel S, Leblanc M, Boucher M, Boulain N, Leduc C (2009) Land clearing, climate variability, and water resources increase in semiarid Southwest Niger: a review. Water Resour Res 45:7. https://doi.org/10.1029/2007WR006785.

Favreau G, Nazoumou Y, Leblanc M, Guéro A, Goni IB (2012) Groundwater resources in the Iullemmeden Basin, West Africa. In: Treidel H, Martin-Bordes JL, Gurdak JJ (eds) Climate change effects on groundwater resources: a global synthesis of findings and recommendations. IAH – International Contributions to Hydrogeology, 27, 7. CRC Press, Leiden, pp 113–128

Fontes JC, Andrew JN, Edmunds WM, Guerre A, Travi Y (1991) Paelorecharge by the Niger River (Mali) deduced from groundwater geochemistry. Water Resour Res 27(2):199–214. https://doi.org/10.1029/90WR01703

Foster S, Tuinhof A, Garduño H (2006) Groundwater development in sub-Saharan Africa: a strategic overview of key issues and major needs. World Bank GWP Associate Program Sustainable Groundwater Management: Concepts and Tools Case Profile Collection No 15.

Gao H, Zhang S, Fu R, Li W, Dickinson RE (2016) Interannual variation of the surface temperature of tropical forests from satellite observations. Adv Meteorol. https://doi.org/10.1155/2016/4741390

García-García D, Ummenhofer CC (2015) Multidecadal variability of the continental precipitation annual amplitude driven by AMO and ENSO. Geophys Res Lett 42:526–535. https://doi.org/10.1002/2014GL062451

Gaye CB, Tindimugaya C (2012) Challenges and opportunities for sustainable groundwater management in Africa. International Symposium, Enhancing Water Management Capacity in a Changing World, Sao Paulo, June 2012

Geng X, Zhang W, Stuecker MF, Liu P, Jin FF, Tan G (2016) Decadal modulation of the ENSO-east Asian winter monsoon relationship by the Atlantic Multidecadal Oscillation. Clim Dyn 49:2531. https://doi.org/10.1007/s00382-016-3465-0

Giannini A, Saravanan R, Chang P (2003) Oceanic forcing of Sahel rainfall on interannual to interdecadal time scales. Science 302:1027–1030. https://doi.org/10.1126/science.1089357.

Giles J (2005) Solving Africa's climate data problem. Nature 435:862–863. https://doi.org/10.1038/435862a.

Gleeson T, Wada Y, Bierkens MFP, van Beek LPH (2012) Water balance of global aquifers revealed by groundwater footprint. Nature 488:197–200. https://doi.org/10.1038/nature11295

Gning AA (2015) Etude et modélisation hydrogéologique des interactions eaux de surface-eaux souterraines dans un context d'agriculture irriguée dans le delta du fleuve Sénégal (Hydrogeological study and modeling of surface water-groundwater interactions in an irrigated agriculture context in the Senegal River delta). PhD thesis, University of Liège, Belgium

Gorelick SM, Zheng C (2015) Global change and the groundwater management challenge. Water Resour Res 51(5):3013–3051. https://doi.org/10.1002/2014WR016825

Green T, Taniguchi M, Kooi H, Gurdak JJ, Allen DM, Hishcock KM, Treidel H, Aureli A (2011) Beneath the surface of global change: impacts of climate change on groundwater. J Hydrol 405:532–560. https://doi.org/10.1016/j.jhydrol2011.05.002.

Grinsted A, Moore JC, Jevrejeva S (2004) Application of the cross wavelet transform and wavelet coherence to geophysical time series. Nonlinear Process Geophys 11:561–566. https://doi.org/10.5194/npg-11-561-2004

Gurdak JJ (2017) Groundwater: climate-induced pumping. Nat Geosci 10(71). https://doi.org/10.1038/ngeo2885

Gurdak JJ, Hanson RT, McMahon PB, Bruce BW, McCray JE, Thyne GD, Reedy RC (2007) Climate variability controls on unsaturated water and chemical movement, High Plains aquifer, USA. Vadose Zone J 6(2):533–547. https://doi.org/10.2136/vzj/2006.0087.

Hanson RT, Newhouse MW, Dettinger MD (2004) A methodology to assess relations between climatic variability and variations in hydrologic time series in the southwestern United States. J Hydrol 287:252–269. https://doi.org/10.1016/j.jhydrol.2003.10.006

Hassan A, Jin SG (2016) Water storage changes and balances in Africa observed by satellite gravimetry and hydrologic models. Geodesy and Geodynamics 7(1):39–49. https://doi.org/10.1016/j.geog.2016.03.002.

Henry CM, Allen DM, Huang J (2011) Groundwater storage variability and annual recharge using well-hydrograph and GRACE satellite data. Hydrogeol J 19(2):741–755. https://doi.org/10.1007/s10040-011-0724-3

Holman IP, Rivas-Casado M, Bloomfield JP, Gurdak JJ (2011) Identifying non-stationary groundwater level response to North Atlantic ocean-atmosphere teleconnection patterns using wavelet coherence. Hydrogeol J 19:1269–1278. https://doi.org/10.1007/s10040-011-0755-9

Houghton-Carr HA, Fry MJ (2006) The decline of hydrological data collection for development of integrated water resource management tools in southern Africa. Climate variability and change—hydrological impacts (proceedings of the fifth FRIEND World Conference, Havana, Cuba, November 2006), IAHS Publ 308, pp 51–55

Hurrell JW (1995) Decadal trends in the North Atlantic Oscillation: regional temperatures and precipitation. Science 4:676–679. https://doi.org/10.1126/science.269.5224.676

Hurrell JW, Kushnir Y, Ottersen G, Visbeck M (2003) An overview of the North Atlantic Oscillation. In: Hurrell JW, Kushnir Y, Ottersen G, Visbeck M (eds) Geophysical monograph series. American Geophysical Union, Washington, DC, pp 1–35

IGRAC (2017) Global Groundwater Monitoring Network – GGMN. https://ggmn.un-igrac.org Cited 6 June 2017

IGRAC-UNESCO (2015) Transboundary aquifers of the World [map]. Edition 2015. Scale 1 : 50 000 000. IGRAC, Delft, Netherlands

Janicot S, Ganiaux G, Chauvin F, de Coetlogon G, Fontaine B, Hall N, Kiladis G, Lafore JP, Lavaysse C, Lavender SL, Leroux S, Marteau R, Mounier F, Philippon N, Roehrig R, Sultan B, Taylor CM (2011) Intraseasonal variability of the West African monsoon. Atmos Sci Lett 12(1):58–66. https://doi.org/10.1002/asl.280

Jung M, Reichstein M, Ciais P, Seneviratne SI, Sheffield J, Goulden ML, Bonan G, Cascatti A, Chen J, de Jeu R, Dolman AJ, Eugster W, Gerten D, Gianelle D, Gobron N, Heinke J, Kimball J, Law BE, Montagnani L, Mu Q, Mueller B, Oleson K, Papale D, Richardson AD, Roupsard O, Running S, Tomelleri E, Viovy N, Weber U, Williams C, Wood E, Zaehle S, Zhang K (2010) Recent decline in the global land evapotranspiration trend due to limited moisture supply. Nature 467:951–954. https://doi.org/10.1038/nature09396

Knudsen MF, Seidenkrantz M-S, Jacobsen BH (2011) Tracking the Atlantic multidecadal through the last 8,000 years. Nat Commun 2:178. https://doi.org/10.1038/ncomms1186

Konikow LF (2015) Long-term groundwater depletion in the United States. Groundwater 53(1):2–9. https://doi.org/10.1111/gwat.12306

Kuss AJM, Gurdak JJ (2014) Groundwater level response in U.S. principal aquifers to ENSO, NAO, PDO, and AMO. J Hydrol 519:1939–1952. https://doi.org/10.1016/j.jhydrol.2014.09.069

Labat D (2005) Recent advances in wavelet analyses: part 1. A review of concepts. J Hydrol 314:275–288. https://doi.org/10.1016/j.jhydrol.2005.04.003

Labat D (2008) Wavelet analysis of the annual discharge records of the world's largest rivers. Adv Water Resour 31(1):109–117. https://doi.org/10.1016/j.advwatres.2007.07.004

Labat D, Ababou R, Mangin A (2000) Rainfall–runoff relations for karstic springs. Part II: continuous wavelet and discrete orthogonal multiresolution analyses. J Hydrol 238:149–178. https://doi.org/10.1016/S0022-1694(00)00322-X

Lapworth DJ, McDonald AM, Tijani MN, Darling WG, Gooddy WG, Bonsor HC, Araguas-Araguas LJ (2013) Residence times of shallow groundwater in West Africa: implications for hydrogeology and resilience to future changes in climate. Hydrogeol J 21(3):673–686. https://doi.org/10.1007/s10040-012-0925-4

Li J, Xie SP, Cook ER, Morales MS, Christie DA, Nathaniel CJ, Chen F, D'Arrigo R, Fowler AM, Gou X, Fang K (2013) El Niño modulations over the past seven centuries. Nat Clim Chang 3:822–826. https://doi.org/10.1038/nclimate1936.

Liu M, Tian H, Yang Q, Yang J, Song X, Lohrenz SE, Cai WJ (2013) Long-term in evapotranspiration and runoff over the drainage basins of the Gulf of Mexico during 1901-2008. Water Resour Res 49:4. https://doi.org/10.1002/wrcr.20180

Long D, Longuevergne L, Scanlon BR (2015) Global analysis of approaches for deriving total water storage changes from GRACE satellites. Water Resour Res 51(4):2574–2594. https://doi.org/10.1002/2014WR016853

Longuevergne L, Scanlon BR, Wilson CR (2010) GRACE hydrological estimates for small basins: evaluating processing approaches on the High Plains aquifer, USA. Water Resour Res 46:W11517. https://doi.org/10.1029/2009WR008564

López-Moreno JI, Vicente-Serrano SM, Morán-Tejeda E, Lorenzo-Lacruz J, Kenawy A, Beniston M (2011) Effects of the North Atlantic Oscillation (NAO) on combined temperature and precipitation winter modes in the Mediterranean mountains: observed relationships and projects for the 21st century. Glob Planet Chang 77:62–76. https://doi.org/10.1016/j.gloplacha.2011.03.003

Lutz A, Minyila S, Saga B, Diarra S, Apambire B, Thomas J (2015) Fluctuation of groundwater levels and recharge patterns in northern Ghana. Climate 3:1–15. https://doi.org/10.3390/cli3010001

MacDonald AM, Bonsor HC, Dochartaigh BEO, Taylor RG (2012) Quantitative maps of groundwater resources in Africa. Environ Res Lett 7(2). https://doi.org/10.1088/1748-9326/7/2/024009

Maidment RI, Allan RP, Black E (2015) Recent observed and simulated changes in precipitation over Africa. Geophys Res Lett 42(19):8155–8164. https://doi.org/10.1002/2015GL065765.

Malherbe J, Dieppois B, Maluleke P, van Staden M, Pillay DL (2016) South African droughts and decadal variability. Nat Hazards 80(1):657–681. https://doi.org/10.1007/s11069-015-1989-y

Manatsa D, Matarira C, Mukwada G (2011) Relative impacts of ENSO and Indian Ocean dipole/zonal mode on east SADC rainfall. Int J Climatol 31:558–577. https://doi.org/10.1002/joc.2086

Massuel S, Riaux J (2017) Groundwater overexploitation: why is the red flag waved? Case study on the Kairouan aquifer (Central Tunisia). Hydrogeol J 25(6):1607–1620. https://doi.org/10.1007/s10040-017-1568-2

Marchant R, Mumbi C, Behera S, Yamagata T (2006) The Indian Ocean dipole – the unsung driver of climatic variability in East Africa. Afr J Ecol 45:1. https://doi.org/10.1111/j.1365-2028.2006.00707.x

Masih I, Maskey S, Mussa FEF, Trambauer P (2014) A review of droughts on the African continent: a geospatial and long-term perspective. Hydrol Earth Syst Sci 18:3635–3649. https://doi.org/10.5194/hess-18-3635-2014

Maurice L, Taylor RG, Tindimugaya C, MacDonald AM, Johnson P, Kaponda A, Owor M, Sanga H, Bonsor HC, Darling WG, Gooddy D (2018) Characteristics of high-intensity groundwater abstractions from weathered crystalline bedrock aquifers in East Africa. Hydrogeol J. https://doi.org/10.1007/s10040-018-1836-9

McCarthy GD, Haigh ID, Hirschi JJM, Grist JP, Smeed DA (2015) Ocean impact on decadal Atlantic climate variability revealed by sea-level observations. Nature 521:508–510. https://doi.org/10.1038/nature14491.

Messekher I, Chabour N, Menani MR (2012) Remontée de la nappe phréatique du Souf : consequences et solutions envisagées (Rise of the Souf water table: consequences and solutions envisaged). Annals of the University of Bucharest. http://annalsreview.geo.unibuc.ro/2012/Ishak.pdf. Cited 6 June 2017

Meyer C (2016) Développement d'outil pour la cartographie de l'indicateur 6.5.2 des ODD sur la coopération internationale dans le domaine de l'eau (Development of a tool for mapping SDG indicator 6.5.2 on transboundary water cooperation). MSc thesis, Université Paris Nanterre, France

Mohino E, Rodriguez-Fonseca B, Mechoso CR, Gervois S, Ruti P, Chauvin F (2011) Impacts of the tropical Pacific/Indian oceans on the seasonal cycle of the west African monsoon. J Clim 24:3878–3891. https://doi.org/10.1175/2011JCLI3988.1.

Mueller BS, Jimenez C, Corti T, Hirschi M, Balsamo G, Ciais P, Dirmeyer P, Fisher JB, Guo Z, Maignan F, McCabe RR, Reichstein M, Rodell M, Sheffield J, Teuling AJ, Wang K, Wood EF, Zhang Y (2011) Evaluation of global observations-based evapotranspiration datasets and IPCC AR4 simulations. Geophys Res Lett 38:6. https://doi.org/10.1029/2010GL046230

Nazoumou Y, Favreau G, Babaye MSA, Goni IB (2015) Climate variability, land use and groundwater storage in a large sedimentary aquifer of the Sahel region (Iullemeden Basin, Niger). Proceedings of the 42nd IAH Congress, Rome, Italy

Ndehedehe CL, Awange JL, Kuhn M, Agutu NO, Fukuda Y (2017) Climate teleconnections influence on West Africa's terrestrial water storage. Hydrol Process 31(18):3206–3224. https://doi.org/10.1002/hyp.11237

Ngounou-Ngatcha BN, Favreau G, Le Coz M, Nazoumou Y, Boucher M, Goni I (2015) Long term changes in groundwater storage in the Lake Chad Basin, central Africa, as a function of drought periods and lake fluctuations. Proceedings of the 42nd IAH Congress, Rome, Italy

NOAA (2017) Climate indices: monthly atmospheric and ocean time series. Earth System Research Laboratory, Physical Sciences Division https://wwwesrlnoaagov/psd/data/climateindices/list/ Cited 6 June 2017

Nicholson SE, Selato JC (2000) The influence of La Nina on African rainfall. Int J Climatol 20:1761–1776. https://doi.org/10.1002/1097-0088.

Okonkwo C, Demoz B, Sakai R, Ichoku C, Anarado C, Adegoke J (2015) Combined effect of El Niño Southern Oscillation and Atlantic Multidecadal Oscillation on Lake Chad level variability. Cogent Geosci 1:1–19. https://doi.org/10.1080/23312041.2015.1117829.

Onyutha C, Willems P (2017) Space-time variability of extreme rainfall in the River Nile basin. Int J Climatol 34(14):4915–4924. https://doi.org/10.1002/joc.5132

OSS (2003) Système Aquifère du Sahara Septentrional – Gestion commune d'un bassin transfrontière, rapport de synthèse, 1ère edition (North-Western Sahara aquifer system - joint management of a transboundary basin, summary report, 1st edition). ISBN:9973–856–03-1

Owusu K, Waylen PR, Qui Y (2008) Changing rainfall inputs in the Volta basin: implications for water sharing in Ghana. GeoJournal 71(4):201–210. https://doi.org/10.1007/s10708-008-9156-6

Palmer TN, Anderson DLT (1994) The prospects for seasonal forecasting—a review paper. Q J R Meteorol Soc 120:755–793. https://doi.org/10.1002/qj.49712051802

Peings Y, Magnusdottir G (2014) Forcing of the wintertime atmospheric circulation by the multidecadal fluctuations of the North Atlantic Ocean. Environ Res Lett 9(3). https://doi.org/10.1088/1748-9326/9/3/034018.

Philippon N, Rouault M, Richard Y, Favre A (2012) The influence of ENSO on winter rainfall in South Africa. Int J Climatol 32:2333–2347. https://doi.org/10.1002/joc.3403

Prudhomme C, Giuntoli I, Robinson EL, Clark DB, Arnell NW, Dankers R, Fekete BM, Franssen W, Gerten D, Gosling SN, Hagemman S, Hannah DM, Kim H, Masaki Y, Satoh Y, Stacke T, Wada Y, Wisser D (2014) Hydrological droughts in the 21st century, hotspots and uncertainties from a global multimodel ensemble experiment. Proc National Acad Sci 111(4):3262–3267. https://doi.org/10.1073/pnas.1222473110.

Ramilien G, Frappart F, Seoane L (2014) Application of the regional water mass variations from GRACE satellite Gravimetry to large-scale water Management in Africa. Remote Sens 6:7379–7405. https://doi.org/10.3390/rs6087379

Rateb A, Kuo CY, Imani M, Tseng KH, Lan WH, Ching KE, Tseng TP (2017) Terrestrial water storage in African hydrological regimes derived from GRACE mission data: Intercomparison of spherical harmonics, mass concentration, and Scalar Slepian methods. Sensors 17(3). https://doi.org/10.3390/s17030566

Richard Y, Fauchereau N, Poccard I, Rouault M, Trzaska S (2001) 20th century droughts in southern Africa: spatial and temporal variability, teleconnections with oceanic and atmospheric conditions. Int J Climatol 21:873–885. https://doi.org/10.1002/joc.656

Richey AS, Thomas BF, Lo MH, Reager JT, Famiglietti JS, Voss K, Swenson S, Rodell M (2015) Quantifying renewable groundwater stress with GRACE. Water Resour Res 51:5217–5238. https://doi.org/10.1002/2015WR017349

Robins NS, Davies J, Farr JL, Calow RC (2006) The changing role of hydrogeology in semi-arid southern and eastern Africa. Hydrogeol J 14(8):1483–1492. https://doi.org/10.1007/s10040-006-0056-x

Russo TA, Lall U (2017) Depletion and response of deep groundwater to climate-induced pumping variability. Nat Geosci 10:105–108. https://doi.org/10.1038/ngeo2883.

Scanlon BR, Keese KE, Flint AL, Flint LE, Gaye CB, Edmunds WM, Simmers I (2006) Global synthesis of groundwater recharge in semiarid and arid regions. Hydrol Process 20:3335–3370. https://doi.org/10.1002/hyp.6335

Scanlon BR, Zhang Z, Save H, Wiese DN, Landerer FW, Long D, Longuevergne L, Chen J (2016) Global evaluation of new GRACE mascon products for hydrologic applications. Water Resour Res 56(12):9412–9429. https://doi.org/10.1002/2016WR019494

Shanahan TM, Overpeck JT, Anchukaitis KJ, Beck JW, Cole JE, Dettman DL, Peck JA, Scholz CA, King JW (2009) Atlantic forcing of persistent drought in West Africa. Science 324(5925):377–380. https://doi.org/10.1126/science.1166352

Siam MS, Eltahir EAB (2017) Climate change enhances interannual variability of the Nile river flow. Nat Clim Chang 7:350–354. https://doi.org/10.1038/nclimate3273.

Siebert S, Burke J, Faures JM, Frenken K, Hoogeveen J, Doll P, Portmann FT (2010) Groundwater use for irrigation – a global inventory. Hydrol Earth Syst Sci 14:1863–1880. https://doi.org/10.5194/hess-14-1863-2010

Sun AY, Scanlon BR, Agha Kouchal A, Zhang Z (2017) Using GRACE satellite gravimetry for assessing large-scale hydrological extremes. Remote Sens 9(12):1287–1312. https://doi.org/10.3390/rs9121287

Sun Q, Miao C, Duan Q, Ashouri H, Sorooshian S, Hsu KL (2018) A review of global precipitation data sets: data sources, estimation, and intercomparisons. Rev Geophys 56:79–107. https://doi.org/10.1002/2017RG000574

Swenson S, Wahr J (2006) Post-processing removal of correlated errors in GRACE data. Geophys Res Lett 33:L08402. https://doi.org/10.1029/2005GL025285

Taylor RG, Koussis AD, Tindimugaya C (2009) Groundwater and climate in Africa – a review. Hydrol Sci J 54:655–664. https://doi.org/10.1623/hysj.54.4.655

Taylor RG, Scanlon B, Doll P, Rodell M, van Beek R, Wada Y, Longuevergne L, Leblanc M, Famiglietti JS, Edmunds M, Konikow L, Green TR, Chen J, Taniguchi M, Bierkens MFP, MacDonald A, Fan Y, Maxwell RM, Yechieli Y, Gurdak JJ, Allen DM, Shamsudduha M, Hiscock K, Yeh PJF, Holman I, Treidel H (2013a) Ground water and climate change. Nat Clim Chang 3:322–329. https://doi.org/10.1038/nclimate1744

Taylor RG, Todd MC, Kongola L, Maurice L, Nahozya E, Sanga H, MacDonald AM (2013b) Evidence of the dependence of groundwater resources on extreme rainfall in East Africa. Nat Clim Chang 3:374–378. https://doi.org/10.1038/nclimate1731

Timmermann A, Okumura Y, An SI, Clement A, Dong B, Guilyardi E, Hu A, Jungclaus JH, Renold M, Stocker TF, Stouffer RJ, Sutton R, Xie SP, Yin J (2007) The influence of a weakening of the Atlantic meridional overturning circulation on ENSO. J Clim 20(19):4899–4919. https://doi.org/10.1175/JCLI4283.1

Torrence C, Compo GP (1998) A practical guide to wavelet analysis. Bull Am Meteorol Soc 79(1):61–78

Treidel H, Martin-Bordes JL, Gurdak JJ (eds) (2012) Climate change effects on groundwater resources: a global synthesis of findings and recommendations, International Association of Hydrogeologists (IAH) – international contribution to hydrogeology, Taylor & Francis, 414 pp, ISBN 978-0415689366

Trenberth KE, Dai A, van der Schrier G, Jones PD, Barichivich J, Briffa KR, Sheffield J (2014) Global warming and changes in drought. Nat Clim Chang 4:17–22. https://doi.org/10.1038/nclimate2067

Tuinhof A, Foster S, van Steenbergen F, Talbi A, Wishart M (2011) Appropriate groundwater management policy for sub-Saharan Africa in face of demographic pressure and climatic variability. GW MATE Strategic Overview Series No 5. World Bank, Washington, DC

UNESCO (2009) IWRM implementation in basins, sub-basins and aquifers: state of the art review / by K. Kennedy, S. Simonovic, A. Tejada-Guibert, M. de França Doria and J.L. Martin. World Water Assessment Programme, Side Publications Series, Insights, ISBN 978-92-3-104105-1, 23 p.

UNESCO (2016) Stampriet Transboundary Aquifer System assessment, Governance of Groundwater Resources in Transboundary Aquifers, http://unesdoc.unesco.org/images/0024/002452/245265e.pdf. Cited 6 June 2017

UNESCO and UNECE (2017) Step-by-step methodology for monitoring transboundary cooperation. Integrated Monitoring Guide for SDG 6. http://www.unwater.org/publications/step-step-methodology-monitoring-transboundary-cooperation-6-5-2/. Cited 6 June 2017

Van der Gun J (2012) Groundwater and global change: trends, opportunities and challenges. United Nations World Water Assessment Programme, Side Publication Series 01 UNESCO, Paris, ISBN 978–92–3-001049-2.

Vorosmarty CJ, Douglas EM, Green PA, Revenga C (2005) Geospatial indicators of emerging water stress: an application to Africa. Ambio 34(3):230–236

Wada Y, Bierkens MFP (2014) Sustainability of global water use: past reconstruction and future projections. Environ Res Lett 9(10). https://doi.org/10.1088/1748-9326/9/10/104003.

Wada Y, van Beek LPH, van Kempen CM (2010) Global depletion of groundwater resources. Geophys Res Lett 37(20).https://doi.org/10.1029/2010GL044571.

Wang S, Huang J, He Y, Guan Y (2014) Combined effects of the Pacific Decadal Oscillation and El Niño-Southern Oscillation on global land dry–wet changes. Sci Rep 4:6651.https://doi.org/10.1038/srep06651

Wani SP, Sreedevi TK, Rockström J et al (2009) Rain-fed agriculture – past trend and future prospects. In: Wani SP, Rockström J, Oweis T (eds) Rain-fed agriculture: unlocking the potential. Comprehensive Assessment of Water Management in Agriculture Series. CAB International, Wallingford, UK, pp 1–35

Washington R, James R, Pearce H, Pokam WM, Moufouma-Okia W (2013) Congo Basin rainfall climatology: can we believe the climate models? Philos Trans Royal Soc B 368(1625). https://doi.org/10.1098/rstb.2012.0296

WMO (1996) The Adequacy of Hydrological Networks: a Global Assessment / by A.Perks, T.Winkler and B. Stewart. Geneva: WMO/HWR, 1996. (Technical Reports in Hydrology and Water Resources No. 52). vi, 56 p.

Zhang Y, Wallace JM, Battisti DS (1997) ENSO-like interdecadal variability. J Clim 10:1004–1020. https://doi.org/10.1175/1520-0442.

Zhang W, Jin FF, Zhao JX, Li J (2012) On the bias in simulated ENSO SSTA meridional widths of CMIP3 models. J Clim 26:3173–3186. https://doi.org/10.1175/JCLI-D-12-00347.1

Zhou L, Tian Y, Myneni RB, Ciais P, Saatch S, Liu YY, Piao S, Chen H, Vermote EF, Song C, Hwang T (2014) Widespread decline of Congo rainforest greenness in the past decade. Nature 509:86–90. https://doi.org/10.1038/nature13265

Zouari K (2015) Progress in the implementation of the project RAF 7011 on the assessment of shared aquifer systems in the Sahel region. International Symposium on Isotope Hydrology: Revisiting Foundations and Exploring Frontiers, 11–15 May 2015, IAEA Headquarters, Vienna, Austria
Acknowledgements
This study is a contribution to the UNESCO International Hydrological Programme (IHP) Groundwater Resources Assessment under the Pressures of Humanity and Climate Change (GRAPHIC) project. The authors are grateful for the support provided by Richard Taylor (UCL), Aurélien Dumont, and Marina Rubio (UNESCO-IHP – Groundwater Systems and Settlements Section) on the review of this paper.
Additional information
This article is part of the topical collection "Determining groundwater sustainability from long-term piezometry in Sub-Saharan Africa"
Appendix
Appendix
About this article
Cite this article
Carvalho Resende, T., Longuevergne, L., Gurdak, J.J. et al. Assessment of the impacts of climate variability on total water storage across Africa: implications for groundwater resources management. Hydrogeol J 27, 493–512 (2019). https://doi.org/10.1007/s10040-018-1864-5
Received:

Accepted:

Published:

Issue Date:

DOI: https://doi.org/10.1007/s10040-018-1864-5
Keywords
GRACE

Climate change

Groundwater management

Groundwater storage

Sub-Saharan Africa