Abstract
Nitrate is necessary for agricultural productivity, but it is also one of the most common water contaminants in developed countries. The riverbank filtration (RBF) systems in Káraný (Czechia), with nearly 500 wells regularly distributed along 22 km of the alluvium aquifer/river interface, presents a unique field laboratory where the adverse effects of intensive agriculture on groundwater can be traced from >50 years of nitrate concentration records. The largest control over nitrate concentrations in the RBF systems has been the mixing of the river-water component (low in nitrate) with the local recharge, which has a nitrate content of 100–250 mg/L. The mixing is mainly controlled by the intensity of the effective precipitation. Increases in nitrate concentration are caused by rapid hydraulic pulse propagation during the high-recharge periods to the discharge areas. In contrast, during dry periods, the river-water fraction dilutes nitrate in wells. The lowest nitrate content occurs above the weirs on the river, as well as in those areas where the alluvial aquifer is partly fed by older and/or denitrified groundwater from deeper zones of the underlying sandstone aquifer. High nitrate concentrations occur in wells where the low saturated thickness of the alluvial aquifer limits the inflow of river water. This study shows that factors affecting nitrate concentrations in the alluvium are numerous, and that long-term sampling is necessary to distinguish the oscillations caused by variability in the recharge intensity from decade-long trends controlled by the fertilizer load and nitrate lag time in the aquifer.
Résumé
Les nitrates sont essentiels à la productivité agricole, mais ils constituent également un des contaminants les plus répandus dans les eaux des pays développés. Le système de filtration sur berges (RBF) de Káraný (République Tchèque), comprenant près de 500 puits régulièrement distribués sur 22 km le long d'un interface aquifère-rivière, constitue un site expérimental unique où les effets négatifs de l'agriculture intensive sur l'eau souterraine peuvent être suivis à partir de chroniques de concentration en nitrates sur plus de 50 ans. Le contrôle principal des concentrations en nitrates dans le système RBF est. constitué par le mélange entre la composante eau de la rivière (pauvre en nitrates) et la recharge locale ayant des concentrations en nitrates allant de 100 à 250 mg/L. Le mélange est. essentiellement contrôlé par l'intensité des pluies efficaces. Les augmentations des concentrations en nitrates sont causées par la propagation rapide d'une onde de pression hydraulique pendant les périodes de fortes recharges vers les zones d'exutoire. Inversement, pendant les périodes sèches, la fraction d'eau de la rivière dilue les nitrates dans les puits. Les valeurs en nitrates les plus faibles se rencontrent en amont des déversoirs construits sur la rivière ainsi que dans les zones où l'aquifère alluvial est. partiellement alimenté par des eaux souterraines plus anciennes et/ou des eaux dénitrifiées issues de zones plus profondes de l'aquifère gréseux sous-jacent. Des concentrations élevées en nitrates se trouvent dans les puits où la faible épaisseur saturée de l'aquifère alluvial limite l'apport d'eau de la rivière. Cette étude montre que les facteurs impactant les concentrations en nitrates dans la nappe alluviale sont nombreux et qu'un échantillonnage sur le long-terme est. nécessaire pour distinguer les fluctuations causées par des variations de l'intensité de la recharge des tendances décennales contrôlées par les apports de fertilisants et le temps de retard lié au transfert des nitrates dans l'aquifère.
Resumen
El nitrato es necesario para la productividad agrícola, pero también es uno de los contaminantes más comunes del agua en los países desarrollados. Los sistemas de filtración de ribera (RBF) en Káraný (República Checa), con casi 500 pozos distribuidos regularmente a lo largo de 22 km de la interfaz acuífero aluvial/río, presentan un laboratorio de campo único donde se pueden rastrear los efectos adversos de la agricultura intensiva en aguas subterráneas desde >50 años de registros de concentración de nitratos. El mayor control sobre las concentraciones de nitratos en los sistemas RBF ha sido la mezcla del componente de agua del río (bajo en nitratos) con la recarga local, que tiene un contenido de nitrato de 100–250 mg/L. La mezcla se controla principalmente por la intensidad de la precipitación efectiva. Los aumentos en la concentración de nitrato son causados por la propagación rápida del pulso hidráulico durante los períodos de alta recarga a las áreas de descarga. Por el contrario, durante los períodos secos, la fracción de agua del río diluye el nitrato en los pozos. El contenido más bajo de nitratos se produce por encima de los vertederos en el río, así como en aquellas áreas donde el acuífero aluvial es parcialmente alimentado por agua subterránea más vieja y/o desnitrificada de las zonas más profundas del acuífero de la arenisca subyacente. Las altas concentraciones de nitratos se producen en pozos donde el bajo espesor saturado del acuífero aluvial limita la entrada de agua del río. Este estudio muestra que los factores que afectan las concentraciones de nitrato en el aluvión son numerosos y que es necesario un muestreo a largo plazo para distinguir las oscilaciones causadas por la variabilidad en la intensidad de recarga de las tendencias de una década controladas por la carga de fertilizantes y el tiempo de retardo de los nitratos en el acuífero.
摘要
硝酸盐是农业生产中不可缺少的,但也是发达国家最常见水污染物之一。(捷克)Káraný地区的河岸入渗系统呈现了独特的野外实验室,在这里沿22 km冲积层含水层/河流界面均匀分布着近500口水井,密集的农业活动对地下水的负面影响可通过>50年的硝酸盐含量记录追溯。对河岸入渗系统中硝酸盐含量最大的控制作用就是河水成分 (硝酸盐含量低)与硝酸盐含量高达100-250 mg/L的当地补给的混合。混合主要受有效降水强度的控制。硝酸盐含量的增加是由高补给期的快速水力脉冲传播到排泄区引起的。相比之下,在干旱期,河水稀释水井中的硝酸盐。在河流围堰之上,以及冲积含水层部分受下伏砂岩含水层深部较老的水及/或脱氮地下水补给的这些地区,硝酸盐含量最低。在冲积含水层饱和厚度很小限制河水流入的地方的水井中,硝酸盐含量很高。本研究显示,影响冲积层硝酸盐含量的因素众多,长期采样必不可少,可以通过含水层中化肥载荷量和硝酸盐滞后时间控制的十年长的趋势区别补给强度变化引起的振荡。
Resumo
Nitrato é necessário para a produtividade agrícola, mas é também um dos contaminantes mais comum das águas em países desenvolvidos. Os sistemas de filtração em margem (FM) em Káraný (República Checa), com aproximadamente 500 poços regularmente distribuídos ao longo dos 22 km da interface aluvionar rio/aquífero, apresenta um único laboratório de campo onde os efeitos adversos da agricultura intensiva nas águas subterrâneas podem ser detectados a partir de mais de 50 anos de registros de concentração de nitrato. O maior controle sobre as concentrações de nitrato nos sistemas de FM tem sido a mistura das águas do rio (baixa concentração de nitrato) com a recarga local, a qual contém uma concentração de nitrato de 100–250 mg/L. A mistura é principalmente controlada pela intensidade da precipitação efetiva. Aumentos na concentração de nitrato são causadas pela rápida propagação de impulsos hidráulicos durante os períodos de elevada recarga para as zonas de descarga. Por outro lado, durante os períodos secos, a fração de água do rio dilui o nitrato em poços. A mais baixa concentração de nitrato ocorre acima dos açudes no rio, assim como nas áreas onde o aquífero aluvionar é parcialmente alimentado por águas subterrâneas mais antigas ou desnitrificadas de zonas mais profundas de aquífero em arenito sotoposto. Este estudo mostra que fatores que afetam as concentrações de nitrato no aluvião são diversas, e que uma amostragem de longo prazo é necessária para distinguir as oscilações causadas pela variabilidade da intensidade de recarga das tendências decenais controladas pela carga de fertilizantes e atraso no nitrato do aquífero.
Access options
Buy single article
Instant access to the full article PDF.
USD 39.95
Price includes VAT (USA)
Tax calculation will be finalised during checkout.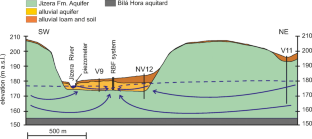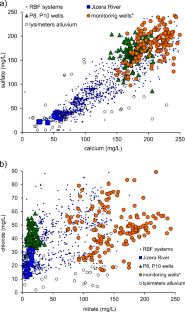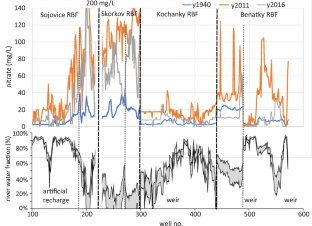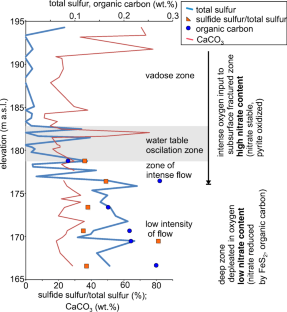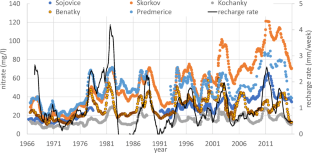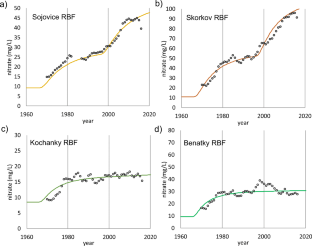 References
Alvarado JAC, Pačes T, Purtschert R (2013) Dating of groundwater in the Bohemian cretaceous basin: understanding tracer variations in the subsurface. Appl Geochem 29:189–198

Bohlke JJ (2002) Groundwater recharge and agricultural contamination. Hydrogeol J 10:153–179

Boy-Roura M, Menció A, Mas-Pla J (2013) Temporal analysis of spring water data to assess nitrate inputs to groundwater in an agricultural area (Osona, NE Spain). Sci Total Environ 452-453:433–445

Bruthans J, Kůrková I, Rybářová M, Grundloch J, Kadlecová R (2016) Hydrogeology of fluvial sediments in the area of the Skorkov and Sojovice water supply systems: evaluation of groundwater flow and chemistry based on new data from monitoring wells. Geoscience Research Reports, pp 93–99. https://www.researchgate.net/scientific-contributions/32259438_Renata_Kadlecova. Accessed August 2018

Burke V, Treumann S, Duennbier U, Greskowiak J, Massmann G (2013) Sorption behavior of 20 wastewater originated micropollutants in groundwater: column experiments with pharmaceutical residues and industrial agents. J Contam Hydrol 154:29–41

Buzek F, Kadlecova R, Knezek M (2006) Model reconstruction of nitrate pollution of riverbank filtration using 15N and 18O data, Karany, Czech Republic. Appl Geochem 21:656–674

Buzek F, Kadlecova R, Jackova I, Lnenickova Z (2012) Nitrate transport in the unsaturated zone: a case study of the riverbank filtration systém Karany, Czech Republic. Hydrol Process 26:640–651

Canter LW (1997) Nitrates in groundwater. CRC, Boca Raton, FL

Carretero SC, Kruse EE (2012) Relationship between precipitation and water-table fluctuation in a coastal dune aquifer: northeastern coast of the Buenos Aires province, Argentina. Hydrogeol J 20:1613–1621

Chae GT, Kim K, Yun ST, Kim KH, Kim SO, Choi BY, Kim HS, Rhee CW (2004) Hydrochemistry of alluvial groundwaters in an agricultural area: an implication for groundwater contamination susceptibility. Chemosphere 55:369–378

Chae GT, Yun ST, Mayer B, Choi BY, Kim KH, Kwon JS, Yu SY (2009) Hydrochemical and stable isotopic assessment of nitrate contamination in an alluvial aquifer underneath a riverside agricultural field. Agric Water Manag 96:1819–1827

Clark ID, Fritz P (1997) Environmental isotopes in hydrogeology. Lewis, Boca Raton, FL

Coelho VHR, Montenegro S, Almeida CN, Silva BB, Oliviera LM, Gusmao V, Freitas ES, Montenegro AAA (2017) Alluvial groundwater recharge estimation in semi-arid environment using remotely sensed data. J Hydrol 548:1–15

EC (2000) Directive 2000/60/EC of the European Parliament and of council establishing a framework for the community action in the field of water policy (Water Framework Directive). Off J Eur Comm OJ L 327

EC (2006) Directive 2000/60/EC of the European Parliament and of Council on the protection of groundwater against pollution and deterioration (Groundwater Directive). Off J Eur Comm OJ L 372

Healy RW, Cook PG (2002) Using groundwater levels to estimate recharge. Hydrogeol J 10:91–109

Herčík L, Jásek J (2013) One hundred years of Káraný waterworks (in Czech). SOVAK 7–8:1–6

Hiscock KM, Grischek T (2002) Attenuation of groundwater pollution by bank filtration. J Hydrol 266:139–144

Hronec L (2012) Sources of nitrate in lower reach of Jizera alluvium: unsaturated zone and other sources (in Czech). Diploma Thesis, Charles University, Prague, 109 pp

IAEA (2006) Use of chlorfluorcarbons in hydrology: a guidebook. International Atomic Energy Agency, Vienna

Izbicki JA, Flint AL, O'Leary DR, Nishikawa T, Martin P, Johnson RD, Clark DA (2015) Storage and mobilization of natural and septic nitrate in thick unsaturated zones, California. J Hydrol 524:147–165

Jurgens BC, Böhlke JK, Eberts SM (2012) TracerLPM (version 1): an Excel workbook for interpreting groundwater age distributions from environmental tracer data. US Geol Surv Techniques Methods Rep 4-F3, 60 pp

Kamas J, Bruthans J, Vysoká H, Kovařík M (2016) Range of horizontal transport and residence time of nitrate in a mature karst vadose zone. Int J Speleol 44:49–59

Kedziourek MAM, Geoffriau S, Bourg ACM (2008) Organic matter and modeling redox reactions during river bank filtration in an alluvial aquifer of the Lot River, France. Environ Sci Technol 42:2793–2798

Klír J, Šimon T, Svoboda P, Kurešová G, Haberle J (2017) The distribution of mineral nitrogen in soil in relation to risk of nitrogen leaching in farms with irrigated vegetables. In: Innovative solutions for sustainable management of Nitrogen. Aarhus University, Copenhagen

Křivánek O, Kněžek M (2001) Sources of drinking water in Káraný (in Czech). Pragueue Waterworks, Prague, pp 33

Loos R, Locoro G, Comero S, Contini S, Schweisig D, Werres F, Balsaa P, Gans O, Weiss S, Blaha L, Bolchi M, Gawlik BM (2010) Pan-European survey on the occurrence of selected polar organic persistent pollutants in ground water. Water Res 44:4115–4126

Maloszewski P, Zuber A (1996) Lumped parameter models for interpretation of environmental tracer data, chap 2. In: Manual on mathematical models in isotope hydrogeology, TECDOC-910, IAEA, Vienna, pp 9–58

Menció A, Mas-Pla J, Otero N, Regás O, Boy-Roura M, Puig R, Bach J, Doménech C, Zamonaro M, Brusi D, Folch A (2016) Nitrate pollution of groundwater: all right … , but nothing else? Sci Total Environ 539:241–251

Mendes MP, Ribeiro L (2010) Nitrate probability mapping in the northern aquifer alluvial system of the River Tagus (Portugal) using disjunctive kriging. Sci Total Environ 408:1021–1034

Milický M, Polák P (2006) Numerical simulation of groundwater flow to evaluate quantity and quality of groundwater in Káraný (in Czech). SOVAK 7–8:48–54

Rybářová M (2015) Quaternary hydrogeology in Skorkov and Sojovice riverbank filtration system, based on the new data from groundwater wells (in Czech). Diploma Thesis, Charles University, Prague, 107 pp

Scanlon BR, Healy RW, Cook PG (2002) Choosing appropriate techniques for quantifying groundwater recharge. Hydrogeol J 10:18–39

Solomon DK, Gilmore TE, Solder J, Kimball B, Genereux DP (2015) Evaluating an unconfined aquifer by analysis of age-dating tracers in stream water. Water Resour Res 51:8883–8889

Torrentó C, Cama J, Urmeneta J, Otero N, Soler A (2010) Denitrification of groundwater with pyrite and Thiobacillus denitrificans. Chem Geol 278:80–91

Uličný D, Laurin J, Čech S (2009) Controls on clastic sequence geometries in a shallow marine, transtensional basin: the Bohemian cretaceous basin, Czech Republic. Sedimentology 56:1077–1114

Wang L, Stuart ME, Lewis MA, Ward RS, Skirvin D, Naden PS, Collins AL, Ascott MJ (2016) The changing trend in nitrate concentrations in major aquifers due to historical nitrate loading from agricultural land across England and Wales from 1925 to 2150. Sci Total Environ 542:694–705
Acknowledgements
We wish to thank L. Hronec, J. Grundloch, and M. Rybářová for cooperation on the field work. We also wish to thank L. Herčík, M. Milický, F. Buzek, the Prague Waterworks Co. and the Progeo Co. for valuable information, two anonymous reviewers, M. Slavík for valuable comments, and P. Lemkin for improvements to the English.
Funding
This research was funded by Ministry of Agriculture of the Czech Republic - project NAZV QJ 1320213 "Inovation of farming production systems in quaternary sediments, their evaluation and application in water sources protection zones".
Electronic supplementary material
About this article
Cite this article
Bruthans, J., Kůrková, I. & Kadlecová, R. Factors controlling nitrate concentration in space and time in wells distributed along an aquifer/river interface (Káraný, Czechia). Hydrogeol J 27, 195–210 (2019). https://doi.org/10.1007/s10040-018-1854-7
Received:

Accepted:

Published:

Issue Date:
Keywords
Contamination

Groundwater monitoring

Groundwater/surface-water relations

Nitrate

Unconsolidated sediments