Abstract
It would be possible to elucidate an ambiguity associated with the "silica-enthalpy mixing models" geothermometric technique, provided that an independent estimate was obtained concerning the enthalpy and the dissolved SiO2 content of the hot end-member involved in a mixture between two liquid-phase groundwaters. This would allow one to ascertain whether or not, prior to mixing with the cold parent-water, the hot end-member had undergone a boiling process. The specificities of the Băile Herculane geothermal system (South Carpathians, Romania) provides an opportunity to solve this uncertainty, in contrast to the majority of the so-far investigated natural settings. Advantage has been taken, in this respect, of the fact that a hot brackish Na-Ca-Cl-type parent-water was found to be involved at this site in two separate mixing settings: one which involved only a diluting fluid that was, itself, chloride-rich, and another one which additionally involved, as a third end-member, karst freshwater. By exploiting the two distinct, and converging, linear mixing trends (obtained from the conservatively-behaving natural tracers Cl− and Na+, as well as reasonably tight correlations between the chloride concentration and the contents of both heat and SiO2), the concerned hot brackish end-member contents of heat (enthalpy) and of conservative solutes were quite accurately assessed. This result enabled independent validation of the "no steam loss" hypothesis, out of various alternative scenarios proposed by the "silica-enthalpy mixing models" technique.
Résumé
Il serait possible d'élucider une ambiguïté associée à la technique de géothermométrie des "modèles de mélange silice-enthalpie", à condition qu'une estimation indépendante ait été obtenue concernant l'enthalpie et la teneur en SiO2 dissoute du membre de l'extrémité chaude impliqué dans un mélange entre deux eaux souterraines en phase liquide. Cela permettrait de déterminer si, avant le mélange l'eau froide d'origine, le membre de l'extrémité chaude avait subi un processus d'ébullition. Les spécificités du système géothermal de Băile Herculane (Sud des Carpathes, Roumanie) donnent l'occasion de lever cette incertitude, contrairement à la majorité des milieux naturels étudiés à ce jour. L'avantage a été pris à cet égard, du fait qu'une eau chaude originelle saumâtre de type Na-Ca-Cl a été impliquée sur ce site dans deux conditions distinctes de mélange: une impliquant seulement un fluide de dilution qui était, lui-même, riche en chlorures, et une autre impliquant de plus, en tant que troisième membre, une eau douce karstique. En exploitant les deux tendances de mélange linéaire distinctes, et convergentes (obtenues à partir des traceurs naturels conservatifs Cl− et Na+, ainsi que de raisonnablement bonnes corrélations entre les concentrations des chlorures et les teneurs de la chaleur et de SiO2), les teneurs en chaleur (enthalpie) de l'élément de l'extrémité chaud et saumâtre et des solutés conservatifs ont été évaluées de façon très précise. Ce résultat a permis de valider de manière indépendants l'hypothèse de "non perte de vapeur", à partir de divers scénarios alternatifs proposé par la technique des "modèles de mélange silice-enthalpie". This result enabled independent validation of the "no steam loss" hypothesis, out of various alternative scenarios proposed by the "silica-enthalpy mixing models" technique.
Resumen
Sería posible dilucidar una ambigüedad asociada con la técnica geotermométrica en los "modelos de mezcla de sílica-entalpía", siempre que se obtuviera una estimación independiente con respecto a la entalpía y el contenido de SiO2 disuelto del miembro del extremo caliente involucrado en una mezcla entre dos fases líquidas de las aguas subterráneas. Esto permitiría determinar si, antes de mezclarse con el agua original fría, el miembro del extremo caliente se había sometido o no a un proceso de ebullición. Las especificidades del sistema geotérmico de Băile Herculane (South Carpathians, Romania) brindan la oportunidad de resolver esta incertidumbre, en contraste con la mayoría de los escenarios naturales hasta ahora investigados. Se ha aprovechado, a este respecto, el hecho de que se encontró un agua salobre caliente de tipo Na-Ca-Cl en este sitio en dos configuraciones de mezcla separadas: una que involucraba solo un fluido diluyente que era en sí mismo, rico en cloruro, y otro que adicionalmente involucró, como tercer miembro extremo, agua dulce kárstica. Al aprovechar las dos tendencias de mezcla lineales distintas, y convergentes (obtenidas por trazadores naturales, Cl− and Na+, de comportamiento conservador, así como por correlaciones razonablemente ajustadas entre la concentración de cloruro y el contenido tanto de calor como de SiO2), los contenidos de calor (entalpía) del extremo salobre caliente y de los solutos conservadores se evaluaron con bastante precisión. Este resultado permitió la validación independiente de la hipótesis "sin pérdida de vapor", de varios escenarios alternativos propuestos por la técnica de "modelos de mezcla sílice-entalpía".
摘要
如果能获取两个液相地下水混合物中有关热端员的热焓和溶解二氧化硅含量独立估算值, 那么,就有可能阐明与"二氧化硅-热焓的混合模型"地热温度技术相关的含糊情况。这将使人们能够确定与冷的母水混合之前热端员是否经历了沸腾过程。相对于大多数目前调查研究的自然背景来说,(罗马尼亚喀尔巴阡山南部)Băile Herculane地热系统的特异性为解决这个不确定性提供了机会。在这方面占有优势,发现在两个不同的混合背景下都有热的微咸Na-Ca-Cl-类型母水,这为研究提供了优势:一种背景只涉及稀释的液体,这种液体本身富含氯化物,另一种背景还涉及作为第三端员的岩溶水。通过找到两个明显的及会聚的线性趋势(从中规中矩的天然示踪剂Cl− 和 Na+,及氯化物含量与热量和SiO2含量之间的合理严格对比中获取),就可以准确地评价有关热量(热焓)和保守溶质的热微咸端员含量。这个结果能够使人们在"二氧化硅-热焓混合模型"技术提出的众多的可选择的方案中独立确认"无蒸汽损失"假设。
Resumo
Seria possível elucidar uma ambiguidade associada à técnica geotermométrica de "modelos de mistura de entalpia de sílica", desde que uma estimativa independente fosse obtida com relação à entalpia e ao conteúdo de SiO2 dissolvido do membro final envolvido em uma mistura entre águas subterrâneas de duas fases líquidas. Isso permite determinar se é ou não, antes de se misturar com a fonte de água fria, o elemento final quente que tivesse sofrido um processo de ebulição. As especificidades do sistema geotérmico Băile Herculane (Cárpatos do Sul, Romênia) oferecem uma oportunidade para resolver essa incerteza, em contraste com a maioria dos cenários naturais investigados até agora. Nesse sentido, foi tirada vantagem do fato de ter sido encontrada uma fonte de água quente salobra do tipo Na-Ca-Cl para ser envolvida neste local em duas configurações de mistura separadas: uma que envolveu apenas um fluido de diluição que era, ela própria, rica em cloreto; e outra que envolveu, adicionalmente, como terceiro membro final, água doce cárstica. Ao explorar as duas tendências distintas, e convergentes, de mistura linear (obtidas dos traçadores naturais de comportamento conservador Cl− e Na+), bem como correlações estreitas entre a concentração de cloreto e o conteúdo de muito calor e SiO2), os conteúdos do membro final quente salobro do calor (entalpia) e dos solutos conservativos foram avaliados com bastante precisão. Esse resultado permitiu a validação independente da hipótese "sem perda de vapor", a partir de vários cenários alternativos propostos pela técnica de "modelos de mistura de entalpia de sílica".
Access options
Buy single article
Instant access to the full article PDF.
USD 39.95
Price includes VAT (USA)
Tax calculation will be finalised during checkout.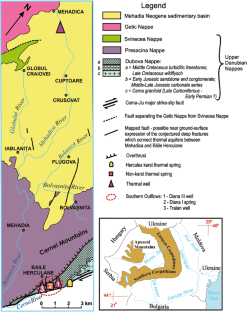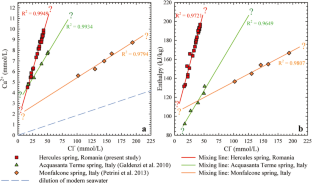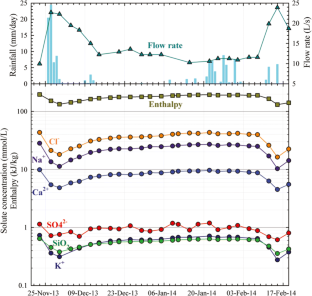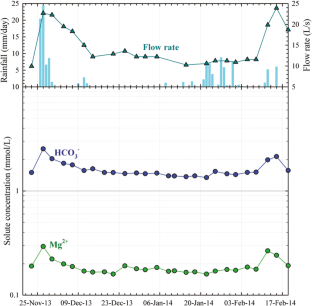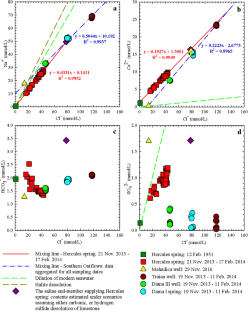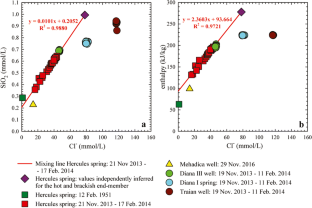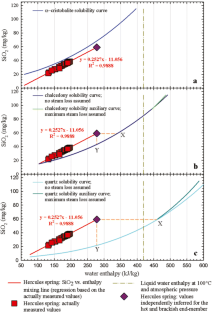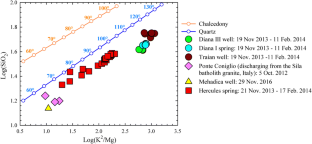 References
Allen DM, Grasby SE, Voormeij DA (2006) Determining the circulation depth of thermal springs in the southern Rocky Mountain trench, south-eastern British Columbia, Canada using geothermometry and borehole temperature logs. Hydrogeol J 14(1–2):159–172. https://doi.org/10.1007/s10040-004-0428-z

Apollaro C, Vespasiano G, Muto F, De Rosa R, Barca D, Marini L (2016) Use of mean residence time of water, flowrate, and equilibrium temperature indicated by water geothermometers to rank geothermal resources: application to the thermal water circuits of northern Calabria. J Volc Geothermal Res 328:147–158. https://doi.org/10.1016/j.jvolgeores.2016.10.014

Aquilina L, Ladouche B, Doerfliger N, Bakalowicz M (2003) Deep water circulation, residence time, and chemistry in a karst complex. Groundwater 41(6):790–805. https://doi.org/10.1111/j.1745-6584.2003.tb02420.x

Arnórsson S, Gunnlaugsson E, Svavarsson H (1983a) The chemistry of geothermal waters in Iceland, II: mineral equilibria and independent variables controlling water compositions. Geochim Cosmochim Acta 47(3):547–566. https://doi.org/10.1016/0016-7037(83)90277-6

Arnórsson S, Gunnlaugsson E, Svavarsson H (1983b) The chemistry of geothermal waters in Iceland, III: chemical geothermometry in geothermal investigations. Geochim Cosmochim Acta 47(3):567–577. https://doi.org/10.1016/0016-7037(83)90278-8

Avşar Ö, Kurtuluş B, Gürsu S, Gençalioğlu Kuşcu G, Kaçaroğlu F (2016) Geochemical and isotopic characteristics of structurally controlled geothermal and mineral waters of Muğla (SW Turkey). Geothermics 64:466–481. https://doi.org/10.1016/j.geothermics.2016.06.020

Belhai M, Fujimitsu Y, Bouchareb-Haouchine FZ, Iwanaga T, Noto M, Nishijima J (2016) Hydrogeochemical and isotope geochemical study of northwestern Algerian thermal waters. Arab J Geosci 9(3):169. https://doi.org/10.1007/s12517-015-2252-2

Berza T, Balintoni I, Iancu V, Seghedi A, Hann HP (1994) South Carpathians, ALCAPA II field guidebook. Rom J Tect Reg Geol 75(Suppl 2):37–50

Carrera J, Vázquez-Suñé E, Castillo O, Sánchez-Vila X (2004) A methodology to compute mixing ratios with uncertain end-members. Water Resour Res 40(12):W12101. https://doi.org/10.1029/2003WR002263

Chatterjee S, Sharma S, Ansari MA, Deodhar AS, Low U, Sinha UK, Dash A (2016) Characterization of subsurface processes estimation of reservoir temperature in Tural Rajwadi geothermal fields, Maharashtra, India. Geothermics 59:77–89. https://doi.org/10.1016/j.geothermics.2015.10.011

Dadomo A, Lemmi M, Martinelli G, Menichetti M, Telesca L (2013) Springwater continuous monitoring in the L'Aquila area in concomitance with the April 2009 seismic swarm in central Italy: constraining factors to possible deep-seated fluid emissions. Chem Geol 339:169–176. https://doi.org/10.1016/j.chemgeo.2012.07.011

Drogue C, Cat NN, Dazy J (2000) Geological factors affecting the chemical characteristics of the thermal waters of the carbonate karstified aquifers of northern Vietnam. Hydrol Earth Syst Sci 4(2):332–340. https://doi.org/10.5194/hess-4-332-2000

Fournier RO (1977) Chemical geothermometers and mixing models for geothermal systems. Geothermics 5(1–4):41–50. https://doi.org/10.1016/0375-6505(77)90007-4

Galdenzi S (1997) Initial geologic observations in caves bordering the Sibari plain (southern Italy). J Cave Karst Stud 59(2):81–86

Galdenzi S, Cocchioni F, Filipponi G, Morichetti L, Scuri S, Selvaggio R, Cocchioni M (2010) The sulfidic thermal caves of Acquasanta Terme (central Italy). J Cave Karst Stud 72(1):43–58. https://doi.org/10.4311/jcks2008es0056

Giggenbach WF, Sheppard DS, Robinson BW, Stewart MK, Lyon GL (1994) Geochemical structure and position of the Waiotapu geothermal field, New Zealand. Geothermics 23(5–6):599–644. https://doi.org/10.1016/0375-6505(94)90022-1

Göb S, Loges A, Nolde N, Bau M, Jacob DE, Markl G (2013) Major and trace element compositions (including REE) of mineral, thermal, mine and surface waters in SW Germany and implications for water–rock interaction. Appl Geochem 33:127–152. https://doi.org/10.1016/j.apgeochem.2013.02.006

Gökgöz A, Akdağoğlu H (2016) Hydrogeology and hydrogeochemistry of a coastal low-temperature geothermal field: a case study from the Datça peninsula (SW Turkey). Environ Earth Sci 75(15):1143. https://doi.org/10.1007/s12665-016-5957-y

Gökgöz A, Tarcan G (2006) Mineral equilibria and geothermometry of the Dalaman-Köyceğiz thermal springs, southern Turkey. Appl Geochem 21(2):253–268. https://doi.org/10.1016/j.apgeochem.2005.08.010

Goldscheider N, Mádl-Szönyi J, Eröss A, Schill E (2010) Review: Thermal water resources in carbonate rock aquifers. Hydrogeol J 18(6):1303–1318. https://doi.org/10.1007/s10040-010-0611-3

Grasby SE, Hutcheon I, Krouse HR (2000) The influence of water–rock interaction on the chemistry of thermal springs in western Canada. Appl Geochem 15(4):439–454. https://doi.org/10.1016/S0883-2927(99)00066-9

Han DM, Liang X, Jin MG, Currell MJ, Song XF, Liu CM (2010) Evaluation of groundwater hydrochemical characteristics and mixing behavior in the Daying and Qicun geothermal systems, Xinzhou Basin. J Volcanol Geotherm Res 189(1):92–104. https://doi.org/10.1016/j.jvolgeores.2009.10.011

Hébrard O, Pistre S, Cheynet N, Dazy J, Batiot-Guilhe C, Seidel J-L (2006) Origine des eaux des émergences karstiques chlorurées du Languedoc-Roussillon [Origin of the waters with high chloride in karstic emergences of Languedoc-Roussillon region]s. C R Geoscience 338(10):703–710. https://doi.org/10.1016/j.crte.2006.04.018

Hose LD, Palmer AN, Palmer MV, Northup DE, Boston PJ, DuChene HR (2000) Microbiology and geochemistry in a hydrogen-sulphide-rich karst environment. Chem Geol 169(3-4):399–423. https://doi.org/10.1016/S0009-2541(00)00217-5

Iliescu O, Hinculov A, Hinculov L (1968) Geologia Bazinului Mehadia [Geology of the Mehadia Basin]. Mem Inst Geol 9:1–72

Ionescu A, Baciu C, Kis B-M, Sauer PE (2017) Evaluation of dissolved light hydrocarbons in different geological settings in Romania. Chem Geol 469:230–245. https://doi.org/10.1016/j.chemgeo.2017.04.017

Khaska M, Le Gal La Salle C, Videau G, Flinois J-S, Frape S, Team A, Verdoux P (2015) Deep water circulation at the northern Pyrenean thrust: implication of high temperature water–rock interaction process on the mineralization of major spring water in an overthrust area. Chem Geol 419:114–131. https://doi.org/10.1016/j.chemgeo.2015.10.028

Laaksoharju M, Gascoyne M, Gurban I (2008) Understanding groundwater chemistry using mixing models. Appl Geochem 23(7):1921–1940. https://doi.org/10.1016/j.apgeochem.2008.02.018

Lambrakis N, Kallergis G (2005) Contribution to the study of Greek thermal springs: hydrogeological and hydrochemical characteristics and origin of thermal waters. Hydrogeol J 13(3):506–521. https://doi.org/10.1007/s10040-004-0349-x

Linzer H-G, Frisch W, Zweigel P, Girbacea R, Hann H-P, Moser F (1998) Kinematic evolution of the Romanian Carpathians. Tectonophysics 297(1–4):133–156. https://doi.org/10.1016/S0040-1951(98)00166-8

Marques JM, Graça H, Eggenkamp HGM, Neves O, Carreira PM, Matias MJ, Mayer B, Nunes D, Trancoso VN (2013) Isotopic and hydrochemical data as indicators of recharge areas, flow paths and water–rock interaction in the Caldas da Rainha–Quinta das Janelas thermomineral carbonate rock aquifer (central Portugal). J Hydrol 476:302–313. https://doi.org/10.1016/j.jhydrol.2012.10.047

Mărunţeanu M, Şerban E, Rusu A (1994) Neogene of Caransebeş-Mehadia Basin. Rom J Stratigraphy 76:79–87

Minissale A, Vaselli O (2011) Karst springs as "natural" pluviometers: constraints on the isotopic composition of rainfall in the Apennines of central Italy. Appl Geochem 26(5):838–852. https://doi.org/10.1016/j.apgeochem.2011.02.005

Nicolescu M (1970) Privire generală asupra geologiei şi apelor minerale din judeţul Caraş-Severin [A general overview on the geology and the mineral waters of Caraş-Severin County]. In: Apele minerale şi nămolurile terapeutice din Republica Socialistă România, vol III. Medicală, Bucurest, Romania, pp 123–150

Petrini R, Italiano F, Ponton M, Slejko FF, Aviani U, Zini L (2013) Geochemistry and isotope geochemistry of the Monfalcone thermal waters (northern Italy): inference on the deep geothermal reservoir. Hydrogeol J 21(6):1275–1287. https://doi.org/10.1007/s10040-013-1007-y

Pinault J-L, Plagnes V, Aquilina L, Bakalowicz M (2001) Inverse modeling of the hydrological and the hydrochemical behavior of hydrosystems: characterization of karst system functioning. Water Resour Res 37(8):2191–2204. https://doi.org/10.1029/2001WR900018

Pop E (1957) Studiu geologic al Bazinului Mehadiei [Geological study of the Mehadia Basin]. Anuar Comit Geol 30:51–105

Povară I (2012) Valea Cernei: morfologe, hidrologie, ape termominerale [Cerna Valley: morphology, hydrology, thermomineral waters]. AGIR, Bucureşti, Romania

Povară I, Simion G, Marin C (2008) Thermomineral waters from the Cerna Valley basin (Romania), Studia Universitatis Babeş-Bolyai. Geologia 53(2):41–54. https://doi.org/10.5038/1937-8602.53.2.4

Povară I, Conovici M, Munteanu C-M, Marin C, Ioniţă ED (2015) Karst systems within the southern Carpathians structure (Romania). Carpathian J Earth Environ Sci 10(2):5–17

Rosales Lagarde L, Boston PJ, Campbell AR, Hose LD, Axen G, Stafford KW (2014) Hydrogeology of northern sierra de Chiapas, Mexico: a conceptual model based on a geochemical characterization of sulfide-rich karst brackish springs. Hydrogeol J 22(6):1447–1467. https://doi.org/10.1007/s10040-014-1135-z

Santaloia F, Zuffianò LE, Palladino G, Limoni PP, Liotta D, Minissale A, Brogi A, Polemio M (2016) Coastal thermal springs in a foreland setting: the Santa Cesarea Terme system (Italy). Geothermics 64:344–361. https://doi.org/10.1016/j.geothermics.2016.06.013

Stan N (1995) Tectogenetic transformations in the pre-alpine geologic basement of the Orşova-Topleţ-Băile Herculane region (Banat – South Carpathians). Rom J Tect Reg Geol 76:83–86

Zaharia B, Grecu B, Popa M, Oros E, Radulian M (2017) Crustal structure in the western part of Romania from local seismic tomography. IOP Conf. Series. Earth Environ Sci 95:032019. https://doi.org/10.1088/1755-1315/95/3/032019
Acknowledgements
We gratefully acknowledge the dedicated support provided by Elisabeta Primejdie and Socrate Bucur during the field operations. Special thanks go to Floarea Răducă for her continuing assistance in the laboratory work. We are also grateful to Ioan Berbeleac, Florina Chitea, Cristina Fianu, Ioan Seghedi and Mihai Tatu for helping us to enlarge our necessary database of scientific publications. We feel deeply indebted to two anonymous reviewers, whose insightful suggestions greatly contributed to improving the original version of our manuscript. Also, we greatly appreciate the support of Martin Appold, Susanne Schemann, Sue Duncan and the other members of the Hydrogeology Journal editorial team.
Funding
This work was supported by a grant from the Romanian National Authority for Scientific Research, CNDI-UEFISCDI, project number PN-II-PT-PCCA-2011-3.1-1619 (contract No. 48/2012).
Electronic supplementary material
About this article
Cite this article
Mitrofan, H., Marin, C., Povară, I. et al. Better constraining silica-enthalpy mixing models in a setting of two separate (karst and non-karst) dilution regimes. Hydrogeol J 27, 291–304 (2019). https://doi.org/10.1007/s10040-018-1846-7
Received:

Accepted:

Published:

Issue Date:
Keywords
Thermal conditions

Hydrochemistry

Silica geothermometers

Karst

Romania