Abstract
In the central part of the semi-arid Dargol Basin of southwestern Niger, most of the groundwater resource is contained in the fractured aquifers of the Precambrian basement. The groundwater resource is poorly characterized and this study is the first attempt to better describe the recharge mechanisms and hydrogeochemical behaviour of the aquifers. Hydrogeochemical and piezometric methods were combined to determine changes in recharge rate and origin of groundwaters for the shallow weathered aquifer and the deep fissured/fractured aquifer. At the basin scale, the groundwater fluxes towards the Niger River are influenced mainly by topography, with no visual long-term trend in groundwater levels (1980–2009). The hydro-geochemical signature is dominated by the calcic-bicarbonate to magnesian (70%) type. It shows evolution from an open environment with CO2 and low mineralized water (granitoids, alterites) towards a more confined environment with more mineralized waters (schists). Stable water isotopes (δ18O, δ2H) analysis suggests two main groundwater recharge mechanisms: (1) direct recharge with nearly no post-rainfall fractionation signature and (2) indirect recharge from evaporated surface waters and/or stream-channel beds. Groundwater tritium content indicates that recharge is mostly recent, with an age less than 50 years (3H > 3 TU), with only 10% indicating low or even no recharge for the past decades. A median value of the groundwater renewal rate estimated from individual values of tritium is equivalent to 1.3% year−1, close to the one determined for groundwater samples dating to the early 1980s, thus indicating no measurable long-term change.
Résumé
Dans la partie centrale du bassin semi-aride du Dargol du sud-ouest du Niger, l'essentiel des ressources en eau souterraine est contenu dans les aquifères fissurés du socle Précambrien. La ressource en eau souterraine est peu caractérisée et cette étude est la première tentative pour mieux décrire les mécanismes de recharge et le comportement hydrogéochimique des aquifères. Une méthodologie combinant l'étude de la piézométrie et l'hydrogéochimie est élaborée pour déterminer les changements dans les taux de recharge et l'origine des eaux souterraines des nappes superficielles d'altérites et des aquifères profonds fissurés/fracturés. A l'échelle du bassin, les flux d'eau souterraine vers le Fleuve Niger sont principalement influencés par la topographie; aucune tendance à long terme dans les niveaux d'eau souterraine (1980–2009) n'est observée. La signature hydrogéochimique est dominée par un faciès bicarbonaté calcique à magnésien (70%). Elle montre une évolution depuis un milieu ouvert (granitoïdes, altérites) avec du CO2 et des eaux moins minéralisées, vers un milieu quasi-fermé (schistes) avec des eaux plus minéralisées. Les teneurs en isotopes stables (δ18O, δ2H) de la nappe aquifère indiquent deux principaux mécanismes de recharge: (1) une recharge directe par les eaux des pluies peu ou pas évaporées, et (2) une recharge indirecte par les eaux évaporées issues des lits des koris et des eaux de surface. Les teneurs en tritium des eaux souterraines indiquent que la recharge est récente, avec un âge inférieur à 50 ans (3H > 3 TU), avec seulement 10% des points indiquant une recharge faible ou absente lors des dernières décennies. Le taux de renouvellement médian estimé à partir des valeurs individuelles en tritium est d'environ 1.3% an−1; proche de la valeur déterminée avec des échantillons datant du début des années 1980 ce qui indique qu'aucun changement sur le long terme n'est mesurable.
Resumen
En la parte central de la cuenca semiárida de Dargol, en el sudoeste de Níger, la mayor parte del recurso de agua subterránea está contenido en los acuíferos fracturados del basamento precámbrico. El recurso subterráneo está pobremente caracterizado y este estudio es el primer intento de describir mejor los mecanismos de recarga y el comportamiento hidrogeoquímico de los acuíferos. Se combinaron métodos hidrogeoquímicos y piezométricos para determinar los cambios en la tasa de recarga y el origen del agua subterránea en el acuífero somero, relacionado a la meteorización y el acuífero fisurado/fracturado profundo. A la escala de la cuenca, los flujos de aguas subterráneas hacia el río Níger están influenciados principalmente por la topografía, sin que exista una tendencia de variación a largo plazo (1980–2009) de los niveles de agua subterránea. La firma hidrogeoquímica está dominada por el tipo de agua bicarbonatada cálcica a magnésica (70%). Muestra una evolución desde un ambiente libre con agua con CO2 y poco mineralizada (granitoides, alteritas) hacia un ambiente más confinado con aguas más mineralizadas (esquistos). El análisis de isótopos estables del agua (δ18O, δ2H) sugiere dos mecanismos principales de recarga del agua subterránea: (1) recarga directa casi sin señal de fraccionamiento posterior a la lluvia y (2) recarga indirecta de aguas superficiales evaporadas y/o de lechos de los canales de las corrientes. El contenido de tritio en el agua subterránea indica que la recarga es en su mayoría reciente, con una edad inferior a 50 años (3H > 3 TU), y solo el 10% indica una recarga baja o incluso nula durante las últimas décadas. El valor de la mediana de la tasa de renovación de agua subterránea estimada a partir de valores individuales de tritio es equivalente a 1.3% año−1, próximo al que se determinó para muestras de agua subterránea que datan de principios de los 80, indicando que no hay cambios mensurables a largo plazo.
摘要
在尼日尔西南部半干旱的Dargol流域中部,大多数地下水资源赋存于前寒武基底的断裂含水层中。对地下水资源的特征描述很少,本研究第一次试图更好地描述含水层的机理和水文地质特性。综合采用水文地球化学和测压方法确定了浅层风化含水层和深层裂隙/断裂含水层的补给量变化和地下水成因。在流域尺度上,地下水流向尼日尔河的通量主要受地形的影响,没有地下水水位的长期趋势数据(1980–2009年)。水文地球化学印记主要受钙质重碳酸盐至镁(70%)类型支配。显示了从含有CO2及低矿化度水(花岗岩类岩石及蚀变重矿物)开放环境向含有矿化度较高的水(片岩)更封闭的环境演化过程。稳定同位素(δ18O, δ2H)分析表明,有两个主要的地下水补给机理:(1)几乎没有降雨后分馏印记的直接补给及(2)来自蒸发的地表水及/或河道河床的间接补给。地下水氚含量表明,补给主要是近代的,年龄少于50年(3H > 3 TU),只有10%的补给不是过去几十年的补给。通过氚各自的值估算出来的地下水更新率中间值相当于1.3% year−1,接近于20世纪80年代地下水样品确定的中间值,因此,表明没有重大的长期变化。
Resumo
Na parte central da bacia semiárida de Dargol no Sudoeste de Niger, a maior parte dos recursos hídricos subterrâneos está contido em um aquífero fraturado de embasamento Pré-cambriano. Os recursos hídricos subterrâneos estão mal caracterizados e esse estudo é a primeira tentativa de descrever melhor os mecanismos de reacarga e o comportamento hidrogeoquímico dos aquíferos. Métodos hidrogeoquímicos e piezométricos foram combinados para determinar mudanças na taxa de recarga e origem das águas subterrâneas para os aquíferos intemperizado raso e fraturado/fissurado profundo. Na escala da bacia, os fluxos de águas subterrâneas em direção ao Rio Niger são influenciados principalmente pela topografia, sem tendência de longo termo visível nos níveis de águas subterrâneas (1980–2009). A assinatura hidrogeoquímica é dominada pelo tipo bicarbonatada-cálcica para magnesiana (70%). Isso demonstra a evolução de um meio ambiente aberto com CO2 e água de baixa mineralização (granitoide, alteritos) em direção a um meio ambiente mais confinado com águas mais mineralizadas (xistos). Analise de isótopos estáveis (δ18O, δ2H) da água sugere dois principais mecanismos de recarga: (1) recarga direta sem assinatura pós-precipitação próxima e (2) recarga indireta de águas superficiais evaporadas e/ou leito do canal-córrego. O conteúdo de trítio indica que a recarga é mais recente, com idades menores que 50 anos (3H > 3 TU), com apenas 10% indicando baixa ou não recarga nas décadas passadas. O valor médio da taxa de renovação de águas subterrâneas estimado dos valores individuais de trítio é equivalente a 1.3% anos−1, próximo ao determinado para amostras de águas subterrâneas datando do começo da década de 80, assim indicando mudança de longo termo não mensurável.
Access options
Buy single article
Instant access to the full article PDF.
USD 39.95
Price excludes VAT (USA)
Tax calculation will be finalised during checkout.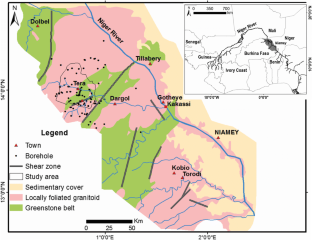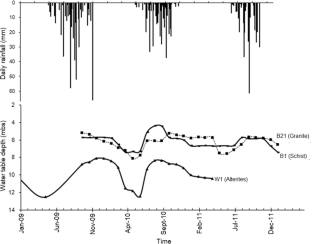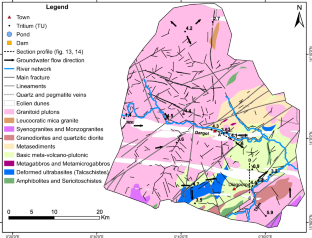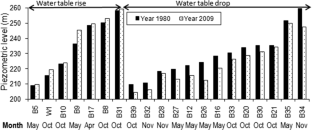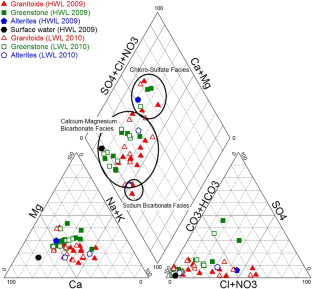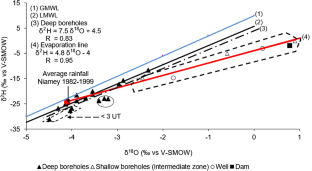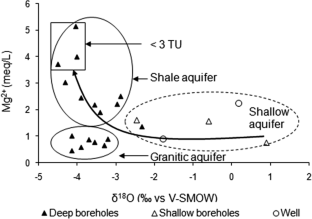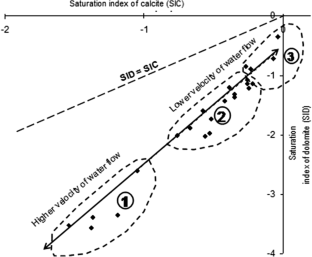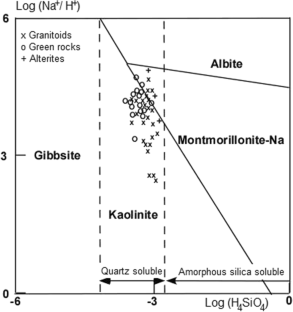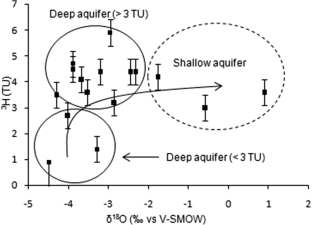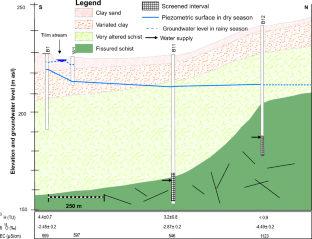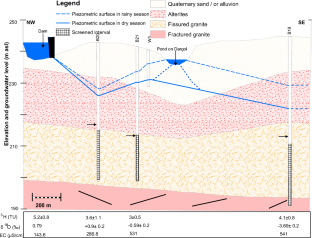 References
Abdalla OAE (2009) Groundwater recharge/discharge in semi-arid regions interpreted from isotope and chloride concentrations in North White Nile rift, Sudan. Hydrogeol J 17:679–692. https://doi.org/10.1007/s10040-008-0388-9

Abdou Babaye MS (2012) Evaluation des ressources en eau souterraine dans le bassin de Dargol (Liptako–Niger) [Groundwater resources estimates in the River Dargol basin (Liptako, Niger)]. PhD Thesis Univ. Liège, Belgium, 235 pp

Abdou A, Bonnot H, Bory K, Chalamet D, St Martin M, Younfa I (1998) Notice explicative des cartesgéologiques du Liptako à 1/100 000 et 1/200 000 [Explanatory note of the geological maps of the Liptako region at scales of 1/100,000 and 1/200,000]. Ministry of Mines and Energy, Niamey, Niger, 64 pp

Acheamponga SY, Hess JW (2000) Origin of the shallow groundwater system in the southern Voltaian Sedimentary Basin of Ghana: an isotopic approach. J Hydrol 233:37–53

Adiaffi A, Marlin C, Oga YMS, Massault M, Noret A, Biemi J (2009) Palaeoclimatic and deforestation effect on the coastal fresh groundwater resources of SE Ivory Coast from isotopic and chemical evidence. J Hydrol 369:130–141

Affaton P, Gaviglio P, Pharisat A (2000) Réactivation du craton Ouest-africain au Panafricain : paléocontraintes déduites de la fracturation des grès néoprotérozoïques de Karey Gorou (Niger, Afrique de l'Ouest) [Reactivation of the West-African craton during the Panafrican tectonic cycle: evidence of paleostresses recorded by brittle deformation in the Neoproterozoic sandstones of KareyGorou (Niger, West Africa)]. C R Sci Acad Paris 331:609–614

Aggarwal, P. K., Gat J. R. and K. F. O Froehlich (eds) (2005) Isotopes in the water cycle: past, present and future of a developing science. Springer, Dordrecht, The Netherlands

Amani A, Nguetora M (2002) Evidence d'une modification du régime hydrologique du fleuve Niger à Niamey [Evidence of a change in the hydrological regime of the river Niger in Niamey]. IAHS Publ 274, IAHS, Wallingford, UK, pp 449–456

Aranyossy JF, Gaye CB (1992) Use of the tritium thermonuclear peak in the deep unsaturated zone for quantitative estimate of aquifer recharge under semiarid conditions: first application in the Sahel. CR Acad Sci Paris 315(Ser II):637–643

Bajjali W (2008) Evaluation of groundwater in a three-aquifer system in Ramtha area, Jordan: recharge mechanisms, hydraulic relationship and geochemical evolution. Hydrogeol J 16:1193–1205

Ball LB, GeS, Caine JS, Revil A, Jardani A (2010) Constraining fault-zone hydrogeology through integrated hydrological and geoelectrical analysis. Hydrogeol J 5:1057–1067

Bouragba L, Mudry J, Bouchaou L, Hsissou Y, Krimissa M, Tagma T, Michelot JL (2011) Isotopes and groundwater management strategies under semi-arid area: case of the Souss upstream basin (Morocco). Appl Radiat Isot 69(2011):1084–1093

Clark ID (2015) Groundwater geochemistry and isotopes. CRC Press, Boca Raton, FL

Clark I, Fritz P (1997) Environmental isotopes in hydrogeology. CRC Press, Boca Raton, 328 p

Cook P, Dogramaci S, McCallum J, Hedley J (2017) Groundwater age, mixing and flow rates in the vicinity of large open pit mines, Pilbara region, northwestern Australia. Hydrogeol J 25:39–53

De La Vaissière R (2006) Etude de l'aquifère néogène du Bas-Dauphiné: apports de la géochimie et des isotopes dans le fonctionnement hydrogéologique du bassin de Valence (Drôme, Sud-Est de la France) [Study of the Neogene aquifer of the lower Dauphiné region: contribution of geochemistry and isotopes approaches in the hydrogeological functioning of the Valence basin (Drôme, southeastern France)]. PhD Thesis, University of Avignon and the Vaucluse region, France, 339 pp

De Vries JJ, Simmers I (2002) Groundwater recharge: an overview of processes and challenges. Hydrogeol J 1:5–17

Desconnets JC, Taupin JD, Lebel T, Leduc C (1997) Hydrology of the Hapex-Sahel central super-site: surface water drainage and aquifer recharge through the pool systems. J Hydrol 188:155–178

Dewandel B, Lachassagne P, Wyns R, Maréchal JC, Krishnamurthy NS (2006) A generalized 3-D geological and hydrogeological conceptual model of granite aquifers controlled by single or multiphase weathering. J Hydrol 330:260–284

Diaw M (2008) Approche hydrochimique et isotopique de la relation eau de surface/nappe et du mode de recharge de la nappe alluviale dans l'estuaire et la basse vallée du fleuve Sénégal: identification des zones inondées par télédétection et par traçage isotopique [Hydrodynamics and isotopic approaches of the relationships between surface and groundwaters and of the recharge processes of the alluvial aquifer in the downstream part of the Senegal River: identifying flooded areas by remote sensing and isotopic tracers]. PhD Thesis, Univ. C.A. Dakar, Senegal, 178 pp

Diop S, Tijani MN (2008) Assessing the basement aquifers of eastern Senegal. Hydrogeol J 16:1349–1369. https://doi.org/10.1007/s10040-008-0353-7

Dupuis D, Pons J, Prost AE (1991) Mise en place de plutons et caractérisation de la déformation birimienne au Niger occidental [Plutonic emplacement and Birimian deformation in western Niger]. CR Acad Sci Paris 312(II):769–776

Edmunds WM, Fellman E, Goni IB, Prudhomme C (2002) Spatial and temporal distribution of groundwater recharge in northern Nigéria. Hydrogeol J 10:205–215

Favreau G, Leduc C, Marlin C, Guero A (2002) A rising piezometric depression in the Sahel (southwestern Niger). C R Geosci 334:395–401

Favreau G, Cappelaere B, Massuel S, Leblanc M, Boucher M, Boulain N, Leduc C (2009) Land clearing, climate variability, and water resources increase in semiarid Southwest Niger: a review. Water Resour Res 45:W00A16. https://doi.org/10.1029/2007WR006785

Favreau G, Nazoumou Y, Leblanc M, Guéro A, Goni IB (2012) Groundwater ressources increase in the Iullemmeden Basin, chap 7. In: Climate change effects on groundwater resources:a global synthesis of findings and recommendations, vol 27. Taylor and Francis, London, pp 113–128

Filippi C, Milville F, Thiery D (1990) Evaluation of natural recharge to aquifers in the Sudan-Sahel climate using global hydrological modelling: application to ten sites in Burkina Faso. Hydrol Sci J 35:29–48

Gardelle J, Hiernaux P, Kergoat L, Grippa M (2010) Less rain, more water in ponds: a remote sensing study of the dynamics of surface waters from 1950 to present in pastoral Sahel (Gourma region, Mali). Hydrol Earth Syst Sci 14:309–324

Gaultier G (2004) Recharge et paléorecharge d'une nappe libreen milieu sahélien (Niger Oriental): approches géochimique et hydrodynamique [Recharge and paleorecharge of a superficial aquifer in the Sahel (southeast Niger): geochemistry and hydrodynamic approaches]. PhD Thesis, Univ. Paris Sud, France, 179 pp

Girard P (1993) Techniques isotopiques (15N, 18O) appliquées à l'étude des nappes des altérites et du socle fracturé de l'ouest africain: étude de cas—l'Ouest du Niger [Isotopic techniques (15N, 18O) applied for groundwater in alterites and hard rock aquifers of West Africa: case study—West Niger]. PhD Thesis, Univ. Québec à Montréal, Canada, 141 pp

Girard P, Hillaire-Marcel C, Oga MS (1997) Determining the recharge mode of Sahelian aquifers using water isotopes. J Hydrol 197:189–202

GNIP (2011) Global network of isotopes in precipitation. http://www-naweb.iaea.org/napc/ih/IHS_resources_isohis.html. Accessed January 2018

Goni IB (2006) Tracing stable isotope values from meteoric water to groundwater in the southwestern part of the Chad basin. Hydrogeol J 14:742–752

Goni IB, Fellman, Edmunds WM (2001) Rainfall geochemistry in the Sahel region of northern Nigeria. Atmos Environ 35:4331–4339

Guéro A (2003) Étude des relations hydrauliques entre les différentes nappes du complexesédimentaire de la bordure sud-ouest du bassin des Iullemmeden (Niger): approches géochimique et hydrodynamique [Study of hydraulic relationships between the different aquifers of the sedimentary complex of the southwestern border of the Iullemmeden basin (Niger): hydrodynamics and geochemical approaches]. PhD Thesis, Univ. Paris XI Orsay, France, 265 pp

Ibrahim M, Favreau G, Scanlon BR, Seidel IC, Le Coz M, Demarty J, Cappelaere B (2014) Long-term increase in diffuse groundwater recharge following expansion of rainfed cultivation in the Sahel, West Africa. Hydrogeol J. https://doi.org/10.1007/s10040-014-1143-z

INS (2012) Présentation des résultats préliminaires du quatrième recensement général de la population et de l'habitat (RGP/H) [Presentation of the preliminary results of the 4th general census of the population and living conditions (RGP/H)]. INS, Niamey, Niger, 9 pp

L'Hôte Y, Mahé G, Some B, Triboulet JP (2002) Analysis of a Sahelian annual rainfall index from 1896 to 2000: the drought continues. Hydrol Sci 47:56–572

Lapworth DJ, MacDonald AM, Tijani MN, Darling WG, Gooddy DC, Bonsor HC, Araguás-Araguás LJ (2013) Residence times of shallow groundwater in West Africa: implications for hydrogeology and resilience to future changes in climate. Hydrogeol J 21(3):673–686. https://doi.org/10.1007/s10040-012-0925-4

Le Gal La Salle C, Marlin C, Leduc C, Massault M, Favreau G (2001) Renewal rate estimation of groundwater based on radioactive tracers (3H et 14C) in an unconfined aquifer an a semi-arid area, Iullemede Basin. Niger J Hydrol 254:145–156

Leblanc M, Favreau G, Massuel S, Tweed S, Loireau M, Cappelaere B (2008) Land clearance and hydrological change in the Sahel: SW Niger. Glob Planet Chang 61(4):135–150

Leduc C, Taupin J-D, Le Gal La Salle C (1996) Estimation de la recharge de la nappe phréatique du Continental Terminal (Niamey, Niger) à partir des teneurs en tritium [Recharge of the Continental Terminal water-table (Niamey, Niger) estimated from tritium measurements and modelling]. C R Acad Sci Paris 323(Série II a):599–605

Leduc C, Sabljak S, Taupin J-D, Marlin C, Favreau G (2000) Estimation de la recharge de la nappe quaternaire dans le Nord-Ouest du bassin du lac Tchad (Niger oriental) à partir de mesures isotopiques [Recharge of the Quaternary water table in the northwestern Lake Chad basin (southeastern Niger) estimated from isotopes]. CR Acad Sci Paris 330:355–361

Leduc C, Favreau G, Schroeter P (2001) Long-term rise in a Sahelian water-table: the continental terminal in South-West Niger. J Hydrol 243:43–54

Machens E (1973) Contribution à l'étude des formations du socle cristallin et de la couverture sédiementaire de l'Ouest de la République du Niger. Mémo [Contribution to the study of the formations of the crystalline basement and the sedimentary cover of the West of the Republic of Niger. Memo] No. 82, BRGM, Orléans, France, 167 pp

Mahé G (2009) Surface/groundwater interactions in the Bani and Nakambe rivers, tributaries of the Niger and Volta basins, West Africa. Hydrol Sci 54(4):704–712

Mahé G, Leduc C, Amani A, Paturel JE, Girard S, Servat E, Dezetter A (2003) Augmentation récente du ruissellement de surface en région soudano-sahélienne et impact sur les ressources en eau [Recent increase in runoff in the Sudano-Sahelian region and its impact on water resources]. In: Hydrology of Mediterranean and semiarid regions. IAHS Publ. 278, IAHS, Wallingford, UK, pp 215–222

Massing O, Tang Z (2010) Recharge of the Quaternary aquifer of Lake Chad Basin estimated from Oxygen-18 (18O) and tritium (3H) isotopes. Am Sci 6(9):283–292

McDonnell J (2017) Beyond the water balance. Nat Geosci 10. www.nature.com/naturegeoscience. Accessed December 2017

Ngounou Ngatcha B, Mudry J, Wakponou A, Ekodeck GE, Njitchoua R, Sarrot-Reynaul J (2001) Le cordon sableux Limani-Yagoua, extrême-Nord Cameroun, et son rôlehydraulique [The Limani-Yagoua sandy belt, far North Cameroon, and its hydraulic role]. J Afr Earth Sci 32(4):889–898

Nicholson SE (2001) Climatic and environmental change in Africa during the last two centuries. Clim Res 17:123–144

Nkotagu (1996) Origins of high nitrate in groundwater in Tanzania. J Afr Earth Sci 21(4):471–478

Ousmane B (1988) Étude géochimique et isotopique des aquifères du socle de la bande sahélienne du Niger (Liptako, Sud-Maradi, Zinder-Est) [Geochemical and isotopic study of the basement aquifers of the Sahelian belt of Niger (Liptako, South Maradi, East Zinder]. PhD Thesis, Univ. Niamey, Niger, 175 pp

Ousmane B, Fontes JC, Aranyossy JF, Joseph A (1983) Hydrologie isotopique et hydrochimie des aquifères discontinus de la bande sahélienne et de l'Aïr (Niger) [Isotope hydrology of the discontinuous aquifers of the Sahelian belt and the Aïr (Niger)]. In: Isotope hydrology, 1983, IAEA, Vienna, pp 367–395

Ousmane B, Galadima S, Moumouni A, Soumana I (2012) La qualité physico-chimique des eaux des aquifères discontinus du socle du Département de Téra (Liptako, Niger): impacts Sur les taux de desserte en eau potable des populations rurales au Sahel [Physico-chemical quality of water in basement discontinuous aquifers of the department of Tera (Liptako, Niger): impacts on the drinkable water supply rates in Sahel rural areas]. Africa Geosci Rev 19(1):1–16

Panthou G, Vischel T, Lebel T (2014) Recent trends in the regime of extreme rainfall in the Central Sahel. Int J Climatol 34:3998–4006. https://doi.org/10.1002/joc.3984

Rana SS (1998) Application of directional filtering in lineament mapping for groundwater prospecting around Bhinmal: a semi arid part of Thar Desert. J Indian Soc Remote Sensing 26(1-2):35–44

Sagna P, Ndiaye O, Diop C, Niang AD, Sambou PC (2015) Les variations récentes du climat constatées au Sénégal sont-elles en phase avec les descriptions données par les scénarios du GIEC [Are recent climate variations observed in Senegal in conformity with the descriptions given by the IPCC scenarios]? Pollut Atmos 227:1–17

Saravana KU, Suman S, Navada SV, Deodhar AS (2009) Environmental isotopes investigation on recharge processes and hydrodynamics of the coastal sedimentary aquifers of Tiruvadanai, Tamilnadu state. India J Hydrol 364:23–39

Scanlon BR, Keese KE, Flint AL, Flint LE, Gaye CB, Edmunds WM, Simmers I (2006) Global synthesis of groundwater recharge in semiarid and arid regions. Hydrol Process 20:3335–3370

Schiewede M, Duijnisveld WHM, Böttcher J (2005) Investigation of processes leading to nitrate enrichment in soils in the Kalahari region, Botswana. Phys Chem Earth 30:712–716

Séguis L, Cappelaere B, Milesi G, Peugeot C, Massuel S, Favreau G (2004) Simulated impacts of climate change and land-clearing on runoff from a small Sahelian catchment. Hydrol Process 18:3401–3413. https://doi.org/10.1002/hyp.1503

Solder JE, Stolp BJ, Heiweil VM, Susong DD (2016) Characterization of mean transit time at large springs in the upper Colorado River basin, USA: a tool for assessing groundwater discharge vulnerability. Hydrogeol J 24:2017–2033

Soumaila A, Konate M (2005) Caractérisation de la déformation dans la ceinture birimienne (paléoprotérozoïque) de Diagorou-Darbani (Liptako nigérien, Afrique de l'Ouest) [Characterization of the deformation in the Birimian belt (Paleoproterozoic) of the Diagorou-Darbani (Niger Liptako, West Africa)]. African Geosci Rev 12(3):161–178

Stadler S, Osenbrück K, Suckow AO, Himmelsbach T, Hötzl H (2010) Groundwater flow regime, recharge and regional-scale solute transport in the semi-arid Kalahari of Botswana derived from isotope hydrology and hydrochemistry. J Hydrol 388:291–303

Taupin J-D, Gaultier G, Favreau G, Leduc C, Marlin C (2002) Variabilité isotopique des précipitations sahéliennes à différentes échelles de temps à Niamey (Niger) entre 1992 et 1999: implication climatique [Isotopic variability of Sahelian rainfall at different time steps in Niamey (Niger, 1992–1999): climatic implications]. C R Geosci 334:43–50

Taupin J-D, Gaultier G, Favreau G, Leduc C, Ramirez E (2003) Étude isotopique des précipitations sahéliennes à l'échelle de l'événement: relation avec les paramètres météorologiques et le type de précipitation [Isotopic study of Sahelian rainfall at the event scale: relationship with meteorological parameters and rainfall characteristics]. Hydrol Mediterranean Semiarid Regions 278:179–185

Taylor C, Lambin E, Stephenne N, Harding R, Essery R (2002) The influence of land use change on climate in the Sahel. J Clim 15:3615–3629

Tremoy G, Vimeux F, Mayaki S, Souley I, Cattani O, Risi C, Favreau G, Oï M (2012) A 1-year long d18O record of water vapor in Niamey (Niger) reveals insightful atmospheric processes at different timescales. Geophys Res Lett 39:L08805, 5 pp. https://doi.org/10.1029/2012GL051298

Yaméogo OS (2008) Ressources en eau souterraine du centre urbain de Ouagadougou au Burkina Faso, qualité et vulnérabilité [Groundwater resources in the urban center of Ouagadougou in Burkina-Faso, quality and vulnerability]. PhD Thesis, University of Avignon and the Vaucluse region, France, Univ. Ouagadougou, Burkina Faso, 245 pp
Acknowledgements
This study was funded by the Belgian Technical Cooperation (BTC), the University of Liège (ULiege) and by The International Foundation for Science (IFS grant, 2008). Some technical support was also provided by the AMMA-Catch team at IRD in Niger. This would not have happened without the logistical help of Abdou Moumouni University (UAM) and we express our deep gratitude to them.
Additional information
This article is part of the topical collection "Determining groundwater sustainability from long-term piezometry in Sub-Saharan Africa"
Electronic supplementary material
About this article
Cite this article
Abdou Babaye, M.S., Orban, P., Ousmane, B. et al. Characterization of recharge mechanisms in a Precambrian basement aquifer in semi-arid south-west Niger. Hydrogeol J 27, 475–491 (2019). https://doi.org/10.1007/s10040-018-1799-x
Received:

Accepted:

Published:

Issue Date:

DOI: https://doi.org/10.1007/s10040-018-1799-x
Keywords
Niger

Fractured aquifers

Hydrochemistry

Environmental isotopes

Groundwater recharge

Sub-Saharan Africa