Abstract
The efficacy of water quality policies aiming to reduce or prevent nitrate contamination of waterbodies may be constrained by the inherent delay or "time lag" of water and solute transport through unsaturated (soil) and saturated (groundwater) pathways. These delays must be quantified in order to establish realistic deadlines, thresholds and policy expectations, and to design effective best management practices. The objective of this review is to synthesise the current state of research on nitrate-related time lags in both the European and North American environmental and legislative contexts. The durations of time lags have been found to differ according to climatic, pedological, landscape and management scenarios. Elucidation of these driving factors at a watershed scale is essential where water quality is impaired or at risk. Finally, the existence of time lags is increasingly being acknowledged at a policy level and incorporated into the development of environmental legislation. However, the full impact of these time lags is not yet fully understood or appreciated, and continued outreach and education in scientific, public and policy venues is still required.
Résumé
L'efficacité des politiques visant à la réduction et la prévention de la contamination en nitrate des masses d'eau doit être évaluée au regard du délai inhérent ou décalage temporel du transport de l'eau et des solutés au travers de la zone non saturée (sols) et saturée (nappe). Ces délais doivent être quantifiés afin de permettre d'établir des échéances, seuils et attentes réglementaires réalistes, et pour établir des règles efficaces de bonnes pratiques. L'objectif de cette revue est. de faire une synthèse de l'état des recherches sur les délais de transfert du nitrate dans un contexte environnemental et législatif européen et nord-américain. L'importance du décalage temporel diffère selon les scénarios climatiques, pédologiques, d'occupation des sols et de gestion. L'analyse de ces facteurs à l'échelle des bassins versants est. essentielle lorsque la qualité de l'eau est. dégradée ou à un risque de dégradation. Enfin, l'existence d'un décalage temporel est. de plus en plus reconnue au niveau des politiques et intégrée dans la mise en œuvre de la législation environnementale. Toutefois, l'impact total de ce décalage temporel n'est. pas complètement compris ou apprécié, et la poursuite de la sensibilisation et de la formation lors d'événements scientifiques, réunions publiques et rencontres politiques sont toujours nécessaires.
Resumen
La eficacia de las políticas de calidad del agua destinadas a reducir o prevenir la contaminación por nitratos de los cuerpos de agua puede verse limitada por el retraso inherente o el "retraso temporal" del transporte de agua y de soluto a través de rutas no saturadas (suelo) y saturadas. Estos retrasos deben cuantificarse para establecer plazos, umbrales y expectativas normativas realistas, y para diseñar mejores prácticas eficaces de gestión. El objetivo de esta revisión es sintetizar el estado actual de la investigación sobre los retardos relacionados con los nitratos en el contexto ambiental y legislativo europeo y norteamericano. Se ha comprobado que las duraciones de los retardos de tiempo difieren según los escenarios climáticos, pedológicos, paisajísticos y de gestión. La dilucidación de estos factores de conducción a escala de cuenca es esencial cuando la calidad del agua está deteriorada o en riesgo. Por último, la existencia de retardos es cada vez más reconocida a nivel político e incorporada en el desarrollo de la legislación ambiental. Sin embargo, aún no se ha comprendido ni apreciado plenamente el impacto total de estos retardos, y se sigue requiriendo la extensión y educación continua en lugares científicos, públicos y políticos.
摘要
旨在预防水体遭受硝酸盐污染的税制政策效力可能受到水和溶质通过非饱和(土壤)和饱和(地下水)通道迁移中固有的延迟或"时间滞后"的制约。对这些延迟必须量化以便建立现实的警戒线、阈值和政策期望值,设计有效的最佳管理模式。本文的目的就是梳理欧洲和北美洲环境和立法背景下目前与硝酸盐相关的时间滞后研究现状。发现时间滞后的持续时间依据气候、土壤、地形和管理方案的不同而有所不同。在水质受损或处于危险之中的地方,流域尺度上阐明这些驱动因素至关重要。最后,时间滞后的存在在政策层面上日益得到人们的认可,并被纳入环境立法中。然而,这些时间滞后的全部影响没有被完全理解或领会,仍然需要在科学、公共和政策方面给予持续的拓展和培养。
Resumo
A eficácia de políticas de qualidade da agua que visam reduzir ou prevenir a contaminação por nitrato em corpos d'água pode ser prejudicada pelo atraso inerente, ou 'defasagem temporal' do transporte de água e de soluto através dos meios não saturado (solo) e saturado (agua subterrânea). Estes atrasos têm de ser quantificados a fim de definir prazos reais, os limites e as expectativas políticas, e para a definição das práticas mais efetivas de gestão. O objetivo desta revisão é fazer uma síntese do conhecimento atual da pesquisa sobre a defasagem temporal do nitrato no contexto das legislações europeia e norte-americana. A duração dos atrasos difere de acordo com os diferentes cenários climáticos, pedológicos, relevo e de gerenciamento. O esclarecimento destes fatores condicionantes na escala da bacia hidrográfica é essencial ali onde a qualidade da água está afetada, ou em risco. Finalmente, a existência das defasagens temporais tem sido gradualmente reconhecida no nível político e incorporado dentro do desenvolvimento da legislação de meio ambiente. Entretanto, o impacto completo das defasagens temporais ainda não foi completamente compreendido ou dimensionado, fazendo-se necessário atingir e educar permanentemente os foros científicos e políticos.
Access options
Buy single article
Instant access to the full article PDF.
USD 39.95
Price includes VAT (USA)
Tax calculation will be finalised during checkout.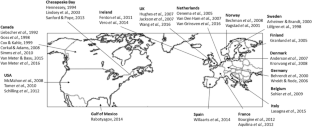 References
ADAS (2007) - Report to DEFRA. Nitrates consultation supporting paper D1 on implementation of the Nitrates Directive in England. Nitrates in water: the current status in England (2006). ADAS, Wolverhampton

Addiscott TM (2005) Nitrate, agriculture, and the environment. CABI, Wallingford

Almasri MN, Kaluarachchi JJ (2007) Modelling nitrate contamination of groundwater in agricultural catchments. J Hydrol 343:211–229

Andersen Søgarrd M, Baron L, Gudbjerg J, Gregersen J, Chapellier D, Jakobsen R, Postma D (2007) Discharge of nitrate-containing groundwater into a coastal marine environment. J Hydrol 336:98–114

Aquilina L, Vergnaud-Ayraud V, Labasque T, Bour O, Molenat J, Ruiz L, de Montety V, De Ridder J, Roques C, Longuevergne L (2012) Nitrate dynamics in agricultural catchments deduced from groundwater dating and long-term nitrate monitoring in surface- and groundwaters. Sci Total Environ 435–436:167–178

Archbold M, Bruen M, Deakin J, Doody D, Flynn R, Kelly-Quinn M, Misstear B, Ofterdinger U (2010) Contaminant movement and attenuation along pathways from the land surface to aquatic receptors: a review. STRIVE Report Series no. 56, EPA, Dublin

Arheimer B, Brandt M (2000) Watershed modelling of non-point nitrogen pollution from arable land in the Swedish coast in 1985 and 1994. Ecol Eng 14:389–404

Azevedo LB, van Zelm R, Leuven RSEW, Jan Hendricks A, Huijbregts MAJ (2015) Combined ecological risks of nitrogen and phosphorus in European freshwaters. Environ Pollut 200:85–92

Bain DJ, Green MB, Campbell JL, Chamblee JF, Chaoka S, Fraterrigo JM, Kaushal SS, Martin SL, Jordan TE, Parolari AJ, Sobczak WV, Weller DE, Wollheim WM, Boose ER, Duncan JM, Gettel GM, Hall BR, Kumar P, Thompson JR, Vose JM, Elliott EM, Leigh DS (2012) Legacy effects in material flux: structural catchment changes in predate long-term studies. Bioscience 62(6):575–584

Basu NB, Jindal P, Schilling KE, Wolter CF, Takle ES (2012) Evaluation of analytical and numerical approaches for the estimation of groundwater travel time distribution. J Hydrol 475:65–73

Baumgartner FR, Jonas BD (1991) Agenda dynamics and policy subsystems. J Politics 53(4):1044–1074

Bechmann M, Deelstra J, Stålnacke P, Eggestad HO, Øygarden L, Pengerud A (2008) Monitoring catchment scale agricultural pollution in Norway: policy instruments, implementation of mitigation methods and trends in nutrient and sediment losses. Environ Sci Pol 11:102–114

Bekeris L (2007) Field-scale evaluation of enhanced agricultural management practices using a novel unsaturated zone nitrate mass load approach. MSc Thesis, University of Waterloo, Waterloo, ON, Canada

Berankova D, Ungerman J (1996) Nonpoint sources of pollution in the Morava River basin. Water Sci Technol 33:127–135

Bilotta GS, Milner AM, Boyd I (2014) On the use of systematic reviews to inform environmental policies. Environ Sci Policy 42:67–77

Botta E, Kozluk T (2014) Measuring environmental policy stringency in OECD countries: a composite index approach. OECD Economics Department working papers no. 1177, OECD Publishing http://www.oecd-ilibrary.org/economics/measuring-environmental-policy-stringency-in-oecd-countries_5jxrjnc45gvg-en. Accessed 23 June 2017

Bouleau G (2008) The WFD dreams: between ecology and economics. Water Environ J 22:235–240

Bouma J, Van Alphen BJ, Stoorvogel JJ (2002) Fine tuning water quality regulations in agriculture to soil differences. Environ Sci Policy 5:113–120

Browne WP (1990) Organised interests and their issue niches: a search for pluralism in a policy domain. J Polit 52(2):477–509

Burt TP, Howden NJK, Worrall F, Whelan MJ (2008) Importance of long-term monitoring for detecting environmental change: lessons from a lowland river in south east England. Biogeosciences 5:1529–1535

Burt TP, Howden NJK, Worrall F, Whelan MJ (2010) Long-term monitoring of river water nitrate: how much data do we need? J Environ Monit 12:71–79

Canada (1970) Canada Water Act Revised Statutes of Canada, c.5 (1st Suppl.). Queen's Printer, Ottawa

Carson R (1962) Silent spring. Houghton Mifflin, Cambridge, MA

Cherry KA, Shepard M, Withers PJA, Mooney SJ (2008) Assessing the effectiveness of actions to mitigate nutrient loss from agriculture: a review of methods. Sci Total Environ 406:1–23

Chyzheuskaya A (2015) Modelling the economics of water pollution improvement in the agricultural context. PhD Thesis, National University of Ireland, Galway, Ireland

Collins AL, McGonigle DF (2008) Monitoring and modelling diffuse pollution for agriculture policy support: UK and European experience. Environ Sci Policy 11:97–101

Corkal DR, Adkins PE (2008) Canadian agriculture and water. IWRA World Water Congress, Montpellier, France, 1–4 September 2008

Cox SE, Kahle SC (1999) Hydrogeology, ground-water quality, and sources of nitrate in lowland glacial aquifers of Whatcom County, Washington, and British Columbia, Canada. US Geol Surv Water Resour Invest Rep 98-4195

Craig M, Daly D (2010) Methodology for establishing threshold values and the assessment of chemical and quantitative status of groundwater, including an assessment of pollution trends and trend reversal. Hydrometric and Groundwater Section, Office of Environmental Assessment, EPA, Dublin

Dept. of Agriculture, Food and the Marine (2010) Food Harvest 2020: a vision for Irish agri-food and fisheries. https://www.agriculture.gov.ie/media/migration/foodindustrydevelopmenttrademarkets/agri-foodandtheeconomy/foodharvest2020/2020FoodHarvestEng240810.pdf. Accessed June 2017

Dept. of Agriculture, Food and the Marine (2015) Food Wise 2025: a 10-year vision for the Irish agri-food industry. https://www.agriculture.gov.ie/media/migration/foodindustrydevelopmenttrademarkets/agri-foodandtheeconomy/foodwise2025/FoodWise2025ImplementationPlan.pdf. Accessed June 2017

Donahue MJ (1999) The case for good government: why a comprehensive review of the Great Lakes water quality agreement is needed. Toledo J Great Lakes Law Sci Policy 2:1–11

Dowd BM, Press D, Los Huertos M (2008) Agricultural nonpoint source water pollution policy: the case of California's central coast. Agric Ecosyst Environ 128:151–161

Environment, Food and Rural Affairs Committee (2008) Implementation of the Nitrates Directive in England. Seventh Report of Session 2007–08, House of Commons, UK. http://www.publications.parliament.uk/pa/cm200708/cmselect/cmenvfru/412/412.pdf. Accessed July 2017

EPA (2005a) The quality of drinking water in Ireland: a report for the year 2004. EPA, Johnstown Castle, Wexford, Ireland

EPA (2005b) Water quality in Ireland 2001–2003. EPA, Johnstown Castle, Wexford, Ireland

EPA (2015) Water quality in Ireland 2010–2012. EPA, Johnstown Castle, Wexford, Ireland

European Commission (1991) Council Directive (1991/676/EC). EC Directive of the European Parliament and of the Council of 12 December 1991 on the protection of waters against pollution caused by nitrates from agricultural sources. EC, Brussels, pp 1–8

European Commission (2000) Council Directive (2000/60/EC). EC Directive of the European Parliament and of the Council 200/60/EC establishing a framework for community action in the field of water policy. EC, Brussels, 72 pp

European Community (1974) Declaration on the environmental action program. Int Leg Mater 13(1):164–216

European Environment Agency (2013) Chemical status indicators for water across Europe. http://www.eea.europa.eu/data-and-maps/indicators/wfd-indicator-chemical-status/assessment.Accessed October 2015

Fenton O, Richards KG, Kirwan L, Khalil MI, Healy MG (2009) Factors affecting nitrate distribution in shallow groundwater under a beef farm in south-eastern Ireland. J Environ Manag 90:3135–3146

Fenton O, Schulte RPO, Jordan P, Lalor STJ, Richards KG (2011) Time lag: a methodology for estimation of vertical and horizontal travel and flushing timescales to nitrate threshold concentrations in Irish aquifers. Environ Sci Policy 14(4):419–431

Fenton O, Mellander P-E, Daly K, Wall DP, Jahangir MMR, Jordan P, Hennessey D, Huebsch P Blumf M, Vero SE, Richards KG (2017) Integrated assessment of agricultural nutrient pressures and legacies in karst landscapes. Agricultural Ecosystems and Environment 239:246–256

Fentress RD (1988) Nonpoint source pollution, groundwater, and the 1987 Water Quality Act: Section 208 revisited. Environ Law 19:807

Foster SSD, Crease RI (1974) Nitrate pollution of chalk groundwater in East Yorkshire: a hydrogeological appraisal. J Instit Water Eng 28:178–194

Frind EO, Molson JW, Rudolph DL (2006) Well vulnerability: a quantitative approach for source water protection. Groundwater 44(5):732–742

Galeone DG (2005) Pequea and Mill Creek Watersheds Section 319 NMP Project: effects of streambank fencing on surface-water quality. NWQEP Notes 118: August 2005. NC State University, Raleigh, NC

Gerke HH, van Genuchten MT (1993) A dual-porosity model for simulating the preferential movement of water and solutes in structured porous media. Water Resour Res 29(2):305–319

Goss MJ, Barry DAJ, Rudolph DL (1998) Contamination in Ontario farmstead domestic wells and its association with agriculture: 1. results from drinking water wells. J Contam Hydrol 32:267–293

Granlund K, Räike A, Ekholm P, Rankinene K, Rekolainen S (2005) Assessment of water protection targets for agricultural nutrient loading in Finland. J Hydrol 304:251–260

Grant R (2009) Manure management in a European context: eEfficient and reliable utilisation of manure nutrients. Manure application management conference, Teagasc, Johnstown Castle, Wexford, Ireland, November 2009

Great Lakes Water Quality Agreement (1972) Great Lakes Water Quality Agreement, with annexes and texts and terms of reference between the United States of America and Canada, 15th April, Ottawa

Griffiths C, Wheeler W (2005) Benefit-cost analysis of US regulations affecting surface water quality. In: Brouwer R, Pierce D (eds) Cost-benefit analysis and water resources management. Elgar, Cheltenham, pp 223–250

Grimvall A, Stålnacke P, Tonderski A (2000) Timescales of nutrient losses from land to sea: a European perspective. J Ecol Eng 14:363–371

Hamilton SK (2011) Biogeochemical lags may delay responses of streams to ecological restoration. Freshw Biol 57(1):43–57

Hansen L (2007) Conservation reserve program: environmental benefits update. Agric Resour Econ Rev 36(2):1–14

Hennessey TM (1994) Governance and adaptive management for estuarine ecosystems: the case of Chesapeake Bay. Coast Manag 22:119–145

Hering D, Borja A, Carstensen J, Carvalho L, Elliott M, Feld CK, Heiskanen A-S, Johnson RK, Moe J, Pont D, Solheim AL, De Bund WV (2010) The European Water Framework Directive at the age of 10: a critical review of the achievements with recommendations for the future. Sci Total Environ 408:4007–4019

Hillel D (2004) Introduction to environmental soil physics. Elsevier, Amsterdam, pp 494

Hines NW (2013) History of the 1972 clean water act: the story behind how the 1972 act became the capstone on a decade of extraordinary environmental reform. George Washington J Energy Environ Law 4:80–106

Hocking M, Kelly BFJ (2016) Groundwater recharge and time lag measurement through vertisols using impulse response functions. J Hydrol 535:22–35

Howden NJK, Burt TP (2009) Statistical analysis of nitrate concentrations from the rivers Frome and Piddle (Dorset, UK) for the period 1965–2007. Ecohydrology 2(1):55–65

Howden NJK, Burt TP, Worrall F, Whelan MJ, Bieroza M (2010) Nitrate concentrations and fluxes in the River Thames over 140 years (1868–2008): are increases irreversible? Hydrol Process 24:2657–2662

Hrachowitz M, Benettin P, van Breukelen BM, Fovet O, Howden NJK, Ruiz L, van der Velde Y, Wade AJ (2016) Transit times: the link between hydrology and water quality at the catchment scale. WIREs Water 3:629–657

Huebsch M, Fenton O, Horan B, Hennessy D, Richards KG, Jordan P, Goldscheider N, Butscher C, Blum P (2014) Mobilisation or dilution? Nitrate response of karst springs to high rainfall events. Hydrol Earth Syst Sci 18:4423–4435. doi:10.5194/hess-18-4423-2014

Hughes A, Chilton J, Williams A (2007) Review and categorisation of nitrate transport in groundwater systems: final report on the work to end of March 2007, Report to DEFRA contract NIT18, British Geological Survey, London, 20 pp

Iital A, Pachel K, Deelstra J (2008) Monitoring of diffuse pollution from agriculture to support implementation of the WFD and the nitrate directive in Estonia. Environ Sci Pol 11:185–193

Izbicki JA, Flint AL, O'Leary DR, Nishikawa T, Martin P, Johnson RD, Clark DA (2015) Storage and mobilisation of natural and septic nitrate in thick unsaturated zones, California. J Hydrol 524:147–165

Jackson BM, Wheater HS, Wade AJ, Butterfield D, Mathias SA, Ireson AM, Butler AP, McIntyre NR, Whitehead PG (2007) Catchment-scale modelling of flow and nutrient transport in chalk unsaturated zone. Ecol Model 209(1):41–52

Jackson BM, Browne CA, Butler AP, Peach D, Wade AJ, Wheater HS (2008) Nitrate transport in chalk catchments: monitoring, modelling and policy implications. Environ Sci Policy 12(2):125–135

Jahangir MMR, Johnston P, Addy K, Khalil MI, Groffman PM, Richards KG (2013a) Quantification of in situ denitrification rates in groundwater below an arable and a grassland system. Water Air Soil Pollut 224:1693. doi:10.1007/s11270-013-1693-z

Jahangir MMR, Johnston P, Barrett M, Khalil MI, Groffman PM, Boeckx P, Fenton O, Murphy J, Richards KG (2013b) Denitrification and indirect N2O emissions in groundwater: hydrologic and biogeochemical influences. J Contam Hydrol 152:70–81

Jahangir MMR, Fenton O, Müller C, Harrington R, Johnston P, Richards KG (2017) In situ denitrification and DNRA rates in groundwater beneath an integrated constructed wetland. Water Res 111:254–264

Jarvis N (2007) A review of non-equilibrium water flow and solute transport in soil macropores: controlling factors and consequences for water quality. Eur J Soil Sci 58:523–546

Kauffman LJ, Baehr AL, Ayers MA, Stackelberg PE (2008) Effects of land use and travel time on the distribution of nitrate in the Kirkwood-Cohansey aquifer system in southern New Jersey. Report no. 01-411, National Water-Quality Assessment Program, West Trenton, NJ. . Available from: http://pubs.usgs.gov/wri/wri01-4117/. Accessed July 2016

Keeney DR, De Luca TH (1993) Des Moines River nitrate in relation to watershed agricultural practices: 1945 versus 1980s. J Environ Qual 22(2):267–272

Knowles R (1982) Denitrification. Microbiol Rev 46(1):43–70

Kronvang B, Andersen HE, Børgesen C, Dalgaard T, Larsen SE, Bøgestrand J, Blicher-Mathiasen G (2008) Effects of policy measures implemented in Denmark on nitrogen pollution of the aquatic environment. Environ Sci Policy 11:144–152

Lasagna M, Franchino E, De Luca D (2015) Areal and vertical distribution of nitrate concentration in Piedmont Plain aquifers (north-western Italy). In: Lollino G, Arattano M, Rinaldi M, Giustolisi O, Marechal J-C, Grant GE (eds) Engineering geology for society and territory, vol. 3., chap 81. Springer, Heidelberg, Germany, pp 389–392

Liebscher H, Hii B, McNaughton D (1992) Nitrogen and pesticides in the Abbotsford aquifer, southwestern British Columbia. Inland Waters Directorate, Environment, Cancada, North Vancouver

Lindinger H, Scheidleder A (2004) Indicator fact sheet. (WEU1) Nitrate in groundwater. European Environmental Assessment, European Environment Agency, Copenhagen. https://www.eea.europa.eu/data-and-maps/indicators/nitrate-in-groundwater-1/weu1_nitrategroundwater_110504.pdf

Lindsey BD, Phillips SW, Donnelly CA, Speiran GK, Plummer LN, Böhlke J-K, Focazio MJ, Burton WC, Busenberg E (2003) Residence times and nitrate transport in ground water discharging to streams in the Chesapeake Bay watershed. US Geological Survey Water Resour Invest Rep 03-4035

Makarewicz JC, Bertram P (1991) Evidence for the restoration of the Lake Erie ecosystem. Bioscience 41(4):216–223

McLauchlan K (2006) The nature and longevity of agricultural impacts on soil carbon and nutrients: a review. Ecosystems 9(8):1364–1382

McMahon PB, Böhlke JK, Kauffman LJ, Kipp KL, Landon MK, Crandall CA, Burrow KR, Brown CJ (2008) Source and transport controls on the movement of nitrate to public supply wells in selected principal aquifers of the United States. Water Resour Res 44:W04401. doi:10.1029/2007WR006252

Meals DW, Dressing SA, Davenport TA (2010) Time lag in response to best management practices: a review. J Environ Qual 39:85–96

Mellander P-E, Melland AR, Jordan P, Wall DP, Murphy DNC, Shortle G (2012) Quantifying nutrient transfer pathways in agricultural catchments using high temporal resolution data. Environ Sci Policy 24:44–57

Mellander P-E, Jordan P, Shore M, McDonald NT, Wall DP, Shortle G, Daly K (2016) Identifying contrasting influences and surface water signals for specific groundwater phosphorus vulnerability. Sci Total Environ 541:292–302

Ministry of Water, Land and Air Protection, British Columbia (1992) Code of agricultural practice for saste management. B.C. Reg. 131/92, Ministry of Water, Land and Air Protection, Victoria, BC

Mitchell MJ (2001) Linkages of nitrate losses in watersheds to hydrological processes. Hydrol Process 15(17):3305–3307

Neal C, Davies H, Neal M (2008) Water quality, nutrients and the water framework directive in an agricultural region: the lower Humber rivers, northern England. J Hydrol 350:232–245

Nishikawa T, Densmore JN, Martin P, Matti J (2003) Evaluation of the source and transport of high nitrate concentrations in groundwater, Warren sub-basin, California. US Geological Survey Water Resour Invest Rep 03-4009

Novotny V (2002) Water quality, diffuse pollution and watershed management, 2nd edn. Wiley, Chichester pp 888 

Oenema O, van Liere L, Schoumans O (2005) Effects of lowering nitrogen and phosphorus surpluses in agriculture on the quality of groundwater and surface water in the Netherlands. J Hydrol 304:289–301

Osenbrück K, Fiedler S Knöller K, Weise SM, Sültenfuβ J, Oster H, Strauch G (2006) Timescales and development of groundwater pollution by nitrate in drinking water wells of the Jahna-Aue, Saxonia, Germany. Water Resour Res 42(12)

Owens L, Shipitalo MJ, Bonta JV (2008) Water quality response times to pasture management changes in small and large watersheds. J Soil Water Conserv 63(5):292–299

Parkhurst DL, Appelo CAJ (1999) User's guide to PHREEQC (Version 2): a computer program for speciation, batch-reaction, one-dimensional transport, and inverse geochemical calculations. US Geological Survey Water Resour Invest Rep 99-4259

Parliamentary Office of Science and Technology (2004) Diffuse pollution of water by agriculture. POST Note no. 478, October 2004, POST, London

Pearce NJT, Yates AG (2015) Agricultural best management practice abundance and location does not influence stream ecosystem function or water quality in the summer season. Water 7:6861–6876

Postma D, Boesen C, Kristiansen H, Larsen F (1991) Nitrate reduction in an unconfined aquifer: water chemistry, reduction processes, and geochemical modeling. Water Resour Res 27:2027–2045

Procházková L, Blažka P, Kopácek J (1996) Impact of diffuse pollution on water quality of the Vltava river (Slapy reservoir), Czech Republic. Water Sci Technol 33:145–152

Rabotyagov SS (2014) Cost-effective targeting of conservation investments to reduce the northern Gulf of Mexico hypoxic zone. Proc Natl Acad Sci U S A 111(52):18530–18535

Reckhow KH, Norris PE, Budell RJ, Di Toro DM, Galloway JN, Greening H, Sharpley AN, Shirmommadi A, Stacey PA (2011) Achieving nutrient and sediment reduction goals in the Chesapeake Bay: an evaluation of program strategies and implementation. National Academies Press, Washington, DC

Ribaudo MO (1989) Targeting the conservation reserve program to maximise water quality benefits. Land Econ 65(4):320–332

Rivett MO, Buss SR, Morgan P, Smith JW, Bemment CD (2008) Nitrate attenuation in groundwater: a review of biogeochemical controlling processes. Water Res 42:4215–4232

Rudolph DL (2015) Groundwater quality within the agricultural landscape: assessing the performance of nutrient BMPs. Groundw Monit Remediat 35 (1):21–22

Rudolph DL, Devlin JF, Bekeris L (2015) Challenges and a strategy for agricultural BMP monitoring and remediation of nitrate contamination from unconsolidated aquifers. Groundw Monit Remediat 35(1):97–109

Sanford WE, Pope JP (2013) Quantifying groundwater's role in delaying improvements to Chesapeake Bay water quality. Environ Sci Technol 47(23):13330–13338

Scheure S, Naus J (2010) 10 Years of the Water Framework Directive: a toothless tiger? A snapshot assessment of EU environmental ambitions. European Environmental Bureau, Brussels

Schilling KE, Spooner J (2006) Effects of watershed-scale land use change on stream nitrate concentrations. J Environ Qual 35:2132–2145. doi:10.2134/jeq2006.0157

Schilling KE, Wolter CF (2007) A GIS-based groundwater travel time model to evaluate stream nitrate concentration reductions from land use change. Environ Geol 53(2):433–443

Schilling KE, Jones CS, Seeman A, Bader E, Filipiak J (2012) Nitrate-nitrogen patterns in engineered catchments in the upper Mississippi River basin. Ecol Eng 40:1–9

Schirmer M, Luster J, Linde N, Perona P, Mitchell EAD, Barry DA, Hollender J, Cirpka OA, Schneider P, Vogt T, Radny D, Durisch-Kaiser E (2014) Morphological, hydrological, biogeochemical and ecological challenges in river restoration: the Thur River case study. Hydrol Earth Syst Sci 18:2449–2462

Schreier H, Bestbier R, Derksen G (2003) Agricultural nutrient management trends in the lower Fraser Valley. BC Institute for Resources and Environment, Vancouver, CD-ROM

Schulte RPO, Richards K, Daly K, Kurz I, McDonald EJ, Holden NM (2006) Agriculture, meteorology and water quality in Ireland: a regional evaluation of pressures and pathways of nutrient loss to water. Biology and environment: proceedings of the Royal Irish Academy 106(2):117–133

Seanad Éireann (2006) Seanad Éireann debate. Oireachtais Debates 182(46)

Sebilo M, Mayer B, Nicolardot B, Pinay G, Mariotti A (2013) Long-term fate of nitrate fertilizer in agricultural soils. Proc Natl Acad Sci USA 110(45):18185–18189

Sharpley A (1999) Modern agriculture and the environment. J Environ Qual 28(1):356

Shen SM, Hart PBS, Powlson DS, Jenkinson DS (1989) The nitrogen cycle in the Broadbalk wheat experiment: 15N labeled fertilizer residues in the soil and in the soil microbial biomass. Soil Biol Biochem 21:529–533

Shore M, Murphy PNC, Jordan P, Mellander P-E, Kelly-Quinn M, Cushen M, Mechan S, Shine O, Melland AR (2013) Evaluation of a surface hydrological connectivity index in agricultural catchments. J Environ Model Softw 47:7–15

Shore M, Jordan P, Melland AR, Mellander P-E, McDonald NT, Shortle G (2016) Incidental nutrient transfers: assessing critical times in agricultural catchments using high-resolution data. Sci Total Environ 553:404–415

Simms G, Lightman D, de Loë R (2010) Tools and approaches for source water protection in Canada. Governance Source Water Prot. Can. Rep., 1, Water Policy and Governance Group, Waterloo, ON

Sohier C, Dautrebande S, Degre A (2009) Hydrological modelling of the EU nitrates directive action programme: new developments in the Walloon region (Belgium). In: International workshop: towards new methods to manage nitrate pollution within the Water Framework directives 10 and 11, December 2009. UNESCO, Paris

Sousa MR, Jones JP, Frind EO, Rudolph DL (2013) A simple method to assess unsaturated zone time lag in the travel time from ground surface to receptor. J Contam Hydrol 144:138–151

Spahr NE, Dubrovsky NM, Gronberg JM, Franke OL, Wolock DM (2010) Nitrate loads and concentrations in surface-water base flow and shallow groundwater for selected basins in the United States, Water Years 1990–2006. US Geol Surv Sci Invest Rep 2010-5098

Stålnacke P, Grimvall A, Libiseller C, Laznik M, Kokorite I (2003) Trends in nutrient concentrations in Latvian rivers and the response to the dramatic change in agriculture. J Hydrol 283:184–205

Stålnacke P, Vandsemb SM, Vassiljev A, Grimvall A, Jolankai G (2004) Changes in nutrient levels in some eastern European rivers in response to large-scale changes in agriculture. Water Sci Technol 49:29–36

Stets EG, Kelly VJ, Crawford CG (2015) Regional and temporal differences in nitrate trends discerned from long-term water quality monitoring data. J Am Water Resour Assoc 51(5):1394–1407

Tomer MD, Burkart MR (2003) Long-term effects of nitrogen fertilizer use on ground water nitrate in two small watersheds. J Environ Qual 32:2158–2171

Tomer MD, Schilling KE, Cambardella CA, Jacobson P, Drobney P (2010) Groundwater nutrient concentrations during prairie reconstruction on an Iowa landscape. Agric Ecosyst Environ 139:206–213

Tomlinson TE (1970) Trends in nitrate concentrations in English rivers in relation to fertilizer use. Water Treatment Examination 19:277–293

Tumas R (2000) Evaluation and prediction of non-point pollution in Lithuania. Ecol Eng 14:443–451

United States Congress (1972) Federal water pollution control act amendments (Clean Water Act). 1972. Enacted October 18th 1972, US Congress, Washington, DC

US Environmental Protection Agency (2008) Gulf hypoxia action plan. Mississippi River/Gulf of Mexico Watershed Nutrient Task Force, US EPA, Washington, DC

US Environmental Protection Agency (2011) A national evaluation of the Clean Water Act section 319 program. https://www.epa.gov/sites/production/files/2015-09/documents/319evaluation.pdf. Accessed July 2017

Vadas PA, Srinivasan MS, Kleinman PJA, Schmidt JP, Allen AL (2007) Hydrology and groundwater nutrient concentrations in a ditch-drained agroecosystem. J Soil Water Conserv 62(4):178–188

Vagstad N, Stalnacke P, Andersen HE, Deelstra J, Gustavson A, Iital A, Jansons V, Kyllmar K, Loigu E, Rekolainen S, Tumas R, Vuorenmaa J (2001) Nutrient losses from agriculture in the Nordic and Baltic countries: measurements in small agricultural catchments and national agro-environmental statistics. TemaNord report 2001, 591 pp

Van den Ham A, Daatselaar CHG, Doornewaard GL, de Hoop DW (2007) Bodemoverschotten op landbouwbedrijven: deelrapportage in het kader van de Evaluatie Mestoffenwet 2007 [Land surpluses on farms: partial report in the framework of the 2007 Evaluation Fertilizers Act]. Report 30705, LEI, The Hague, The Netherlands, 90 pp

van Grinsven HJM, Holland M, Jacobsen BH, Klimont Z, Sutton MA, Willems J (2013) Costs and benefits of nitrogen for Europe and implications for mitigation. Environ Sci Technol 47(8):3571–3579

van Grinsven HJM, Tiktak A, Rougoor CW (2016) Evaluation of the Dutch implementation of the Nitrates Directive, the Water Framework Directive and the National Emission Ceilings Directive. NJAS-Wageningen J Life Sci 78:69–84

Van Meter K, Basu N (2015) Catchment legacies and time lags: a parsimonious watershed model to predict the effects of legacy storage on nitrogen export. PlosOne 10(5). doi: 10.1371/journal.pone.0125971

Van Meter K, Basu N, Van Cappellen P (2016a) Two centuries of nitrogen dynamics: legacy sources and sinks in the Mississippi and Susquehanna River Basins. Global Biogeochemical Cycles, Wiley Online Library, 2016GB005498, Wiley, Chichester, UK

Van Meter K, Basu N, Veenstra JJ, Burras CL (2016b) The nitrogen legacy: emerging evidence of nitrogen accumulation in anthropogenic landscapes. Environ Res Lett 11(3): doi:10.1088/1748-9326/11/3/035014

Vecchia AV (2003) Water-quality trend analysis and sampling design for streams in North Dakota, 1971–2000. US Geol Surv Water Resour Invest Rep 03-4094

Vero SE, Ibrahim TG, Creamer RE, Grant J, Healy MG, Henry T, Kramers G, Richards KG, Fenton O (2014) Consequences of varied soil hydraulic and meteorological complexity on unsaturated zone time lag estimates. J Contam Hydrol 170:53–67

Vero SE, Healy MG, Henry T, Creamer RE, Ibrahim TG, Richards KG, Mellander P-E, McDonald NT, Fenton O (2017) A flexible modelling framework to indicate water quality trends and unsaturated zone time lag ranges at catchment scale. Agric Ecosyst Environ 236:234–242

Vertes F, Trevisan D, Gascuel C, Dorioz JM (2008) Capacities and limits of two French grassland systems (intensive and extensive) to comply with WFD: developing tools between science and policy to improve grassland management. In: Proceedings of Water Framework Directive Conference: "Sustainable Grassland Systems in Europe and the EU Water Framework Directive". Teagasc, Johnstown Castle, Wexford, Ireland, 12–14 November 2008

Wahlin K, Grimvall A (2008) Uncertainty in water quality data and its implications for trend detection: lessons from Swedish environmental data. Environ Sci Policy 11:115–124

Wall D, Jordan P, Melland AR, Mellander P-E, Buckley C, Reaney SM, Shortle G (2012) Using the nutrient transfer continuum concept to evaluate the European Union nitrates directive National Action Programme. Environ Sci Policy 14(6):664–674

Wang L, Burke SP (2017) A catchment-scale method to simulating the impact of historical nitrate loading from agricultural land on the nitrate-concentration trends in the sandstone aquifers in the Eden Valley, UK. Sci Total Environ 579(1):133–148

Wang L, Stuart ME, Bloomfield JP, Gooddy DC, Butcher AS (2012) The nitrate time bomb: a national view of nitrate storage and lag time in the unsaturated zone of the UK. In: Sino-European Symposium on Environment and Health (SESEH 2012), Galway, Ireland, 20–25 Aug 2012

Wang L, Butcher AS, Stuart ME, Gooddy DC, Bloomfield JP (2013) The nitrate time bomb: a numerical way to investigate nitrate storage and lag time in the unsaturated zone. Environ Geochem Health 35(5):667–681

Wang L, Stuart ME, Lewis MA, Ward, Skirvin D, Naden PS, Collins AL, Ascott MJ (2016) The changing trend in nitrate concentrations in major aquifers due to historical nitrate loading from agricultural land across England and Wales from 1925 to 2150. Sci Total Environ 542:694–705

Ward R, Wang L, Stuart ME, Bloomfield JP, Gooddy DC, Lewis M, McKenzie A (2013) The UK nitrate time bomb. In: AGU Fall Meeting 2013, San Francisco, 9–13 Dec 2013

Wassenaar LI (1995) Evaluation of the origin and fate of nitrate in the Abbotsford aquifer using the isotopes of 15N and 18O in NO3−. Appl Geochem 10:391–405

Wassenaar LI, Hendry MJ, Harrington N (2006) Decadal geochemical and isotopic trends for nitrate in a transboundary aquifer and implications for agricultural beneficial management practices. Environ Sci Technol 40(15):4626–4632

Willaarts B, Ballesteros M, Hernandez-Mora N (2014) Ten years of the Water Framework Directive in Spain: an overview of the ecological and chemical status of surface water bodies. In: Martínez Santos P, Aldaya MM, Ramón Llamas P (eds) Integrated water resources management in the 21st Century: revisiting the paradigm, chap 7. CRC, Boca Raton, FL, pp 99–120

Worrall F, Burt TP (1999) A univariate model of river water nitrate time series. J Hydrol 214:74–90

Worthington SRH (2007) Groundwater residence times in unconfined carbonate aquifers. J Cave Karst Studies 69(1):94–102

Wriedt G, Rode M (2006) Modelling nitrate transport and turnover in a lowland catchment system. J Hydrol 328:157–176

Zebarth BJ, Ryan MC, Graham G, Forge TA, Neilsen D (2015) Groundwater monitoring to support development of BMPs for groundwater protection: the Abbotsford-Sumas aquifer case study. Groundw Monitor Remediat 35(1):82–96

Zhou Q, Gibson CE, Foy RH (2000) Long-term changes of nitrogen and phosphorus loadings to a large lake in north West Ireland. Water Res 34:922–992
Electronic supplementary material
About this article
Cite this article
Vero, S.E., Basu, N.B., Van Meter, K. et al. Review: the environmental status and implications of the nitrate time lag in Europe and North America. Hydrogeol J 26, 7–22 (2018). https://doi.org/10.1007/s10040-017-1650-9
Received:

Accepted:

Published:

Issue Date:
Keywords
Water framework directive

Lag time

Groundwater monitoring

Unsaturated zone

Nitrate