Abstract
The relevance of groundwater science to water-utility operations is analysed from a broad international perspective, identifying key concerns and specific opportunities for the future. The strategic importance worldwide of water utilities assuming the role of lead stakeholders for integrated groundwater resource management, recognizing their often considerable technical know-how and highly significant data holdings, is emphasized. Concurrently, the utilities themselves will need an ever-closer appreciation of groundwater-system behaviour if they are to manage efficiently their water-supply and wastewater operations.
Résumé
La pertinence de l'hydrogéologie dans les services de distribution d'eau potable est. analysée sous un angle international, en identifiant les préoccupations clefs et les opportunités spécifiques pour l'avenir. L'importance stratégique des services publics d'eau impliquant le rôle des principaux acteurs au niveau mondial pour la gestion intégrée des ressources en eau souterraine est. soulignée, en reconnaissant leur savoir-faire technique souvent considérable et leurs détentions de données hautement significatives. Simultanément, les services publics eux-mêmes auront besoin d'une appréciation toujours plus approfondie du comportement des systèmes d'eau souterraine s'ils doivent gérer efficacement les opérations d'approvisionnement en eau potable et d'assainissement des eaux usées.
Resumen
Se analiza la relevancia de la ciencia del agua subterránea para la gestion de servicios de saneamiento desde una amplia perspectiva internacional, identificando las preocupaciones claves y las oportunidades específicas para el futuro. Se hace hincapié en la importancia estratégica del papel que asumen las empresas de agua en la gestión integrada de los recursos de aguas subterráneas, reconociendo su frecuente considerable experiencia técnica y disponibilidad de datos altamente significativos. Al mismo tiempo, las propias empresas de servicios públicos necesitarán una apreciación cada vez mayor del comportamiento del sistema de aguas subterráneas si quieren gestionar eficientemente sus operaciones de suministro de agua y de tratamiento de aguas residuales.
摘要
从宽阔的国际视角分析了地下水科学与水设施营运的关联性,提出了未来的关键关注点和特殊的机会。着重强调了水设施的战略重要性在综合地下水资源管理中承担着全世界重要利益相关人的角色,识别出其常常重要的技术窍门及非常显著的数据占有量。同时,如果水设施将有效地管理供水和废水运营,其本身需要地下水系统状态永远不断的增值。
Resumo
Neste trabalho foi analisada a relevância das ciências de águas subterrâneas para o gerenciamento de serviços de saneamento a partir de uma perspectiva internacional, identificando-se as principais dificuldades e oportunidades específicas para o futuro. Ressalta-se a importância estratégica dos serviços de saneamento dada a participação importante dos atores do setor para o gerenciamento integrado de águas subterrâneas, reconhecendo-se que os mesmos possuem sólida formação técnica e custódia de dados significantes. Atualmente, a gestão eficiente da infraestrutura do setor de saneamento, tanto de abastecimento quanto de esgotamento sanitários, passa invariavelmente pela caracterização mais precisa do comportamento dos sistemas de águas subterrâneas.
Access options
Buy single article
Instant access to the full article PDF.
USD 39.95
Price excludes VAT (USA)
Tax calculation will be finalised during checkout.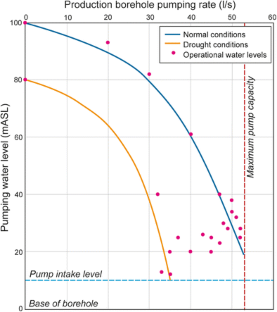 References
Cook S, Fitzpatrick C, Burgess, W, Lytton L, Bishop P, Sage R (2012) Modelling the influence of solution-enhanced conduits on catchment-scale contaminant transport in the Hertfordshire Chalk Aquifer. Geol Soc Lond Spec Publ 364

Foster S, Cherlet J (2014) The link between land use and groundwater: governance provisions and management strategies to secure a 'sustainable harvest'. GWP Perspectives Paper, Global Water Partnership, Stockholm

Foster SSD, Grey DRC (1997) Groundwater resources: balancing perspectives on key issues affecting supply and demand. J Chart Inst Water Environ Manag 11:193–199

Foster S, Hirata R (2012) Sustainable groundwater use for developing country urban populations: lessons from Brazil. Water 21:44–48

Foster S, Hirata R (2011) Groundwater use for urban development: enhancing benefits and reducing risks. SIWI Water Front 2011:21–29

Foster S, Hirata R, Misra S and Garduño H (2010) Urban groundwater use policy: balancing the benefits and risks in developing countries. World Bank GW-MATE Strategic Overview Series 3, World Bank, Washington, DC

Foster S, Tyson G, Candela L, Parker B, Lapworth D, Smedley P, Danert K, Borchardt M (2016) Human health & groundwater. IAH Strategic Overview Series. www.iah.org. Accessed May 2017

Ludwig R (2016) Water-supply and source-water protection in Munich-Germany. Proceedings International Conference 'Land Use and Water Sources', Quebec, Canada, November 2016

Martinez S, Escolero O, Kralish S (2010) Water management in San Luis Potosi metropolitan area, Mexico. Int J Water Resour Dev 26:459–475

Mather JD (2004) 200 years of British hydrogeology. Geol Soc Lond Spec Publ 225

Morris BL, Foster SSD (2000) Cryptosporidium contamination hazard assessment and risk management for British groundwater sources. Water Sci Technol 41:67–77

Schmoll O, Howard G, Chilton J, Chorus I (2006) Protecting groundwater for health. IWA, London
Acknowledgements
The idea of writing this article arose out of both formal and informal discussion at the IAH British National Chapter 60th Anniversary Conference at the University of Birmingham in September 2016; the authors would like to thank Adrian Butler, Mike Rivett and Aidan Foley for the organization of that event and to acknowledge many discussions with groundwater personnel of various water utilities in their native England and worldwide. Subsequently the preparation of the paper was encouraged by Bruce Misster (IAH Secretary General) and John Chilton (IAH Executive Manager).
Additional information
Stephen Foster is International Association of Hydrogeologists (IAH) Past President (2004–2008).
About this article
Cite this article
Foster, S., Sage, R. Groundwater science in water-utility operations: global reflections on current status and future needs. Hydrogeol J 25, 1233–1236 (2017). https://doi.org/10.1007/s10040-017-1602-4
Received:

Accepted:

Published:

Issue Date:

DOI: https://doi.org/10.1007/s10040-017-1602-4
Keywords
Groundwater management

Water supply

Water resources

Water utilities

Water governance