Abstract
Time-series temperature data can be summarized to provide valuable information on spatial variation in subsurface flow, using simple metrics. Such computationally light analysis is often discounted in favor of more complex models. However, this study demonstrates the merits of summarizing high-resolution temperature data, obtained from a fiber optic cable installation at several depths within a water delivery channel, into daily amplitudes and mean temperatures. These results are compared to fluid flux estimates from a one-dimensional (1D) advection-conduction model and to the results of a previous study that used a full three-dimensional (3D) model. At a depth of 0.1 m below the channel, plots of amplitude suggested areas of advective water movement (as confirmed by the 1D and 3D models). Due to lack of diurnal signal at depths below 0.1 m, mean temperature was better able to identify probable areas of water movement at depths of 0.25–0.5 m below the channel. The high density of measurements provided a 3D picture of temperature change over time within the study reach, and would be suitable for long-term monitoring in man-made environments such as constructed wetlands, recharge basins, and water-delivery channels, where a firm understanding of spatial and temporal variation in infiltration is imperative for optimal functioning.
Résumé
Les données de température de séries temporelles peuvent être résumées pour fournir des informations de valeur concernant la variation spatiale des flux du sous-sol, en utilisant des métriques simples. Une telle analyse par informatique légère est souvent mise à l'écart en faveur de modèles plus complexes. Cependant, cette étude démontre le bien-fondé de résumer les données de température à haute résolution, obtenues à partir d'une installation d'un câble de fibre optique à plusieurs profondeurs d'un canal d'alimentation en eau, en amplitudes et températures moyennes. Les résultats sont comparés avec les estimations de flux de fluide obtenus à l'aide d'un modèle d'advection-conduction unidimensionnel (1D) et aux résultats d'une étude précédente qui a utilisé un modèle complet tri- dimensionnel (3D). A la profondeur de 0.1 m sous le canal, les diagrammes des amplitudes suggèrent la présence de zones de mouvement d'eau par advection (comme le confirment les modèles 1D et 3D). En raison de l'absence de signal diurne aux profondeurs inférieures à 0.1 m, la température moyenne a mieux permis d'identifier des zones probables de mouvement d'eau aux profondeurs comprises entre 0.25 et 0.5 m sous le canal. La densité élevée des mesures a fourni une image 3D de la variation de la température au cours du temps dans la portée de l'étude, et serait appropriée pour la surveillance à long terme dans des environnements artificiels tels que des zones humides artificiels, des bassins de recharge, et des canaux de distribution d'eau, pour lesquels une bonne compréhension de la variation spatio-temporelles de l'infiltration est impérative pour un fonctionnement optimal.
Resumen
Los datos de series temporales de temperatura se pueden sintetizar para proporcionar información valiosa, usando métricas simples, acerca de la variación espacial en el flujo subsuelo. Este análisis computacionalmente ligero es a menudo descartado a favor de modelos más complejos. Sin embargo, este estudio demuestra la ventaja de sintetizar datos de temperatura de alta resolución, obtenidos a partir de la instalación de un cable de fibra óptica a varias profundidades dentro de un canal de suministro de agua, en las amplitudes diarias y las temperaturas medias. Estos resultados se comparan con las estimaciones del flujo del fluido a partir de un modelo unidimensional (1D) de advección-conducción ya que en los resultados de un estudio previo que utilizó un modelo tridimensional completo (3D). A una profundidad de 0.1 m por debajo del canal, los ploteos de amplitud sugirieron áreas de movimiento advectivo del agua (como lo confirmaron los modelos 1D y 3D). Debido a la falta de una señal diurna a profundidades inferiores a 0.1 m, la temperatura media estuvo mejor capacitada para identificar las zonas probables de movimiento del agua a profundidades de 0.25–0.5 m por debajo del canal. La alta densidad de las mediciones proporcionó una imagen 3D del cambio de temperatura en el tiempo dentro del alcance del estudio y sería adecuado para el monitoreo a largo plazo en ambientes artificiales como humedales construidos, cuencas de recarga y canales de suministro de agua, donde la comprensión de la variación espacial y temporal de la infiltración es imprescindible para un funcionamiento óptimo.
摘要
使用简单的度量工具总结时序温度数据可以提供地表以下水流中空间变化的宝贵信息。为了支持更复杂的模型,计算上如此轻松的分析常常打折扣。然而,本研究展示了总结高分辨率温度数据的优点,这些数据从一个引水渠道内若干个不同深度、探测日常振幅和平均温度的光缆装置上获取的。这些结果与一维平流传导模型获得的流体通量估算值进行了对比,还与过去采用完整三维模型研究结果进行了对比。在渠道之下0.1 米深度,振幅图显示了(如一维和三维模型确认的)平流水运移的区域。由于缺少0.1米之下深度的每日信号,平均温度能够更好地识别渠道之下0.25–0.5米深度水运移的可能区域。高密度测量结果提供了研究范围内一段时间以来的温度变化三维图像,适合于人造环境下的长期监测,这些人造环境诸如建造的湿地、补给盆地和引水渠道,在这些地方深刻了解入渗的时空变化对于监测的最优运行至关重要。
Resumo
Dados de séries temporais de temperatura podem ser sumarizados para fornecer informações valiosas sobre a variação espacial no fluxo subsuperfície, utilizando métricas simples. Essa análise computacionalmente leve é frequentemente ignorada em favor de modelos mais complexos. No entanto, este estudo demonstra o mérito de sumarizar dados de temperatura de alta resolução, obtidos a partir da instalação de cabo de fibra ótica em várias profundidades dentro de um canal de distribuição de água, em amplitudes diárias e temperaturas médias. Estes resultados são comparados com as estimativas de fluxos fluidos de um modelo unidimensional (1D) de advecção-condução e aos resultados de um estudo anterior que utilizou um modelo tridimensional completo (3D). A uma profundidade de 0.1 m abaixo do canal, as parcelas de amplitude sugeriram áreas de movimento advectivo da água (como confirmado pelos modelos 1D e 3D). Devido à falta de sinal diurno em profundidades abaixo de 0.1 m, a temperatura média foi mais capaz de identificar prováveis áreas de movimento da água a profundidades de 0.25–0.5 m abaixo do canal. A alta densidade de medições forneceu uma imagem 3D da mudança de temperatura ao longo do tempo dentro do alcance do estudo e seria adequada para monitoramento em longo prazo em ambientes artificiais, como áreas úmidas construídas, bacias de recarga e canais de distribuição de água, onde uma compreensão sólida da variação espacial e temporal na infiltração é imperativa para o funcionamento ideal.
This is a preview of subscription content, log in to check access.
Access options
Buy single article
Instant access to the full article PDF.
US$ 39.95
Price includes VAT for USA
Subscribe to journal
Immediate online access to all issues from 2019. Subscription will auto renew annually.
US$ 99
This is the net price. Taxes to be calculated in checkout.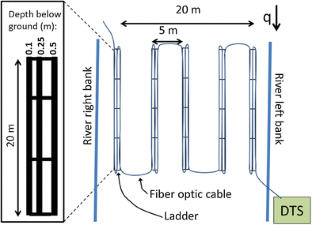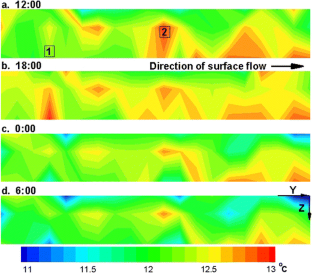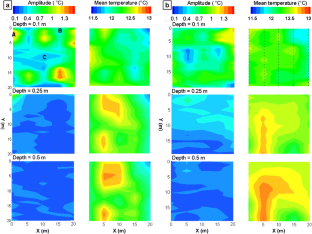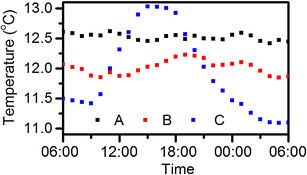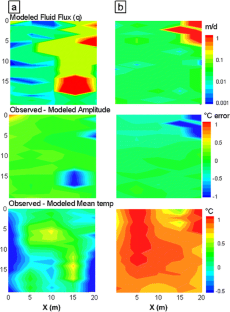 References
Amoozegar A, Warrick A (1986) Hydraulic conductivity of saturated soils: field methods. In: Methods of soil analysis, part 1: physical and mineralogical methods. American Society of Agronomy, Madison, WI, pp 735–770

Becker MW, Bauer B, Hutchinson A (2013) Measuring artificial recharge with fiber optic distributed temperature sensing. Groundwater 51:670–678

Bosch D, West L (1998) Hydraulic conductivity variability for two sandy soils. Soil Sci Soc Am J 62:90–98

Briggs MA, Lautz LK, McKenzie JM, Gordon RP, Hare DK (2012) Using high‐resolution distributed temperature sensing to quantify spatial and temporal variability in vertical hyporheic flux. Water Resour Res 48:W02527

Curtis A, Kyle P (2011) Geothermal point sources identified in a fumarolic ice cave on Erebus volcano, Antarctica using fiber optic distributed temperature sensing. Geophys Res Lett 38:L16802

Fairclough MC (2010) Coompana 1:250 000 geology map sheet SH 52–15. Geol. Surv. of South Australia, Adelaide, SA, South Australia

FAO (2002) Crops and drops: making the best use of water for agriculture. FAO, Rome, Italy

Hausner MB, Suárez F, Glander KE, Giesen N, Selker JS, Tyler SW (2011) Calibrating single-ended fiber-optic Raman spectra distributed temperature sensing data. Sensors 11:10859–10879

Hausner MB, Wilson KP, Gaines DB, Tyler SW (2012) Interpreting seasonal convective mixing in Devils Hole, Death Valley National Park, from temperature profiles observed by fiber‐optic distributed temperature sensing. Water Resour Res 48(5). doi:10.1029/2011WR010972

Lapham WW (1989) Use of temperature profiles beneath streams to determine rates of vertical ground-water flow and vertical hydraulic conductivity. US Geol Surv Water Suppl Pap 2337

Lowry CS, Walker JF, Hunt RJ, Anderson MP (2007) Identifying spatial variability of groundwater discharge in a wetland stream using a distributed temperature sensor. Water Resour Res 43(10). doi:10.1029/2007WR006145

Małoszewski P, Wachniew P, Czupryński P (2006) Study of hydraulic parameters in heterogeneous gravel beds: constructed wetland in Nowa Słupia (Poland). J Hydrol 331:630–642

Martin CA, Gates TK (2014) Uncertainty of canal seepage losses estimated using flowing water balance with acoustic Doppler devices. J Hydrol 517:746–761

Mawer C, Parsekian A, Pidlisecky A, Knight R (2016) Characterizing heterogeneity in infiltration rates during managed aquifer recharge. Groundwater 54(6):818–829

Noorduijn SL, Shanafield M, Trigg MA, Harrington GA, Cook PG, Peeters L (2014) Estimating seepage flux from ephemeral stream channels using surface and ground‐water level data. Water Resour Res 50:1474–1489. doi:10.1002/2012WR013424

Schmidt CM, Fisher AT, Racz AJ, Lockwood BS, Huertos ML (2011) Linking denitrification and infiltration rates during managed groundwater recharge. Environ Sci Technol 45:9634–9640

Shanafield M, Niswonger RG, Prudic DE, Pohll G, Susfalk R, Panday S (2014) A method for estimating spatially variable seepage and hydraulic conductivity in channels with very mild slopes. Hydrol Process 28:51–61

Shanafield M, McCallum JL, Cook PG, Noorduijn S (2016) Variations on thermal transport modelling of subsurface temperatures using high resolution data. Adv Water Resour 89:1–9

Stallman RW (1963) Computation of ground-water velocity from temperature data. US Geol Surv Water Suppl Pap 1544-H, pp 36–46

Stallman RW (1965) Steady one‐dimensional fluid flow in a semi‐infinite porous medium with sinusoidal surface temperature. J Geophys Res 70:2821–2827

Steele‐Dunne S, Rutten M, Krzeminska D, Hausner M, Tyler S, Selker J, Bogaard T, Van de Giesen N (2010) Feasibility of soil moisture estimation using passive distributed temperature sensing. Water Resour Res 46. doi: 10.1029/2009WR008272

Stewart RD, Moreno DS, Selker JS (2015) Quantification and scaling of infiltration and percolation from a constructed wetland. J Hydrologic Eng 20:04015007. doi:10.1061/(ASCE)HE.1943-5584.0001164

Suárez F, Hausner MB, Dozier J, Selker JS, Tyler SW (2011) Heat transfer in the environment: development and use of fiber-optic distributed temperature sensing. Develop Heat Transfer. doi:10.5772/19474

Susfalk R, Sada D, Martin C, Young MH, Gates T, Rosamond C, Mihevc T, Arrowood T, Shanafield M, Epstein B (2008) Evaluation of linear anionic polyacrylamide (LA-PAM) application to water delivery canals for seepage reduction. DHS Publ. no. 41245, Desert Research Institute, Reno, NV

Tanji KK, Kielen NC (2002) Agricultural drainage water management in arid and semi-arid areas. FAO Irrigation and Drainage Paper 61, FAO, Rome

Tyler SW, Burak SA, McNamara JP, Lamontagne A, Selker JS, Dozier J (2008) Spatially distributed temperatures at the base of two mountain snowpacks measured with fiber-optic sensors. J Glaciol 54:673–679

Vogt T, Schneider P, Hahn-Woernle L, Cirpka OA (2010) Estimation of seepage rates in a losing stream by means of fiber-optic high-resolution vertical temperature profiling. J Hydrol 380:154–164

Westhoff M, Savenije H, Luxemburg W, Stelling G, Van de Giesen N, Selker J, Pfister L, Uhlenbrook S (2007) A distributed stream temperature model using high resolution temperature observations. Hydrol Earth Syst Sci 11:1469–1480

Yussuff SM, Chauhan H, Kumar M, Srivastava V (1994) Transient canal seepage to sloping aquifer. J Irrig Drain Eng 120:97–109
Acknowledgements
Funding for this research was provided by the National Centre for Groundwater Research and Training, an Australian Government initiative, supported by the Australian Research Council and the National Water Commission and the Goyder Institute for Water Research of South Australia. The DTS system was purchased using funding from the National Collaborative Research Infrastructure scheme. The authors would like to acknowledge Australian Blue Gums for allowing us access to the study area. This work could not have been done without the field assistance of Nick White, Eddie Banks, Lawrence Burk, Yueqing Xie, Valentin Cirasa, and Sam England. Special thanks to the staff from Penola, DfW office, who let the water flow in the name of science.
About this article
Cite this article
Shanafield, M., McCallum, J.L., Cook, P.G. et al. Using basic metrics to analyze high-resolution temperature data in the subsurface. Hydrogeol J 25, 1501–1508 (2017). https://doi.org/10.1007/s10040-017-1578-0
Received:

Accepted:

Published:

Issue Date:
Keywords
Groundwater/surface-water relations

Heterogeneity

Flux

Artificial recharge

Irrigation channel