Abstract
The water resources that supply most of the megacities in the world are under increased pressure because of land transformation, population growth, rapid urbanization, and climate-change impacts. Dhaka, in Bangladesh, is one of the largest of 22 growing megacities in the world, and it depends on mainly groundwater for all kinds of water needs. The regional groundwater-flow model MODFLOW-2005 was used to simulate the interaction between aquifers and rivers in steady-state and transient conditions during the period 1981–2013, to assess the impact of development and climate change on the regional groundwater resources. Detailed hydro-stratigraphic units are described according to 150 lithology logs, and a three-dimensional model of the upper 400 m of the Greater Dhaka area was constructed. The results explain how the total abstraction (2.9 million m3/d) in the Dhaka megacity, which has caused regional cones of depression, is balanced by recharge and induced river leakage. The simulated outcome shows the general trend of groundwater flow in the sedimentary Holocene aquifers under a variety of hydrogeological conditions, which will assist in the future development of a rational and sustainable management approach.
Zusammenfassung
Die Wasserressourcen, die die meisten Megacities der Welt beliefern, stehen unter dem Druck der Landtransformation, des Bevölkerungswachstums, der rapiden Verstädterung und der Auswirkungen des Klimawandels. Dhaka, in Bangladesch, eine der größten von 22 wachsenden Megacities in der Welt, ist vor allem auf das Grundwasser angewiesen, für jeglichen Wasserbedarf. Das regionale Grundwasserströmungsmodell MODFLOW-2005 wurde verwendet, um die Wechselwirkung zwischen Grundwasserleitern und Flüssen in stationären und transienten Zuständen während des Zeitraums 1981–2013 zu simulieren und um die Auswirkungen der Entwicklung des Klimawandels auf die regionalen Grundwasserressourcen zu bewerten. Detaillierte hydrostratigraphische Einheiten werden nach 150 Lithologieprotokollen beschrieben, und es wurde ein dreidimensionales Modell der oberen 400 m des Greater Dhaka Gebietes konstruiert. Die Ergebnisse erklären wie die totale Abstraktion (2.9 Millionen m3/d) in der Dhaka-Megacity die Vertiefung des regionalen Kegels verursacht hat, der durch Aufladung und induzierte Flussleckage wieder ausgeglichen wird. Das simulierte Ergebnis zeigt den allgemeinen Trend der Grundwasserströmung in den sedimentären Holozänen-Grundwasserleitern unter verschiedenen hydrogeologischen Bedingungen, das die zukünftige Entwicklung eines rationalen und nachhaltigen Managementansatzes unterstützen wird.
Résumé
Les ressources en eau qui alimentent la plupart des mégapoles dans le monde subissent une pression accrue en raison de la transformation des terres, de la croissance démographique, de l'urbanisation galopante, et des effets du changement climatique. Dhaka, au Bangladesh, est l'une des plus grandes des 22 mégapoles croissantes au monde, et elle dépend principalement des eaux souterraines pour satisfaire l'ensemble des besoins en eau. Le modèle régional d'écoulement des eaux souterraines MODFLOW-2005 a été utilisé pour simuler l'interaction entre les aquifères et les cours d'eau pour des conditions permanentes et transitoires pour la période 1981–2013, afin d'évaluer l'impact du développement et du changement climatique sur les ressources régionales en eaux souterraines. Des unités hydro-stratigraphiques détaillées sont décrites à partir de 150 logs lithologiques, et un modèle tridimensionnel des 400 m supérieurs de la zone du Grand Dhaka a été élaboré. Les résultats expliquent comment l'abstraction totale (2.9 millions m3/j) dans la mégapole de Dhaka, qui a cause des cônes régionaux de dépression, est compensée par la recharge et l'alimentation induite par des pertes des cours d'eau. Les résultats simulés montrent la tendance générale des écoulements d'eau souterraine dans l'aquifère sédimentaire de l'Holocène pour une variété de conditions hydrogéologiques, ce qui contribuera au développement d'une approche de gestion rationnelle et durable.
Resumen
Los recursos hídricos que abastecen a la mayoría de las megaciudades en el mundo se ven sometidos a una mayor presión debido a la transformación del uso de la tierra, al crecimiento demográfico, a la rápida urbanización y a los impactos del cambio climático. Dhaka, en Bangladesh, es una de las 22 mayores megaciudades en mundo en crecimiento, y depende principalmente del agua subterránea para todo tipo de necesidades hídricas. El modelo regional de flujo de aguas subterráneas MODFLOW-2005 se utilizó para simular la interacción entre acuíferos y ríos en estados estacionarios y transitorios durante el período 1981–2013, para evaluar el impacto del desarrollo y el cambio climático en los recursos hídricos subterráneos regionales. Se describen detalladas unidades hidro-estratigráficas de acuerdo con 150 registros de litología, y se construyó un modelo tridimensional de los 400 m superiores del área de Dhaka Grande. Los resultados explican cómo la extracción total (2.9 millones de m3/d) en la megaciudad de Dhaka, que ha causado conos regionales de depresión, se equilibra con la recarga y la filtración inducida desde los ríos. El resultado simulado muestra la tendencia general del flujo de agua subterránea en los acuíferos sedimentarios del Holoceno bajo una variedad de condiciones hidrogeológicas, lo que ayudará en el desarrollo futuro con un enfoque de manejo racional y sostenible.
摘要
由于土地转化、人口增长、快速的城市化及气候变化影响,为世界上特大城市供水的水资源处于越来越大的压力。孟加拉达卡是世界上仍然在扩展的22个特大城市中最大的城市之一,所有种类的水需求主要依赖于地下水。利用区域地下水流模型MODFLOW-2005模拟1981–2013年间稳态和瞬态状况下含水层和河流之间的相互作用,以评价开发和气候变化对区域地下水资源的影响。根据150个岩性钻井记录描述了详细的水文-地层单元,建立了大达卡地区深达400多米的三维模型。结果解释了达卡特大城市总抽水量(2.9百万m3/d)是怎样靠补给和诱发的河流渗漏得到平衡的。模拟的结果显示了各种水文地质条件下全新世沉积岩含水层中地下水流的总的趋势,将有助于未来合理和可持续管理方法的发展.
Resumo
Os recursos hídricos que abastecem a maioria das megacidades no mundo estão sob maior pressão por causa da transformação da terra, do crescimento populacional, da rápida urbanização e dos impactos das mudanças climáticas. Daca, em Bangladesh, é uma das maiores de 22 megacidades em crescimento no mundo e depende principalmente das águas subterrâneas para todos os tipos de necessidades hídricas. O modelo regional de fluxo das águas subterrâneas MODFLOW-2005 foi utilizado para simular a interação entre aquíferos e rios em regime permanente e condições transientes durante o período de 1981 a 2013, para avaliar o impacto do desenvolvimento e das mudanças climáticas nos recursos hídricos subterrâneos da região. As unidades hidroestratigráficas detalhadas são descritas de acordo com 150 registros de litologia, e um modelo tridimensional dos 400 m superiores da área da Grande Daca foi construído. Os resultados explicam como a captação total (2.9 milhões m3/dia) na megacidade de Daca, que tem causado cones regionais de depressão, é equilibrada pela recarga e infiltração induzida pelo rio. O resultado simulado mostra a tendência geral do fluxo das águas subterrâneas nos aquíferos sedimentares do Holoceno sob uma variedade de condições hidrogeológicas, que irá auxiliar para o desenvolvimento futuro de uma abordagem de gestão racional e sustentável.
Access options
Buy single article
Instant access to the full article PDF.
US$ 39.95
Tax calculation will be finalised during checkout.
Subscribe to journal
Immediate online access to all issues from 2019. Subscription will auto renew annually.
US$ 79
Tax calculation will be finalised during checkout.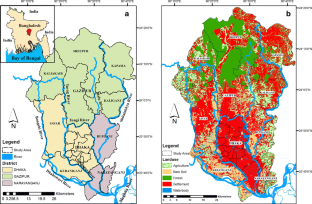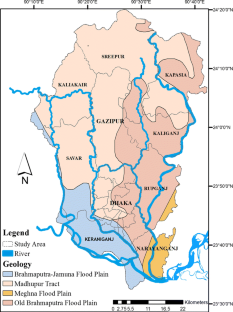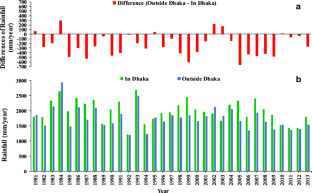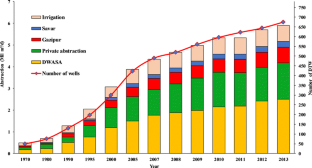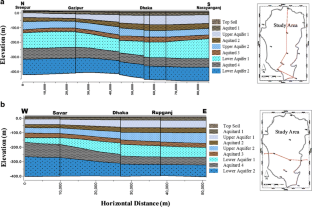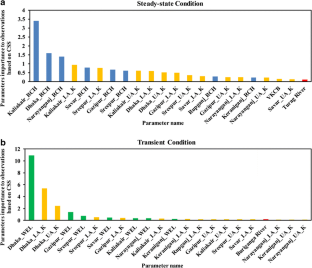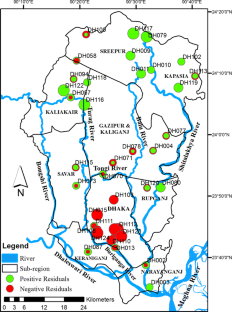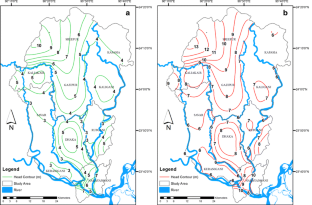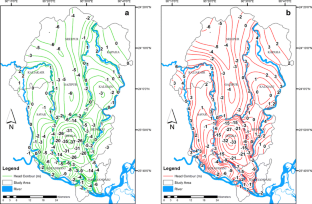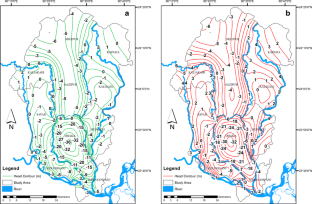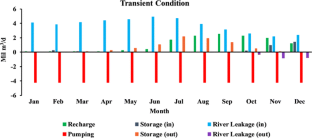 References
Ahammed F, Hewa GA, Argue JR (2014) Variability of annual daily maximum rainfall of Dhaka, Bangladesh. Atmos Res 137:176–182. doi:10.1016/j.atmosres.2013.10.013

Ahasan MN, Chowdhary MAM, Quadir DA (2010) Variability and trends of summer monsoon rainfall over Bangladesh. J Hydrol Meteorol 7(1):1–17

Ahmed KM, Hasan MK, Burgess WG, Dottridge J, Ravenscroft P, van Wonderen J (1999) The Dupi Tila aquifer of Dhaka, Bangladesh: hydraulic and hydrochemical response to intensive exploitation. In: Chilton PJ (ed) Groundwater in the urban environment: selected city profiles. Balkema, Rotterdam, The Netherlands, pp 19–30

Ahmed KM, Sultana S, Hasan MA, Bhattacharya P, Hasan MK, Burgess WG, Hoque MA (2010) Groundwater quality of upper and lower Dupi Tila aquifers in the megacity Dhaka, Bangladesh. In: 7th International Groundwater Quality Conference. Zurich, 13–18 June 2010, IAHS vol 342, IAHS, Wallingford, UK, pp 71–74

Ahmed MK, Alam MS, Yousuf AHM, Islam MM (2016) A long-term trend in precipitation of different spatial regions of Bangladesh and its teleconnections with El Niño/Southern Oscillation and Indian Ocean Dipole. Theor Appl Climatol. doi:10.1007/s00704-016-1765-2

BADC (2013) Minor irrigation survey report 2012–2013. Bangladesh Agricultural Development Corporation (BADC), Ministry of Agriculture, Government of People's Republic of Bangladesh, Dhaka

Bangladesh Meterological Department (BMD) (2014) http://www.bmd.gov.bd/?/home/. Accessed 10 April 2014

Bardsley WE, Campbell DJ (1995) Water loading: a neglected factor in the analysis of piezometric time series from confined aquifers (Note). J Hydrol (NZ) 34:89–93

BBS (2011) Statistical yearbook. Bangladesh Bureau of Statistics, Dhaka

Burgess WG, Hasan MK, Rihani E, Ahmed KM, Hoque MA, Darling WG (2011) Groundwater quality trends in the Dupi Tila aquifer of Dhaka, Bangladesh: sources of contamination evaluated using modelling and environmental isotopes. Int J Urban Sustain Dev 3(1):56–76. doi:10.1080/19463138.2011.554662

Chowdhury MHK, Pramanik MAH, Quadir DA, Ferdousi N (1997) Study of meteorological parameter related to climate variability in Bangladesh. Atmosphere 3:71–88

DAWSA (2000) Final report volume 1: model updating, development, and applications. Dept of Water Resources Engineering, Institute of Flood Control and Drainage Research, Bureau of Research, Testing, and Consultation, Bangladesh

Dhaka Tribune (2013) Dhaka land use pattern changes rapidly, Rajdhani Unnayan Kartipakkha (RAJUK). http://www.dhakatribune.com/environment/2014/apr/09/dhaka-land-use-pattern-changes-rapidly. Accessed 09 Apr 2014

DWASA (2001) Final report, vol 1: model updating, development and applications. Updating of the existing groundwater and land subsidence model project. With assistance of Institute of Flood Control and Drainage Research (IFCDR), BUET, Dhaka, Bangladesh

DWASA (2006) Final report on resource assessment and monitoring of water supply sources for Dhaka City, vol 1. Dhaka Water Supply and Sewerage Authority (DWASA) and Institute of Water Modeling (IWM), Dhaka

DWASA (2012) Management information system (MIS) report. Dhaka Water Supply and Sewerage Authority (DWASA) and Institute of Water Modelling (IWM), Dhaka, Bangladesh. Available online at http://www.dwasa.org.bd/. Accessed 24 November 2015

DWASA (2013) DWASA annual report 2012–2013. Dhaka Water Supply and Sewerage Authority, Dhaka

Harbaugh AW (2005) MODFLOW-2005, The U.S. Geological Survey modular groundwater model: the ground-water flow process. US Geol Surv Techniques Methods 6-A16

Harrington GA, Brown KG (2007) South East Confined Aquifer groundwater resource assessment: a review of the condition of the resource and estimates of permissible annual volume. Report prepared for the South East Natural Resources Management Board, South Australian Dept. of Water, Land and Biodiversity Conservation, Adelaide, Australian

Hasan MK (1999) The vulnerability of the Dupi Tila Aquifer, Dhaka, Bangladesh. PhD Thesis, University College London, London

Hiller K, Elahi M (1984) Structural development and hydrocarbon entrapment in the Surma Basin, Bangladesh (northwest Indo-Burman fold belt). Fifth Offshore Southeast Conference, Singapore, February 1984, pp 6-50–6-63

Hoque MA, Hoque MM, Ahmed KM (2007) Declining groundwater level and aquifer dewatering in Dhaka metropolitan area, Bangladesh: causes and quantification. Hydrogeol J 15(8):1523–1534. doi:10.1007/s10040-007-0226-5

Hoque MA, McArthur JM, Sikdar PK, Ball JD, Molla TN (2014) Tracing recharge to aquifers beneath an Asian megacity with Cl/Br and stable isotopes: the example of Dhaka, Bangladesh. Hydrogeol J 22:1549–1560. doi:10.1007/s10040-014-1155-8

Hossain MS, Rahman SMM, Serazuddin M, Rahman M (2007) Development of Ground Water Resource: a case study for Dhaka City. In: XII geological conference, Dhaka, 19–20 March 2007, Bangladesh Geological Society, Dhaka

IWM and DWASA (2007) "Resource assessment and monitoring of water supply sources for Dhaka City". Final report on resource assessment, vol 2. Dhaka Water Supply and Sewerage Authority and Institute of Water Modelling, Dhaka

James F, Hogan I, Phillips FM, Scanlon BR (2004) Groundwater recharge in a desert environment: the southwestern United States. Water Science and Application 9. Wiley, Chichester, UK

Jarvis A, Reuter HI, Nelson A, Guevara E (2008) Hole-filled SRTM for the globe version 4, available from the CGIAR-CSI SRTM 90m Database. http://srtm.csi.cgiar.org. Accessed 03 January 2014

Karmakar S, Khatun A (2000) Variability and probabilistic estimates of rainfall extremes in Bangladesh during the southwest monsoon season. Mausam 46(1):47–56

Khan MR, Koneshloo M, Knappett PSK, Ahmed KM, Bostick BC, Mailloux BJ et al (2016) Megacity pumping and preferential flow threaten groundwater quality. Nat Commun 7:12833. doi:10.1038/ncomms12833

Knappett PSK, Mailloux BJ, Choudhury I, Khan MR, Michael HA, Barua S, Mondal DR, Steckler MS, Akhter SH, Ahmed KM, Bostick B, Harvey CF, Shamsudduha M, Shuai P, Mihajlov I, Mozumder R, van Geen A (2016) Vulnerability of low-arsenic aquifers to municipal pumping in Bangladesh. J Hydrol 539:674–686. doi:10.1016/j.jhydrol.2016.05.035

Michael HA, Voss CI (2009) Controls on groundwater flow in the Bengal Basin of India and Bangladesh: regional modeling analysis. Hydrogeol J 17(7):1561–1577. doi:10.1007/s10040-008-0429-4

Morris BL, Seddique AA, Ahmed KM (2003) Response of the Dupi Tila aquifer to intensive pumping in Dhaka, Bangladesh. Hydrogeol J 11(4):496–503. doi:10.1007/s10040-003-0274-4

Pacheco FAL, Fallico C (2015) Hydraulic head response of a confined aquifer influenced by river stage fluctuations and mechanical loading. J Hydrol 531(part 3):716–727. doi:10.1016/j.jhydrol.2015.10.055

Palmer TN, Raisanen J (2002) Quantifying the risk of extreme seasonal precipitation events in a changing climate. Nature 415(6871):512–514

Poeter EP, Hill MC, Banta ER, Mehl S, Christensen S (2005) UCODE_2005 and six other computer codes for universal sensitivity analysis, calibration, and uncertainty evaluation. US Geol Surv Techniques Methods 6-A11

Rahman MA, Rusteberg B, Sauter M (2011) Assessment of groundwater level decline of a stressed aquifer in Bangladesh using historical data. IWA Specialist Conference on Groundwater, Belgrade, Serbia, September 8–10, 2011

Rahman MA, Wiegand BA, Badruzzaman ABM, Ptak T (2013) Hydrogeological analysis of the upper Dupi Tila Aquifer, towards the implementation of a managed aquifer-recharge project in Dhaka City, Bangladesh. Hydrogeol J 21(5):1071–1089. doi:10.1007/s10040-013-0978-z

Rashid HR (1991) Geography of Bangladesh. University Press, Dhaka

Shamsudduha M, Chandler RE, Taylor RG, Ahmed KM (2009) Recent trends in groundwater levels in a highly seasonal hydrological system: the Ganges-Brahmaputra-Meghna Delta. Hydrol Earth Syst Sci 13(12):2373–2385. doi:10.5194/hess-13-2373-2009

Sikder HA, Nasiruddin M, Suthawaree J, Kato S, Kajii Y (2013) Long term observation of surface O3 and its precursors in Dhaka, Bangladesh. Atmos Res 122:378–390

Sophocleous M, Bardsley E, Healey J, Engard B (2004) Can precipitation loading be detected at 300-meters depth or greater. Kansas Geological Survey, Lawrence, KS

Sophocleous M, Bardsley E, Healey J (2006) A rainfall loading response recorded at 300-meters depth: implications for geological weighing lysimeters. J Hydrol 319:237–244. doi:10.1016/j.jhydrol.2005.06.031

South Florida Water Management District (2006) Canal recharge: a report to the Legislature and Governor Division of Water Resource Management in consultation with the South Florida Water Management District. West Palm Beach, FL. http://www.dep.state.fl.us/water/wqssp/docs/CanalRechargeReport.pdf. Accessed December 2016

Steckler M, Akhter SH, Seeber L, Armbruster J (2007) GPS in Bangladesh: delta subsidence, monsoonal loading and continental collision. In: 2008–2012 UNAVCO community and facility proposal: geodesy advancing earth science research. UNAVCO, Boulder, CO, pp 3–41

Steckler MS, Nooner SL, Akhter SH, Chowdhury SK, Bettadpur S, Seeber L, Kogan MG (2010) Modeling Earth deformation from monsoonal flooding in Bangladesh using hydrographic, GPS, and Gravity Recovery and Climate Experiment (GRACE) data. J Geophys Res 115:B08407. doi:10.1029/2009JB007018

Sultana S (2009) Hydrogeochemistry of the Lower Dupi Tila Aquifer in Dhaka City, Bangladesh. TRITA-LWR degree project 09–35, Dept. of Land and Water Resources Eng., Royal Institute of Technology, Stockholm, 65 pp

van der Kamp G, Maathuis H (1991) Annual fluctuations of groundwater levels as a result of loading by surface moisture. J Hydrol 127:137–152. doi:10.1016/0022-1694(91)90112-U

Yamane Y, Hayashi T, Dewan AM, Akter F (2010) Severe local convective storms in Bangladesh: part I, climatology. Atmos Res 95:400–406

Zhou Y, Li W (2011) A review of regional groundwater flow modeling. Geosci Front 2(2):205–214. doi:10.1016/j.gsf.2011.03.003
Acknowledgements
The authors express sincere gratitude to the Almighty for graceful blessings towards the successful completion of this research work. We thank the German Academic Exchange Service (DAAD) for the financial support of this research. We are grateful to all the lecturers and staff for their support during the collaborative work at the ITT, Cologne University of Applied Sciences and IAG, Technical University of Darmstadt. We are also very thankful to Mr. Mohiuddin Ahmed and Mr. Anwar Zahid (BWDB), Mohammed Sohel Rana (DWASA), and Mahafuza Akter (BADC) for their support in data collection and field work in Bangladesh.
About this article
Cite this article
Islam, M.B., Firoz, A.B.M., Foglia, L. et al. A regional groundwater-flow model for sustainable groundwater-resource management in the south Asian megacity of Dhaka, Bangladesh. Hydrogeol J 25, 617–637 (2017). https://doi.org/10.1007/s10040-016-1526-4
Received:

Accepted:

Published:

Issue Date:
Keywords
Bangladesh

Groundwater management

Numerical modeling

Hydro-stratigraphy